UNIVERSITY PLACE, Wash. -- Whether Chambers Bay turns out to be a respected and revered championship golf course will be one of the questions answered this week during the U.S. Open, the first to be played in the Pacific Northwest, at a venue less than eight years old.
But there is no denying the spectacular scope, the stunning views, the unique setting.
This will be the 115th playing of the U.S. Open, at the 51st different venue, and it would be difficult to find one quite like the place that borders Puget Sound and is the source of all manner of opinions while being perhaps a bit controversial.
"That's because historically it's not like a normal U.S. Open," said Phil Mickelson, who turns 45 on Tuesday and will be playing in the championship for the 25th time. "It's everything like a British Open. The exact same grasses. I've never seen this type of fescue in the United States. I've never seen greens with fescue grass in the United States.
"It plays exactly like the British Open plays. The ball runs like the British, you're hitting the same shots as the British, and so it's like a British Open in the U.S.''
Lefty will get some pushback on that theory, which makes the mystery of Chambers Bay all the more intriguing.
The course definitely has the look and feel of those used for the Open Championship, but has far more elevation change and has nothing like the typical links layout.
And it is a word -- "links" -- that will be seen and heard often this week. "Links" is a term tossed around haphazardly, almost generically, to describe any golf course -- and it is done so incorrectly.
A "links" is not interchangeable with any golf course. There are various definitions, sometimes not easily explained, but very few golf courses in the United States fit the strict meaning.
"To a golf purist, it is probably not a true links," admitted Mike Davis, the executive director of the United States Golf Association who will set up Chambers Bay for the tournament rounds. "But it is very close. It has so many of those qualities.''
The debate mostly centers on the fact that the course was shaped and sculpted, that the holes were not naturally formed. It was built out of an old mining site and turned into a golf course by the architectural team of Robert Trent Jones Jr.
According to Golf Digest, a links is "a course on oceanside sand dunes that were formed by a receding sea and covered by fertile soil from a river estuary."
Chambers Bay was not "formed" by a receding sea, rather by bulldozers. And yet just about every other quality exists, according to Jay Blasi, the project architect for the venue.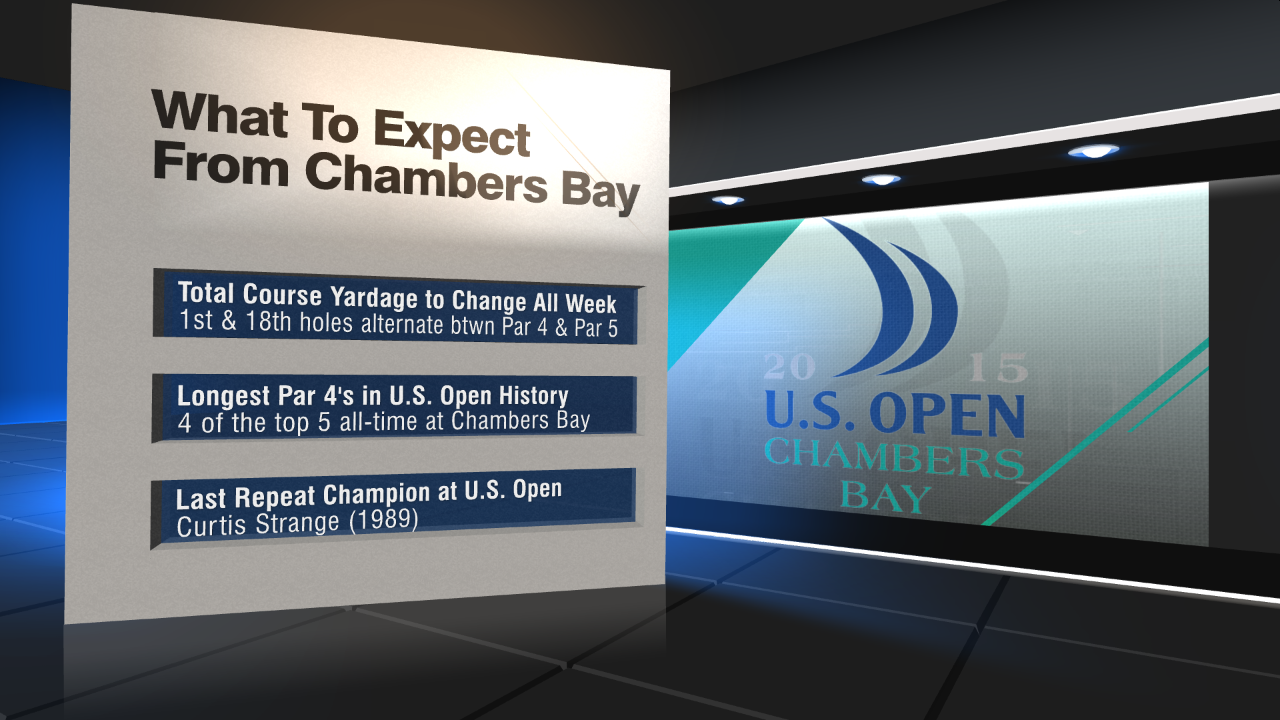 "There are different definitions of links,'' said Blasi, who now heads his own company, Jay Blasi Design. "Some of it is based on the topography. The truest definition is the sandy land not suitable for farming along the sea, where the sand has come down an estuary or a river.
"The wave action of the sea piles up the shorelines, therefore trees don't grow and the land is not suitable for farming. That's a strict definition.
"Then you can talk about playing characteristics. That is, firm and fast conditions. The greens are open entrance, you don't have a lot of forced carries, not a lot of artificial features. In our opinion, Chambers Bay fits the playing characteristics. You can essentially play the golf course with a putter all the way through.
"And when you think about the landscape, it fits the definition perfectly if you didn't see how it was created. There are stockpiles of sand, essentially dunes. It's not suitable for farming. There is an estuary [Chambers Creek] nearby. The strictest people would say you created that, it wasn't there naturally.
"Then there is the fescue grass, and that comes with climate. [With] a true links, you are talking about a maritime climate, and that's found in the Pacific Northwest, the British Isles and the New Zealand, Australia area. It's the right latitude, right weather conditions. So we have that going for us as well.''
As much as it might look and feel like an Open Championship venue in the British Isles, Chambers Bay does not seem as much like one to Tiger Woods -- who has won both Opens three times each.
Woods joked on Sunday that "every hole seems uphill,'' and he noted how the undulation makes it difficult for him to think of it as a links.
"We don't see this in British Opens because they are not banked like this,'' Woods said. "I understand that you can run the ball up on every hole. You have the opportunity to run it up, but some of the holes you can't because they're too long or too steep, they're up the hill too much.''
Perhaps the closest a U.S. Open venue has come to being a links is Shinnecock Hills on Long Island. The four-time Open site -- it had its first in 1896 and will again host in 2018 -- is laid out over sandy soil that makes for excellent drainage. (Pebble Beach Golf Links, despite the name, is nowhere close to a links.)
The reviews, understandably, have been mixed. Mickelson has embraced Chambers Bay, while Woods seems to be keeping it more at arm's length. PGA Tour veteran Ryan Palmer was one of the first to voice concerns as far back as two months ago, saying, "As far as the greens are concerned, it's not a championship golf course. Not with the way some of the greens are and the pin placements they can put out there.''
When Ian Poulter heard some of the early reviews, he tweeted about the course being "a complete farce." Of course, he had yet to see it.
Poulter last week took to Twitter to say that he'd be keeping his comments to himself until after the tournament. "I will let you all know what I think after I hole my last putt," he said.
Then there is Ryan Moore, who grew up in nearby Puyallup and has as much experience around Chambers Bay as anyone. He said he waited until recently to begin playing the course again in earnest in order to approximate U.S. Open conditions as best as possible.
"Honestly, I think it's one of those courses, the more you play it, the more you get to enjoy it, the more you get to know it," Moore said. "It's a fun golf course. It's very challenging, it's very tough. But I feel like it gives you a chance, even when you miss it in certain areas, depending obviously on where they're going to put the pins.
"I've really enjoyed the course, and I've actually talked to a lot of people the last few days that have kind of said the same thing, that they weren't sure what to think, they'd heard some negatives about it, and they love it. So it's been great to hear."
Will that attitude prevail? That is just one of the unanswered questions Chambers Bay presents with the U.S. Open looming.