UNIVERSITY PLACE, Wash. -- Here at the U.S. Vegetable Open, Henrik Stenson says the greens at Chambers Bay are "like putting on broccoli."
No, no, no, says Rory McIlroy. "I think they're more like cauliflower."
Whatever they are, U.S. Open greens aren't supposed to be compared to food groups. Or to the lunar surface (more Stenson). Or to a dust surface (Charl Schwartzel). Or to the deceased (Ernie Els, who says four of the greens are dead).
The legendary Gary Player, who won his lone U.S. Open 50 years ago, isn't supposed to go scorched-earth on the same USGA that honored him earlier in the week.
"The worst course I might've ever seen," said Player during a Saturday interview on "SportsCenter."
Chambers Bay and the USGA are taking body blow after body blow. If it were a UFC bout, they'd be the ones in the arm-bar submission hold.
Players complain. That's what they do. That's what they've always done. It wouldn't be a U.S. Open if the players were gushing about the place.
But this is different. One player stepped off a courtesy shuttle, saw the smoke plume from a nearby marina warehouse fire, and without breaking step said, "With any luck, it's the course."
Chambers Bay, which is only 8 years old, was always going to be a high-risk/high-reward U.S. Open venue. The USGA knew as much when it awarded its treasured tournament to the place in 2008.
But some of the criticism has fangs attached. Two-time U.S. Open winner Els counted those four dead greens. He suggested that some of the greens were the victims of chemical abuse.
"The agronomy has been a disaster," he said. "There is no excuse for that, sorry."
He scoffed at the notion that Chambers Bay is America's St. Andrews.
"[They're] all trying to copy Scotland," he said. "This is not Scotland."
From the blimp, Chambers Bay is a spectacular site. It's more stunning than Miss Universe. What it doesn't have is the consensus support of the players, and certainly not of Player.
Complaint No. 1: The greens should be exiled.
"The greens are really terrible," said Schwartzel, who actually likes the course itself. "A few of them are basically dust."
"Some are green," said Kevin Na. "Some are brown."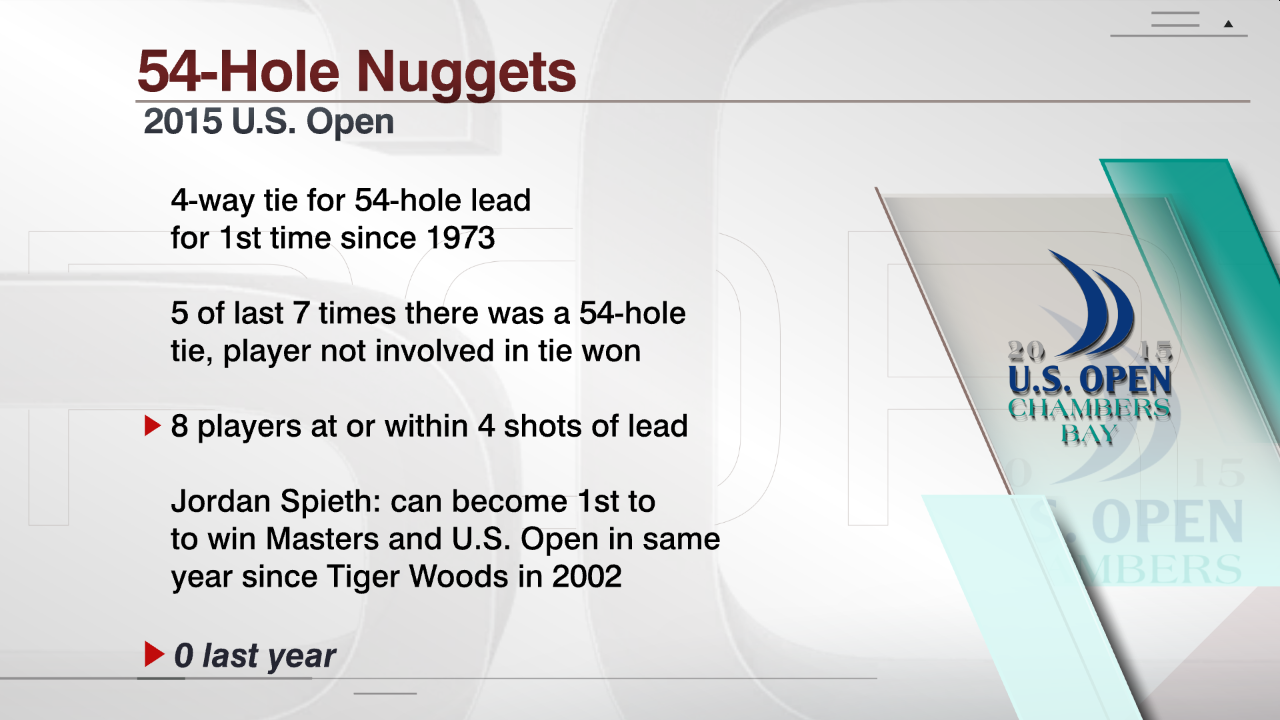 The players would rather eat green flies than putt on greens that change from hole to hole. They don't mind fast. Or crusty. Or slow. Or whatever ... just as long as all the greens are that way. These aren't.
"The surfaces are just unbelievable," said Els. And he didn't mean it in a good way.
Complaint No. 2: The USGA swung ... and missed.
"Something has to be done," said Els, who blamed the USGA's agronomy experts for screwing up Pebble Beach in 2010, Merion in 2013 and now Chambers Bay in 2015.
Na said the USGA has done a fine job with the course setup, but when asked if he would support a U.S. Open return to Chambers Bay in the future, there was a long pause, followed by a diplomatic, "I wouldn't be against it."
Complaint No. 3: What was the course designer thinking?
This one belongs to Gary Player. The Hall of Famer vaporized the place and, by association, its architect Robert Trent Jones Jr. At one point during an interview with the Golf Channel, he said, "I mean, the man who designed this golf course had to have one leg shorter than the other" -- a reference to Chambers Bay's steep, man-made sand cliffs alongside some of the fairways.
Jones is a respected and prolific designer, but he didn't do himself any favors by interrupting Tiger Woods' early-week news conference with a self-serving question about "my course."
It was an embarrassing moment for Jones -- or at least, it should have been. But he didn't deserve to be publicly mocked to this degree by Player, who, according to Saturday tweets by the former county official who spearheaded the birth of the course, had ulterior motives for his comments.
"Seems like Gary Player is still mad I passed him over to build @ChambersBayGolf...poor loser, didn't get contract to build," read the tweets from John Ladenburg, the former Pierce County, Washington chief executive.
Meanwhile, Jones took the high road ... sort of. When reached by phone Saturday, he said, "Gary Player is welcome to his opinion -- and he has many of them ... I don't take it personally.
"He's a competitor, he's a golf architect. He's never had a U.S. Open course, I know that."
Irony alert: Saturday would have been the 109th birthday of Jones' father, the legendary golf architect Robert Trent Jones Sr. It was Senior who designed Bellerive Country Club in St. Louis.
The winner of the 1965 U.S. Open at Bellerive: Player.
Jones Jr. mentioned the connection between Player and his old man. And then, before ending the call, he politely said, "I'm going to watch some golf."
Watching golf was a bit of a sore subject among the spectators I spoke with Saturday. In short, they had a hard time seeing anything, thanks to the steep elevations of the course, the roped-off areas and the long waits to sit in the grandstands.
"Ninety minutes to get into the bleachers," said Sandee Davis, who loved the Open but wasn't crazy about fighting for a view.
Locals Jeff Grinzel and Marvin Hullinger made their way to a fence line located way above (at least five or six stories) the No. 8 and No. 9 greens. Grinzel had a pair of what he called "little boy binoculars." If he didn't have them, what did the players look like below?
"Ants," he said. "It is difficult to be a spectator. To be honest, we're disappointed ... I'd be surprised if [the U.S. Open] came back. You can't follow players."
As for Player's remarks, the local fans both defended Chambers Bay.
"Did Gary Player play it?" said Grinzel. "We've played it more than Gary Player."
Hullinger is a member at Chambers Bay and has played the course, by his estimate, 400 times. He blames the USGA for turning his favorite lush, green course into an unsightly brown patch.
"I can't wait until everybody leaves and the greenskeeper can get some water back on the course," he said.
At last, the amateurs and pros have something in common.
They can't wait to leave, either.