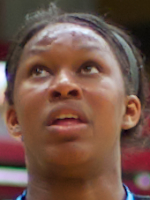 Lajahna Drummer
Forward
CLASS: 2014
Los Angeles, CA

Hometown

Long Beach Polytechnic

High School
8

Overall Rank

3

Position Rank
ESPN Player Evaluations
Battle-in-the-'Boro-July 2013: Ultra-athletic insider with consistent interior game; efficient finisher in traffic; active on glass with next-level impact; among the most complete power forwards in the 2014 class. (Olson)

USAB U16 Trials-May 11: Insanely athletic, energetic post/wing... she has developed some nice drop step moves%u2026relentless rebounder and defender in the paint. (Bodine)

Deep South Classic-April 11: Mobile with a pretty good skill set. Young with a lot of length and will mature into her own with experience. (Gray)

Athletic and mobile with a great build. Lots of tools at a very young age. Her shot is out in front of her a bit but the stroke is fine. Could really develop.

Fila Nationals-July 10: We have chronicled the exceptional ability of 2014 guard Jordin Canada and will probably do so again soon. We like to take this space, this time, to spotlight her emerging teammate. Drummer, a 6-1 forward, with physical abilities of players five years her elder. She slowly is becoming one of the most pursued players in the class. Coach Sherri Pegues called on five players, who have not even tasted their first varsity high school game, and asked them to compete against some of the top high school players in the country in the 17U Division of the Fila Nationals. Their play was gritty, determined and led by Drummer, a strong and tough forward who rebounds and defends with anyone in the country. She has the ability to possibly move to the perimeter in time. She will need to develop her ballhandling first, but her ability to guard there will never be in question. (Powell)

Deep South 2010: It may be hard to believe that this 6-2 Californian still is in middle school. Her long athletic body is still developing but she showed this weekend that she is a natural on the basketball court. Drummer works hard on both ends of the floor for GBL, she has tremendous body control and balance; with her long wingspan and ultra-athletic jumping ability she grabs rebounds off the glass. She runs like a sprinter and does a great job at filling her lane on a fast break, keeping her head and hands ready for the ball. Drummer has a tremendous upside and with continued hard work in the gym there is no limit to her potential has a basketball player.
Notes
A 2014 McDonald's All-American.

Club Team: Cal Sparks Gold

Tip Sheet and Extended Evaluation Mentions:
%u2022  West Coast Premier Spring Invitational - May 2011