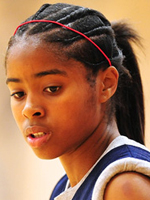 Jordin Canada
Point Guard
CLASS: 2014
Los Angeles, CA

Hometown

Windward School

High School
4

Overall Rank

1

Position Rank
ESPN Player Evaluations
Nike Tournament of Champions-December 2013: Smooth floor game handles, reads pressure, penetrates and distributes; collapses defenses, interior passer; keeps defense honest with mid range game; the elite point guard in the 2014 class. (Olson)

Nike Nationals-2013: Floor general with confident persona attacks, finishes to the rim with consistency; acrobatic and under control, distributes, interior passer; mid-range game producer to the arc; among the nation's elite point guards in 2014. (Olson)

Nike TOC-Dec. 11: Making shots, shoots the ball off of her right shoulder but it's going in. Right hand dominant. Had a mean right hand to left hand crossover. Hit a 10-foot jumper off the pull up. (Clay)

Showing improvement as a leader and floor general. She's explosive with the ball and has unbelievable upside, so the intangibles and basketball I.Q. growth are the things to get the most excited about, at least in terms of progress. She's shooting the 3-ball much more consistently than a year ago. A big time prospect making the plays you'd expect from a senior. (Hansen)

USAB U16 Trials-May 11: As a work in progress, Canada continues to advance her game almost every time out. From the start of the trials until the final selections she played with more confidence and found a comfort zone that made her the most productive point guard on hand. On a session by session basis you could see her decision making and passing improve. In transition she distributes the ball while keeping defenders guessing and exploiting numbers situations. Her change of speed and change of direction are used effectively and mixed up efficiently keeping opposing guards at arms length. On ball she's an aggressive defender but on the weakside turns her back repeatedly chasing cutters and loosing sight of the ball. While not unusual for a young defender, it does take an ultra quick part out of a team defense. (Lewis)

WCP Spring-May 11: Super quick, smooth with the ball. Can shoot the ball out to the three point line. Has a nice feel for the game. Sits back, lets it come to her. Has to get stronger as body finishes developing. (Clay)

Deep South Classic-April 11: Really began to break out of the underclass, take a backseat mentality and took things on her own shoulders at times. Athletic and constantly attacking, she's a threat anytime the ball is in her hands. She feeds it well inside but can get to the rim and finish herself amidst traffic. The pull up is quickly becoming a lethal threat that's going to give defenders nightmares. Turned her on ball defense up a notch as well and demonstrated equal effectiveness at that end of the floor as well. Took some chances off the ball and lost sight a few times on the weakside but the approach is there. Keeps getting better and better. (Lewis)

Nike TOC-Dec. 2010: Provided a top tier display of how to play the point. She could easily attack one on one virtually every possession but she shows an impressive understanding of the game and the value of spreading it around. She still plays at speed but plays under control and sees the floor effectively on the break as well as in the halfcourt. Individually there are not many defenders with the ability to stay in front of her crossover or the reactions to recover and defend her pull up. She shoots it well from the perimeter which she'll have to rely upon to keep defenders playing her tight and allowing her attack. Defensively she has the lateral speed to contest any ballhandler the length of the floor if she'll make her defense the priority her offensive game is. (Lewis)

We're well aware of her talent and creative abilities with the ball but against a zone intended to keep her out of the paint, she didn't work to find the gaps and continue to attack with the dribble drive. She seemed content to just reverse the ball without being a threat. It was just one game but as she gets older we need to see her be consistently an impact scorer regardless of the defense. (Hansen)

Nike Skills-May '10: Exceptional prospect with a very instinctual game. She handles the ball with confidence and keeps it low while attacking. All her moves are quick and keep defenders on their toes. Her pull up is on a dime and she has a slight fade in it that creates space for her release. She's physically young but has a "natural" aspect to her game that will allow her take her game to any level she'll put the work in for.

Deep South Classic-April 10: Coach Sherri Pegues played her young bunch in an age division that in most cases was three grades higher. Most of the GBL troopers are just finishing their 8th grade year, while most of the teams competing in 16U Fila A division were led by current high-school juniors. What GBL lacked in grade and possibly age they up for in Canada. A highly composed guard for any age or grade, this young lady was born to play this game. She has the complete package, finisher, scorer, director, leader with a great handle and a willingness to compete. She can be best described as slippery in transition and an unreal playmaker. The next mention of the "next Jordan" will be a Jordin, as in Canada.
Notes
A 2014 McDonald's All-American.

In her own words: Meet Jordin Canada
Club Team: Cal Sparks

ESPN HoopGurlz Tip Sheet Mentions:
%u2022  Deep South--April 2011