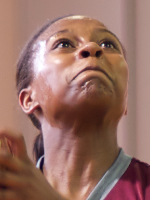 Christen Inman
Guard
CLASS: 2013
Katy, TX

Hometown

Seven Lakes

High School
64

Overall Rank

15

Position Rank
ESPN Player Evaluations
Cy-Fair Invitational-April 12: The 5-9 guard is going to bring a lot to the Northwestern backcourt next year. She is an athletic prospect who plays with consistent effort on both sides of the ball. For her Triple D Hoops team, Inman is a glue player that does all the little things that help win games and compete at a high level. This weekend Inman was matched up with some of the best guards in the country, including Tyler Scaife and Diamond Lockhart, and did a good job staying in front of them and trying to limit their scoring opportunities. On the other end of the floor, Inman was asked to help her team score in the half court by creating shots for herself as well as others. One of Inman's best attributes is her high basketball IQ and overall versatility. Inman has the ability to play taller than her listed height because of her motor and athleticism, two traits that will translate well at the college level. (Moore)

Nike Skills-May '10: Explosive first step, extremely light on her feet. Aggressive on offense and understands how to attack the middle of the paint.
Notes
Club Team: Cy Fair Nike Elite

Carrying a weighted 4.52 GPA with AP courses through her sophomore year. Second highest Sparq rating at 2011 Nike Regional Skills Academy, and her score is ranked 8th nationally and just 1.25 points behind the Atlanta Dream's Angel McCoughtry, at 101.62

Recruiting Update--August 2011: Player is still open and schools listed are not finalists.