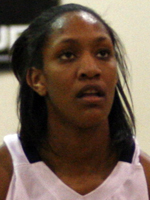 A'ja Wilson
Forward
CLASS: 2014
Hopkins, SC

Hometown

Heathwood Hall Episcopal School

High School
1

Overall Rank

1

Position Rank
ESPN Player Evaluations
Crescom Bank Invitational-December 2013: Dominant left handed power forward with size to impact both on the block and on the perimeter; outstanding versatility, handles on the break; consistently manufactures, breaks down defenders, finishes plays. Next level impact. (Olson)

Boo Williams-April 2012: Long and agile left handed faceup-4; rebounds and initiates break, handles and attacks in transition; superb footwork, balance and body control in post traffic; consistent mid-post attack yields results; immediate impact at the next level. (Olson)

Boo Williams-April 12: The ability of this 6-3 combo-forward is undeniable. Wilson has the size, strength and skill to be one of the most complete and versatile inside players in the class. She was impressive attacking the basket from the high post and short corner, showcasing balance and smooth athleticism that simply can't be taught. She was equally impressive showing her ball-handling and passing skills, and on multiple occasions took a defensive rebound and started the break on her own. She also plays through contact and gets to the line. The only question is the level of completion she is facing. Matchups with Brianna Turner and Jatarie White would have given that context, and both were in the tournament but in different brackets. Perhaps the USA Basketball trials next month can make that happen. (Hansen)

Nike Skills-May 11: Extremely athletic with long frame body dribbles well with both hands, nice shooting stroke consistent from 10 to 20 plus ft, runs the floor, created off the bounce, finished with contact. Solid defender on ball as well as in help position. Worked extremely hard in skills drills. Great attitude. Needs to continue to work on her skill development and add strength to her athletic frame. Has a chance to be a special player. (Beverly)

Boo Williams-April 11: Long, explosive wing prospect. Perhaps a young Natasha Howard? Hard worker. A definite wow player from the spring viewing weekend.
Notes
Wilson will announce her college decision on the "ESPNU Signing Day Special" on Wednesday, April 16, at 3 p.m.

A 2014 McDonald's All-American

Wilson was one of three players from the class of 2014 selected to the USA Basketball U19 world championship team.

Read more on A'ja Wilson: Heightened interest in top prospect

Club Team: Palmetto 76ers

ESPN HoopGurlz Tip Sheet Mentions:
%u2022  Boo Williams--April 2011