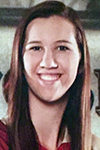 Nancy Mulkey
Post
CLASS: 2016
Cypress, TX

Hometown

Cypress Woods

High School
19

Overall Rank

4

Position Rank
ESPN Player Evaluations
McDonald's Invitational-November 2015: A true center with superior length, shot blocking presence; continues to develop consistent offensive arsenal in paint; rebounds and outlets, initiates fast break. (Olson)

UIL Texas State Tourney-March 2015: Continues to develop and evolve into an elite center with superior size, length, shot blocking skills; equipped with soft touch and interior footwork with consistent finishing skills on the block; physical development is the key to impact on the collegiate level. (Olson)

USA Trials-May 2014: Agile low-post prospect with superb shot-blocking skills, timing, presence; mobility in uptempo; zone defender in the key, alters shots; emerging offensive game utilizes either hand to finish in traffic; among the elite true centers in the 2016 class. (Olson)

Nike Nationals-July 2013: Emerging low-post presence impacts on defensive end; shot blocker, alters shots; soft touch in key, rebounds and putbacks; mobile in transition with superior size. (Olson)
Notes
McDonald's All-American Team member in 2016.

1st-team TABC 6A All-State in 2015.

Member of the 2014 USA Basketball Women's U17 National Team.

Mulkey was named an alternate to the 2013 USA Basketball Women's U16 National Team.

Mulkey averaged 9.6 points, 7.8 rebounds and 4.6 blocks per game as a freshman at Cypress Woods.

Read more: Mulkey ready to stand up, be noticed

Read more: Nancy Mulkey an emerging star by any measure.