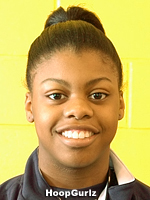 Lauren Avant
Point Guard
CLASS: 2010
Memphis, TN

Hometown

Lausanne Collegiate School

High School
28

Overall Rank

9

Position Rank
ESPN Player Evaluations
Summer 08 II: Highly regarded Lauren Avant, the 5-9 point guard for the Memphis Elite Platinum 92, saw limited playing time due to bronchial problems. However in the few outings she did make she continued to show why she's one of the top guards in the 2010 class. Her one on one skills allow her to penetrate and create multiple scoring opportunities for her and her teammates. She aggressively pushes the ball in transition forcing the pace of the game. When she attacks the same way defensively on a constant basis, she'll take her game to an even higher level.

Summer 08 I: Lauren Avant, the Tennessee commit, dislocated her finger a few weeks back and aggravated it last week by accidently slamming it in a door. Injury and all, the Memphis, Tenn., point guard battled on to go 2-0 on the first day. She struggled finishing in the first half of a big scare from the KC Shock. In the second half the team turned up the defense and she finished like the star everyone has come to know. Her first step is still as explosive as anyone in the class and she loves to create contact with the defense. On one possession she darted into the lane going left and when the help defender slid over to try and stop her that defender went flying as she attacked. The defender went sprawling so far that the referees didn't bother calling a blocking foul because Avant had a wide open eight-footer. The kid is explosive with the ball and is a force on the court.

Spring 08: She is definitely a star at the point guard spot. The 5-foot-7 Tennessee commit showed SEC caliber speed and decision making in one viewing as she penetrated gaps to kick out to shooters or finished if no help defense came over. There is still room for added range to her jump shot and her body to fill out but she's a big time player in the 2010 class.
Notes
Selected to the 2010 WBCA All-American Team
All-Metro, Best of Preps, 2007 Finalist, Best of Preps, Shelby Country, 2007 First Team, Division II, 2007 All-District, 2007 Finalist, Tennessee Miss Basketball, 2007 MVP, West Regional Tournament, 2007 First Team, All-State, 2007 Elite 80 Award, Nike Phenom Camp, 2007 All-Metro, Best of Preps, 2006 First Team, Division II, 2006 All-District, 2006 Honorable Mention, Street &Smith Preseason All-America Team (only freshman in country), 2006 MVP, adidas Showtime Nationals 16U, 2006 Elite 80 Award, Nike Phenom Camp, 2006 MVP, Deep South Classic 15U, 2006 adidas Top Ten Camp, 2006 All-Tournament, Cruel Classic, 2006 Blue Star Phenom Camp, 2006Game Changing Award & Hustle Award, Vanderbilt Team Camp, 2006 Tennessee Team Camp, Middle Tennessee State Team Camp Played varsity at Lausanne as an 8th grader

Club Team: Memphis Elite