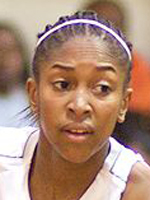 Jasmine Camp
Point Guard
CLASS: 2011
Chamblee, GA

Hometown

Chamblee

High School
83

Overall Rank

17

Position Rank
ESPN Player Evaluations
Nike Regional Skills-May 10: Of the point guards in the event she may be the most pure of the bunch. She reminds of a slightly taller and longer She'la White (UNC) with her lightening speed with the ball and near perfect form on her jumper. She has a naturally lean frame but she is not weak. With her quickness she can get a step on just about any defender. Where she needs to improve is maintaining that step by veering into the defender's recover path or by exploding her shoulders into the defenders hips or below to completely open them up. She's not a 20 and 10 point guard but if she roll her out with scorers she will get them the ball, shoot well enough and has the athleticism to keep defenses honest. Defensively she can press up on the ball but can get bodied up by bigger guards.

Battle For The Boro-July 10: Still demonstrating the speed that catches everyone's eyes. Penetrating more effectively than in recent showings and making good decisions with the ball. More than willing to attack the left side but doesn't get to the rim as efficiently as on the right. The form and jumper are there but not dropping as consistently at this event as in the past. On ball defense needs to be turned up a notch or two. (Lewis)

Boo Williams-April 10: All the speed and quickness you could hope for in a point guard. She appears to have refined her stroke and added some range. She can create off the dribble and distribute the ball effectively in the halfcourt and on the break. Defensively she has the tools to turn opposing ballhandlers and dictate their choices.

USA U16 Trials-May 09: There are few players in the country that can match the speed of Jasmine Camp. The 5-7 point guard is a blur with the ball or filling a lane on the break. She is one of the quicker guards with and without the ball in her hands, which made for effective on-ball defensive harassment. The limiting factor in this setting was physical strength because the international-style officiating allowed a lot of hand checks, which led to a more physical game overall. As a result, Camp was pushed off her line to the basket at times.

Nike Regional Skills Academy-April 09: While there were many standout guards on display this weekend, Jasmine Camp seemed the one most interested in applying her newly discovered skills to her already-extensive arsenal during the 5-on-5 competition. Camp has a very athletic frame and uses every inch of it. She maintains a low stance and seems to always explode into her offensive moves. Quick and shifty are words that best describe this Georgia native.

Boo Williams-April 09: A very skilled point guard, show leadership and the ability to run a team.
Notes
Club Team: Georgia Metros

2009 USA Basketball U16 National Team Trials Invitee