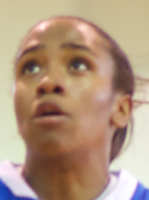 Aisha Turner
Point Guard
CLASS: 2012
Atlanta, GA

Hometown

Westlake

High School
—

Overall Rank

25

Position Rank
ESPN Player Evaluations
Boo Williams-April 11: Love her athleticism but it's not being used defensively. She played a lot of risky on-ball defense taking swipes at the ball for steals. She has speed and quickness to stick with people so we'll have to wait and see if she wants to be that player. (Hansen)

Fila Nationals-July 10: Johnson-Turner is as close to a Renee Montgomery as we've seen in recent years. She's more of a lead guard than true point guard, with her ability to push in transition looking for the score when the opportunities present themselves. She also can run the show and has great ball skills from the position. A solid defender and vocal leader, only time will tell if the Montgomery comparisons are valid. (Powell)

Wildcat Classic-May '10: Johnson-Turner is a promising prospect from the point position. She a outstanding on ball defender and solid defensive intensity. Offensively, she does a very good job of running the team and is a solid communicator. Runs the pick and roll with a high rate of success. Great decision maker. Penetrator with the ability to finish. Smart. Think Renee Montgomery without the pull-up three-ball, yet.
Notes
Notes are not available.