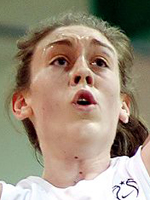 Breanna Stewart
Forward
CLASS: 2012
North Syracuse, NY

Hometown

Cicero-North Syracuse High

High School
1

Overall Rank

1

Position Rank
ESPN Player Evaluations
Strengths: Size and versatility; match-up nightmare; experience against elite competition; defensive presence and shot blocking; impact player
Areas to improve: Aggressiveness on offense, settling on jumpers
Bottom Line: Stewart is a talented prospect who is still getting better every day. She has the ability to make an impact early in her college career, but look for her to continue to develop at the next level. As she continues to polish her offensive game and learn how to use her dynamic skill set, her future will continue to get brighter. With three cycles of USA Basketball under her belt, few have as much experience against the best domestically and internationally.

Nike Nationals-July 10: Anytime Stewart takes the floor she leaves little doubt that she's playing at another level that her peers. Even coming off the road from the World Championships she still stood out among the crowd in Augusta. Her length and vertical puts her into a position to play above the rim at both ends of the floor. While she didn't finish as effectively this time out, some of the shots she took or created were still eye catching. Her jump hook in the middle is almost unstoppable and she's using the glass more and more effectively on her moves to the baseline. On the boards her effort is efficient and critical in limiting opponents to one look. Not her best, but still better than most others. (Lewis)

FIBA U17-July 10: To put Stewart's performance in perspective, know that she finished second in scoring, trailing Williams by six points She was also second in rebounding, trailing Williams by just one board. She led the team in blocked shots with 18 in eight games. Now take all of that and understand she tied Tuck for fewest minutes logged by the starters. For Stewart, she was actually her own worst enemy while entertaining with her block-party. After getting swatted across southern France, the international opposition started lifting her with change of pace and ball fakes. Nobody was more upset with the few instances of foul trouble than Stewart herself. When she was on the floor she was arguably the best player for the best team in the world at this age group. She finished, converting 57.1 percent of her field goal attempts, finding the free-throw line as her Achilles heel, shooting just 57.9 percent from the charity stripe. The form is there so expect the problem to fix itself in time when she learns not to get into her own head about it. (Hansen)

USA U16 Trials-May 09: Breanna Stewart of North Syracuse, N.Y., not only made a loud and obvious argument to make the team, but she also made a case for consideration of the top spot in the 2012 class. She is at least the listed 6-3 and her wingspan is several inches wider than that. She blocked shots, finished in the lane and rebounded well. The biggest area for growth is typical of players her height at this age: she needs to get stronger. Despite her size, she also has a lot of redeeming qualities for the wing though it appears she'll be a forward-center on this team. She brings consistent effort to the court, which really suggests she'll reach her full potential over the next few years, while dominating the high school level.

Nike Regional Skills Academy-May 09: It's hard to imagine too many players with more promise and potential than 6-4 forward Breanna Stewart. Her long, lean build and court instincts have taken her game on a steady rise over the past year. The Cicero-North (N.Y.) standout and Philadelphia Belles forward is already doing things that players with much more experience have achieved, skillwise. There is a fluid and natural appearance to her play that allows her to be effective almost anywhere on the floor. She has a tremendous wingspan and hands that give her complete control of the ball. When she finishes in traffic, her reach becomes overtly apparent by her extension and finish at the rim. She can put it on the floor and has a decent jumper to create her looks from the perimeter. Inside, she can post with a target that keeps the ball away from virtually any defender. At this age, limited physical strength does come into play for her to a degree, but it's nothing that time and the weight room won't take care of. Her agility is impressive and she has the speed to get out with the guards. Keep watching, closely.

Boo Williams-April 09: Stewart is extremely long and athletic, has great body control for age, runs the floor and finishes, tremendous shot blocking ability.
Notes
Club Team: Philadelphia Belles and the Syracuse Stars

Won gold medal at FIBA Americas with USA Basketball U16 national team (2009), gold at the FIBA World Championships with the U17 national team (2010), and gold at the FIBA World Championships with the U19 national team (2011). ... only high school player selected to the USAB Pan Am Games team, 2011.