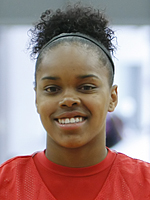 Brittany Boyd
Point Guard
CLASS: 2011
Berkeley, CA

Hometown

Berkeley

High School
38

Overall Rank

9

Position Rank
ESPN Player Evaluations
WCP Spring Invitational-May 10: The Cal Ballaz junior showed the unremitting style of point guard play by continually attacking the heart of the defense. Her first step, and explosion out of change of direction moves gets her into scoring position constantly. She can set the table or score the ball and the more she works on her finishes, perhaps adding a floater with both hands, the better she will get as she tends to get all the way to the rim and with her leaping she usually gets her shot off over or around the help but having another trick in her bag would be terrific. (Hansen)

Nike Skills-May '10: There may not be too many point guards more explosive in the 2011 class. Off the dribble she can almost get into the paint at will and isn't hesitant to take on any size that might rotate her way. Smarter defenders at the next level are going to lay off her a bit until she can prove a more dependable consistency from the perimeter. Her build may be a bit wiry but she's deceptively strong and not shy about mixing it up at either end of the floor. She's quick and attacking on ball defensively but a can get a little distracted on the helpside. Lots of tools and possibilities.

Boo Williams-April '10: With Cal Ballaz teammate Chairese Culberson out with a torn anterior-cruciate ligament, Boyd had even more on her shoulders than usual. During matchups with Ariel Massengale and Amber Orrange, she more than held her own. She has elite quickness and the handle to punish defenders who relax for even a second. She attacked the basket with reckless abandon, regardless of the defenders charged with stopping her. What really stood out more than previous viewings was the 5-8 point guard's explosive leaping ability. She elevated in traffic and finished around the giants in the paint and also used that explosive athleticism to snatch defensive rebounds up and start the break.

EBX Showcase-Oct. '09: Brittany Boyd is from Hercules, Calif., and, as one coach here noted, is a "duh" prospect. As in, "Duh, she's one of the best prospects out there." A 5-8 guard, she is smooth and powerful and lethal from a lot of areas on the floor. Currently No. 50 in the ESPN HoopGurlz Super 60 for 2011, she also has some advanced tricks in her arsenal, including what the late Pete Newell dubbed the "Kiki" move after Kiki Vandeweghe, the master of the drive-and-step-back jumper. A little less reliance on her right hand, particularly on the dribble, will bring Boyd closer to perfection.
Notes
Club Team: Cal Ballaz

Invited to the USA Basketball U18 National Team Trials, 2010 ... first team all-state, 2010