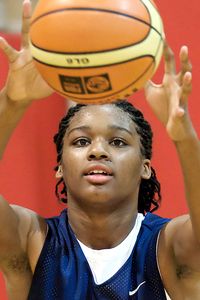 Rachel Hollivay
Post
CLASS: 2012
Columbus, MS

Hometown

Heritage Academy

High School
9

Overall Rank

2

Position Rank
ESPN Player Evaluations
Strengths: Physical gifts, length, athleticism, shot-blocking ability, low block scoring, mid-range shot
Areas to improve: Floating on offense, consistent offensive rebounding, consistency
Summary: Hollivay has all of the tools to make a major impact at the college level. At 6 feet 4 inches, she has the potential to force teams to double team her on a consistent basis as she has great touch around the basket and a solid feel for how to make a move in the post. The one knock on Hollivay would be that throughout her prep career she has been a bit inconsistent with her level of play. When she wants to she can be one of the best players in the country, but from time to time her effort level and intensity can leave you wanting more. Major upside.

Bayou-July 11: Hollivay was playing for a new team, the Alabama RoadRunners, because of the new NCAA rules limiting players to teams in adjacent states, so the comfort level with her teammates wasn't what we're used to seeing, but Hollivay still showed the physical tools that earned her elite status in this class. Her footwork in the post continues to improve and her ability to score from the mid-range also is a strength. She is an elite shotblocker in the post and one of the better rebounders as well. This performance may not be the best we've seen her, but there's no signs she's regressing in any way. (Hansen)

WCP Spring-May 11: Utility post with good energy. Plays hard, active. Is trying to make herself an elite go-to post by scoring the basketball. Not there yet, has decent touch around the rim. Hit a 12-footer. (Clay)

Nike Nationals-July 10: Her performance in Augusta may rank up there with as one of the top efforts of the summer. At both ends of the floor she was not only making an impact but doing so in a dominant manner. She displayed the confidence and the attack that's been missing and frustrating anyone courtside. Defensively she changed shots and took more than her share out of the air while controlling the boards. Offensively the reach and extension combined with her vertical to give her virtually uncontested looks at the rim. Additionally, it was obvious that she wanted the ball and was looking to create her own scoring opportunities. If playing at this level becomes the norm, opponents are going to be losing some sleep. (Lewis)

Flava Jam-July 10: For a post player that is primarily recognized for her athleticism and ability to get out and get buckets in transition, Hollivay stood out in a completely new way. The 6-3 Mississippian impressed fans and scouts on several occasions by putting on a post-up clinic. She showed impeccable footwork both in gaining position and after the catch. Her pivots utilized her length to cover a lot of ground, force the defender to commit to a side and then she was ready with a counter, sealing the defender and their fate. She also showed a new confidence in her jumper and for a player who has battled with vision she was dialed in. When she rises up to shoot a mid-range shot off a reverse pivot face-up, it looks natural and comfortable. If she can bring this, along with her ability to run the court, block shots and clean the glass there is very little question that she can be one of the premier post players in the class. (Hansen)

USA U17 Trials-June 10: The frustration seemed to be mounting for the 6-4 post from Mississippi. She would slide into a gap in the defense and her teammates would find her slipping into the seam but for some reason she just couldn't make a clean catch and finish. Rather than mail it in because things weren't going her way, she sucked it up and put even more effort into the defensive end. Few matched her intensity defending the post. She mixed some nice blocked shots with some textbook swim moves to get in front of well-positioned offensive players. The offense will come in time but her playing through adversity was very impressive. (Hansen)

Summer Showcase-July 09: Transition is usually not the strong suit for players standing 6-5, but Rachel Hollivay is not exactly the usual. With a dynamic wingspan and plenty of athleticism, she is a great target out in transition. We've critiqued her previously on her lack of back-to-the-basket offense, but against the Indiana Family she showed she is progressing in that part of her game as well. She had a nice run where she scored on a sweeping scoop shot and a strong drop step. With her natural gifts, perfecting just a few strong side moves and adding a counter will make her one of the premier players in the class. (Lewis)

USA U16 Trials-May 09: The sole representative from the state of Mississippi was Rachel Hollivay of Columbus. The upside, potential and future of this kid is so promising that it's hard to sit back and wait for her to develop with her three remaining high school seasons. She's 6-4, long and can run the floor with the wings. She is in her element in transition where she can beat her defender to the other end and find easy buckets. Defensively, she is a big-time shot blocker. She struggled in the half court with her back to the basket, but look out when that part of her game evolves.

Nike Regional Skills Academy-April 09: Rachel Hollivay may call Mississippi home and play club ball in Florida, but she certainly left her mark in Georgia this weekend. The 6-4 forward is smooth and fluid in everything she does and has the wingspan of something from Boeing. She posts effectively both on the block or flashing into the paint and is effective finishing on the catch. Her jumper has a little forward motion in it but is still a threat for her if given the look. She can put it on the floor some and, with her mobility and size, she becomes a tough match up for opposing bigs. That same size and her reach make her an intimidating defender and she's not hesitant to get physical on the defensive end of the floor.

Boo Williams-April 09: Rachel Hollivay out of Mississippi is a 6-4 freshman with the potential to be one of the top post players in her class. She runs the floor very well and is very aware of where she is on the court. Yes, her offensive skill set is still a little raw, but even when she is missing layups she is above the rim. Right now the Essence post does a great job getting off the floor from a stationery position and seems to get her hands on every ball that is on the glass. She is definitely a young player to keep an eye on.
Notes
Club Team: Essence

USA Basketball U16 Trials Invitee, 2009. ... Nike Regional Skills Academy, 2009.