Breanna Stewart may be remembered by the general basketball public as the girl who completed a one-handed lob flush during the dunk contest at the McDonald's All-American Game. But those who follow high school girls' basketball also know she just had a season for the ages, not only producing big individual numbers but also propelling Cicero-North Syracuse (Cicero, N.Y.), a team not expected to be a national factor by many at the beginning of the year, to a top-10 POWERADE FAB 50 ranking.
Unlike prospect rankings, which project impact at the next level, ESPN HoopGurlz's Star Watch judges actual performance and its impact on team success at the national level. No player exemplified that better than Stewart.
Three states -- California, Georgia and Illinois -- each placed two players in our final, top 10 list.
The University of Connecticut will claim the top two, Stewart and Morgan Tuck of Bolingbrook (Ill.), but the list includes five underclassmen, including one sophomore, setting up a 2012-13 high school season that should be as competitive and down-to-the-wire as this last one was.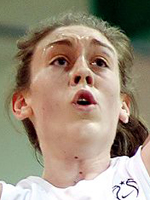 1. Breanna Stewart, Sr., Cicero (N.Y.)-North Syracuse
The Connecticut-bound 6-foot-3 forward may have had one of the all-time great individual prep seasons that, in turn, created a great season for her team. Stewart averaged 26 points and eight rebounds, and twice tallied 42 points in a game. Stewart also swept the top individual honors, collecting the Naismith, Wootten and Gatorade Player of the Year awards as well as USA Basketball's Female Player of the Year, an unprecedented quadruple. Most impressively, Cicero won state AA and New York Tournament of Champions titles, and finished No. 10 in the POWERADE FAB 50, with arguably its second-best player, Brittany Paul, a softball-first athlete.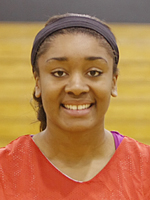 2. Morgan Tuck, Sr., Bolingbrook (Ill.)
Another Connecticut-bound forward had a great season, taking a leadership role for a team that lost point guard Ariel Massengale to graduation, and guiding it to a No. 4 ranking in the FAB 50. Tuck averaged 27.7 points, 10.2 rebounds, 2.7 steals and 2.4 assists, but she had some monster performances, reaching the 40-point mark three times. She also had 40 points and 12 rebounds against No. 5 Riverdale and 36 points and 15 rebounds against No. 34 St. Mary's. And the Raiders seemed headed to a No. 2 national ranking, until a quadruple-overtime loss to rival Whitney Young in a super-sectional thriller.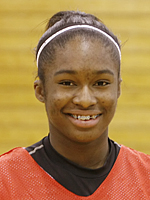 3. Linnae Harper, Jr., Whitney Young (Chicago)
The highest-ranked underclassman on this list, Harper, at 5-6, continues to play a game that is bigger than expected. To wit, she had 14 points and 14 rebounds during the Dolphins' victory over Edwardsville in the Class 4A state championship game. Harper, the No. 6 prospect in the 2013 class, averaged 19.8 points, 13.2 rebounds, 3.4 assists and 2.7 steals. She posted season highs of 29 points and 24 rebounds against Rufus King of Milwaukee, Wis. At 34-0, Whitney Young became the first Illinois large school in six years to produce an unbeaten season, and the Dolphins finished No. 3 in the FAB 50.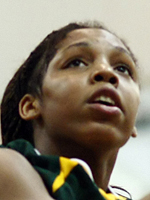 4. Nirra Fields, Sr., Mater Dei (Santa Ana, Calif.)
The Monarchs lost one of the best scorers in recent, national prep history in Kaleena Mosqueda-Lewis, but Fields, a transfer, stepped right in and Mater Dei barely skipped a beat, claiming its third straight CIF Division I championship. The UCLA-bound Fields averaged 22.4 points, 7.1 rebounds, 4.1 steals and 2.3 assists and set or tied four school records – most points in a game (41), most free throws in a season (123), most free-throw attempts in a season (167) and most steals in a season (128). Playing its usual national schedule, Mater Dei finished 34-3 and No. 8 in the FAB 50.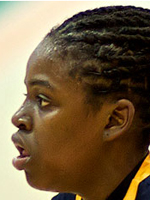 5. Jonquel Jones, Sr., Riverdale Baptist (Upper Marlboro, Md.)
If there was a national Most Improved award, this Clemson-bound forward would be a leading candidate. Rarely do athletes make the leap, as Jones did, from a good, but complementary, player to one of the country's top performers in a matter of one year. The native of the Bahamas averaged 15.7 points, 15.6 rebounds, four assists, three steals and two blocks, with season highs of 28 points, 26 rebounds and seven blocks. Her team, Riverdale Baptist, played its usual, take-on-all-comers schedule, won a NACA national championship, the NHSI championship and finished 37-2 and ranked No. 6 in the FAB 50.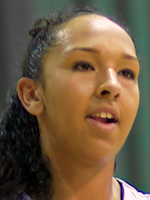 6. Mercedes Russell, Jr., Springfield (Ore.)
How good was the No. 1 prospect in the 2013 class? Willamette of Eugene, Ore., held the ball, to keep it out of her hands, and produced a nationally controversial 16-7 final, in Springfield's favor, in the Oregon 5A state championship game. How could you blame them? The 6-6 Russell averaged 26 points, 16 rebounds, 6 blocks and 4.5 assists. She had a high of 37 points, but, as in most games this season, sat most of the fourth quarter because of score differential. Springfield finished 26-3 and wasn't a factor nationally since it played only three opponents, none ranked, from outside the state of Oregon.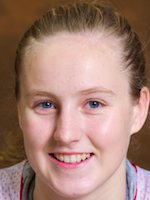 7. Courtney Ekmark, So., St. Mary's (Phoenix, Ariz.)
The Knights had a banner season -- national No. 1, undefeated at 30-0 and Nike Tournament of Champions titlists -- because they had seven Division I-level prospects who performed like clockwork and sublimated individual glory for team success. They don't even keep individual stats, so we have none for the youngest player on this list. We tabbed Ekmark, the daughter of the Naismith Coach of the Year, because she came up biggest in St. Mary's two biggest wins of the season. She had 28 points and four 3-pointers in the Arizona state championship game and a game-high 26 in the Nike TOC championship game.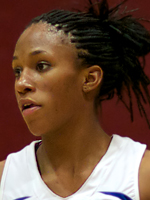 8. Pachiyaanna Roberts, Sr., McEachern (Power Springs, Ga.)
Like the only team ranked ahead of them, the Indians used depth of talent to craft a 33-0 record and a Class AAAAA state championship. But if there was one player who reflects McEachern's approach, it's definitely the 5-10, Syracuse-bound Roberts. She not only produced 18 double-doubles and averaged 17.9 points, 10.5 rebounds, 3.8 steals, 2.4 assists and 1.7 blocks, but she was also dispatched by coach Phyllis Arthur to all five positions on the floor. Georgia's Miss Basketball opened the season with a game-winning 3-pointer from near mid-court against Memphis Central and just kept rolling.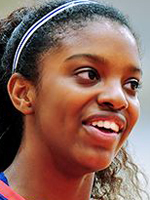 9. Diamond DeShields, Jr., Norcross (Ga.)
Norcross' quest for a state championship three-peat was cut short by McEachern, a team with at least six eventual major Division I players. That's the kind of firepower it took to deny DeShields. She averaged 21.9 points, 4.6 rebounds, 3.5 steals, 2.5 assists and a block, but her value to her team was best illustrated by a break she suffered in her left wrist. Norcross, which finished No. 23 in the FAB 50, lost to state powers Mill Creek (by 14) and North Gwinnett (by 28) while DeShields was sidelined, and beat them by 17 and 15 after her return. That's epic.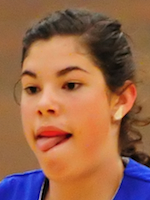 10. Kelsey Plum, Jr., La Jolla (Calif.) Country Day
On a team whose tallest player is just 5-11, guard play becomes that much more important, and the ball has been in the best of hands at Country Day for three years. Plum not only makes a lot of plays most point guards miss, but she often was her own best option, averaging 22 points, with a high of 38 against Dobson (Ariz.), to go with her four assists and four rebounds a game. Plum, a lefty ranked No. 31 among 2013 prospects, was a one-girl wrecking crew, producing 32 points as the Torreys claimed the CIF Division IV state crown, helping them to a 32-1 record and No. 9 finish in the FAB 50.
Honorable Mention: Jordan Adams, Sr., Mater Dei (Santa Ana, Calif.); Shacobia Barbee, Sr., Riverdale (Murfreesboro, Tenn.); Sophia Bhasin, Sr., Cajon (San Bernardino, Calif.); Te'a Cooper, Fr., McEachern (Power Springs, Ga.); Bianca Cuevas, So., Nazareth (Brooklyn, N.Y.); Allisha Gray, Jr., Washington Co. (Sandersville, Ga.); Malina Howard, Sr., Twinsburg (Ohio); Niya Johnson, Sr., P.K. Yonge (Gainesville, Fla.); Alexis Jones, Sr., MacArthur (Irving, Texas); Kelsey Mitchell, So., Princeton (Sharonville, Ohio); Shilpa Tummala, Sr., St. Mary's (Phoenix, Ariz.); Victoria Vivians, So., Scott Central (Forest, Miss.).
Star Watch Panel: Brandon Clay, Rebecca Gray, Chris Hansen, Keil Moore, Glenn Nelson.