DyeStatCal is seeking to once again post an extensive list of signees and (if possible) a signing photo. Each listing should be emailed to us in the following format:
First and last name of athlete (high school name) college destination - event/sport
Signing photos should be sent "full size". We will edit them down to a size that is compatible with out ESPN system.
Please email your college decision news and full-size photo to DyeStatCal editor Rich Gonzalez at roadrunner4rich@aol.com
---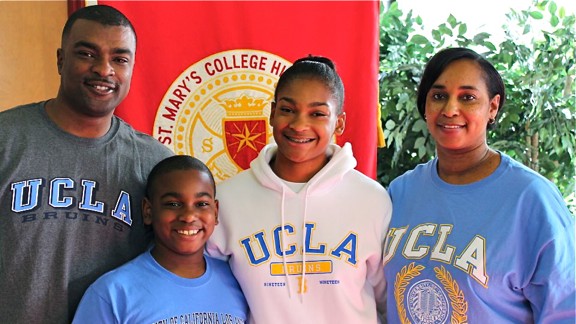 St. Mary's of Berkeley senior Trinity Wilson, premier track and field athlete in the state -- if not the nation -- tabbed UCLA as the winner of the recruiting derby for the precocious teen's hurdling talents. Wilson, the World Youth Championships gold medalist in the high hurdles, cited the coaching talents of head coach Jeannette Bolden and volunteer coach Bobby Kersee as key factors in her decision. Wilson is pictured above with her family.
---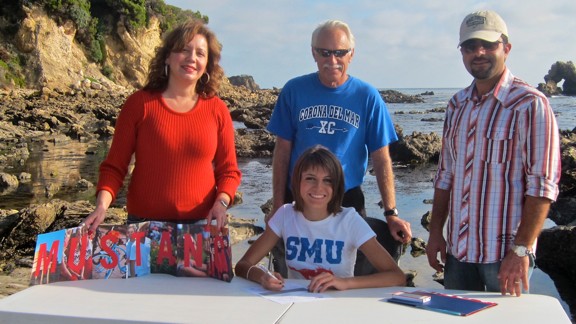 Corona del Mar distance star Ashlee Powers, who has played a key role in upholding the program's successful tradition in recent years, has decided to continue her education at Southern Methodist University. Powers, an all-state cross-country selection in 2010, has been a members of three state finalist squads, including the 2009 Division III state champions. Pictured with Powers are Sea Kings coach Bill Sumner (middle) and her parents.
---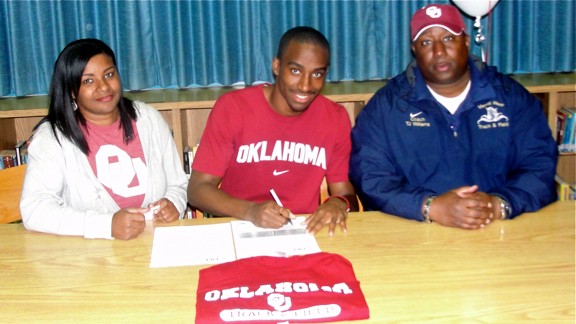 Merrill West trilple jumper Deon Pinder, the returning Sac-Joaquin Section leader in the event, has opted to cross state lines for his college destination after officially signing with the Oklahoma Sooners. Pinder, whose best mark in the event is a wind-aided 48 feet, 4 inches, ranks third in California in the event entering the new year.
---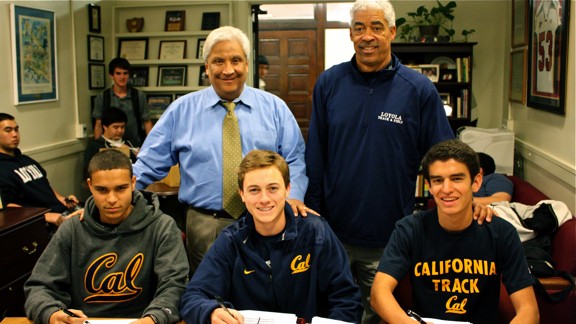 Loyola High of Los Angeles has sent a steady stream of top athletes to UC Berkeley in recent years and the trend will continue again this fall as Jared Jones (left), Ned Trim (center) and Andrew Bland will become Golden Bears. Jones (9:19.60) and Trim (9:36.85) specialize in the 3200m in track while Bland (4:18.51) has excelled at 1600m. Standing behind the trio are cross-country coach Lalo Diaz (left) and track and field head coach Mike Porterfield.
---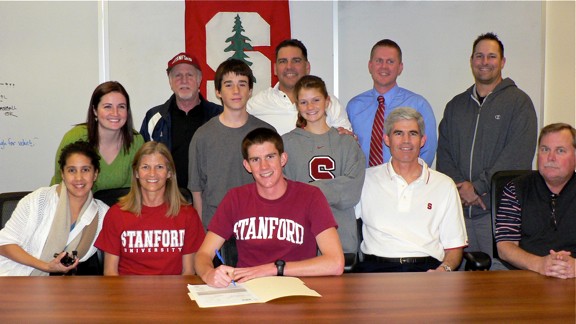 Monta Vista's Kevin Bishop, an outstanding student and not too shabby an athlete either, has elected to stay in the area by taking his in-demand talents to Stanford University. Bishop (8:59.82) is among five Californians with sub-9:00 credentials for 3200 meters, the deepest talent pool of any state in the nation. Proudly pictured with Kevin are: Seated (l-to-r:) Nancy Dudley (wife of coach Mike Dudley), Irene Bisho (Kevin's mom), Kevin Bishop, Cary Bishop (Kevin's dad) and Jeff Mueller (Athletic Director); second row (l-to-r): Kate Duphily (school counselor) and Kevin's siblings, Ryan and Kelly; back row (l-to-r): Willie Harmatz (distance coach), Mike Dudley (Head Coach), Ben Clausnitzer (Assistant Principal) and Mike White (Dean of Students).
---
Buchanan senior Nicole Falkenstein, the Central Section's top returnee in the event, is heading "downstate" to compete for Biola University. Falkenstein, a state meet competitor a year ago when she cleared a lifetime-best 11 feet, 9 inches, improved on that mark by another inch at last month's Pole Vault Summit exhibition in Reno, Nevada.
---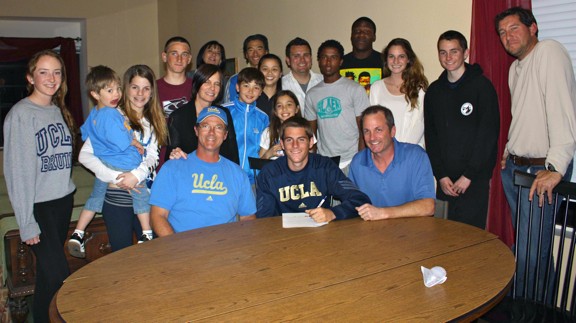 Rio Mesa all-around talent Blake Selig, who continues the school's tradition of producing track and field talent, will be fulfilling a longtime goal by competing for UCLA. Selig is the top returning long jumper in the state (23-08.50) and also ranks among the the top sprinters (10.73/21.72w). Pictured here with Selig are coaches, family, and friends -- and seemingly half of Ventura County!
---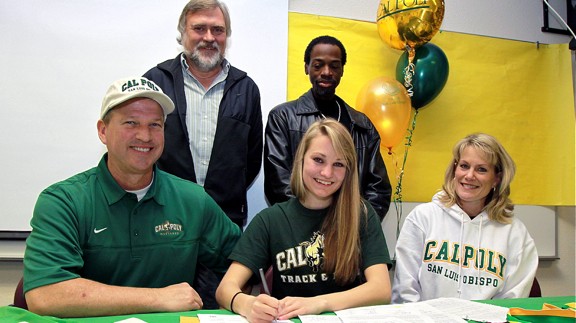 Bear River's Kendal Nielsen, the all-around wunderkind from the Sac-Joaquin Section, will be heading toward the southern end of the state with her decision to attend Cal Poly San Luis Obispo. Nielsen, the SJS wind-legal leader in both horizontal jumps (18-01.75 in the long/38.08.25 in the triple), also ranks among the top five in the section in the 200-meter dash (25.87) and among the top 15 in the 100m. In this photo (courtesy of Michael Kirby) are Kendal along with her parents and coaches.
---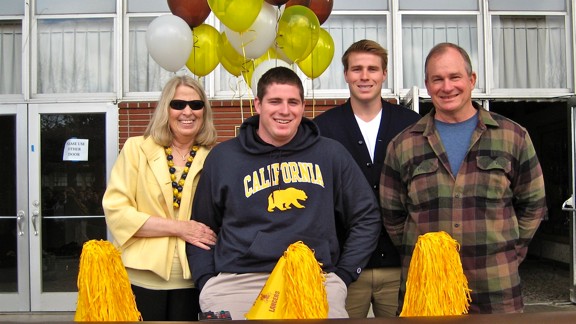 St. Francis of Mountain View's Cody Bickham, the premier thrower in the Central Coast Section, will be heading up to the Bay Area in the fall as he'll continues his studies at academic power UC Berkeley. Bickham, pictured above with his family, owns bests of 56-00.50 in the shot put (#5 in the state among this year's returnees) and 176-04 in the discus (#7 in the state).
---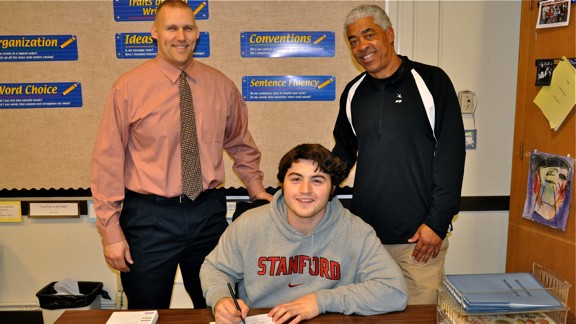 Loyola's Nick Budincich, one of the heroes of last summer's Nike Track Nationals team championship, has decided to take his talents (and outgoing personality) to Stanford this fall. Budincich, pictured above with throws coach Matt Pentecost (left) and head coach Mike Porterfield, holds personal bests of 182-09 in the discus (#4 returnee in the state) and 55-07.00 in the shot put (tied for seventh).
---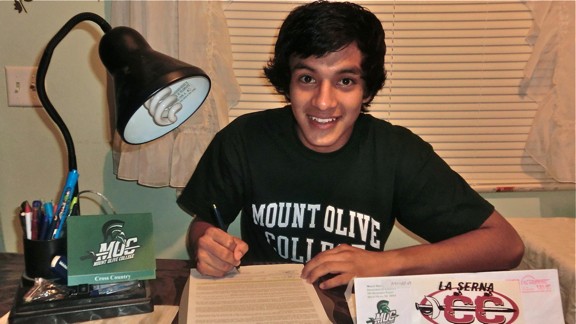 It's not often that an NCAA Division II school across the country effectively beats the bushes for Southern California talent, but Mount Olive College of North Carolina pulled off the feat in signing La Serna's Michael Munoz. The Del Rio League talent recorded lifetime bests in both the 1600 (4:25.72) and 3200 (9:46.32) on the same day at last year's CIF-SS Division II Prelims. Munoz also has a Mt. SAC course best of 15:31.
---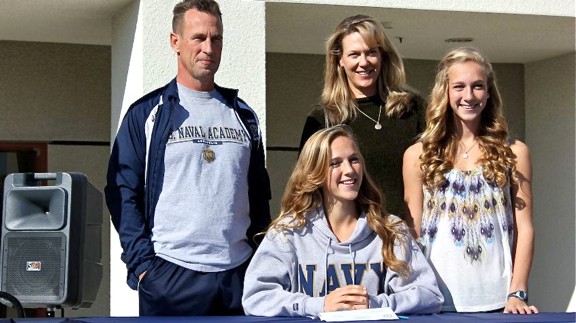 Ashley Welker, a major key to West Ranch's emergence as a distance power in recent years, has received an appointment to attend and compete for the United States Naval Academy. Welker, who has specialized in the 800 meters in track and field, achieved a personal best of 2:11.60 at last year's CIF-SS Masters Meet. She also holds a best of 18:18 on the Mt. SAC cross-country course. Ashley is pictured here with parents Steve and Jane along with youngster sister Taylor.
---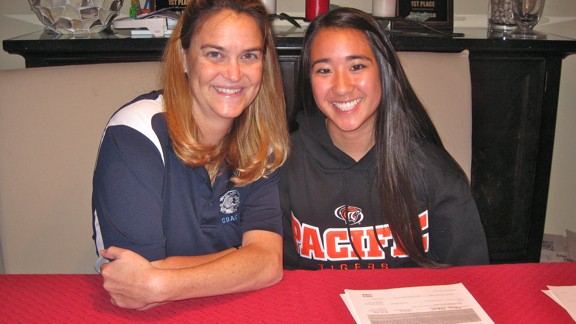 Dougherty Valley's Lauren Nakaso, a Top 15 race finisher a this year's Nike PreNationals meet in Portland in September, will continue her education in Northern California by committing to the University of the Pacific in Stockton. Nakaso holds nice range, competing in the 400 and 800 meters in track and field as well as competing in cross-country. Here, Lauren is pictured with Dougherty Valley Coach Stephanie Bambury.
---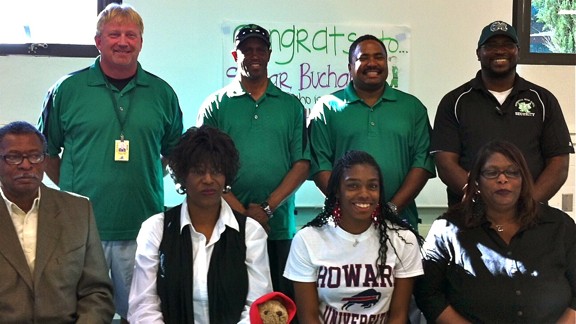 Monrovia's Skyler Buchanan, one of the San Gabriel Valley's premier sprinters, will be heading to Howard University in the Washington D.C. area. The Monrovia High senior lays claim to personal bests of 12.28 (wind aided) in the 100 meters and 25.40 in the 200 meters. Family members and coaching staff are pictured surrounding Skylar.
---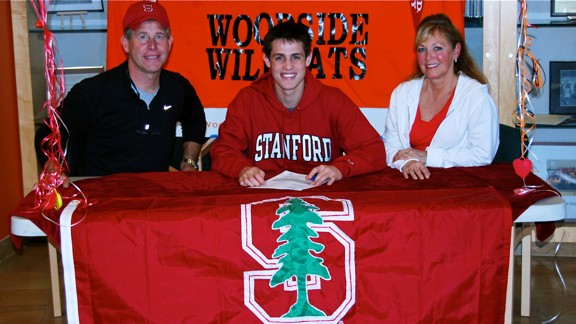 Woodside High School state medalist Chris Wachura will remain along the Central Coast to continue his education, with the precocious miler deciiding to attend Stanford University! Waschura, the state's #2 returnee across 1600 meters, is the reigning CCS champion in the 800 and 1600 and this spring will seek to nab a rare third individual distance victory in as many years at Arcadia (Rising Stars Mile in 2010 and Seeded Mile in 2011). Chris, who placed fifth in the four-lapper at last year's state meet, is pictured above with parents Tom and Becky.
---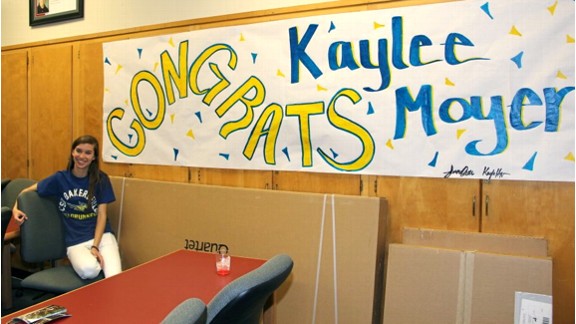 North Bakersfield's Kaylee Moyer expressed surprise upon learning that nearby Cal State Bakersfield was recruiting the promising Central Section distance talent. The wooing finally paid off as Moyer penned her signature on a letter of intent. Moyer owns a best of 5:25 for 1600 meters in track and field and was a Top 10 finisher in her division at the CIF Central Section Cross-Country Championships last November.
---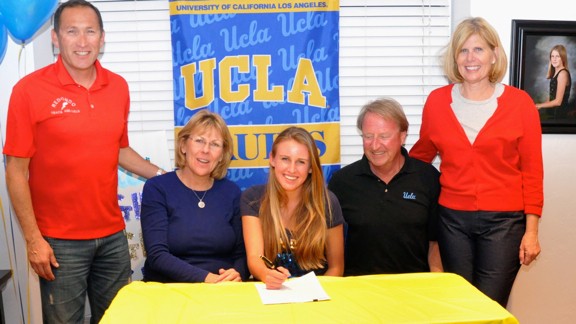 Among those at the heart of Redondo Union's ascent to national-class status as a distance power has been senior Lyndsey Mull, who recently signed on to continue her studies and her athletic excellence at UCLA. Mull owns a lifetime best of 4:49 and change for 1600 meters, achieving the mark at last year's state meet prelims. Also a very tough competitor in cross-country, Mull was an all-state performer in Division II as a senior, placing seventh at Woodward Park (17:54) in leading the Seahawks to a Nike Cross Nationals berth. At NXN, Mull's team placed 10th in the nation and tops among California schools.
---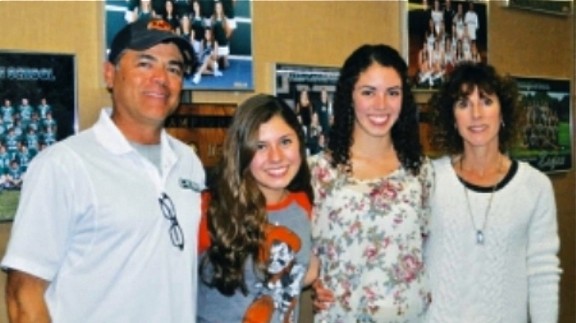 Templeton's Savannah Camacho, among the toughest competitors in perhaps track and field's toughest singular event -- the 800 meters -- has announced that she will attend Oklahoma State in the fall. Camacho, who owns bests of 2:07.62 in the 800 and 4:49.84 in the 1600 (the latter time occuring in 2010), earned her first all-state cross-country honors this past fall as well, placing fifth in Division IV.
---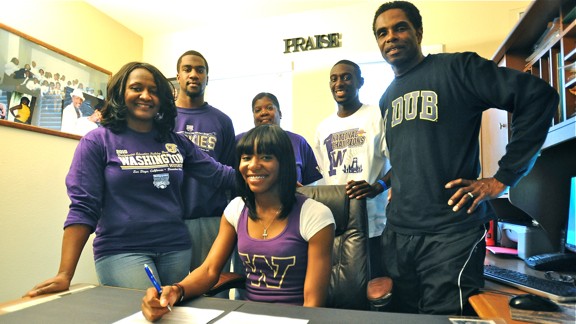 Fairfield's Daje Pugh, among the leading hurding talents in the country, will be heading to the Pacific Northwest for college as she has announced her commitment to Washington. Pugh, whose lifetime best in the high hurdles is a 13.90 performance at last year's CIF Sac-Joaquin Section Masters Meet, is a three-time state finalist. Above, Pugh is surrounded by a large and proud group of supporters.
---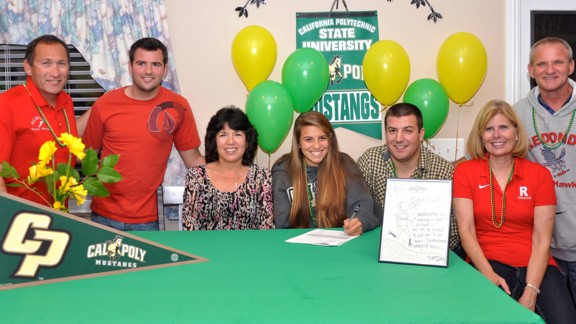 Rachel Bush, one of the key pieces of Redondo Union's strong distance corps, signs
with Cal Poly at San Luis Obispo.Rachel has best times of 5:02 for 1600 and 10:47 for 3200 in track. A four-year letterman in cross-country, she has helped the program to four stste-meet appearances, including three third-place podium finishes. Pictured, from left to right: Coach Bob Leetch, Todd Bush, Lisa Bush, Rachel Bush,
Travis Bush, Coach Julie Ferron and Clem Bush.
---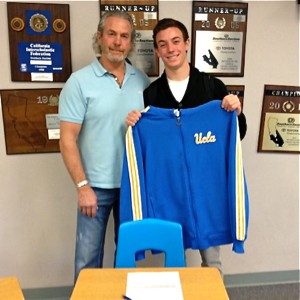 The Stark Family pipeline from Oak Park to Westwood continues! Oak Park's Connor Stark, the state's top returnee in the pole vault, has elected to attend UCLA.
Connor, the silver medalist at last year's state meet who holds a lifetime-best clearance of 16-01, follows in the footsteps of older sisters Aubree (2007) and Madison (2011) in heading to Bruin-ville.
Here, Connor is pictured with Dale, his proud father.
---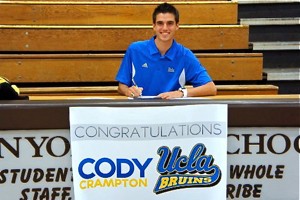 Canyon of Anaheim's Cody Crampton, who exhibited sheer poise in capturing the state championship in the high jump last June, will continue his studies at UCLA. Crampton, who also recently won the indoor state championship, holds a personal best of 6 feet, 11 inches in the event.
---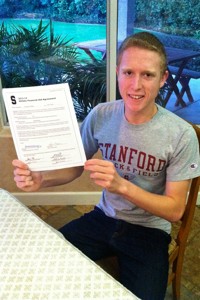 Stockdale's Cameron Miller, the spark plug on a breakthrough season for the Mustangs that included capturing the Central Section Division I cross-country team championship, has decided to continue his education at Stanford University.
Miller, also one of the state elite distance runners, provided the senior leadership and continual focus to carry Stockdale to repeated successes this past fall.
---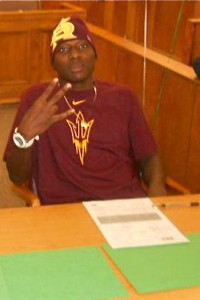 Dorsey's Rashard Clark, who clocked the fastest time in the 400-meter dash at last year's state meet prelims, will be taking his sprinting acumen to Arizona State University.
Clark, whose lifetime best of 47.45 in the event at last year's Los Angeles City Section Finals is the top returning time in the state, will also see duty on the Dons' powerful relay squads.
---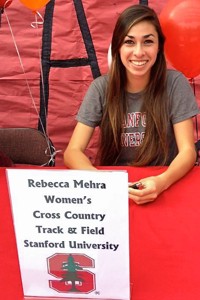 Palos Verdes' Rebecca Mehra, a four-time all-state performer in cross-country including a former state individual champion, penned her name to a national letter of intent to attend Stanford University.
Mehra is the latest in an accomplished list of standouts to compete for the PV program, leading the squad onto the state meet podium each of the last three years, including the state championship this school year.
---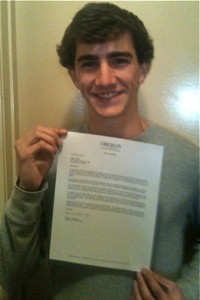 Rio Mesa's Geno Arthur, whose very consistent final season of high school cross-country was punctuated by winning the Ventura County Championships individual title, will be heading to the Midwest for college, attending Ohio's Oberlin College, a highly regarded liberal arts school.
---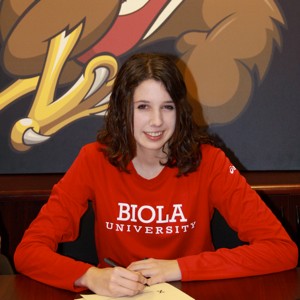 Whittier Christian's Kellian Hunt, a three-time all-state cross-country performer, was a very nice recruiting procurement by Southland-based Biola University. Hunt, who placed third at this year's state meet in Fresno, has finished no worse than sixth in state Division IV over the last three years. Hunt owns lifetime bests of 5:02.85 for 1600 meters and 10:57.99 for 3200 meters in track and field.
---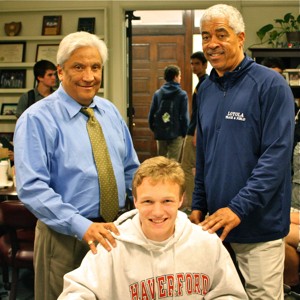 Loyola's Charlie Marquardt is trekking clear across the country for his collegiate studies, destined for Haverfold College in Pennsylvania. Marquardt, pictured here with head cross-country coach Lalo Diaz (left) and track and field head coach Mike Porterfield, ran between 9:26 and 9:38 on seven occasions last spring. He is a "sleeper" talent in CIF-SS Division II in 2012. Coach Diaz proudly points out that Marquardt's progress has been a by-product of hard work, having improved from a 3-minute performer for 800 meters.
---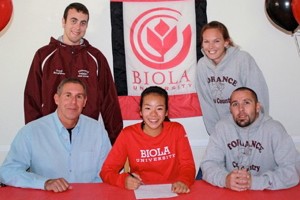 Torrance's Ilima Kung, who did not compete during her junior track and field season but has been a solid performer from the South Bay, will be attending Biola University. Kung clocked 5:10.99 for 1600 meters as a sophomore in track and field and owns a lifetime best of 18:43 on the hilly version of the Mt. SAC course. Kung placed eighth as a senior in the South Bay Cup cross-country meet. Ilima is surrounding by members of coaching staffs from Torrance HS and Biola.
---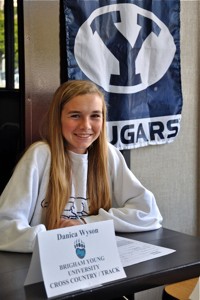 Aliso Niguel's Danica Wyson, who bounced back to experience a rewarding track and field season last spring, has signed with Brigham Young University. Wyson enjoyed a remarkable freshman season when she was timed in 10:33.55 for 3200 meters. After a rocky sophomore season that included injury, Wyson dipped under 11 minutes for the first time in nearly 24 months last May, then just missed all-state cross-country honors last November after a strong 18:18 performance at Woodward Park.
---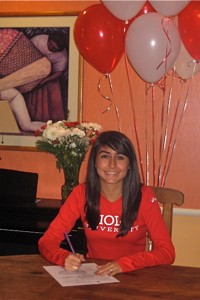 Sacramento El Camino's Neysa Mains, who holds personal bests of 18:49 at the Mt. SAC Invitational for cross-country (2011) and 5:12.46 for 1600 meters in track and field (2010), has signed on with Biola University. Mains also placed 19th in the Division III state cross-country meet earlier this school year.
---
src="https://a.espncdn.com/photo/2012/0211/espnhs_corey_hammond_to_columbia_300x300.jpg" align="center" />
Corey Hammond, the latest hurdling talent to emerge at Santa Ana Mater Dei, is off to the Ivy League! Hammond, whose three best clockings in the 300-meter intermediates last year came in the final three races of his season, owns a lifetime best of 38.76 in the event and also ran 15.22 in the high hurdles last year. He ranks as the #8 returnee in the Southern Section in the intermediates. Corey is pictured here with head coach Rick Martinez, also a Mater Dei alum.
---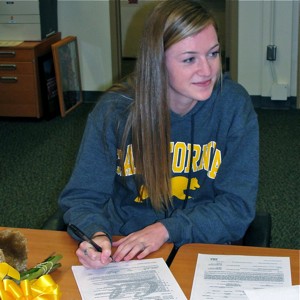 Woodbridge's Molly Babcock will be joining older sister Christine on the Pac-12 scene, but at a different school. Molly has signed to attend UC Berkeley as she readies for her senior season of track and field. She ran a personal best 5:04.69 for 1600 meters at the Pacific Coast League Finals last May. Her older sister, Christine, attends the University of Washington.
---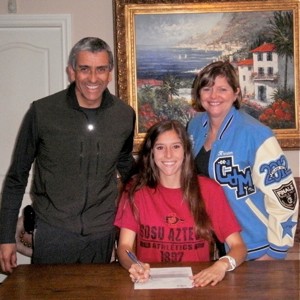 Kristen Rivera, who placed 16th in Division III in leading Corona del Mar to an eighth-place team finish at the cross-country state championships last November, has signed on to attend San Diego State. Rivera, who also owns a best of 2:18.78 for 800 meters in track, has been a team scorer each of the last four years at the state cross-country meet, including during the program's 2009 state title win. Here, Kristen is pictured with her proud parents.
---
Erika Barr, a key performer during Simi Valley's magical 2011 cross-country season, has signed her letter of intent to compete at UC Davis. Barr's leadership and clutch running helped power the Pioneers to the CIF-Southern Section Division II championship. She also was a member of the squad that earned a berth to compete at the prestigious Nike Cross Nationals championship in Portland, Ore. Erika, the team captain and Ventura County Coaches Association Senior Runner of the Year, is pictured with Simi Valley distance coach Roger Evans.
---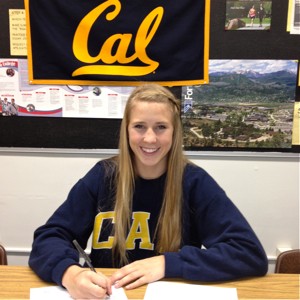 Foothill of Santa Ana's Victoria Rische, one of the top returning pole vaulters in the nation for the 2012 season, has decided to continue her education at UC Berkeley. Rische owns a personal best of 12-09.75, which came at last year's CIF-Southern Section Division II Finals. A three-time state finalist (including the silver medalist in 2011), Rische hails from Orange County, which is annually among the strongest regions in the nation for girls pole vaulting. In addition to a quest for the state title in 2012, Victoria will also be gunning for her third CIF-SS title.
---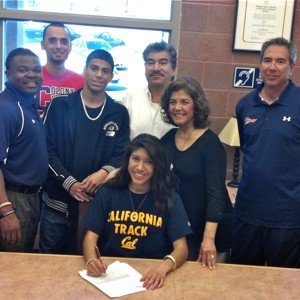 Xochitl Navarrete, who earlier this year led Colony to its first-ever team berth to the state cross-country championships, has signed with UC Berkeley! Xochitl, who placed 11th at the 2011 Divsion II championship race in cross-country, also holds bests of 10:48.69 for 3200 meters and 4:55.76 for 1600 meters in track. Pictured here with Xochitl and standing from left to right are: Principal Kern Oduro, Coach Jose Rangel, younger brother Max Navarrete, parents Javier and Carmen Navarrete, and Colony Athletic Director Jaime Sandoval.
---
---
California-Related Official Collegiate Signings
C.J. Albertson (Buchanan-CE) to Arizona State - distances
Katie Alioto (Soquel-CC) to St. Mary's College - distances
Holli Arrieta (Oak Ridge-SJ) to Cal Poly SLO - distances
Geno Arthur (Rio Mesa-SS) to Oberlin College - distances
Molly Babcock (Woodbridge-SS) to UC Berkeley - distances
Erika Barr (Simi Valley-SS) to UC Davis - distances
Cody Bickham (St. Francis-CC) to UC Berkeley - throws
Kevin Bishop (Monta Vista-CC) to Stanford - distances
Andrew Bland (Loyola-SS) to UC Berkeley - distances
Dylan Blankenbaker (Ramona HS-SD) to Oklahoma - distances
Matt Bloch (Notre Dame, Sherman Oaks-SS) to Nebraska - distances
Bridget Blum (San Francisco University, SF-NC) to Claremont McKenna - distances
Skylar Buchanan (Monrovia-SS) to Howard University - sprints
Rachel Bush (Redondo Union) to Cal Poly San Luis Obispo - distances
Megan Callendar (El Toro-SS) to Biola - mid-distances
Savannah Camacho (Templeton-SS) to Oklahoma State - distances
Cami Chapus (Harvard/Westlake HS, North Hollywood-SS) to Stanford - distances
Rashard Clark (Dorsey-LA) to Arizona State - sprints
Ethan Cochran (Newport Harbor-SS) to UC Berkeley - throws
Cody Crampton (Canyon/Ana.-SS) to UCLA - high jump
Ashlyn Dadkhah (Torrey Pines-SD) to UC Berkeley -distances
Jonah Diaz (Palos Verdes-SS) to UCLA - distances
Kevin Durham (El Toro, Lake Forest-SS) to Notre Dame - distances
Nicole Falkenstein (Buchanan-CE) to Biola - pole vault
Anika Gasner (Rio Mesa-SS) to Biola - mid-distances
Billy Gaudreau (St. Margaret's-SS) to Harvard - distances
Nicki Ghazarian (Westlake-SS) to Pennsylvania - distances
Sergio Gonzalez (Arcadia-SS) to Portland - distances
Annie Grove (Bishop Montgomery-SS) to Univ. of South Carolina - distances
Corey Hammond (Mater Dei-SS) to Columbia - hurdles
Urina Harrell (Serra-SS) to Duke - multi-events
Laura Hollander (Marina-SS) to Cal Poly SLO - distances
Kellian Hunt (Whittier Christian-SS) to Biola - distances
Melanie Joerger (Thousand Oaks-SS) to Loyola Marymount - distances
Kora Johnson (Trabuco Hills-SS) to Biola - distances
Jared Jones (Loyola-SS) to UC Berkeley - distances
Taylor Khan (Ayala, Chino Hills-SS) to St. Mary's College - distances
Jay Kovar (Burroughs/Ridgecrest) to Southern Utah - throws
Arjun Kumar (Torrey Pines-SD) to Washington U., Missouri - distances
Ilima Kung (Torrance-SS) to Biola - distances
Nicole Lane (El Molino-NC) to UC Davis - distances
Morgan Laney (Del Norte-SJ) to Sacramento State - throws
Ethan Lawrence (Dana Hills-SS) to Cal Poly SLO - distances
Jason Luu (Yucaipa-SS) to Cal State to San Marcos - distances
Neysa Mains (El Camino/Sacr.-SJ) to Biola - distances
Charlie Marquardt (Loyola-SS) to Haverford - distances
Danny Martinez (St. John Bosco-SS) to Portland - distances
Sophie Mateu (Royal-SS) to Brown - distances
Dylan McCloskey (El Camino-SD) to Cal State Long Beach - sprints
Rebecca Mehra (Palos Verdes-SS) to Stanford - distances
Steve Michaelsen (Newport Harbor-SS) to Wake Forest - throws
Cameron Miller (Stockdale-CE) to Stanford - distances
Alexander Monsivaiz (Army & Navy Academy-SD) to UCLA - distances
Kaylee Moyer (Bakersfield North-CE) to Cal State Bakersfield - distances
Lyndsey Mull (Redondo Union-SS) to UCLA - distances
Michael Munoz (La Serna-SS) to Mt.Olive College, NC - distances
Lauren Nakaso (Dougherty Valley-NC) to University of the Pacific - distances
Xochitl Navarrete (Colony-SS) to UC Berkeley - distances
Kendal Nielsen (Bear River-SJ) to Cal Poly SLO - sprints/jumps
Carina Novell (Livermore-NC) to St. Mary's College - distances
Adriana Olivas (Centennial/Cor-SS) to Arizona State - distances
Bradford Ortlund (Maranatha, Pasadena-SS) to Westmont College - multis
Katie Ott (San Juan Hills, San Juan Capistrano-SS) to UC Davis - distances
Ashton Padberg (Thousand Oaks-SS) to Univ. of San Diego - distances
Kalin Padberg (Thousand Oaks-SS) to University of San Diego - distances
Deon Pinder (Merrill West-SJ) to Oklahoma - jumps
Ashlee Powers (Corona del Mar-SS) to Southern Methodist - distances
Lindsey Ragas (Gahr-SS) to San Francisco State - distances
Nick Ratto (St. Joseph/Notre Dame-NC) to UC Davis- distances
Erika Reddish (Vista Murrieta-SS) to Brigham Young - distances
Andrew Redston (Beverly Hills-SS) to Lewis & Clark - distances
Holland Reynolds (San Francisco University-NC) to Colgate - distances
Sofia Rios (Madera South-CE) to UC Merced - distances
Vistoria Rische (Foothill-SS) to UC Berkeley - pole vault
Kristen Rivera (Corona del Mar-SS) to San Diego State - distances
Ashley Rohrer (Santa Margarita, Rancho SM-SS) to UC San Diego (jumps)
Sarah Schreck (Carlmont, Belmont-CC) to UC Santa Barbara - distances
Mishe' Scott (El Camino-SD) to Cal Poly SLO - jumps/sprints
Blake Selig (Rio Mesa-SS) to UCLA - sprints/jumps
Connor Stark (Oak Park-SS) to UCLA - pole vault
Natasha Strickland (Laguna Beach-SS) to USC - distances
Allison Sturges (Mountain View-CC) to Duke - distances
Emily Taylor (Marina-SS) to Cal State Fullerton - distances
Shea Taylor (Grace Davis-SJ) to Brigham Young - jumps/hurdles
Julian Todd-Borden (La Costa Canyon HS, Carlsbad-SD) to Drake - hurdles
Ned Trim (Loyola-SS) to UC Berkeley - distances
Caitlin Turner (Thousand Oaks-SS) to Cal State Long Beach - distances
Justin Unno (Palos Verdes-SS) to UCLA - distances
Carrie Verdon (Campolindo-NC) to Colorado - distances
Amy Weissenbach (Harvard/Westlake HS, North Hollywood-SS) to Stanford - mid-distances
Ashley Welker (West Ranch-SS) to Navy - distances
Trinity Wilson (St. Mary's/Berk.-NC) to UCLA - hurdles
MaryJo Wright (Elko-Nev.) to Cal Poly SLO - distances
Danica Wyson (Aliso Niguel-SS) to Brigham Young - distances
---