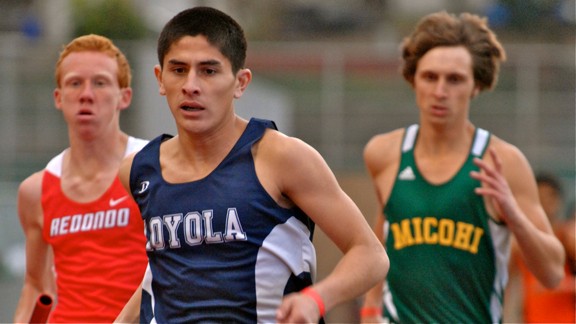 Loyola senior Andrew Verdin keeps the Cubs in the lead en route to nation-leading 7:53.33 performance in the 4x800. (Photo by Rich Gonzalez, ESPNHS)
---
***FINAL FRIDAY & SATURDAY RESULTS LINKED HERE!***
---
By Rich Gonzalez
Editor, ESPNHS/DyeStatCal
(REDONDO BEACH, Calif.) -- Summarizing the highlights of Friday's Redondo/Nike Distance Carnival is as easy as 1-2-3.
As in:
#1 time in the nation in the boys 4x800 relay.
#2 time in the nation in the girls distance medley relay.
#3 time in the nation in the girls 4x800 relay.
Despite just a handful of varsity events contested during an abbreviated opening night of a two-day competition -- the Nike Redondo Track Festival concludes the action on Saturday -- quality certainly overshadowed quantity as the Southern Section-based meet featured three state-leading relay marks and a highly competitive 3200-meter boys clash.
Redondo Union's girls distance crew kicked of the highlights with a dominant 9:22.16 triumph (averaging 2:20.54) in the 4x800-meter relay, that despite having ace runner Lyndsey Mull compete on the "B" squad after battling the effects of tonsillitis in recent weeks. Mull would have helped the "A" squad -- had it needed the help -- after splitting a strong 2:15 and change in her impressive relay carry.
Loyola's boys then took over to record a nation-leading time of 7:53.33 in the 4x800 relay as senior Andrew Bland anchored the Cubs' effort over runner-up Redondo Union (7:57.63) and Beverly Hills (7:58.66).
The final national-class highlight occurred in the girls distance medley relay, where Nike Cross Nationals champion Sarah Baxter kicked down Mull to lead Simi Valley to a 12:13.84 clocking that ranked second in the nation for the 2012 outdoor campaign. Bay League rivals Mira Costa (12:30.68) and Redondo Union (12:32.30) claimed the next two spots. Baxter, who looked considerably taller than when we last saw her in December, clocked 5-flat and fractions on the anchor leg. According to Pioneers Coach Roger Evans, Baxter has sprouted up some 6 to 7 inches since last year, when she arrived at Simi Valley as a 4-foot-10 freshman.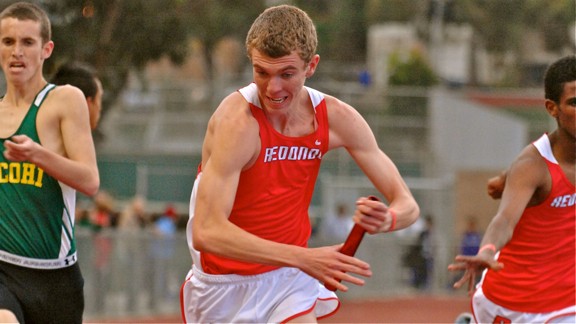 Redondo Union's Evan Malone-White, above in 4x800 relay duty, anchored the Seahawks to victory in the distance medley. (Photo by Rich Gonzalez, ESPNHS)
The boys distance medley debacle saw Redondo Union sophomore Will Tait stake his squad to an early lead after his 3:18.5 split for 1200 meters, with Evan Malone-White then ripping a 4:24 split on anchor to seal the win in 10:41.84, less than four seconds ahead of runner-up Warren. Malone-White opened up in 64-mid before cruising to a 72-second-high second lap. From there, however, the gifted junior shifted gears -- especially during a nasty burst with 325 meters to go -- to close out an impressive 2:17-2:07 negative-split performance.
With ideal cool conditions for the distance races, several runners in the featured heat of the boys 3200 took advantage. Knight's Bryan Guijarro and Cathedral's Adam Avila battled for the lead during the opening half of the 8-lap challenge, with several rivals remaining in striking distance. In the end, Loyola senior Charlie Marquardt roared down the home straight to pass the leaders on the outside and earn his biggest win yet, a 9:20.76 early-season victory. Teammate Jared Jones (third in 9:22.42) was not far behind, tucked directly after Guijarro (9:21.05). Avila, who took fourth in 9:23.56, led five others under 9:30.
In the girls 3200-meter featured heat, Dos Pueblos' Adi Zerrenner eventually outlasted Thousand Oaks' Melanie Joerger to prevail, 11:02.05 to 11:15.58.
All told, the Friday evening affair accumulated 30 DyeStatElite marks, already making it one of the top meets in the state this season. If the heavy rains that are forecast for Saturday can be held off, perhaps the two-day meet can challenge the Irvine Invitational (109 DyeStatElite marks) as the toughest competition thus far this season.
---
*** DAY 1 MEET RESULTS CAN BE FOUND HERE ***
---