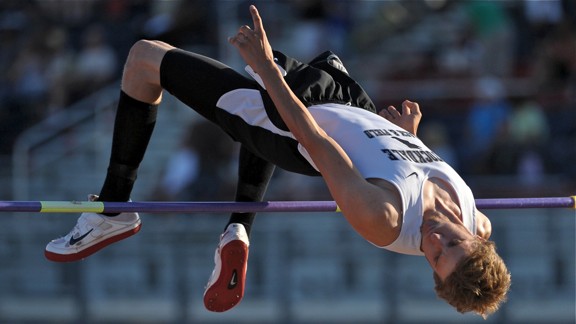 Stockdale's Evan Eggenberg negotiates the crossbar at the
South Yosemite Area Finals. The senior won with a seasonal-best 6-08.00. Kirby Lee, Image of Sport
---
Full Results | Kirby Lee's Photo Album
---
By Rich Gonzalez
Editor, ESPNHS/DyeStatCal
(BAKERSFIELD, Calif.)
--
Kaulyn Lee-McNeill's
days of home cookin' might finally be over, but chances are she'll still be able to create some sizzle while venturing on the road in the weeks to come.
Blake Haney's
biggest pre-state meet challenge might be behind him, but that biggest threat ironically came from outside the teenage phenom's "oval office".
And if it can go the extra mile (or two) and rise higher than ever before, then maybe -- just maybe -- Stockdale High can find itself on the podium when the team awards are presented at next month's CIF-State Track and Field Championships.
Each of those three story lines continued to take shape at Wednesday's Central Section South Yosemite Area Finals at Liberty High School, where the top three performers in each event automatically qualified for the May 19th Central Section Masters Meet, also known as the Valley Championships. Leading non-auto qualifiers from each of Wednesday's four section area meets will also be invited to compete.
Lee-McNeill, the hometown hero who has shifted gears in recent weeks to emerge as a state meet medalist hopeful in the low hurdles, won her specialty event in a lifetime-best 43 seconds flat with an impressive across-the-barriers assault that catapulted her to #3 on this year's California performance list and among the top 30 hurdlers nationally.
She also anchored the Patriots to a Valley Finals qualifying berth in the 4x400 relay and likely will advance in the high hurdles as well with her 15.55 performance. Her sudden progress has been despite limited racing outside of the Central Section; top performers usually establish a cache of achievements and confidence while traveling to the biggest intersectional meets.
"The two biggest meets are left, and my big goal is to keep doing my best and just see where that puts me," she said after the long hurdles race. "I want to get a (personal record), make it to state finals and run the best I can."
She says building even more confidence will be the key.
"I'm really hard on myself, harder than anyone else could ever be on me," she added. "My (race) finish is strong right now and my start is strong, I just need to make them stronger. I love my teammates for always encouraging me and my coaches for their support. They've brought me to this point."
Haney's support crew -- ranging from his own coaches to even those from opposing schools -- were out en force to ensure the Mustangs sophomore advanced in his two primary events while controversy was sparked over his decision to scratch from a third.
Ranked second in the state by time in both the 1600 (4:10.48) and the 3200 (8:54.65) coming in, Haney planned to seek advancement in both while dropping the 800 scheduled in between.
The four-lap challenge was a breeze, with a controlled 61.6 closing lap sealing Haney's win in 4:18.59, with teammate
Cameron Miller
close behind in a seasonal-best 4:19.04 for the Stanford-bound star.
Minutes after Haney stepped off the track after his 1600, however, is when the confusion began for the nation's top sophomore multi-lapper.
Once word began to spread about Haney's intent to scratch from the 800 to preserve his efforts for the 3200 and proceed into postseason in those two events, a coach from an opposing school balked at the move, claiming the "Honest Effort" rule would be violated. If such was the case, Haney would be forced to scratch from the 3200 for not fulfilling his duty to compete in the 800.
One problem. The "honest effort" rule was not in effect for this meet (and hardly ever is at any high school meet within the state).
Haney, who seemed a bit visibly flustered by the temporary uncertainty, was later allowed to return for the 8-lapper. Haney won that one too in 9:33.40, just ahead of Miller (9:33.53).
Connor Fisher
, battling headaches and sickness since the day before, was third in 9:50.28 to advance in both the 1600 and 3200.
Curtis Kelly
, who shared the pace-setting duties early on, made it a sweep of the top four spots by the Mustangs by taking fourth in 10:06.24.
Now about that state meet team placing possibility ….
While Stockdale's odds are admittedly very long to capture the crown, distance runners Haney and Miller and high jumper/hurdler
Evan Eggenberg
could collaborate to thrust the Mustangs among seven or so teams battling it out with favored Sherman Oaks Notre Dame for one of the coveted three state meet plaques.
Dash talent
Khalfani Muhammad
leads Notre Dame's promising quest as the Knights could be the only team to score 25+ points at state thanks to Muhammad in the 100 (co-state leader) and 200 (state leader) and his anchor duty in the state-leading 4x100.
But any team scoring 20-plus points at the state (which utilizes a 10-8-6-5-4-3-2-1 scoring system through eight places) could place among the top three and earn a spot on the podium.
If all falls into place, Stockdale is one of the few teams that fits that bill.
The Mustangs' talented triumvirate of Haney/Miller/Eggenberg steered clear of disaster in combining to qualify in six events for the Valley Championships. Haney and Miller not surprisingly took care of business in the 1600 and 3200, with the former capable of big points at state in each and the latter being a viable threat to score in the eight lapper.
Eggenberg's surprising recent rise has bolstered the Mustangs' outlook. Although starting to hurdle at a young age, the versatile talent admitted to dropping the event after false-starting in a race as an 8th grader. A few years later, he's resumed hurdling with greater regularity, and greater success.
In the high hurdles race at the South Area meet, Eggenberg breezed to victory in a lifetime-best (albeit wind-aided) 14.50. It was among the 16 fastest performances in the state this year under any conditions and sliced nearly a quarter of a second off his previous-best clocking. He later came back to win the high jump with a clearance of 6-08.00, which puts him in a tie for seventh in the state.
"Honestly, we've never talked about (state placings as a team)," said Eggenberg, a senior. "It's a little surprising to know we have a chance. We're just trying to handle what he can individually and support each other."
Eggenberg also ran on the 400-meter relay, which might advance to the Valley Championships as an at-large entry.
If not, Eggenberg said he will be free to focus on just two events, rather than the three or four he often undertakes.
"The biggest change would be the schedule, not having to run around and be ready for each event."
Stockdale coach
Dave Lonsinger
beamed with pride when asked about Eggenberg, whom he described as a "great kid" and a "neat kid" who in his senior year has "been putting all his things in order" to evolve into a strong leader on the team.
While everything needs to click for the Mustangs to make the podium as a team, they at least have a chance….
Lee-McNeill's win in the 300-meter low hurdles was one of four new section-leading marks achieved at the meet. The others were recorded by Golden Valley's
Luis Matos
in the boys 200 (21.89), Bakersfield's
Scotty Newton
in the boys long jump (22-03.00) and Bakersfield West's
Nicole Lewis
in the girls 200 (24.61).
Double event winners at the meet included Stockdale's Haney (1600, 3200) and Eggenberg (110 HH, HJ), Golden Valley's Matos (100, 200), Bakersfield's Newton (LJ, TK) and Golden Valley's
Jamara Scott
(LJ, TJ)….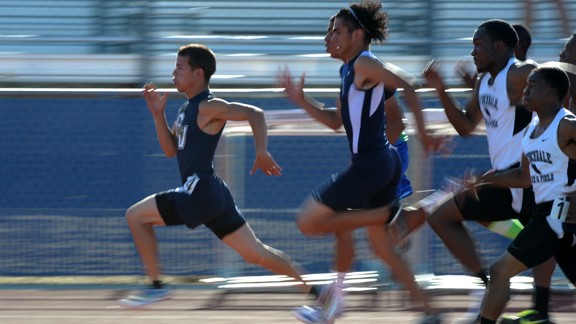 Golden Valley's Luis Matos peels away from the field to win the 100-meter dash.
Matos completed the dash sweep by returning to win the 200m as well. Kirby Lee, Image of Sport
Matos, hampered by iliotibial band (IT) syndrome issues in recent weeks, impressively purred away from the field in the 100m to win in 10.80, shearing one-hundredth of a second off his previous best. The deuce was a much tougher assignment, rallying in the final meters to swoop ahead of Centennial's Thomas Grimes, 21.89 to 22.05.
Matos said he prefers competing in the 100 over the 200 because the shorter race means less room for error and he likes his chances when it comes down to trying to run a clean race while exposing and flaws of opponents….
Ridgeview's Ivan Gonzalez sure turned in another impressive showing. The 11th grade convert from soccer won the area title with a fine 58.4-58.0 negative-split performance and remains the section leader with his 1:55.10 showing at the West Coast Relays. As his sharpening fitness and racing experience improve, look for additional breakthroughs in the near future.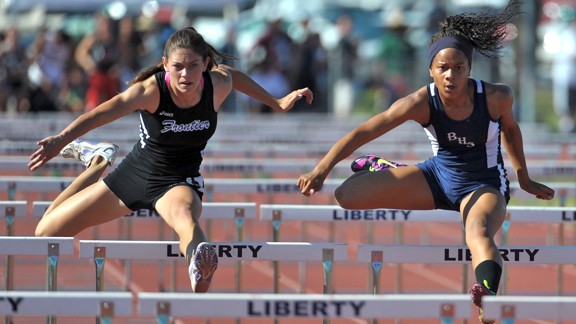 Bakersfield's Syrea Hicks and Frontier's Kassidy Ellis clashed
in
the 100-meter hurdles. Hick won, 14.28 to 14.36. Kirby Lee, Image of Sport
---