---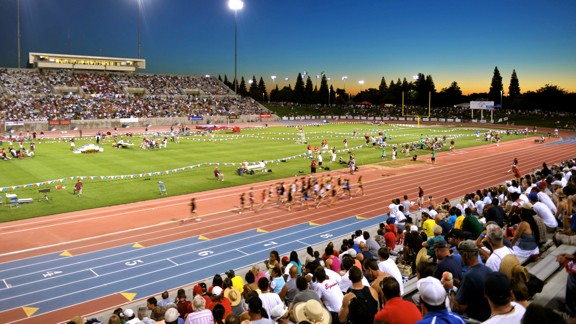 The 94th annual CIF-State Championships, presented by Farmers, will be contested at Veterans Stadium at Buchanan HS on June 1-2. (Photo by Kirby Lee, Image of Sport)
---
Below are the official performance lists for the 2012 CIF-State Track and Field Championships, Presented by Farmers. Any corrections in spelling, grade, etc. should be emailed ASAP to Hal Harkness at halharkness@yahoo.com in order to be correct for the meet program and the meet database. Heat sheets will not be posted online.
The below list was @ 2:15 p.m. PST on Tuesday.
Also, answers to most questions regarding the state meet can be found inside the official CIF-State Meet Bulletin.
---
Licensed to CIF Southern Section - B HY-TEK's Meet Manager
CIF State Track and Field Championships - 6/1/2012 to 6/2/2012
Presented by Farmers
Buchanan High School - Clovis
Performance List
Event 1 Girls 4x100 Meter Relay Prelims
===============================================================================
National: 44.50 4/23/2004 Poly, Long Beach CA
Shana Woods, J. Lee, C. Picott, Shalonda Solomon
State Meet: 44.70 6/7/1997 St. Bernard, Playa del Rey
R Caruthers, Ma Edmonson, Mi Edmonson, M Withers
School Seed
===============================================================================
1 Poly (Lb) /ss SS 45.72
2 Serra /ss SS 46.21
3 Los Osos /ss SS 46.78
4 St. Mary's Academy/ss SS 47.09
5 Oaks Christian/ss SS 47.24
6 Torrey Pines /sd SD 47.31
7 Vista Murrieta/ss SS 47.44
8 Taft /la LA 47.48
9 MontereyTrail /sj SJ 47.56
10 San Pasqual /sd SD 47.73
11 Piedmont Hills/cc CC 47.76
12 Edison /ce CE 47.99
13 Clovis North/ce CE 48.06
14 Independence /ce CE 48.09
15 Bishop O'Dowd /nc NC 48.14
16 Carson /la LA 48.15
17 Olympian/sd SD 48.28
18 Hercules /nc NC 48.38
19 Cosumnes Oaks/sj SJ 48.43
20 Dorsey /la LA 48.55
21 Fairfield /sj SJ 48.67
22 Valley Christian Sjose/Cc CC 48.78
23 Santa Tersa /cc CC 48.86
24 Monte Vista /nc NC 48.88
25 Skyline /ok OK 48.88
26 Pinole Valley/nc NC 48.95
27 Pleasant Vlly/no NO 50.49
Event 2 Boys 4x100 Meter Relay Prelims
===============================================================================
National: 39.76 5/16/1998 Wyatt, Ft. Worth TX
M. Wesley, M. Clopton, M. Franklin, De Wesley
State Meet: 40.24 6/2/1989 Hawthorne, Hawthorne
Alexander, Smith, Allen & Curtis Conway
School Seed
===============================================================================
1 Rio Mesa /ss SS 40.95
2 Notre Dame(SO)/ss SS 41.01
3 Serra /ss SS 41.27
4 Oaks Christian/ss SS 41.39
5 Palo Alto /cc CC 41.56
6 Dorsey /la LA 41.64
7 Loyola /ss SS 41.66
8 Poly (Lb) /ss SS 41.67
9 Taft /la LA 41.73
10 Chaminade /ss SS 41.81
11 Edison /ce CE 42.02
12 Kennedy-Richmond/nc NC 42.07
13 Jesuit /sj SJ 42.18
14 Patterson /sj SJ 42.29
15 Vallejo /sj SJ 42.31
16 San Leandro /nc NC 42.37
17 Carson /la LA 42.38
18 El Camino /sd SD 42.42
19 Buchanan /ce CE 42.43
20 Cathedral Catholic/sd SD 42.45
21 Poway /sd SD 42.51
22 Amador Valley /nc NC 42.53
23 McClymonds /ok OK 42.70
24 Central 42.78
25 Deer Valley 43.00
26 St. Francis/cc CC 43.14
27 Orland /no NO 43.18
28 Wilcox /cc CC 43.21
29 Lincoln /sf SF 43.78
Event 3 Girls 1600 Meter Run Prelims
===============================================================================
National: 4:33.82 5/31/2008 Christine Babcock, Woodbridge CA
State Meet: 4:33.82 5/31/2008 Christine Babcock, Woodbridge
Name Year School Seed
===============================================================================
1 Cami Chapus 12 Harv-Wst/ss 4:43.90
2 Rebecca Mehra 12 Palos Verdes 4:49.46
3 Xochitl Navarrete 12 Colony /ss 4:50.13
4 Erika Reddish 12 Vis. Murrieta 4:51.12
5 Adriana Olivas 12 Cent.-Cor/ss 4:51.35
6 Nikki Hiltz 11 Aptos/cc 4:51.89
7 Molly Babcock 12 Woodbridg/ss 4:52.99
8 Megan Huebner 10 La Quinta(LQ 4:53.99
9 Ashlyn Dadkhah 12 Torrey Pn/sd 4:55.13
10 Anne Charles 10 Canyon Cr. Acad. 4:55.72
11 Caitlin Krol 12 Cath. Cath./sd 4:56.18
12 Brianna Miller 11 Carlsbad/sd 4:57.51
13 Julia Yang 12 Westview/sd 4:58.11
14 Bethan Knights 10 Northwood/ss 4:58.14
15 Brianna Simmons 12 Bev. Hlls/ss 4:58.31
16 Cara Ulizio 11 Redondo /ss 4:58.64
17 Kylie Nishisaka 11 Marina/ss 4:58.66
18 Ali Teliha 11 Bullard/ce 4:59.45
19 Bridget Blum 12 Unvsty-SF/sf 5:00.66
20 Jennie Callan 11 Unvsty-SF/sf 5:01.23
21 Carina Novell 12 Granada/nc 5:02.01
22 nicole lane 12 El Molino/nc 5:02.41
23 Maddy Nikkel 10 Buchanan/ce 5:04.24
24 Marrisa Williams 9 Palisades/la 5:07.02
25 Evelyn Gonzalez 12 San Pedro/la 5:07.20
26 Clare Peabody 10 Aptos/cc 5:09.24
27 Catherine Lowdon 11 Burlingm/ cc 5:10.11
28 Faith Makau 11 Enochs 5:12.74
29 Maxine Goyette 12 Oak Ridge/sj 5:13.65
30 Katie Kass 12 Clovis W/Ce 5:13.88
31 Christine Redor 11 Ponderosa/sj 5:14.09
32 Lorena Garcia 11 San Pedro/la 5:14.35
33 Jenna Storms 09 West Vlly/no 5:27.22
Event 4 Boys 1600 Meter Run Prelims
===============================================================================
National: 3:59.51 4/14/2001 Alan Webb, South Lakes VA
State Meet: 4:00.29 5/31/2008 German Fernandez, Riverbank
Name Year School Seed
===============================================================================
1 Cody Brazeal 11 Buchanan/ce 4:07.72
2 Luis Gutierrez 12 Rnch Cucm/ss 4:08.68
3 Juan Gonzalez 11 El Toro /ss 4:11.28
4 Nicholas Woolf 12 Roos. Eleanor 4:11.57
5 Nick Rivera 12 Rowland/ss 4:11.84
6 Evan Malone-White 11 Redondo /ss 4:12.12
7 Blake Haney 10 Stockdale/ce 4:12.71
8 Daniel De La Torre 11 La Salle/ss 4:12.84
9 Trevor Fuhriman 12 Monte Vst/nc 4:13.09
10 Cameron Miller 12 Stockdale/ce 4:13.10
11 Aaron Potts 12 Roos. Eleanor 4:13.17
12 Austin O'Neil 12 Hart/ss 4:13.39
13 Sam Kane 12 B. O'Dowd/Nc 4:13.84
14 Sam Cartwright 12 Chadwick/ss 4:14.39
15 Porter Reddish 11 Vis. Murrieta 4:14.82
16 Parker Deuel 12 San Ramon/nc 4:15.02
17 Jamie Fehrnstrom 12 Miramonte/nc 4:15.65
18 Steve Correa 10 San Pedro/la 4:17.30
19 Jordan Rushing 12 Del Campo/sj 4:17.47
20 Darren Fahy 12 La Costa/sd 4:18.04
21 Eric Hayen 12 Poway/sd 4:19.27
22 Dominic Castro-Wehr 12 Nevada Union 4:20.26
23 Steven Grolle 10 Sonora/sj 4:20.31
24 Chris Tansey 12 Poway/sd 4:20.45
25 George Baier 11 Mnlo Ath/cc 4:20.77
26 Eric Neill 12 Yreka/no 4:21.05
27 Adrian Hinojosa 12 Bellarmine/cc 4:21.36
28 Francisco Salvador 12 Alisal/ cc 4:21.40
29 Oscar Contreras 12 Hntngt Pk/la 4:21.46
30 Warsame Ahmed 12 Venice/la 4:23.83
31 Max Niehaus 11 Lowell/sf 4:28.34
Event 5 Girls 100 Meter Hurdles Prelims
===============================================================================
National: 13.03 6/2/2007 Vashti Thomas, Mt. Pleasant CA
State Meet: 13.03 6/2/2007 Vashti Thomas, Mt. Pleasant
Name Year School Seed
===============================================================================
1 Traci Hicks 12 Poly (Lb)/Ss 13.66
2 Jordie Munford 11 Rnch Cucm/ss 13.80
3 Daje Pugh 12 Fairfield/sj 13.95
4 Jasmyne Graham 9 Vis. Murrieta 14.05
5 Taylor Larch-Miller 12 Torrey Pn/sd 14.09
6 Ebony Crear 10 Maranatha/ss 14.09
7 Daria Cook 10 Vacaville/sj 14.17
8 Iris Chijioke 12 Roos. Eleanor 14.18
9 Sasha Wallace 11 Hly Nms/nc 14.23
10 Brie Simmons 12 Del Oro/sj 14.25
11 Kymber Payne 10 Poly (Lb)/Ss 14.25
12 Micha Auzenne 11 St. Francis (Mou 14.26
13 Pattriana Perry 10 Vacaville/sj 14.27
14 Syrea Hicks 11 Bakrsfld/ce 14.28
15 Devin Collins 12 Granite H/Sd 14.33
16 Kassidy Ellis 12 Frontier 14.52
17 Taylor Craft 11 Newark M/Nc 14.65
18 Hillary Hill 12 Birmghm/la 14.76
19 Alyssa Chang 11 Otay Ranch/sd 14.76
20 Kortni Smyers-Jones 11 San Lndro/nc 14.81
21 Jamara Scott 12 Golden Valley 15.00
22 Dayna Hurd 11 Carson/la 15.26
23 Lauren Johnson 10 St. Francis (Mou 15.40
24 Jessica Mills 11 El Camino Re 15.42
25 Kennedy Jones 9 Castro Vy/nc 15.43
26 Jessica Davis 11 King City/cc 15.51
27 Felicity Serena 12 Lincoln/sf 15.62
28 Jenavieve Turner 10 Yreka/no 16.10
Event 6 Boys 110 Meter Hurdles Prelims
===============================================================================
National: 13.30 5/26/1990 Chris Nelloms, Dunbar, Dayton OH
State Meet: 13.39 6/5/2004 Kevin Craddock, James Logan
Name Year School Seed
===============================================================================
1 Kenneth Walker 12 Richmond/ nc 14.01
2 Isiah Jackson 12 El Camino/sd 14.28
3 Austin Cramer 12 Argonaut/sj 14.30
4 Julian Todd-Borden 12 La Costa/sd 14.31
5 Devin Hickey 12 Vista/sd 14.37
6 Kamara Biawogi 11 Prospect/ cc 14.42
7 Keane Bland 12 Johansen/sj 14.48
8 Lloyd Siscard 11 Serra/ss 14.49
9 Casey Wheeler 12 Del Oro/sj 14.50
10 Cameron Akins 11 Cathedral/ss 14.51
11 Darion Williams 12 Vis. Murrieta 14.52
12 Cody Smith 12 S Torrance 14.60
13 Reggie Bell 11 Dorsey/la 14.69
14 Grant Weiss 12 Oxnard /ss 14.69
15 Marquis Morris 10 DeLaSalle/nc 14.76
16 Te'von Mitchell 12 Dorsey/la 14.76
17 Stephen Dorsey 12 Monterey/cc 14.76
18 Cameron Vaca 12 Archbishop Mitty 14.78
19 Karunveer Chohan 11 Buchanan/ce 14.92
20 Jacob Sertich 12 Exeter/ce 14.94
21 Markeen Scott 12 Skyline/ok 14.95
22 Ross Stribbling 12 Dorsey/la 14.98
23 Adam Lundquist 12 Casa Grnd/nc 14.99
24 Derrick Vickers 10 Bakrsfld/ce 14.99
25 Luke Wright 12 West Vlly/no 15.08
26 Andrew Fitzhugh 11 Enterpris/no 15.16
27 James Traylor 11 Berkeley/nc 15.18
28 Cameron Chu 12 Lincoln/sf 15.81
Event 7 Girls 400 Meter Dash Prelims
===============================================================================
National: 50.74 6/3/2000 Monique Henderson, Morse San Diego CA
State Meet: 50.74 6/3/2000 Monique Henderson, Morse, San Diego
Name Year School Seed
===============================================================================
1 Renetia James 12 Serra/ss 54.41
2 Khala Taylor 12 Great Oak 54.96
3 Nia Dorner 11 Rosemont 55.07
4 Mikaela Smith 9 Clovis North 55.34
5 Njeri Omawahleh 11 Edison/ce 55.37
6 Danni Alakija 11 Oaks Chr /ss 55.47
7 Alexis Hernandez 11 Mt Carmel/sd 55.79
8 Melissa Mongiovi 9 West Hlls/sd 56.09
9 Karly Zlatic 11 La Jolla/sd 56.16
10 Kayah Agudo 12 Serra/ss 56.20
11 Timarya Baynard 9 Piedmnt H/Cc 56.27
12 Tatiana McCoy 12 Taft/la 56.37
13 Tylnn Carter 10 Alemany/ss 56.58
14 Ellisa Bryant 11 Piedmnt H/Cc 56.62
15 Rochelle Nadreau 11 El Camino Re 56.64
16 Madeline Price 10 Menlo/cc 56.68
17 Chloe Carlson 11 Centnnl/ce 56.80
18 Chloe Winn 10 Monte Vst/nc 57.07
19 Joy Weems 11 Del Campo/sj 57.18
20 A'Jah Love 12 Mont. Trail 57.20
21 Tigest Nealy 11 Dorsey/la 57.23
22 Lauren Remer 11 Piedmont/nc 57.36
23 Nina Rondoni 11 Monte Vst/nc 57.74
24 Darci Whyte 10 Santa Rsa/nc 57.80
25 Sofia Evanoff 9 Winters /no 58.99
26 Mandy Che 10 Lowell/sf 59.51
Event 8 Boys 400 Meter Dash Prelims
===============================================================================
National: 45.25 6/19/1993 Calvin Harrison, North Salinas CA
State Meet: 45.25 6/19/1993 Calvin Harrison, North Salinas
Name Year School Seed
===============================================================================
1 Rashard Clark 12 Dorsey/la 47.54
2 Isaiah Cantu 12 Hanford/ce 47.81
3 Alex Rohani 11 Bev. Hlls/ss 47.87
4 Anthony Fowler 12 Taft/la 47.97
5 Corey Mason 12 St Mary's/sj 48.12
6 Eli'sha Toler 12 Carson/la 48.13
7 Daveon Overton 12 Vallejo/sj 48.38
8 Michael Rogers 12 St. John Bos 48.45
9 Alex McElwee 12 Arcadia/ss 48.48
10 Willie Latin 12 James Logan 48.57
11 Jose Prieto 12 Palo Verde/sd 48.59
12 Kyle Ezold 12 San Marino 48.60
13 German Fabela 12 La Serna /ss 48.69
14 Marcel Harrell 12 Mt Miguel/sd 48.85
15 Joe Herrera 10 Tulare Wt/ce 48.89
16 Khari Dobbins 12 Bear Crk/ sj 48.91
17 Christian Carter 11 San Lndro/nc 48.93
18 Elliot Surovell 12 Carlmont/cc 48.98
19 Geoffrey Westerfield 12 Overfelt /cc 49.07
20 Adrian Perez 12 Freedom /nc 49.10
21 Bryan Nunez 12 Cdnl Nwmn/nc 49.13
22 Edward Lampkin 11 Sacred Ht.CC 49.46
23 Suavea Zaczkiewicz 12 Serra/sd 49.49
24 Michael Taylor 12 Reedley/ce 49.54
25 Isaiah King 10 Skyline/ok 49.70
26 Steven Burks 12 Lincoln/sf 50.44
27 Brad Cox 11 Pleasnt V/No 50.46
Event 9 Girls 100 Meter Dash Prelims
===============================================================================
National: 11.14 6/6/1992 Marion Jones, Thousand Oaks CA
State Meet: 11.14 6/6/1992 Marion Jones, Thousand Oaks
Name Year School Seed
===============================================================================
1 Ariana Washington 10 Poly (Lb)/Ss 11.61
2 Jasmine Gibbs 12 El Camino/sd 11.71
3 Alexis Faulknor 12 Serra/ss 11.73
4 La Troya Franklin 11 Jordan/ss 11.74
5 Sydney Lewis 12 Oak Park/ss 11.83
6 Brena Andrews 11 Independn/cc 11.87
7 Ashlie Curenton 12 Silverado/ss 11.89
8 Mishe Scott 12 El Camino/sd 11.98
9 Lexis Lambert 12 Taft/la 12.03
10 Destiny Smith-Barnett 10 Skyline/ok 12.04
11 Micha Auzenne 11 St. Francis (Mou 12.08
12 Jazmen Bunch 10 Central 12.09
13 Dakota Dockett 11 Tulare Wt/ce 12.10
14 Suzie Acolatse 9 Mission Hills 12.21
15 Felicity Serena 12 Lincoln/sf 12.22
16 Nashay Shaw 12 Washingtn/la 12.24
17 Destinee Brown 11 Westchstr/la 12.28
18 Esther Higgwe 12 Mont. Trail 12.32
19 Jayla Scholis 11 Seaside/cc 12.37
20 Brie Simmons 12 Del Oro/sj 12.43
21 Alexandra Diaz 11 Piedmnt H/Cc 12.47
22 Lilla McMillan 12 Tamalpais/nc 12.47
23 Atiya Harvey 12 James Logan 12.48
24 Lily Brose 11 Red Bluff/no 12.55
25 Shakira Lewis 12 Sierra/sj 12.57
26 Marie Veale 12 Hercules/nc 12.67
27 Gabriella Cantrell 10 B. O'Dowd/Nc 12.75
Event 10 Boys 100 Meter Dash Prelims
===============================================================================
National: 10.15 5/12/1990 Henry Neal, Greenville TX
State Meet: 10.30 6/6/1992 Riley Washington, Southwest, San Diego
Name Year School Seed
===============================================================================
1 Dylan McCloskey 12 El Camino/sd 10.49
2 Khalfani Muhammad 11 N Dame(SO)ss 10.51
3 Herbert Gamboa 12 San Clmnt/ss 10.59
4 Evan Gray 12 Poway/sd 10.61
5 Blake Selig 12 Rio Mesa/ss 10.65
6 Eric McDaniel 12 N Dame(SO)ss 10.70
7 Ronnie Bourguignon 12 Vally Cnt/sd 10.72
8 Morgan Simon 11 Loyola/ss 10.73
9 Terrell Green 12 Edison/ce 10.80
10 EJ Floreal 11 Palo Alto/cc 10.81
11 Ramiro Barraza 12 Bakrsfld/ce 10.84
12 Luis Matos 11 Golden Valley 10.87
13 Sam Marshall 11 Granada H/La 10.88
14 Devonte O'Connor 12 Locke/la 10.89
15 Joey Sanfilippo 11 Bellarmine/cc 10.93
16 Lorne Abby 12 Carson/la 10.96
17 Jourdan Soares 12 Gilroy/cc 10.97
18 Adeeb Nasir 12 Hayward/nc 11.02
19 Keith Lewis 12 Oakld Tch/ok 11.04
20 Andre McBride 12 San Lndro/nc 11.07
21 Takkarist McKinley 11 Richmond/ nc 11.07
22 Austin Mitsch 11 Jesuit/sj 11.08
23 Jordan Butterfield 12 Orland/no 11.12
24 Myles Speegle 11 Castro Vy/nc 11.13
25 Rajaee Delane 12 Patterson/sj 11.25
26 Loren Pilorin 12 Jesuit/sj 11.32
Event 11 Girls 800 Meter Run Prelims
===============================================================================
National: 2:02.04 6/4/2011 Amy Weissenbach, Harvard Westlake CA
State Meet: 2:02.04 6/4/2011 Amy Weissenbach, Harvard-Westlake
Name Year School Seed
===============================================================================
1 Amy Weissenbach 12 Harv-Wst/ss 2:05.55
2 Madison Ricks 10 Calfrnia/nc 2:09.52
3 Charlotte Kuzminsky 12 Canyon Cr. Acad. 2:10.16
4 Savannah Camacho 12 Templeton/ss 2:10.26
5 Chelsea Kruthers 12 San Juan Hills 2:10.41
6 Nijae Jones 11 San Lndro/nc 2:10.90
7 Carina Gillespie 11 Otay Ranch/sd 2:11.00
8 Caitlin Turner 12 Thsnd Oak/ss 2:11.95
9 Holly Neshat 10 Scripps R/Sd 2:12.61
10 Kylie Goo 11 Westmoor/cc 2:12.62
11 Natalie Neshat 10 Scripps R/Sd 2:12.77
12 Ashley Welker 12 West Ranch /ss 2:13.05
13 Danielle Katz 11 Los Gatos/cc 2:13.33
14 Kiara McIntosh 11 Paloma Vlly 2:13.55
15 Sadia Ibrahim 11 Santa Rsa/nc 2:13.92
16 Brittany Anselmo 10 Ponderosa/sj 2:14.29
17 Ashley Kittle 10 Woodcreek/sj 2:14.34
18 Marisa Carino 10 Oakmont/sj 2:15.45
19 Sami Ikuma 10 Clvs East/ce 2:15.57
20 Claire Bowie 11 Los Altos/cc 2:16.00
21 Kylee Strausser 9 Bullard/ce 2:16.19
22 Kody Atkins 12 Chico/no 2:16.43
23 Maria Barragan 11 Healdsbrg/nc 2:16.87
24 Liz Castaneda 12 El Diamante 2:17.06
25 Danielle Nunez 9 San Pedro/la 2:19.86
26 Mackenize Gray 10 Palisades/la 2:21.05
27 Giselle Masedo 9 Chatswrth/la 2:21.78
28 Prudence Sax 10 Lowell/sf 2:26.88
Event 12 Boys 800 Meter Run Prelims
===============================================================================
National: 1:46.45 5/31/1996 Michael Granville, Bell Gargens CA
State Meet: 1:46.45 5/31/1996 Michael Granville, Bell Gardens
Name Year School Seed
===============================================================================
1 Brett Moulton 11 Santiago(Co) 1:52.58
2 Edgar Cobian 12 La Sierra/ss 1:52.93
3 Dragan Simic 12 Woodbridg/ss 1:52.97
4 Omar Solis 11 Vis. Murrieta 1:53.16
5 Kevin Gonzalez 12 Vis. Murrieta 1:53.21
6 Alexander Monsivaiz 12 Army&Navy/sd 1:53.45
7 Cody Johnson 11 S Lrnz V/Cc 1:53.49
8 Darrell Jackson 12 Fairfield/sj 1:53.83
9 Nick Ratto 12 StJsph Nd/Nc 1:53.93
10 Eugene Hamilton III 11 B. O'Dowd/Nc 1:54.06
11 Ivan Gonzalez 11 Ridgeview/ce 1:54.26
12 Jesus Morales 12 Hntngt Pk/la 1:54.37
13 Sean Davis 12 Valley Christian 1:54.41
14 Nikolai Solgaard 12 Palo Alto/cc 1:54.51
15 Conner McKinnon 10 Amador Va/nc 1:54.86
16 Treyvon Manning 12 Stagg/sj 1:54.99
17 Edixon Puglisi 12 Oakmont/sj 1:55.14
18 Jared Senese 11 Mt Carmel/sd 1:55.15
19 Joel Schmierer 12 Livermore/nc 1:55.33
20 Brandon Towns 11 San Pedro/la 1:55.51
21 Michael Bradley 12 Grossmont/sd 1:55.59
22 Tony Guzman 12 Corcoran /ce 1:55.92
23 Dylan Chamberlen 12 Paradise/no 1:56.04
24 Uriel Cabanas 11 Madera South 1:56.64
25 Joseph Scott 12 Southeast 1:57.48
26 William Chen 12 Lowell/sf 1:59.61
Event 13 Girls 300 Meter Hurdles Prelims
===============================================================================
National: 39.98 5/19/2001 Lashinda Demus, Long Beach Wilson CA
State Meet: 40.10 6/4/2005 Ebony Collins
Name Year School Seed
===============================================================================
1 Jordie Munford 11 Rnch Cucm/ss 41.86
2 Daje Pugh 12 Fairfield/sj 42.02
3 Jade Miller 11 Great Oak 42.67
4 Daria Cook 10 Vacaville/sj 42.89
5 Brie Simmons 12 Del Oro/sj 42.90
6 Pattriana Perry 10 Vacaville/sj 42.96
7 Tayler Fleming 11 King, ML /ss 43.03
8 Kaulyn Lee McNeill 12 Liberty /ce 43.07
9 ShebanetTe Terry 11 Irvine/ss 43.24
10 Kelli Hancock 11 La Jolla/sd 43.44
11 Kymber Payne 10 Poly (Lb)/Ss 43.45
12 Aliyah Hale 9 St. Mary's Acad. 43.70
13 Kyra Johnson 12 Piner/nc 44.00
14 Joniece Ervin 12 Oceanside/sd 44.12
15 Taylor Larch-Miller 12 Torrey Pn/sd 44.46
16 Morganne Hill 9 Liberty /ce 44.67
17 Tori Edwards 12 Calfrnia/nc 44.72
18 Dayna Hurd 11 Carson/la 44.89
19 Carly Schulz 10 St Mary's/nc 45.00
20 Rhea Jayachandran 12 Campolndo/nc 45.06
21 Jessica Davis 11 King City/cc 45.19
22 Eleni Fkiaras 12 Leland/cc 45.68
23 Greer Chrisman 10 Burlingm/ cc 45.75
24 Paris Turner 12 Clovis W/Ce 45.93
25 Kendall Gustafson 11 Palisades/la 46.20
26 Liliana Lopez 11 Sylmar/la 46.75
27 Bailey Moss 12 Orland/no 46.97
28 Robin Yee 10 Lowell/sf 46.98
Event 14 Boys 300 Meter Hurdles Prelims
===============================================================================
National: 35.02 6/5/2009 Reggie Wyatt, La Sierra Riverside CA
State Meet: 35.02 6/5/2009 Reggie Wyatt, La Sierra
Name Year School Seed
===============================================================================
1 Corey Hammond 12 Mater Dei/ss 37.35
2 Lloyd Siscard 11 Serra/ss 37.36
3 Kenneth Walker 12 Richmond/ nc 37.38
4 Zach Lewis 12 Ramona/ss 37.49
5 Jarrett Gonzales 12 Damien/ss 37.61
6 Andrew Fischer 12 Diamond R/Ss 37.79
7 Grant Zebold 11 Cath. Cath./sd 37.85
8 Duane Solomon 12 Great Oak 37.87
9 Cody Smith 12 S Torrance 37.94
10 Donte Deayon 12 Summit 37.96
11 Cameron Vaca 12 Archbishop Mitty 37.96
12 Victor Bolden 11 Los Osos \ss 38.10
13 Chase Peterson 11 Canyon Cr. Acad. 38.12
14 Casey Wheeler 12 Del Oro/sj 38.17
15 Kamara Biawogi 11 Prospect/ cc 38.33
16 Strat Stavrioundakis 12 Modesto/sj 38.47
17 Kevin Kutchera 12 Granada/nc 38.65
18 Ryan Colebrook 12 Liberty Madera 38.69
19 Jacob James 11 Granite H/Sd 38.80
20 Karunveer Chohan 11 Buchanan/ce 38.86
21 Dallas Hoofard 11 Atwater/sj 38.88
22 Shane Thulin 12 Frontier 39.02
23 Te'von Mitchell 12 Dorsey/la 39.13
24 James Traylor 11 Berkeley/nc 39.19
25 Andrew Fitzhugh 11 Enterpris/no 39.25
26 LaValle Hamlin 11 Deer Valley 39.41
27 Stephen Dorsey 12 Monterey/cc 39.66
28 Irvin Ruano 11 Bell/la 39.87
29 Jaccari Marshall 12 Carson/la 39.88
30 Markeen Scott 12 Skyline/ok 40.31
31 Cameron Chu 12 Lincoln/sf 40.59
Event 15 Girls 200 Meter Dash Prelims
===============================================================================
National: 22.52 6/7/2003 Allyson Felix, Los Angeles Baptist CA
State Meet: 22.52 6/7/2003 Allyson Felix, Los Angeles Baptist
Name Year School Seed
===============================================================================
1 Ariana Washington 10 Poly (Lb)/Ss 23.55
2 Sierra Peterson 10 St. Mary's Acad. 23.79
3 La Troya Franklin 11 Jordan/ss 24.05
4 Jasmine Gibbs 12 El Camino/sd 24.11
5 Alexis Faulknor 12 Serra/ss 24.15
6 Kelly Rhines 12 Los Osos \ss 24.19
7 Diamond Thomas 11 Poly (Lb)/Ss 24.30
8 Alexis Hernandez 11 Mt Carmel/sd 24.41
9 Brena Andrews 11 Independn/cc 24.44
10 Njeri Omawahleh 11 Edison/ce 24.49
11 Karly Zlatic 11 La Jolla/sd 24.54
12 Dakota Dockett 11 Tulare Wt/ce 24.67
13 Destiny Smith-Barnett 10 Skyline/ok 24.83
14 Lilla McMillan 12 Tamalpais/nc 25.01
15 Lexis Lambert 12 Taft/la 25.09
16 Jayla Scholis 11 Seaside/cc 25.23
17 Nashay Shaw 12 Washingtn/la 25.32
18 Alexandria Stewart 12 El Camino Re 25.37
19 A'Jah Love 12 Mont. Trail 25.40
20 Sarah Cline 12 Leigh/cc 25.44
21 Brandy Coward 9 Buch. Col/sj 25.46
22 Marie Veale 12 Hercules/nc 25.60
23 Alanna Epps 09 Rodriguez/sj 25.62
24 Gabriella Cantrell 10 B. O'Dowd/Nc 25.69
25 Noria Mitchell 12 Dublin /nc 25.72
26 Melanie Speech 12 Lowell/sf 25.75
27 Tegan McGrady 9 SantaTrs/ cc 25.83
28 Lily Brose 11 Red Bluff/no 25.93
Event 16 Boys 200 Meter Dash Prelims
===============================================================================
National: 20.13 5/11/1985 Roy Martin, Roosevelt, Dallas TX
State Meet: 20.43 6/2/2007 Bryshon Nellum, Long Beach Poly
Name Year School Seed
===============================================================================
1 Khalfani Muhammad 11 N Dame(SO)ss 21.10
2 Dylan McCloskey 12 El Camino/sd 21.24
3 Evan Gray 12 Poway/sd 21.45
4 Morgan Simon 11 Loyola/ss 21.47
5 Antony Ardis 11 La Costa/sd 21.50
6 Chad Smith 12 El Capitn/sd 21.52
7 Ronnie Bourguignon 12 Vally Cnt/sd 21.53
8 Michael Davis 11 Glendale /ss 21.61
9 Elijah Mitchell 11 Roos. Eleanor 21.62
10 Kyree King 12 Colony /ss 21.64
11 Devonte O'Connor 12 Locke/la 21.84
12 EJ Floreal 11 Palo Alto/cc 21.84
13 Sam Marshall 11 Granada H/La 21.93
14 Terrell Green 12 Edison/ce 21.96
15 Robert Ellis 11 Antelope 22.01
16 Jourdan Soares 12 Gilroy/cc 22.07
17 Thomas Grimes 12 Centnnl/ce 22.07
18 Lawrence Shepard 11 Westchstr/la 22.15
19 Keith Lewis 12 Oakld Tch/ok 22.16
20 Takkarist McKinley 11 Richmond/ nc 22.23
21 Vadal McDonald 12 Edison/ce 22.24
22 Daniel Fortenko 12 Terra Lnd/nc 22.28
23 Jordan Monteiro-Williams 12 McClatchy/sj 22.41
24 Ersell Williams 12 Cordova/sj 22.42
25 Myles Holmes 12 Jefferson/cc 22.48
26 Andre McBride 12 San Lndro/nc 22.56
27 Tyler Halverson 12 Foothill/no 22.67
28 Adrian Perez 12 Freedom /nc 22.74
29 Steven Burks 12 Lincoln/sf 22.92
Event 17 Girls 3200 Meter Run (A straight final on Saturday)
===============================================================================
National: 9:48.59 5/24/1996 Kim Mortensen, Thousand Oaks CA
State Meet: 9:52.13 5/31/2008 Jordan Hasay, Mission College Prep
Name Year School Seed
===============================================================================
1 Sarah Baxter 10 Simi Vlly/ss 10:08.71
2 Laura Hollander 12 Marina/ss 10:17.28
3 Anna Maxwell 10 S Lrnz V/Cc 10:21.04
4 Xochitl Navarrete 12 Colony /ss 10:26.84
5 Adeline Zerrenner 10 Dos Puebl/ss 10:28.01
6 Paige Tennison 11 Nwpt Hrbt/ss 10:31.15
7 Karis Frankian 12 Saugus /ss 10:31.44
8 Christine Hoffmann 12 S.L. Obsp/ss 10:31.73
9 Julia Maxwell 10 Branson/ nc 10:32.81
10 Rachel Bush 12 Redondo /ss 10:33.92
11 Adriana Olivas 12 Cent.-Cor/ss 10:34.73
12 Vanessa Estrada 11 S Bnto/cc 10:35.67
13 Emma Abrahamson 10 La Costa/sd 10:36.70
14 Hagen Reedy 11 Buchanan/ce 10:37.16
15 Danica Wyson 12 Aliso Ngl/ss 10:39.99
16 Jena Pianin 11 Amador Va/nc 10:40.21
17 Madeleine Ankhelyi 11 Vista d. Lago 10:40.54
18 Mariel Mendoza 12 North Jw/Ss 10:41.07
19 Shanoah Souza 12 La Costa/sd 10:42.13
20 Vanessa Fraser 11 Scotts V/ cc 10:43.73
21 Ashlyn Dadkhah 12 Torrey Pn/sd 10:49.22
22 Mackenzie Mills 11 Vintage/sj 10:50.27
23 Karlie Garcia 11 Oakmont/sj 10:53.33
24 Leigh Moffett 10 Clovis North 10:56.75
25 Diribe Abdo 9 Berkeley/nc 10:57.10
26 Yesenia Silva 11 Exeter/ce 11:16.79
27 Hannah Dorman 11 West Vlly/no 11:21.38
28 Marrisa Williams 9 Palisades/la 11:22.08
29 Evelyn Gonzalez 12 San Pedro/la 11:23.25
30 Lorena Garcia 11 San Pedro/la 11:24.18
Event 18 Boys 3200 Meter Run (A straight final on Saturday)
===============================================================================
National: 8:34.23 5/31/2008 German Fernandez, Riverbank CA
State Meet: 8:34.23 5/31/2008 German Fernandez, Riverbank
Name Year School Seed
===============================================================================
1 Danny Martinez 12 St. John Bos 9:04.25
2 Omar Caro 11 Norte Vista 9:05.87
3 Jonah Diaz 12 Palos Verdes 9:05.95
4 Daniel De La Torre 11 La Salle/ss 9:06.13
5 Darren Fahy 12 La Costa/sd 9:06.30
6 Bryan Guijarro 12 Knight/ss 9:06.42
7 Sergio Gonzalez 12 Arcadia/ss 9:06.88
8 Eric Causey 12 La Costa/sd 9:07.99
9 Kevin Durham 12 El Toro /ss 9:08.15
10 Kevin Bishop 12 MontaVst/ cc 9:09.57
11 Christian Freeman 11 Carlsbad/sd 9:11.52
12 Blake Haney 10 Stockdale/ce 9:12.18
13 Cameron Miller 12 Stockdale/ce 9:12.30
14 Yohaness Estifanos 11 Milpitas/cc 9:14.66
15 Luis Luna 12 Piner/nc 9:16.97
16 Josh Orosco 12 Buchanan/ce 9:17.15
17 William Reyes 12 Mont. Trail 9:19.77
18 John Lawson 11 Drake /nc 9:20.74
19 Thomas Joyce 12 Campolndo/nc 9:22.59
20 Trent Brendel 11 Granite B/Sj 9:23.98
21 Nick Hicks 12 S Lrnz V/Cc 9:24.28
22 Tyler Mercado 12 Del Campo/sj 9:25.30
23 Alex Conner 12 Sonoma Vl/nc 9:25.42
24 Tony Meredith 12 Foothill/no 9:27.47
25 Grant Stromberg 12 Palisades/la 9:28.03
26 Matthew Hammer 12 Palisades/la 9:34.08
27 Drake Johnston 11 Palisades/la 9:42.43
Event 19 Girls 4x400 Meter Relay Prelims
===============================================================================
National: 3:35.49 6/5/2004 Poly, Long Beach CA
S Woods55.7 De Harris55.6 J Lee52.6 S Solomon51.6
State Meet: 3:35.49 6/5/2004 Long Beach Poly, Long Beach Poly
S Woods55.7 D Harris55.6 J Lee52.6 S Solomon51.6
School Seed
===============================================================================
1 Serra /ss SS 3:46.83
2 Harvard Westlake /ss SS 3:47.19
3 Poly (Lb) /ss SS 3:48.76
4 St. Mary's Academy/ss SS 3:48.93
5 Piedmont Hills/cc CC 3:48.98
6 Edison /ce CE 3:50.17
7 Great Oak/ss SS 3:50.52
8 Torrey Pines /sd SD 3:50.66
9 Oaks Christian/ss SS 3:51.11
10 Roosevelt, E/Ss SS 3:51.14
11 El Camino Real /la LA 3:53.65
12 Dorsey /la LA 3:55.10
13 Bishop O'Dowd /nc NC 3:55.28
14 Carlsbad /sd SD 3:55.46
15 La Jolla /sd SD 3:55.91
16 Miramonte /nc NC 3:56.03
17 Taft /la LA 3:56.03
18 Monte Vista /nc NC 3:56.31
19 St. Mary's /nc NC 3:56.44
20 Leland /cc CC 3:56.84
21 Los Gatos /cc CC 3:57.25
22 Davis /sj SJ 3:57.28
23 Del Oro /sj SJ 3:57.81
24 Vacaville /sj SJ 3:57.89
25 Tulare West/ce CE 3:58.63
26 Centennial /ce CE 3:59.61
27 Red Bluff /no NO 4:06.29
28 Lowell /sf SF 4:08.87
Event 20 Boys 4x400 Meter Relay Prelims
===============================================================================
National: 3:07.40 4/6/1985 Hawthorne, Hawthorne CA
M Graham48.1 M March47.7 S Kelly46.1 H Thomas44.5
State Meet: 3:08.42 6/4/2010 Serra, Gardena
Olloqui, Lauderdale, Spann, Woods
School Seed
===============================================================================
1 Chaminade /ss SS 3:15.28
2 Vista Murrieta/ss SS 3:15.95
3 Rio Mesa /ss SS 3:16.37
4 Serra /ss SS 3:17.05
5 Dorsey /la LA 3:17.21
6 St. John Bosco/ss SS 3:17.75
7 Carson /la LA 3:18.01
8 Amador Valley /nc NC 3:18.91
9 James Logan /nc NC 3:18.92
10 Poway /sd SD 3:19.04
11 El Camino /sd SD 3:19.44
12 Taft /la LA 3:19.66
13 Del Oro /sj SJ 3:19.71
14 El Capitan /sd SD 3:19.90
15 Edison /ce CE 3:20.63
16 San Leandro /nc NC 3:20.83
17 Deer Valley 3:21.10
18 Buchanan /ce CE 3:21.11
19 Palo Alto /cc CC 3:21.16
20 San Lorenzo Vl/cc CC 3:21.41
21 Vacaville /sj SJ 3:21.52
22 Clovis /ce CE 3:21.86
23 Rocklin /sj SJ 3:22.86
24 Overfelt /cc CC 3:23.88
25 Pleasant Vlly/no NO 3:27.97
26 Lowell /sf SF 3:31.90
Event 21 Girls High Jump Prelims
===============================================================================
National: 6-04 4/25/2009 Toni Young, Del City OK
State Meet: 6-02 6/1/1985 Latrese Johnson, Clovis
Name Year School Seed Mark
===============================================================================
1 Danielle Bryan 12 El Camino/sd 5-08.00
2 Alex Florent 9 Harv-Wst/ss 5-07.00
3 Raegan Nizdil 11 Rio Mesa/ss 5-07.00
4 Michellie McDonald-O'Brien 12 St Ignts/cc 5-07.00
5 Sarah Hill 12 Bak. Chr./ce 5-06.50
6 Lawre'll Dobbins 12 Foothill/sj 5-05.00
7 Kaelin Davis 10 Wilson/LB/ss 5-05.00
8 Madeline Fagan 10 Los Gatos/cc 5-05.00
9 Morgan Bertsch 10 Santa Rsa/nc 5-05.00
10 Leah Carter 11 Rocklin/sj 5-05.00
11 Claire Kieffer-Wright 10 S Pasadena 5-05.00
12 Taylor Saline 10 Luth. (Or.) /ss 5-05.00
13 Becky Collier 11 Woodcrest Ch 5-05.00
14 Erinn Beattie 9 Buena /ss 5-05.00
15 Angelyn Caldwell 12 Thsnd Oak/ss 5-05.00
16 Kendall Gustafson 11 Palisades/la 5-04.00
17 Rachel Reichenbach 10 Foothill/nc 5-04.00
18 Katie Reeves 11 El Diamante 5-03.00
19 Tiffany Tate 12 Poway/sd 5-03.00
20 Mariah Slack 11 Vista/sd 5-03.00
21 Nikki Miyashita 12 Aptos/cc 5-03.00
22 Hadley Swanson 11 Campolndo/nc 5-03.00
23 Taylor Getty 11 Lincoln, Stoc/sj 5-03.00
24 Asia Chesley 10 Stockdale/ce 5-03.00
25 Zoey Millington 10 Heritage 5-03.00
26 Ray'ven Sanders 9 Oakld Tch/ok 5-02.00
27 Julia Miranda 11 Foothill/no 5-01.00
28 Dashawn Franks 10 Palisades/la 5-00.00
Event 22 Girls Pole Vault Prelims
===============================================================================
National: 14-01 6/2/2007 Tori Anthony, Castilleja CA
State Meet: 14-01 6/2/2007 Tori Anthony, Castilleja
Name Year School Seed Mark
===============================================================================
1 Victoria Rische 12 Foothill/ss 12-11.00
2 McKenzie Johnson 12 Clairmont/sd 12-08.00
3 Kaitlyn Merritt 9 S Margrta/ss 12-08.00
4 Cimran Virdi 12 Las Lomas/nc 12-05.00
5 Megan Gemar 12 Las Lomas/nc 12-05.00
6 Rachel Bolton 12 Homestead/cc 12-04.00
7 Taylore Jaques 10 Presnttn/ cc 12-00.00
8 Megan Benham 12 St. Francis (Mou 12-00.00
9 Siobhan Anderson 12 Mra Crlo/nc 11-11.00
10 Ariel Cheng 11 Msn Sn Js/nc 11-11.00
11 Casey Campos 10 Clvs East/ce 11-08.00
12 Mechelle Negrete 12 Steele Canyon/sd 11-08.00
13 Mimi Lian 11 Rncho Brn/sd 11-08.00
14 Kaitlin McCallum 12 LJ Cntry/sd 11-08.00
15 Karen Snapper 12 Edison(HB)ss 11-08.00
16 Sydney Blakeley 12 Ponderosa/sj 11-08.00
17 Sara Greene 12 Mater Dei/ss 11-08.00
18 Gardenia Centanaro 11 Roos. Eleanor 11-08.00
19 Greta Wagner 10 Los Gatos/cc 11-08.00
20 Nicole Falkenstein 12 Buchanan/ce 11-08.00
21 Melissa Maneatis 9 Del Oro/sj 11-05.00
22 Shelby Crider 11 Placer/sj 11-02.00
23 Beth Rossi 10 Clovis North 10-11.00
24 Jamie Greenberg 12 Palisades/la 10-06.00
25 Kayla Vasquez 12 West Vlly/no 10-06.00
26 Janelle Jaegel 11 Mt. Shast/no 9-00.00
Event 23 Girls Long Jump Prelims
===============================================================================
National: 22-01.75 5/24/1976 Kathy McMillan, Raeford NC
State Meet: 22-00.50 6/19/1993 Marion Jones, Thousand Oaks
Name Year School Seed Mark
===============================================================================
1 Jasmine Gibbs 12 El Camino/sd 19-06.25
2 Margaux Jones 9 Redlands /ss 19-04.50
3 Alexis Faulknor 12 Serra/ss 18-11.50
4 Shea Taylor 12 Grace Davis 18-09.50
5 Mikaela Smith 9 Clovis North 18-08.50
6 Mackenzie Arnold 9 River Valley 18-08.50
7 Mishe Scott 12 El Camino/sd 18-08.50
8 Jasmine Guinn 12 Berkeley/nc 18-08.00
9 Tamika Brazzel 12 El Camino/sd 18-06.00
10 Jamara Scott 12 Golden Valley 18-06.00
11 Micha Auzenne 11 St. Francis (Mou 18-05.50
12 Kristin Sato 12 Valley Christian 18-05.50
13 Tiffini Stone 12 Canyon-CC/ss 18-04.25
14 Phoenisha Schuhmeier 12 Mont. Trail 18-03.50
15 Traci Hicks 12 Poly (Lb)/Ss 18-03.25
16 Ashley Black 12 Clvs East/ce 18-03.00
17 Ronny Wright 12 Coalinga /ce 18-03.00
18 Cydney Leath 12 Mt Plsnt/cc 18-03.00
19 Hadley Swanson 11 Campolndo/nc 18-03.00
20 Ashlie Curenton 12 Silverado/ss 18-02.75
21 Kendal Nielsen 12 Bear Rvr/sj 18-02.50
22 Jannell Hadnot 11 Tokay/sj 18-02.00
23 Kierra Miller 12 Carson/la 18-02.00
24 Kendall Gustafson 11 Palisades/la 18-00.00
25 Brooke Whitburn 11 Pleasnt V/No 18-00.00
26 Melanie Speech 12 Lowell/sf 17-10.50
27 Devon McDonald 12 Miramonte/nc 17-09.00
28 Rachel Reichenbach 10 Foothill/nc 17-08.75
29 Naomi Orisarayi 9 El Camino Re 17-05.50
30 Kanukai Chigamba 10 Oakld Tch/ok 16-00.00
Event 24 Girls Triple Jump Prelims
===============================================================================
National: 44-02.25 5/11/2001 Ychlindria Spears, Lubing TX
State Meet: 44-00.50 5/31/1991 Juliana Yendork, Walnut
Name Year School Seed Mark
===============================================================================
1 Sasha Wallace 11 Hly Nms/nc 42-03.25
2 Tamika Brazzel 12 El Camino/sd 40-02.50
3 Jannell Hadnot 11 Tokay/sj 39-08.25
4 Kendal Nielsen 12 Bear Rvr/sj 39-04.50
5 Jazzelena Black 12 Pacifica(OX) 39-03.00
6 Kiare Tanner 11 Stockdale/ce 39-01.50
7 Nia Vance 9 Vacaville/sj 39-00.00
8 Cydney Leath 12 Mt Plsnt/cc 38-11.50
9 Rachel Tolliver 11 St. Mary's Acad. 38-06.25
10 Brenna Barker 11 Dana Hlls/ss 38-05.50
11 Dominique Wheatley 10 Bonita/ss 38-04.00
12 Monique Van 11 Steele Canyon/sd 38-01.50
13 Rebecka Miranda 11 Cabrillo/ ss 38-00.25
14 Jamara Scott 12 Golden Valley 37-10.50
15 Catherine Li 12 Los Altos/cc 37-09.50
16 Vanora Guerard 12 La Jolla/sd 37-07.50
17 Taylor Craft 11 Newark M/Nc 37-01.50
18 Kortni Smyers-Jones 11 San Lndro/nc 37-01.00
19 Ashley Anderson 10 Narbonne /la 37-00.00
20 Marisa Kwiatkowski 10 Wilcox/cc 37-00.00
21 Jasmine Rodriguez 11 Hly Nms/nc 36-11.75
22 Kierra Miller 12 Carson/la 36-10.00
23 Brooke Whitburn 11 Pleasnt V/No 36-09.00
24 Kaneshia Lee 12 Taft/la 36-03.50
25 Syrea Hicks 11 Bakrsfld/ce 36-01.00
26 Michelle Cai 12 Lincoln/sf 34-07.50
Event 25 Girls Shot Put Prelims
===============================================================================
National: 54-10.75 5/9/2003 Michelle Carter, Red Oak TX
State Meet: 53-08 6/6/2009 Kristin Heaston, Ygnacio Valley
Name Year School Seed Mark
===============================================================================
1 Tanya Sapa 11 La Sierra/ss 46-09.50
2 Stamaita Scarvelis 10 Dos Puebl/ss 46-04.75
3 Nia Britt 9 Alemany/ss 44-11.00
4 Nwanneka (Nikki) Okwelogu 11 Clovis W/Ce 44-07.00
5 Jakayla Daniels 12 El Camino/sd 43-02.00
6 Destiny Parker 10 Summit 42-06.00
7 Mandy Coleman 10 McNair 42-05.75
8 Urina Harrell 12 Serra/ss 41-11.75
9 Lara Lewis 12 Clovis W/Ce 41-11.00
10 Allison Ryan 12 Ponderosa/sj 41-10.75
11 Cathy Cai 12 Lincoln/sf 41-08.25
12 Madison Jacobs 11 A. Grande/ss 41-06.75
13 Jackie Ramos 12 Golden Valley 41-03.75
14 Lovina Akauola 12 Vallejo/sj 40-11.25
15 Breana Jemison 12 Carlsbad/sd 40-10.25
16 Morgan Laney 12 Dl Nrte/nc 40-02.00
17 Sabrina Mendoza 11 Mills/cc 40-00.75
18 Sarina Sandoval 12 Gilroy/cc 40-00.50
19 Rachel Alesi 12 Christian/sd 39-11.75
20 Morgan Jones 9 James Logan 39-08.00
21 Tyhana Cooper 11 Sacred Ht.CC 39-06.25
22 Megan Rector 12 Red Bluff/no 38-11.75
23 Jazzmine Ecker 11 Hayward/nc 37-02.00
24 Mariela Chavez 11 Reseda/la 36-08.00
25 Milika Funaki 12 Hayward/nc 36-08.00
26 Talei Tongafoa 12 Washingtn/la 36-03.25
27 Elenoa Taulaki 10 Poly/la 36-02.50
28 Janaa Evans 11 Skyline/ok 35-09.00
Event 26 Girls Discus Throw Prelims
===============================================================================
National: 190-03 5/9/2009 Anna Jelmini, Shafter CA
State Meet: 186-09 6/6/2009 Anna Jelmini, Shafter
Name Year School Seed Mark
===============================================================================
1 Lissette Mendivil 12 Redwood/ce 155-05
2 Madison Jacobs 11 A. Grande/ss 150-01
3 Rachel Alesi 12 Christian/sd 149-02
4 Breana Jemison 12 Carlsbad/sd 148-11
5 Jakayla Daniels 12 El Camino/sd 145-09
6 Praise Adesida 12 Alhambra /nc 141-00
7 Amarie Bremel 11 Kingsburg/ce 139-00
8 Kara Caskey 12 Mater Dei/ss 138-08
9 Nwanneka (Nikki) Okwelogu 11 Clovis W/Ce 138-04
10 Kendall Mader 9 Newbury Park 137-10
11 Breanna Standifer 11 Elsinore /ss 136-10
12 Destiny Talalemotu 11 Millikan/ss 135-10
13 Kathleen Durand 11 Mra Crlo/nc 132-01
14 Brielle Rowe 12 MountainV/cc 131-04
15 Monique Newton 10 Cordova/sj 131-01
16 Brianna Cueva 11 Watsonvll/cc 128-05
17 Lovina Akauola 12 Vallejo/sj 126-10
18 Anya Tonga 11 Sequoia/cc 126-00
19 Kayla O'Brine 10 St Frncs/sj 125-04
20 Jaylyn Allston 11 Lincoln/sf 122-00
21 Tara Park 11 Amador Va/nc 117-01
22 Monica Acton 12 Amador Va/nc 114-07
23 Megan Rector 12 Red Bluff/no 111-09
Event 27 Boys High Jump Prelims
===============================================================================
National: 7-05.75 4/22/2009 James White, Grandville MD
State Meet: 7-03.25 6/2/1979 Lee Balkin, Glendale
Name Year School Seed Mark
===============================================================================
1 Cody Crampton 12 Canyon-An/ss 6-10.25
2 Noel Frazier 12 Calfrnia/nc 6-09.00
3 Manuel Hernandez 12 Oakdale/sj 6-09.00
4 Evan Eggenberg 12 Stockdale/ce 6-08.00
5 Darius Armstead 11 Mt Whtny/ce 6-07.00
6 Stephen Dorsey 12 Monterey/cc 6-07.00
7 Miles Poullard 12 Colony /ss 6-07.00
8 Dion Shattuck 10 Santa Crz/cc 6-07.00
9 Spencer Curtis 12 Sweetwtr/sd 6-07.00
10 Londeen McCovery 12 Cosumnes Oaks 6-07.00
11 Jakell Randle 12 Mira Monet 6-07.00
12 Taylor Smith 11 Buchanan/ce 6-07.00
13 Clifford Obodo 12 Heritage 6-06.00
14 Malik Johnson 12 El Camino Re 6-06.00
15 Kaden Culp 10 Yreka/no 6-05.00
16 Montez Washington 12 El Camino/sd 6-05.00
17 Sam Hartinger 12 San Psqul/sd 6-05.00
18 Daniel Yeager 11 Los Altos/cc 6-05.00
19 Brandon Greene 12 Bnta Vsta/sd 6-05.00
20 Jacob Anthony 12 Sanger/ce 6-05.00
21 Adam Aguirre 12 Cantwell /ss 6-05.00
22 Spencer Blanks 12 Clvs East/ce 6-05.00
23 Johnny Moore 12 Independn/cc 6-05.00
24 Sage Stone 11 M Viejo/ss 6-05.00
25 LJ Moore 11 Central/ce 6-05.00
26 Vincent Calhoun 10 Poly (Lb)/Ss 6-05.00
27 Gyle Becker 12 Bullard/ce 6-05.00
28 Ross Stribbling 12 Dorsey/la 6-04.00
29 Matt Tyler 11 Granada/nc 6-04.00
30 Marcus Stamps 11 Jefferson/la 6-04.00
31 Brian Graber 9 Granite B/Sj 6-03.00
32 Stanley Chen 11 Galileo/sf 6-03.00
33 Ruthvik Sunil-Kumar 10 American/nc 6-02.00
Event 28 Boys Pole Vault Prelims
===============================================================================
National: 18-02.25 5/14/1999 Eric Eshbach, Orangefield TX
State Meet: 17-03 5/31/2008 Nico Weiler, Los Gatos
Name Year School Seed Mark
===============================================================================
1 Marc Toney 11 St. Francis (Mou 15-09.00
2 Connor Stark 12 Oak Park/ss 15-09.00
3 Ryan Zacchilli 12 Rncho Brn/sd 15-09.00
4 Luigi Colella 10 Westlake /ss 15-09.00
5 Peter Chapman 12 Murrieta/ss 15-09.00
6 Kyser Anderson 12 Clovis W/Ce 15-09.00
7 Patrick Hughes 12 Los Gatos/cc 15-06.00
8 Oliver Delgado 12 Rncho Brn/sd 15-03.00
9 Brad Beekman 11 Clvs East/ce 15-03.00
10 Ben Gaylord 11 Harv-Wst/ss 15-03.00
11 Philippe Ueng 12 Tmpl Cty/ss 15-03.00
12 Conner Rouse 12 Vista/sd 15-03.00
13 Reed White 12 Vacaville/sj 15-03.00
14 Steven Pust 12 Gldn Vlly/sj 15-03.00
15 Colin Barber 12 San Ramon/nc 15-00.00
16 Noah Julyk 12 Las Lomas/nc 15-00.00
17 Jacob Ruiz 12 Clvs East/ce 14-09.00
18 Austin Decker 12 N. Mntry/cc 14-06.00
19 Adam Thomas 11 Benicia/sj 14-06.00
20 Martin Lopez 12 Grant/la 14-00.00
21 Kevin Tuckness 12 San Ramon/nc 14-00.00
22 Andy Nadig 12 Etna /no 13-09.00
23 Andres Del Valle 12 Campolndo/nc 13-06.00
Event 29 Boys Long Jump Prelims
===============================================================================
National: 26-04.75 6/3/1989 James Stallworth, Tulare CA
State Meet: 26-04.75 6/3/1989 James Stallworth, Tulare
Name Year School Seed Mark
===============================================================================
1 Nathaniel Moore 10 B. O'Dowd/Nc 24-07.75
2 Chevy King 12 Castle Pk/sd 24-06.00
3 Hakeem Fairweather 12 Warren /ss 23-08.00
4 Shawn Simms 12 Deer Valley 23-06.50
5 Joey Souza 9 Kingsburg/ce 23-06.25
6 Walter Jones 11 Redlands /ss 23-06.25
7 Adoree Jackson 10 Serra/ss 23-06.00
8 Saladin Nasser 11 Sweetwtr/sd 23-05.50
9 Justin Schneider 12 El Toro /ss 23-02.50
10 Isiah Jackson 12 El Camino/sd 23-02.25
11 Damariay Drew 12 Livermore/nc 23-01.25
12 Karsten Wethington 10 James Logan 23-01.00
13 Devin Wieker 12 Foothill/nc 23-00.25
14 Chris Bernal 12 Fallbrook/sd 23-00.00
15 Jordan Monteiro-Williams 12 McClatchy/sj 22-10.25
16 Brycen Poarch 11 Casa Grnd/nc 22-09.50
17 Miles Poullard 12 Colony /ss 22-09.00
18 Adeeb Nasir 12 Hayward/nc 22-08.75
19 Connor Barla 12 Golden Sierra 22-08.75
20 Willie Alexander 12 Central 22-08.50
21 Alexander Simpson 11 Univers C/Sd 22-07.50
22 Adam Ruggiero 12 Desert Ch-La 22-07.00
23 Blake Glasgow 12 Poly (Lb)/Ss 22-06.75
24 Marcus Rose 11 Clovis North 22-06.75
25 Klyvens Delunay 12 Clremnt/ss 22-06.50
26 Isaiah Brown 12 Fairfield/sj 22-04.00
27 Joshua Taylor 11 Franklin /la 22-03.00
28 Marcus Eggleston 12 Dorsey/la 22-03.00
29 Tyler Halverson 12 Foothill/no 22-01.50
30 Marcus Washington 11 Palma/cc 21-07.25
31 Thomas Cheval 11 Birmghm/la 21-05.00
32 Tyree Marzetta 10 Lincoln/sf 21-03.00
33 Matthew Wong 11 Archbishop Mitty 21-03.00
34 Jireal Hipol 12 Mt Plsnt/cc 21-02.50
Event 30 Boys Triple Jump Prelims
===============================================================================
National: 52-10.50 5/6/1980 Charles Mayfield, Muir, Pasadena CA
State Meet: 52-05.75 6/6/1986 Marcus Hooks, Lakewood
Name Year School Seed Mark
===============================================================================
1 Klyvens Delunay 12 Clremnt/ss 49-06.75
2 Willie Alexander 12 Central 49-02.75
3 Scotty Newton 10 Bakrsfld/ce 49-00.00
4 Tim White 12 Hart/ss 48-01.50
5 Deon Pinder 12 M West/sj 47-11.25
6 Jeffery Prothro 11 James Logan 47-10.75
7 David Booker 11 Tulare Wt/ce 47-05.75
8 Chris Bernal 12 Fallbrook/sd 47-05.50
9 Matt Bowen 10 Buchanan/ce 47-05.25
10 Basil Okoroike 12 Rio Amer/ sj 47-04.50
11 Donte McDaniel 11 Selma/ce 47-04.50
12 Darius Armstead 11 Mt Whtny/ce 47-04.25
13 Anthony Applequist 11 Burr(Rid)/ss 47-02.25
14 Walter Jones 11 Redlands /ss 47-01.75
15 Karsten Wethington 10 James Logan 47-00.50
16 Ricky Carrigan 12 Cabrillo(LB) 46-10.25
17 Sam Hartinger 12 San Psqul/sd 46-09.50
18 Jonathan Perez 12 Galt/ sj 46-08.50
19 Ricky Strehlow 12 Wilcox/cc 46-07.50
20 Craig Mauldin 12 Murrieta Mesa 46-07.00
21 Douglas Vernon-Scott 12 Folsom/sj 46-06.50
22 Jaelen Spencer 11 Sultana/ss 46-06.25
23 Chase Dariso 12 Oceanside/sd 45-10.25
24 Josh Jenkins 12 DeLaSalle/nc 45-09.75
25 Jack Champion 12 Washngtn/nc 45-07.50
26 Matthew Wong 11 Archbishop Mitty 45-06.50
27 Jerrod Moton 12 Carson/la 45-05.50
28 De'Andre Miller 12 Los Angls/la 45-00.50
29 Dion Shattuck 10 Santa Crz/cc 44-08.50
30 Marcus Eggleston 12 Dorsey/la 44-06.00
31 Marcus Simmons 10 West Vlly/no 43-05.25
32 Alex Dodon 11 I.S. Acm./sf 42-11.00
Event 31 Boys Shot Put Prelims
===============================================================================
National: 77-00 5/5/1979 Michael Carter, Jefferson, Dallas TX
State Meet: 74-04.75 6/2/1990 Brent Noon, Fallbrook
Name Year School Seed Mark
===============================================================================
1 Garrett Weinreich 12 A. Grande/ss 61-08.00
2 Ethan Cochran 12 Nwpt Hrbt/ss 61-07.25
3 Ryan Donnahoe 12 Gridley/no 60-08.75
4 Nick Ponzio 11 Great Oak 60-02.00
5 Nick Bultman 12 West Ranch /ss 59-10.50
6 Jayson Kovar 12 Burr(Rid)/ss 59-04.75
7 Amir Patterson 10 Crespi/ss 59-00.00
8 Connor Einck 12 Servite/ss 58-06.50
9 Ryan Hunter-Simms 12 San Grgn/ss 58-04.50
10 Matthew Esparza 11 Amador Va/nc 58-00.00
11 Marty Taylor 11 Nwpt Hrbt/ss 57-09.00
12 Stephen Leach 12 Carmel/ cc 57-09.00
13 Jonathan Beering 11 J Serra/cc 56-09.50
14 Corey Whitaker 12 Vis. Murrieta 56-05.00
15 Luke Longinotti 12 J Serra/cc 55-10.25
16 T.J. Brassil 12 DeLaSalle/nc 55-09.00
17 Michael Coe 12 Carlsbad/sd 55-07.50
18 Austin White 11 Jesuit/sj 55-06.00
19 Javier Contreras 12 Madera/ce 53-09.75
20 Austin Hooper 11 DeLaSalle/nc 53-04.50
21 Bobby Keenan 12 Rio Amer/ sj 53-04.00
22 Kenny Coleman 12 Woodland/sj 53-02.00
23 Kevin Palma 11 Mission Oak 52-10.50
24 Zach Rosales 12 Selma/ce 52-04.00
25 Gavin Quigley 11 St Agstn/sd 51-06.75
26 Christopher Street Jr. 12 Hamilton/la 51-04.25
27 Billy Hamilton 12 El Capitn/sd 50-02.00
28 Jeremiah Allison 12 Dorsey/la 49-11.25
29 John Taufehema 12 Birmghm/la 49-10.50
30 Nolan Nagle 11 Cdnl Nwmn/nc 49-03.00
31 Jerry Johnson 10 Lincoln/sf 47-09.00
Event 32 Boys Discus Throw Prelims
===============================================================================
National: 236-06 4/26/2009 Mason Finley (Buena Vista, CO), Buena Vista
State Meet: 213-07 6/2/2006 Bo Taylor, Newport Harbor
Name Year School Seed Mark
===============================================================================
1 Ethan Cochran 12 Nwpt Hrbt/ss 197-10
2 Jayson Kovar 12 Burr(Rid)/ss 190-09
3 Quaid Vuncannon 12 San Clmnt/ss 184-05
4 Brenden Song 11 West Hlls/sd 180-10
5 Garrett Weinreich 12 A. Grande/ss 179-11
6 Steve Michaelsen 12 Nwpt Hrbt/ss 177-09
7 Sapule Ta'amilo 12 Vis. Murrieta 174-08
8 Brian Hamilton 12 Stagg/sj 174-06
9 Brandon Berguia 12 A. Grande/ss 174-04
10 Matthew Bender 12 Shafter/ce 173-04
11 Ryan Hunter-Simms 12 San Grgn/ss 171-11
12 Matthew Esparza 11 Amador Va/nc 170-05
13 Cody Bickham 12 St. Francis (Mou 168-07
14 Drew Domres 12 Mt Whtny/ce 168-04
15 Aldo Guzman 12 Livingstn/sj 168-01
16 Curtis Bleasdale 12 Vacaville/sj 167-06
17 Kevin Sundberg 11 Fowler /ce 164-10
18 Kyle Thacker 12 Heritage 163-02
19 Nick DeSoto 12 Rnch Ctt/nc 162-07
20 Collin Luu 12 Lincoln/sf 162-01
21 Eddie Medrano 12 Mater Dei SD 159-10
22 Dotun Ogundeji 10 Madison /sd 159-08
23 Alex Rich 12 Washngtn/nc 158-10
24 Ryan Kennedy 12 Yreka/no 154-08
25 Joseph Ilaoa 10 Homestead/cc 153-05
26 Ken Hampel 12 MountainV/cc 152-09
---