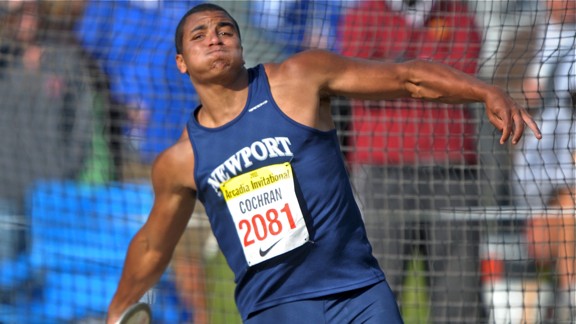 Newport Harbor's Ethan Cochran seeks to bring the discus title home to "The OC"
National Leaders, National Record Setters Headline
94th Annual CIF-State Championships, Presented by Farmers

By Rich Gonzalez
Editor, ESPNHS/DyeStatCal.com
(CLOVIS, Calif.) – Headlined by a pair of national leaders and a newly minted national class record holder, this weekend's 94th annual CIF-State Track and Field Championships, presented by Farmers, kicks off the stretch drive to an Olympic year as Golden State athletes are primed to perform in what is regarded as the premier high school state meet in the land.
Simi Valley's Sarah Baxter, the Nike Cross Nationals champion who remains unbeaten across 3200 meters, is the national leader in her specialty event, where she'll be challenged by an ultra-deep field of epic proportions.
Over in the sand pits, leaper Sasha Wallace of Holy Names tops the national charts in the triple jump, where the North Coast Section mega-star arrives as the heavy favorite here.
On the runways, Santa Margarita wunderkind Kaitlyn Merritt recently captured the national spotlight with her national ninth-grade record performance in the pole vault, kicking off a blockbuster prep career which promises to highlight future CIF state meets as well.
With national-class programs such as Long Beach Poly, Serra, Vista Murrieta and Loyola performing in this two-day extravaganza at one of the nation's premier facilities, look for the action and excitement to be nonstop!
Here's our breakdown of each of the event areas and the team battles:
---
BOYS DISTANCES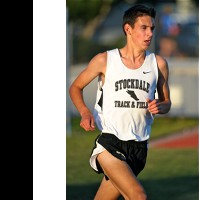 California has earned its reputation as the toughest distance state in the nation over the years, and its performances across the three events this spring should add to that legacy. The highlight clash should be the 1600, where tactics could play a huge role in the outcome. La Costa Canyon's Darren Fahy has been the premier distance talent in the state for much of this spring, but he'll be facing the greatest distance duo in Central Valley history in Buchanan's Cody Brazeal and Stockdale's Blake Haney (at left, Kirby Lee photo).
Fahy and Haney are the main distance names doubling on the boys side this weekend and will be tempted to try to conserve as much energy as possible in the 1600 qualifying and final before jousting against a stacked field in the 3200.
In cross-country last fall, Haney performed like a veteran in sitting on Brazeal's pace in the Central Section Finals before whipping by him down the stretch for the win. Two weeks ago in the rematch at the Valley Masters Meet, however, Haney looked more like the sophomore that he is in mistakenly doing all the work as Brazeal took full advantage and returned the favor, closing hard to roll to a 4:07.72 win, the fastest time in the country this year by a non-senior.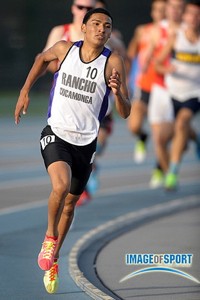 Then there's Rancho Cucamonga's Luis Gutierrez (at right, Kirby Lee photo). He's the top returnee after taking the bronze medal at state last year and he has looked awfully good this postseason, sometimes looking as he's toying with the field before starting his kick.
Fahy could be the most talented one on the line, but talent won't win this. A smart racing plan will. Since Fahy needs to pile up team points, it will be up to the others to execute a smart plan and not let it come down to a short kick. And it will be up to Fahy to pull off an Elias Gedyon-like pace trap (think back to 2010) in trying to out-smart them all.
The 3200 meters should be another war. With Fahy and Haney doubling -- tripling, in essence, since there are two rounds in the 1600 -- the odds will be against the muti-lap mega-talents. The most dangerous remaining combatants should be St. John Bosco's Danny Martinez and Palos Verdes' Jonah Diaz. Both are amazing aerobic talents and extremely well coached, so look for them to each devise a winning plan.
With his daunting weekend schedule, Fahy will aim to prove he's undoubtedly the best in the distances while Haney -- the nation's top sophomore -- will have opportunity to add yet another chapter to his already remarkable young career.
The boys two-lapper is easily the most wide open of the distance events. Army and Navy Academy's Alexander Monsivaiz -- who moved in from the state of Colorado to the San Diego-based military boarding school -- leads the state by more than a full second at 1:50.47, but Corona Santiago's Brett Moulton is the most exciting closer in the state in this event. If Moulton's anywhere close down the last straightaway, he will almost certainly find a way to win. However, most of the state's top half milers – including Northern Section champ Dylan Chamberlen of Paradise – haven't met head to head this spring, so a major surprise could be in store.
---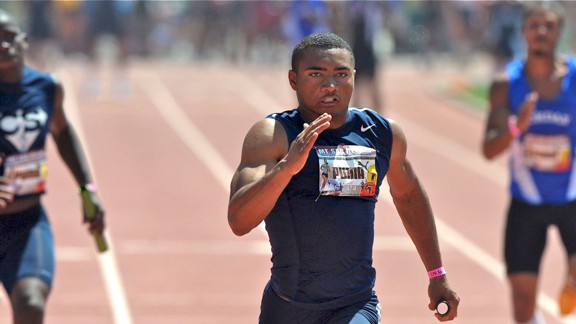 BOYS SPRINTS AND RELAYS
Sprint fans love the drama which surrounds the 100-meter dash, where power strutting, chest-thumping braggadocio is often part of the event's sizzle.
The big question in 2012 is: "Where's the Beef?" It's in the form of San Clemente's Herbert Gamboa, a 6-foot-3, 220-pound defensive back in football who'll be settling into the clocks. Gamboa blazed to a wind-legal state best 10.51 in winning the Southern Section Division I title as "Beef" clearly was ready to roll.
Enter Khalfani Muhammad (above, Kirby Lee photo) of Sherman Oaks Notre Dame. If Gamboa's "The Beef", then Muhammad is the carnivore. All he did last Friday was eat up Gamboa down the stretch at the Southern Section Masters Meet to win in a lifetime-best 10.51, which goes with his state best, wind-aided 10.45 under all conditions.
The 100, however, should be more than a two-pony show, especially with Palo Alto junior E.J. Floreal in the picture. Yes, Floreal; he's the son of Stanford University head coach Edrick Floreal and of 1992 Barcelona Olympics 100-meter hurdles silver medalist LaVonna Martin-Floreal. All "junior" has done this year to uphold the family's athletic heritage is completely shred the Central Coast Section competition, including a wind legal 10.52 shocker last month in dual meet action. Not bad for someone who's said to be even better in basketball!
Looking for a little more heat? How about Oceanside El Camino's Dylan McCloskey, who unleashed a barely wind-aided 10.49 smoker at last Saturday's San Diego Section Finals. A trio of Southern Section stars – Oxnard Rio Mesa's Blake Selig, Los Angeles Loyola super junior Morgan Simon and California state indoor champion Kyree King of Ontario Colony – are also right there in what projects as a super-tight 100 field. It's most of the same players coming back at 200 meters, but toss in Corona Roosevelt's Elijah Mitchell, who ripped a wind legal 21.19 at the Southern Section Divisionals.
The boys 400-meter dash could evolve into a classic two-person duel between Beverly Hills' Alex Rohani and Dorsey's Rashard Clark. Rohani is the ultra-smooth dash wiz from area code 90210, leading the state at 47.37. Clark is the man-child from the L.A. City Section, where he led the Dons to their third straight City title after purring to a 200-400 sweep and powering both relay wins. One side note: Clark's mom, the former Rosalyn Bryant, was a silver medalist for the Americans in the 4x400 relay at the 1976 Olympic Games in Montreal.
Clark has scratched from the 200 at state, but might face Rohani in what would be Clark's fifth race in a 26-hour span to just two races for Rohani. That detail could spell the difference. Should both of the co-favorites falter, Central Section champion Isaiah Cantu of Hanford and vastly improved Alex McElwee of Arcadia, each focusing on single events, could surprise.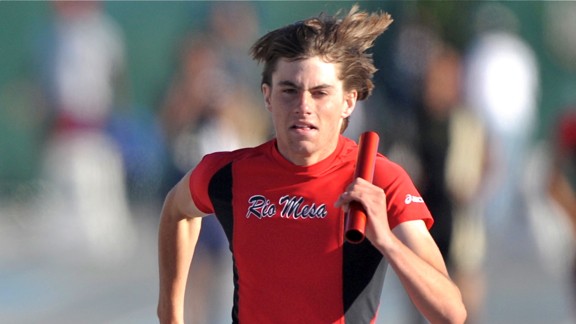 In the baton events, Rio Mesa has been the story this spring. The Spartans recently held the state lead across the board in the 4x100, 4x200 and 4x400, with Blake Selig (above, Rich Gonzalez photo), Cameron Roach, Darion Zimmerman and Drew Weisenberger playing big interchangeable roles. Rio Mesa and Serra of Gardena should rank among the major players in both relays, with Sherman Oaks of Notre Dame (4x100) and new 4x400 state leader Chaminade of West Hills also in the mix along with Rashard Clark-led Dorsey.
---
BOYS HURDLES
Kennedy of Richmond's
Kenneth Walker
is the solid pick across the 39-inch high hurdles, his state-leading 13.75 blazer under windy conditions at the Sacramento Meet of Champions being the standard of excellence thus far. Walker, the North Coast Section champion, is unbeaten in the highs against California competition this spring.
As several of the state's other top hurdlers have encountered disaster in the qualifying rounds, not only has Walker emerged as a clearer favorite, but Gardena Serra's
Lloyd Siscard
has been creeping up the form charts as well. That's great news for the Cavaliers, who could benefit from big bonus points in the hunt for the team title.
The intermediate hurdles should be thrilling and unpredictable, as always. Damien's
Jarrett Gonzales
posted the performance of the year in this event with his 36.80 screamer at the Southern Section Divisional Finals, but Mater Dei's
Corey Hammond
turned the form charts upside down with an out-of-nowhere 37.35 school record win at the Southern Section Masters Meet, where late-race spills and lead changes highlighted the race's closing seconds. Siscard was just one-hundredth of a second behind Hammond at Masters and will look to score key team points in that events as well.
---
BOYS THROWS
In the boys weight events, big noise has been made in the throws ring this year, part courtesy of Newport Harbor's
Ethan Cochran
and partly due to award-winning "beatbox" performer
Quaid Vuncannon
of San Clemente.
Cochran has been literally unbeatable in the discus this spring, winning all his meets and the most-coveted titles (Arcadia, Mt. SAC, CIF, Masters, etc.) while unleashing a slew of 200-foot-plus performances to loom as the heavy favorite. All Cochran pretty much needs to do is make sure he gets a fair throw. Be warned, however, many times in state meet history we've seen a clear throws favorite encounter major setback.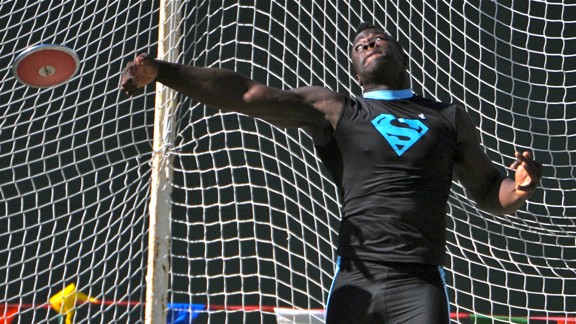 If that happens here, San Gorgonio's Ryan Hunter-Simms (above, Kirby Lee photo), Ridgecrest Burroughs' Jayson Kovar and San Clemente's Vuncannon – all having thrown 188-feet-plus – are well positioned to win. Vuncannon, a 5-foot-11, 171-pound beatbox champion, has made major waves after recently taking up the event and moving to California this year; it would be a storybook season finish for the multi-talented teen.
The boys shot put is more wide open. Cochran is the state leader at 62-10, heading up a trio of 62-foot performers (along with Kovar and Hunter-Simms) tossing around the 12-pound ball, but Arroyo Grande's Garrett Weinreich made a major statement by beating all the top names at last Friday's Southern Section Masters Meet. Another big name to track is Gridley's Ryan Donnahoe, who powered out to a lifetime-best 60-08.75 in winning last week's Northern Section Finals.
---
BOYS JUMPS
The boys high jump features defending champion
Cody Crampton
of Anaheim Canyon regaining top form with his Masters Meet win last weekend.
Miles Poullard
of Colony -- the only 7-footer in the state this spring -- and California of San Ramon's
Noel Frazier
, a highly consistent performer, are additional top-line entries.
The pole vault has taken on an air of uncertainty as state leader
Colin Barber
of San Ramon Valley -- at 16 feet, 7 inches -- is injured and has been struggling of late. That could open the door for top returnee
Connor Stark
of Oak Park, the Southern Section Masters champion, Arcadia Invitational champion
Peter Chapman
of Murrieta Valley, and hometown talent
Kyser Anderson
of Clovis West.
The boys long jump has developed much interest in recent weeks, with a deep list of at least a half dozen 24-footers taking shape. However, none has been truly consistent this spring. Perhaps the biggest threat to win the crown could be a sophomore – Serra's
Adoree' Jackson
, who spanned a wind-aided 24-11 at his league final, among the best marks by a California tenth grader in years.
The boys triple jump field is headlined by World Youth Championships competitor
Jaelen Spencer
of Sultana, whose 49-07.25 is the top wind legal mark in the state this year. Claremont's
Klyvens Delaunay
, Fresno Central's
Willie Alexander
and Bakersfield's
Scotty Newton
are other 49-footers in the field, with James Logan's
Jeffery Prothro
lurking as a dangerous dark horse threat.
---
BOYS TEAM-TITLE OUTLOOK
Based on Siscard's hurdling, a pair of dangerous relays and long jumper Jackson, small schools superpower Serra of Gardena (SS) is the slight favorite to capture the team title, projecting to score in the low 30s.
Notre Dame, with sprint maven
Khalfani Muhammad
leading the 100 and 200 fields and representing in the short relay, is also right there, with dasher
Eric McDaniel's
potential for bonus team points in the 100 looming large.
Rio Mesa, led by dazzling senior speedster
Blake Selig
, and
Darren Fahy
-led La Costa Canyon are among those harboring solid threats to land on the podium with a top-three team finish.
Regardless of who the team champion ends up being, chances are very good that their identity won't be determined until all the 4x400 relay teams have crossed the line.
---
GIRLS DISTANCES
The most compelling event of the entire state meet weekend should be the girls 1600 meters. That's where defending champion
Cami Chapus
of Harvard-Westlake takes on 2011 bronze medalist Nikki Hiltz of Aptos in the showdown of showdowns. Everyone in the state – and across the country, for that matter – knows about Chapus, but Hiltz is every bit just as good.
Both are strong, very athletic, and harbor nasty speed. Chapus has clocked 4:43.90 last Friday while Hiltz has dropped a 4:44.02 at her league finals. Those are two of the top four times nationally this spring and all indications are there's more in the tank. If this comes down to a finishing kick after an honest pace, it's anyone's game and the all-time list will come under serious assault!
From there, Colony's
Xochitl Navarrete
– the only girl ever to beat
Sarah Baxter
in high school competition, doing so at 1600 meters – and Palos Verdes'
Rebecca Mehra
are the best of the rest in an event where the Southern Section could dominate.
The 3200-meter battle might not end up to be much of one at the front, not with the way Simi Valley's Baxter is looking of late. The reigning cross-country national champion recently broke 4:50 for the first time in her secondary event (the 1600). She looked ultra-tough last weekend in winning the Southern Section Masters Meet in 10:08.71 after a tough early challenge from Marina's
Laura Hollander
, the nation's most improved distance runner of 2012.
The great 'wild-card' entry in the 3200 is Buchanan phenom
Hagen Reedy
. Not only is she an amazing talent; she might be the best clutch performer in the field and – as if she needed any help – she'll be competing on her home track in front of scores of family and friends. Talent absolutely litters the 3200m entry list in what could become the deepest eight lapper in state meet history, with several girls capable of threatening 10:20.
On the topic of depth, we've never seen an 800-meter state field as promising as this one, with a slew of kids capable of smashing the esteemed 2:10 barrier. But aside from all the hype and hoopla, it should by Harvard-Westlake's
Amy Weissenbach
and Templeton's
Savannah Camacho
likely going 1-2. Weissenbach set a National Federation record 2:02.04 (!) at this meet last year and looked ultra-tough in a 58-high/67-split 2:05.55 win last weekend. Camacho is capable of also dipping under 2:05 and will be aiming to pull off one of the greatest upsets in state meet history. In a Who's Who field, Northern Section champ
Kody Atkins
of Chico is among the biggest upside talents.
---
GIRLS HURDLES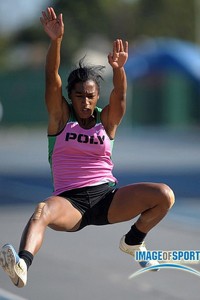 Poly's chances at the overall team title caught an unexpected mid-season assist when the nation's premier outdoor high hurdler, Trinity Wilson of Berkeley St. Mary's, fell victim to a CIF season-ending injury. Long Beach Poly senior Traci Hicks (hurdling, at left, in Kirby Lee photo) has since taken over the reins in the event, roaring to a shocking 13.22 slightly wind-aided effort that ranks as fastest in the nation under any conditions. Her chief nemesis in trying to snag valuable team points should be Wilson's club training mate, Sasha Wallace of Holy Names in Oakland, whose windy 13.43 stacks up among the top half-dozen clockings in the country this spring. Rancho Cucamonga's Jordie Munford, who seemingly had Hicks on the ropes at the Southern Section Masters Meet last weekend, is another major major threat in the highs.
Munford, however, might prove too tough to catch in what still ranks as a star-studded 300-meter hurdles field. She steamrolled the competition en route to a then-nation-leading 41.37 performance at her section final that remains the state leader by large margin. Great Oak's Jade Miller – at 42 seconds flat – and Fairfield's Daje Pugh, the greatest highs/lows combo hurdler (13.90/42.02) in Sac-Joaquin Section history, are also featured. Multiple girls will aim to muscle their way into the 41s.
---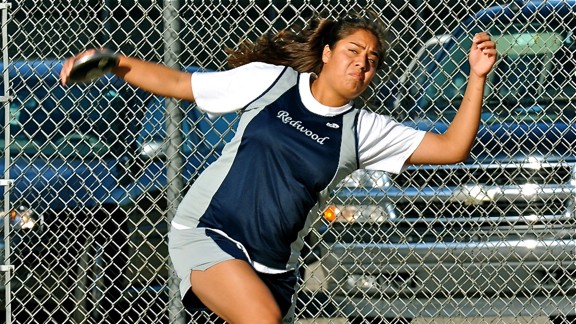 GIRLS THROWS
Things are really beginning to heat up in the discus ring, where Central Section champion Lissette Mendivil (above, Rich Gonzalez photo)of Visalia Redwood remains the state leader at 157 even, but hometown hero Nikki Okwelogu of Clovis West is not far behind and the next three girls are also fresh off lifetime-best performances.
Dos Pueblos' Stamatia Scarvelis has been closing in on the 50-foot barrier in recent weeks, including her state-leading 49-05.50 mark at her section prelims. Alemany's Nia Britt has gone 48-09.00 in league action thus far, the best mark ever for a California frosh. Three other huge names in the ring are Carlsbad's Breana Jamison, La Sierra's Tanya Sapa and Clovis West's Okwelogu. Jamison pulled off the surprise win at last year's state meet while Sapa captured the bronze medal. Okwelogu is the Central Section champion competing on her hometown turf.
---
GIRLS JUMPS
If there's one field event which seemingly carries the flag for the girls each year, it's the pole vault. From former national record holders to future Olympians, our female aerialists have always dazzled on the U.S. stage.
This year – and perhaps for years to come – the trend looks to be continuing. Santa Margarita's
Kaitlyn Merritt
took over the state lead with her 13-foot, 3-inch clearance to win her divisional finals meet two weeks ago, setting a national record for ninth graders in the process. Merritt would do very well to claim the gold here, but experience could play a huge role on this stage.
That's where Rancho Bernardo's
McKenzie Johnson
comes in. The top returnee in the state, Johnson captured the silver medal here last year and is coached by none other than former world record holder
Stacy Dragila
. Junior
Mimi Lian
is another top entry, representing a Rancho Bernardo program with an ultra-rich history in the event. San Jose Presentation's
Taylore Jacques
is the fourth 13-footer in the field as California boasts 4 of the top 10 girls in the nation in this event!
The girls triple jump doesn't figure to be as wide open – not with Holy Names'
Sasha Wallace
roaming the pits. Wallace has a near 18-inch advantage on the field with her monstrous 42-04.75 performance leading all leapers nationally this spring. San Diego El Camino's
Tamika Brazzel
and St. Mary's Academy's
Rachel Tolliver
are the only other 40 footers entered.
In the long jump, El Camino's
Jasmine Gibbs
, who soared a wind-aided 20-feet-11 in San Diego league finals action, is the top performer in that event, with Silverado's
Ashlie Curenton
holding the best wind legal mark of the year at 20-feet-4.
The hardest event to handicap clearly is the girls high jump, where co-state leaders
Alex Florent
of Harvard-Westlake and
Claire Kieffer-Wright
of South Pasadena lead the charts, but no jumper anywhere has been ultra-consistent. Another notable entry is Rio Mesa's
Raegan Nizdil
, the state indoor meet champion who also won at the Simplot Indoor Games in Idaho. If she regains that winning form, she might emerge as the biggest threat in Clovis.
---
GIRLS SPRINTS AND RELAYS
Down through the years, few events have generated as much excitement on the California scene as the girls sprints, with names such as
Angela Williams, Allyson Felix and Marion Jones
gracing the record books. Because of one special rising talent, however, there could be more electricity on the way in 2012.
So long as Long Beach Poly's
Ariana Washington
can get in the blocks (no injuries or sickness) and get safely out of the blocks (no false starts), the battles in the girls sprints should be for second place. Washington, the nation's premier sophomore sprinter, is nearly 2/10ths of a second faster than the field in the 100 and a quarter-second faster in the 200 – and she's looking better and better by the week. If she can keep that hot streak going, Long Beach Poly could be well on its way to a record 12th girls team title and also a record fifth crown in a row.
The battle from there should be between Oceanside's
Jasmine Gibbs
, who has been the hottest thing in San Diego of late, and Long Beach Jordan's fast-rising
LaTroya Franklin
. Gibbs has been flying well under 12 seconds in the 100m recently and used that same speed to stretch nearly 21 feet in the long jump! Franklin (11.63/23.90) has reached new performance levels this spring and will look to pull off a shocker here.
You also want to keep an eye on Gardena Serra's
Alexis Faulknor
. The multi-talented star led the Cavaliers to the Southern Section Division IV team title two weeks ago and is entered in FIVE events here. The 100, 200, long jump and both relays. Under meet rules, she can only do four different events over the two-day meet and it's too late for her to scratch from any individual events without violating the meet's "Honest Effort" rule. So she'll have to scratch from one of Serra's relays; we'll see how that impacts the Cavaliers' overall team-title chances at this ultra-deep state meet.
In the girls 400, two names really stick out going into the stretch drive. From Southern California, Serra's
Renetia James
has been rolling in postseason, throwing down a 54.41 state leader at last Friday's Southern Section Masters Meet. In Northern California, Rosemont's
Nia Dorner
has twice posted state-leading times and holds a best of 54.94 this spring. It'd be a bit surprising if one of those two doesn't emerge as state champion.
The always thrilling girls relays should reach a frenzied pitch come Saturday night's finals, with baton powers Long Beach Poly, Serra, and St. Mary's Academy seeking to avoid disaster while aiming for a coup de grace performance in the team-title sweepstakes.
Poly and Serra have been trading off the state lead in the short relay throughout this season, with Poly currently holding the upper hand courtesy of its 45.72 burner at last weekend's Southern Section Masters.
Serra has bragging rights in the long relay, however, with its 3:44.53 performance at its divisional meet looming two seconds clear of the field. Also keep an eye on Harvard-Westlake, which has the most talented 1-2 punch of any roster in the nation with
Cami Chapus and Amy Weissenbach
at the ready. The Wolverines endured a heartbreaking DQ in this event last year, costing them the team title, and will be looking to avenge themselves in the long relay this year.
---
GIRLS TEAM-TITLE OUTLOOK
For the fifth year in a row, the road to the girls state team championship goes through the city of Long Beach, high school's version of TrackTown USA. If the Long Beach Poly Jackrabbits are to take care of business in two of their signature events – the hurdles and relays – girls title #12 will be at hand. While Poly is the clear favorite, Serra of Gardena and El Camino of Oceanside court powerhouse programs seeking to pull the upset.
To give you an idea of Poly's longstanding dominance in the sport, the last time the Jackrabbits didn't win the state title, current sprint phenom Ariana Washington was only in fifth grade!
Poly's big challenge this weekend will be to have its stars somehow stay fresh while juggling multiple events during nerve-racking action through "the rounds" of the dashes and the relays.
One thing to keep in mind, with most of the big players in the team-title battle powered by the speed events, there is no room for error. A dropped baton, a false start or even a bad start could spell doom for any of the pre-meet favorites.
The "Trackrabbits", as they like to call themselves, will be pushed to their emotional and physical limits, but as we've seen time and time again, they handle that challenge better than any track and field program in Golden State history.
---