---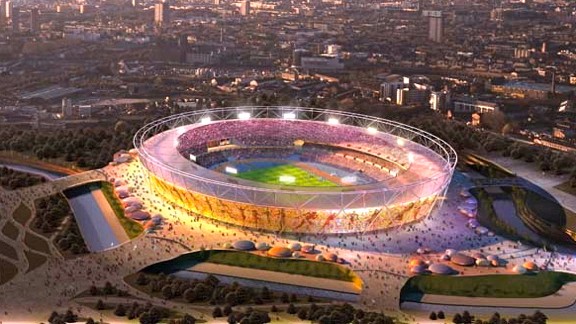 Olympic Stadium at Olympic Park in London, England.
---
CALIFORNIA CONNECTIONS LOOM LARGE IN MAKING OLYMPIC TEAM ROSTER
By Rich Gonzalez
Editor, ESPNHS/DyeStatCal
(JUNE 29, 2012) -- For most of USA Track and Field's recently minted team members for the upcoming Olympics Games, their path to London first traveled through California, whether it be via the high school route, the collegiate path, or both.
Through Friday's finals, former Golden State preps have accounted for more than twice the Olympic Team membership than that of any other state.
With two competition days remaining, 11 of the 73 Olympic berths awarded (15 percent) have been sewn up by athletes who competed in California high schools. Florida, Texas, Oregon, Illinois and Georgia have qualified four former prep athletes apiece at this point.
California's wealth of representation would officially be greater had it not been for the delay in determining the final qualifier in the women's 100-meter dash. Former California preps Jeneba Tarmoh (Mt. Pleasant HS) and Allyson Felix (Los Angeles Baptist HS) finished in a dead heat for the third and final position in that event, with a tiebreaker mechanism to be employed in the near future. Look for both athletes to officially be named to the team once the pool of relay athletes is announced.
Additional former prep Golden Staters who've punched their tickets to London include Bryshon Nellum (Long Beach Poly), Duane Solomon (Cabrillo HS), Kyle Alcorn (Buchanan HS), Jamie Nieto (Sacramento Valley HS), Derek Miles (Bella Vista HS), Carmelita Jeter (Bishop Montgomery HS), Kim Conley (Montgomery HS), Alysia Montano (Canyon/CC HS), Jill Camarena-Williams (Woodland HS), Stephanie Brown (Arroyo Grande HS) and Jessica Cosby (Cleveland HS).
California's placement atop the state-by-state representation list of Olympic qualifiers is hardly surprising. With its enormous population base and excellent training weather, the state typically leads the way on the nation's prep performance lists each spring.
In breaking its wealth down even further, California's powerful CIF-Southern
Section has accounted for five of the state's eleven berths. The Sac-Joaquin boasts three qualifiers to this point while the Los Angeles City, Central and North Coast Sections check in with one apiece.
Florida and Texas are two other perennial prep talent hotbeds typically not ranking too far behind California for annual national bragging rights.
Oregon's representation is paced by two of the Olympic Trials' biggest newsmakers in distance runner Galen Rupp and decathlete Ashton Eaton. Rupp is the only athlete to qualify in two individual events thus far after setting meet records in both the 5,000- and 10,000-meter runs while Eaton shattered the world record in the decathlon early on in the meet.
Of the 50 states, 29 have qualified at least one of its former high school athletes to the London Olympic Games. Two qualifiers – Bernard Lagat and Janet Cherobon-Bawcom – did not attend high school in the U.S.
As far as collegiate lineage goes, California also leads the way there. Of the 73 qualifiers that completed their post-high school education in the U.S., a dozen of those did so at California universities. Texas is next with seven qualifying athletes, followed by Oregon with five.
The University of Southern California and the University of Oregon lead the way among the collegiate programs with four qualifiers apiece to this point.
Bryshon Nellum (400), Duane Solomon (800) and Jesse Williams (HJ), all either current or former Trojans, are on Team USA. The fourth USC qualifier warrants an asterisk; Felix attended the university but did not compete for the team, signing a professional contract shortly thereafter. Josh Mance, who placed fourth in the 400-meter final, will certainly be named as part of the relay pool.
Oregon will be represented in London by Rupp, Eaton, javelin thrower Cyrus Hostetler and pole vaulter Becky Holliday.
The Olympic Trials conclude on Sunday.
---