No. 24 Ames (Ames, Iowa) vs.
Waukegan (Waukegan, Ill.), 9 ET, ESPN
SNEAK PREVIEW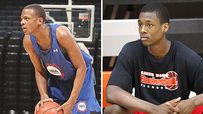 Jereme Richmond (left) and Harrison Barnes face off Thursday night on ESPN. Hold on tight. ESPNChicago.com
• Livin' in Barnes' surreal world
• Remembering Richmond's unreal day
• Ames, of course, is led by Harrison Barnes, the No. 1 baller in the ESPNU 100 and headed to North Carolina to play for the Tar Heels. He's one of the best players Iowa has produced and one of the most recognizable athletes ever from that region. Look for him to play well because he going to be motivated to show all the college basketball fans that tune in that he'll be an impact player on Tobacco Road next season.
• Look for Waukegan's Jereme Richmond, the No. 17 prospect in the ESPNU 100, to play well in his matchup with Barnes. Richmond will not be intimidated; he's a cool customer who has arguably played in more big games than Barnes.
• Look for Waukegan to bounce back from two recent defeats that dropped the team out of the ESPN RISE FAB 50. Waukegan made it to the Class 4A state final last year in a big-time basketball state, and Ames will have its hands full. Some fans fail to realize that "J-Rich" has been on the national scene even longer than Barnes, and he wants to send a friendly reminder.
• Watch out for Ames' role players, such as forward Doug McDermott and center James Kohler. McDermott is the son of Iowa State head coach Greg McDermott and he really knows how to play the game. He's a perfect complement to Barnes because the nation's top-rated player is so unselfish. Either one of those role players is bound to have a big game.