The regular season is a few months away, but the Western Conference picture already looks much different after a big and busy offseason. Kevin Pelton ranked the top 15 teams as of today. Now our panel breaks down the good and the bad out West heading into next season.
1. Which team in the West will make the biggest jump in 2013-14?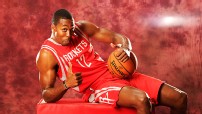 Henry Abbott, ESPN.com: Houston Rockets. I love the moves the Clippers made, and I suspect they'll go farther than the Rockets, but they won 11 more games than Houston last season, and it's tough to improve mightily on 56 wins. So debate the merits of Dwight Howard all you want, but respect the fact that the Rockets got a ton better. Also, a shoutout to the Timberwolves, for whom a touch of health could mean everything, and the Hornets, for whom aging is an asset.
Curtis Harris, Hardwood Paroxysm: Houston Rockets. They seemingly made major strides last season, but they jumped only from ninth place in 2011-12 to eighth place in 2012-13. This upcoming season, with Howard in tow, I expect Houston to compete for the West's third seed.
Aaron McGuire, Gothic Ginobili: New Orleans Pelicans. Coach Monty Williams is one of the league's shrewdest defensive minds. Jrue Holiday is a budding young star. Eric Gordon has to have a healthy season someday. Combine that with a rapidly developing star in Anthony Davis and perfect complementary players in Ryan Anderson and Tyreke Evans? That's a team that could very well shoot from 27 wins to 47 if the chips fall its way.
Ramona Shelburne, ESPNLosAngeles.com: Houston Rockets, who will be doing something horribly wrong if they can't jump from the eighth spot in the West into the top half of the conference after adding Howard in the offseason. But the Golden State Warriors are a team to keep an eye out for, too. I'm not sure they'll finish all that much higher than last season, but I'm anxious to see how Mark Jackson's crew grows from its deep playoff run this past season.
Royce Young, Daily Thunder: Houston Rockets. It's pretty straightforward: They got Howard, so therefore they will be much better. But their young roster will also be a year improved. It's not just the James Harden-Howard combo, it's the well-rounded depth they have. They were going to take a big step forward whether they got Howard or not.
---
2. Which team in the West will take the biggest fall in 2013-14?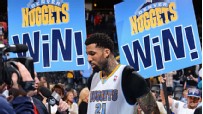 Abbott: Los Angeles Lakers. Kobe Bryant playing older, still recovering or not at all. Chris Kaman in place of Howard. It's no secret this team took a major step back.
Harris: Denver Nuggets. The Nuggets won the third-most games (57) in their history last season, behind only their 65- and 60-win campaigns in the mid-1970s ABA. But with the loss of their coach, their general manager and a monster wing defender in Andre Iguodala, they're headed for a major collapse. Oh, and Danilo Gallinari will be recovering from a torn ACL. Yikes.
McGuire: Denver Nuggets. Barring a total collapse in forum blue and gold, I'd tab the Nuggets as this year's most head-scratchingly mediocre Western squad. The Nuggets lost their coach, lost their identity, lost their best player and threw out their starting center. They added naught but flotsam and addressed none of their roster needs. They'll be a far cry from a 60-win juggernaut.
Shelburne: Memphis Grizzlies and Denver Nuggets. I don't like messing with a good thing, and that's just what Memphis and Denver did by replacing their head coaches. Both teams won in large part because of the chemistry they were able to develop, and you're taking a huge chance by replacing the man in the middle of it all. This is no knock on Brian Shaw or Dave Joerger, but it's hard to see how either of these teams will seamlessly pick up where it left off last season.
Young: Denver Nuggets. Their rise to a Western contender last season was slow, patient and well-paced. But their fall is going to be abrupt and probably a little unsettling. They still have some decent pieces and will be competitive, but this team will be a far cry from the 57-win mini-monster from last season.
---
3. Which team in the West are you most excited to watch in 2013-14?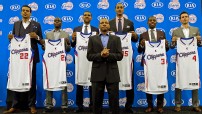 Abbott: Golden State Warriors. Didn't we all fall in love with that Stephen Curry small-ball attack in last season's playoffs? Mark Jackson's team leads the league in fun-to-watch things such as passion and jaw-dropping buckets.
Harris: Los Angeles Lakers. The on-court product won't be much to brag about, unless you've been a fan of the Washington Generals for years. But the Lakers provide the best drama in any circumstance. Will Kobe Bryant return to his old form? Will Steve Nash hold up? How brazenly will Nick Young break the offense? Must-see TV.
McGuire: Los Angeles Clippers. Doc Rivers is a fantastic coach, but this job isn't going to be a cakewalk. He's used to a certain defensive style of team building with an all-time great manning the middle. He won't have anything remotely close to that in L.A., and it'll be his responsibility to juggle this new challenge with the same aplomb he showed in 2008. Count me intrigued.
Shelburne: Los Angeles Clippers. This offseason has been something of a referendum on the importance of coaching, with nearly half of the league -- including a handful of playoff teams -- replacing coaches, and only the Clippers making a bold investment in this area by hiring Rivers. It'll be fascinating to watch the effect he has on Blake Griffin, Chris Paul and the rest of Lob City.
Young: Golden State Warriors. They were already the most fun team in the West, but now they're really truly a Western threat. The addition of Iguodala rounds them out perfectly, and, with their sharpshooting backcourt and ability to score in transition, the Warriors' games will be can't-miss.
---
4. Which team in the West is the biggest wild card in 2013-14?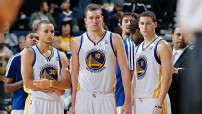 Abbott: San Antonio Spurs. Are they the shrewdly coached defending conference champs nobody else in the West has solved? Or are they built on an aging big three who are all wrestling, one way or another, with a need to lighten the load? Manu Ginobili looked clearly past his prime by the NBA Finals; Tim Duncan is approaching retirement; and even Tony Parker had to sit for stretches of Finals crunch time because of exhaustion. A title, a first-round exit in a tough conference ... nothing would surprise me.
Harris: Golden State Warriors. Basically discarding none-dimensional Richard Jefferson in exchange for all-around Andre Iguodala is a huge coup. If Steph Curry and Andrew Bogut can remain healthy, the Warriors have a shot at upending the improved Clippers for the Pacific Division crown.
McGuire: I'm taking a pass here -- the biggest wild card, as always, is health. For every team. If someone's star tears an ACL in Game No. 2, we're looking at a wildly different West. The regular-season standings in 2012-13 were dominated by the effects of injuries. Next season's standings will be much the same. On paper, these teams are very close. The breaks of the game will separate them for us.
Shelburne: Los Angeles Lakers. I should say the Pelicans, but the Lakers could either royally suck or be a pleasant surprise. Will losing Howard be addition by subtraction? Will Kobe Bryant return in November or February? And if so, will he still be Kobe Bryant? How much does Steve Nash have left? What about Pau Gasol in a contract year? Impossible to know right now, but it'll be riveting to watch.
Young: Minnesota Timberwolves. Their season was completely detonated because of injuries and bad luck, but they're back to good health and have rebuilt. They've addressed some needs in free agency, and, assuming they can get the Nikola Pekovic situation solved, this could be a top-four team. Really.
---
5. Which team is the favorite to win the West in 2013-14?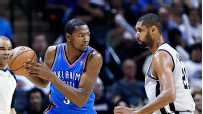 Abbott: Los Angeles Clippers. They have had Chris Paul and athletic bigs for a while. Now they've added real-deal 3-point shooting from good all-around players J.J. Redick and Jared Dudley. I believe 3s are the magic elixir, not only because of the points they create but also because of what CP3, Griffin and DeAndre Jordan can create together when the defense can't clog the lane. (By the way, can you believe I made it through five questions about the West without mentioning the Thunder? I'll pay for that, no doubt.)
Harris: San Antonio Spurs. I don't think any team should be favored to win the West. Given matchups and good/bad breaks, the Rockets, Clippers, Thunder and Warriors each could conceivably win the conference. But, after they were seconds from the 2012-13 title and then improved their roster, you have to give the Spurs the deferential nod.
McGuire: San Antonio Spurs. I can't escape the feeling that the Clippers' lack of defensive big men is going to hurt them dearly in a playoff gantlet expected to feature Tim Duncan, Serge Ibaka, Marc Gasol and Howard. The Thunder's roster looks a touch weaker than in recent years, as well. I'm tempted to pick Golden State, but that's a bridge too far for me. By the slimmest of hairs, I'll give it to the NBA's paragon of consistent contention.
Shelburne: Oklahoma City Thunder. Such a boring choice, I know. But with Russell Westbrook healthy, you have to give the nod to last season's regular-season champ again. Losing sixth man Kevin Martin to Minnesota hurts, but Reggie Jackson is due for a breakout year and should help mitigate some of the loss. And Kevin Durant is still miles from his ceiling as a player.
Young: Oklahoma City Thunder. Despite the appearance that they've done nothing this offseason, it has to be them. Westbrook's injury has caused a lot of lost perspective. With him, they were a 60-win juggernaut that flirted with a historic margin of victory. They're a year older, and a year angrier, having wasted a season because of an unlucky break.


ESPN.com and the TrueHoop Network
Henry Abbott covers the NBA for ESPN.com. Ramona Shelburne writes for ESPNLosAngeles.com. Curtis Harris, Aaron McGuire and Royce Young contribute to the TrueHoop Network.
• Follow the NBA on ESPN on Twitter | On Facebook | On Google+