Our experts from ESPNLA.com and the Miami Heat Index will match wits each week in anticipation of the Lakers-Heat showdown, Dec. 25.
---
HEAT VS. LAKERS

Dec. 25 @ 2 PM PT on ABC
70
DAYS
:
08
HRS
:
58
MINS
:
48
SECS
---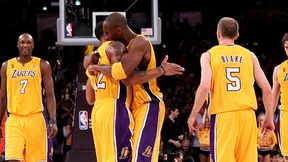 Why are the Lakers a good bet to three-peat?

By Brian Kamenetzky
ESPNLosAngeles.com
Land O' Lakers blog

The Lakers were the best team in the NBA last year, and only got better this offseason, shoring up holes by adding Steve Blake and Matt Barnes.
Kobe Bryant is still very much Kobe Bryant, while Pau Gasol is arguably the best power forward in basketball and he's part of a frontcourt no team can match up with once Andrew Bynum returns.
The positional versatility offered by L.A.'s roster also allows them to adapt effectively to any team around the league. They can play big or small, and push pace if needed. Plus, they play very good defense.
Not to say the Lakers are shoo-ins, because they're not. A few bounces here or there, and Boston wins last season's Finals. But until they lose, I'll believe they're the best.

By Andy Kamenetzky
ESPNLosAngeles.com
Land O' Lakers blog

All things being equal, the Lakers will win again because they're quite simply the best team. I'll take suggestions for a squad with a better combination of talent, size, depth, experience and heart, but I'm probably not buying them.
This crew was good enough to win last season, and with Blake (over Farmar), Barnes (over Walton) and even Ratliff (over Mbenga), they've upgraded a championship roster. Yes, injuries could prove problematic, particularly as Kobe begins at less than 100 percent and Bynum doesn't begin at all. But then again, they repeated while banged up last year.

By Dave McMenamin
ESPNLosAngeles.com
Archive

Nobody knows where the NBA will be next season. The 2011 title could be the only championship up for grabs in the next two years. That uncertainty will only add more urgency to every message 65-year-old head coach Phil Jackson and 36- and 32-year-old co-captains Derek Fisher and Kobe Bryant impart to the team.
Free agent add-ons Steve Blake, Matt Barnes and Theo Ratliff are yearning for No. 1. Ron Artest is looking for No. 1 all over again after raffling off his first ring.
And if you don't buy those stimuli, buy size. Nobody in the league can match the length of a healthy frontline of Pau Gasol, Andrew Bynum and Lamar Odom. Too much talent, too much motivation, too much experience means a third ring.

By Ramona Shelburne
ESPNLosAngeles.com
Archive

The Lakers will win because Phil Jackson and Kobe Bryant have too much riding on this season not to win. No championship window stays open forever and nobody knows that better than Jackson (who put off retirement to chase an astounding fourth three-peat) and Bryant (who enters his 15th NBA season but still needs one more ring to tie Michael Jordan).
It also helps that all of the Lakers' top challengers have issues: Miami is going to need a year to jell, Oklahoma City isn't ready yet, Boston is too old and Orlando may not be tough enough.

By Arash Markazi
ESPNLosAngeles.com
Archive

This year's Lakers team may be the most talented team Phil Jackson has ever coached. Not only do they return Kobe Bryant, Pau Gasol, Ron Artest, Lamar Odom, Andrew Bynum and Derek Fisher from last season's championship team but the offseason additions of Steve Blake and Matt Barnes make their bench, which was at times a liability, a strength again.
The Miami Heat may have the Big Three but the Lakers have 14 players on their roster they are comfortable putting on the court. No other team in the league can say that.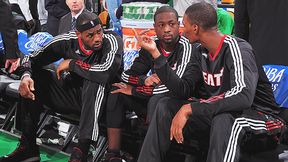 Why are Miami's Big Three likely to win their first ring together?

By Kevin Arnovitz
ESPN.com
Archive

The Heat feature the game's most efficient players at arguably three of five positions. It will take those stars some time to establish the kind of on-court telepathy teams like the Lakers and Celtics have, but it's difficult to overstate the potency of this level of elite, prime talent.
Once LeBron James, Dwyane Wade and Chris Bosh play together for 1,000 possessions or so, and once they get their versatile marksman, Mike Miller, back on the floor, how do you design a defensive game plan to defend them?

By Brian Windhorst
ESPN.com
Archive

There's no question the Heat have weaknesses they likely will not be able to solve this season. They are going to have trouble guarding certain big men and their chief rivals all have strong bigs. Also, their point guard position is suspect at best and really will be de-emphasized.
But focusing on those shortcomings might be short-sighted. If they are able to develop an offensive chemistry, they have the potential to be the most difficult team to guard in the league.
They can find and exploit favorable matchups and they will do so in playoff series. Plus they have dedicated themselves at the defensive end, which will also serve them well.
Beating them four times in seven games just simply won't be easy, and if they put it together, it may be impossible.

By Michael Wallace
ESPN.com
Archive

Why will the Heat will their first title with the Big Three?
Simple. Because they will quickly work through the early-season kinks and talent will eventually take over.
The Heat's lack of size will be an issue that must eventually be addressed. But talent and timing are in Miami's favor. LeBron James and Chris Bosh may never have won a title on their own in Cleveland and Toronto, respectively. And Dwyane Wade wasn't going to get another one in Miami at the rate he was going. But there are only two opponents capable of stopping them now that they've joined forces. One is injury. The other is ego.
If the Heat can relatively avoid that first issue and overcome the latter obstacle going into late May and June, they'll get past the Magic, Celtics and -- ultimately -- Lakers while embarking on that epic NBA jewelry heist.

By Tom Haberstroh
ESPN.com
Archive

Miami will bring home its second title in five years because, yes, the Big Three have sky-high efficiency, but more importantly, the Heat will have unparalleled versatility in playing style.
They can pound it with Dwyane Wade or LeBron James from isolation sets, run the pick-and-roll with Chris Bosh, play four-out offense with 3-point shooters, or they can run their opponents out of the gym. All without missing a step.
Teams won't be adequately prepared in a seven-game series since head coach Erik Spoelstra can vary the offensive attacks with a flip of a switch. No team can match up with them in a playoff series since they won't even know what kind of team they're matching up against. Too many dynamic weapons, not enough time to prepare.