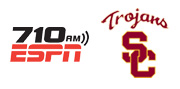 LOS ANGELES - ESPN and the University of Southern California (USC) announced today a five-year extension for their football and men's basketball play-by-play broadcasting agreement on 710 ESPN Los Angeles (KSPN) through the 2015-16 basketball season.
The current USC and 710 ESPN Los Angeles broadcast agreement began with the 2006 USC football season. 710 ESPN Los Angeles will remain the flagship radio station of the USC Football Radio Network which reaches from Fresno to San Diego.
"We are delighted to continue to have 710 ESPN as our flagship radio outlet for Trojan football and men's basketball games," said Pat Haden, USC athletic director. "As the worldwide leader in sports, the way that 710 ESPN has represented USC's brand is consistent with the way we present it, both in Los Angeles and nationally."
Scott McCarthy, Vice President and General Manager, said, "All of us at 710 ESPN Los Angeles have greatly enjoyed our partnership with the University of Southern California, and we are thrilled to be able to extend the relationship. It is an honor to serve Trojan Fans as the radio broadcast partner for one the nation's premiere university athletic programs. We look forward to another five years of exciting play-by-play coverage."
Trojan football fans will continue to hear the home and away, play-by-play broadcast team of Pete Arbogast and former USC and NFL quarterback Paul McDonald. Chris Fisher and Jim Hefner will continue as USC basketball broadcasters for all games.