The Great Depression was a severe worldwide economic depression in the decade preceding World War II. Starting in 1929 and lasting through the late 1930's and early 1940's, it had a devastating effect in the United States. Farming and rural areas suffered as crop prices fell by approximately 60 percent.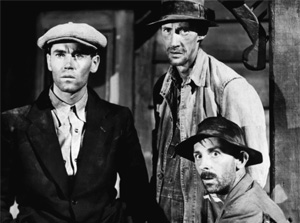 Henry Fonda (left) in The Grapes of Wrath
In 1940, one of the greatest films of all time, The Grapes of Wrath was released. Set during the Great Depression, it focused on a poor family of sharecroppers, the Joads, who were driven from their Oklahoma home by drought, economic hardship and changes in the agriculture industry. In a nearly hopeless situation, they set out for California along with thousands of other "Okies" in search of land, jobs and dignity. Directed by John Ford and starring Henry Fonda, the motion picture details the arduous journey across the U.S. as they travel to California in search of work and opportunities. In 1989 it was one of the first 25 films to be selected by the Library of Congress for preservation in the U.S. National Film Registry.
Some 70 years later, we now bear witness to another group of Oklahomans who embarked for California just over a week ago. Unlike the Joads, they did not set out via broken-down jalopy while living outdoors in makeshift campgrounds. Instead, they arrived by charter aircraft, residing in a five-star luxury hotel. They are the Oklahoma City Thunder, who began their NBA opening round playoff series against the Los Angeles Lakers, like the Joads, with a hunger and desire to succeed.
With the series tied at two games apiece, let's take a look at several revealing statistics:
In the four games played thus far, the defending World Champion Lakers have yet to shoot above 45% in any of the contests. Their opponents have yet to shoot above 41% in any of the games.

The Lakers are a combined 28-97 from 3-point range in the series. In Game 4 on Saturday, Derek Fisher and Kobe Bryant were a combined 4-7, while the rest of the team shot 0-15.

Free Throw Shooting has been a major problem for the Lakers. They are 65-94 from the line through four games. OKC has gone 117-139. The free throw disparity represents a 52 point swing and there is a differential of 45 in total free throw attempts.

In Game 3, the Thunder was 27-34 at the line, while the Lakers went 10-12 (a 17 point difference in a game won by 5 by OKC, 101-96).

In Game 4, the Thunder went an astonishing 42-48 from the charity stripe, while the Lakers shot 17-28 (a 25 point swing in a game the Thunder won by 21 points, 110-89).

Blocked Shots is a category often overlooked, but in this series, it has been important. Who can forget Game 2 at STAPLES Center where, despite losing 95-92, Oklahoma City registered 17 blocks, including 7 by back-up center, Serge Ibaka? Through 4 games, the Thunder has won this battle by a margin of 30-20.

In each contest, the team who won the battle on the boards (both offensively and combined) has won the game.

Kevin Durant, the NBA scoring champion this season, is averaging just under 27 points per game (a high of 32 in Game 2).

Durant's teammate, guard Russell Westbrook, is averaging just under 22 points per game, and better than 50% shooting in the series (with a high of 27 in Game 3).

Kobe Bryant is averaging 24 points per game vs. the Thunder (with a high of 39 in Game 2 and a low of 12 points in Game 4, when he took just 10 shots).

In the Game 4 loss at OKC, Kobe Bryant, Pau Gasol, and Andrew Bynum each shot 5-10 from the field. All three players need to take more shots, and Gasol and Bynum have to display more of an inside presence. Especially when the rest of the team is struggling making their shots.

Ron Artest, who is known for his defensive prowess, has been an offensive liability from beyond the arc thus far, shooting 3-23 from 3-point range.
With the series down to a best two out of three, it is now a question of hunger and desire. Which team wants it more -- the defending World Champions, who have yet to demonstrate the passion and hunger of last year's team, or the Oklahoma City Thunder, a team marked by youth, energy, ambition, and a burning desire to succeed despite the odds being stacked against them, much like the Joads some 70 years ago?