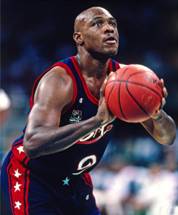 Head to MetroPCS in Pomona this Saturday, March 3 from 11am to 1pm at 68 Rio Rancho Rd to take pictures and get autographs from Team USA and former Laker Mitch Richmond! Can't make it? No Worries! Catch him at the Metro PCS in Compton Sunday, March 4 from 1pm to 3pm a 1550 W. Rosecrans!
Join 710 ESPN from 1pm to 4pm on Monday, March 5th at the MetroPCS store at 10080 Alabama St.in Redlands. While you're there, you can register to win great swag and tickets from the 710 ESPN Street Team!
LA fans, who come out to the event will be able to get their photo taken with a popular Team USA basketball legend along with an autograph. Fans will have the chance show off their best moves as they go head-to-head with friends on the court. Beyond the court, the tour also teamed up with Samsung Mobile to give Los Angelenos a chance to square off with their friends with various basketball-centric mobile games and trivia.