On Wednesday, top prep football players from all over the Southland will be determining their futures by signing national letters of intent with colleges and universities all over the country. In preparation for the big day, the prep bloggers at ESPN Los Angeles -- each of whom covers a specific region of Southern California -- took some time to consider the burning questions heading into national signing day. Here is our take on what to expect.
1. Who is the most talented uncommitted prospect from your region, and what are his options?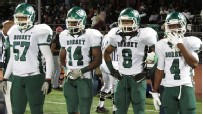 Blair Angulo (south L.A. County): Jaydon Mickens (No. 4, pictured), a versatile athlete out of Dorsey High in Los Angeles. The former USC pledge is electric in open space, comparable in that sense to Oregon's De'Anthony Thomas, the city's most coveted recruit last year. Mickens was named the most valuable player at the inaugural Semper Fidelis All-American Game after showcasing his dynamic skills against elite competition. Mickens, who appears to have been a victim of USC's strict scholarship limitations, is considering Oklahoma State, Washington, Oregon and Washington State, in that order.

Dan Arritt (Inland Empire): Upland High wide receiver Kenny Lawler has reportedly whittled his college choices down to three. Oklahoma State has apparently dropped out of the picture, leaving Washington State, Oregon State and California (Lawler took a trip there over the weekend) to battle it out for Lawler's services. The 6-foot-3, 175-pound wideout caught 53 passes for 1,267 yards and 12 touchdowns last season, including nine scores in the final four games. Once an Arizona State commit until the Sun Devils fired coach Dennis Erickson in November, he visited the Tempe campus earlier that month, as well as Washington. If Lawler is looking for early playing time, both the Beavers and Cougars are set to return their leading wide receivers from last season, Markus Wheaton at Oregon State and Marquess Wilson at Washington State, but the depth chart is probably a little less crowded in Pullman, Wash.

Martin Henderson (Orange County): Kyle Murphy, an offensive tackle at San Clemente High, is a major recruit who has not yet pulled the trigger on a commitment. He has had recruiting trips to Oregon, Florida, USC and Stanford. Nobody's going to tear up his fax. Murphy was thought to have been a strong lean toward Stanford, but a recent trip to USC seems to have closed the gap. Murphy is the Southland's No. 1 recruit, according to ESPN's recruiting services.

Tim Haddock (north L.A. County): Ryan Gorman, a linebacker from Valencia High is looking at a couple of Ivy League schools and has made visits to Penn and Cornell. The All-CIF Southern Section Northern Division co-defensive player of the year will most likely end up at one of those two schools or possibly UC Davis or the University of San Diego. Eastern Washington is also in the mix. Valencia coach Larry Muir said Gorman is a tremendous player, but too small to attract the attention of more traditional football schools. What Gorman lacks in size, he makes up for in headiness. Then again, there's no shame in going to an Ivy League school and playing football while there.
---
2. Who is the most under-the-radar prospect from your region, and why?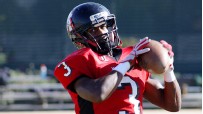 Angulo: The San Gabriel Valley knows all about Chris Solomon of West Covina High, but the two-star prospect isn't a known commodity outside of the area. Solomon is the two-time CIF-Southern Section Southeast Division offensive player of the year, though he is projected as a defensive back at the next level. He is reportedly favoring Colorado, though he's mulling offers from Arizona, Arizona State and Nevada. Four or five years from now, Solomon could be a player that the local schools wished they had paid more attention to.

Arritt: Christian Powell played on the same team as Lawler, and the fullback and defensive lineman likely earned a few additional looks from scouts who came to watch his teammate. Powell didn't have any offers at the start of the season, picked up his first from Arkansas State in mid-October and Nebraska came to the table about a week later. Powell, a 6-foot, 250-pounder who rushed for 400 yards and seven touchdowns on offense and recorded 15 sacks on defense, continued to impress with his physical play, picking up additional offers from Texas A&M, Colorado and Washington. He took official visits to all three schools. It wasn't until he visited UCLA earlier this month that Powell said he felt most at home, committing to the Bruins soon after, though switching to Colorado on Tuesday.

Henderson: Christian Tober, a receiver and defensive back from San Clemente High, is a talented playmaker who didn't attract a lot of attention. Reportedly, USC, Utah and San Diego State have offered him preferred walk-on status, but if chooses to sign with one of the colleges that has offered him so far, such as San Diego, South Dakota State and Sacramento State, he'll be considered a steal.

Haddock: Running back De'Jon Coleman (pictured above) of Arleta High set the City Section record with 47 rushing touchdowns and gained a school record 2,029 yards on the ground in 11 games. Because he is a tad small, listed at 5-foot-10 and 175 pounds, and played for a team that does not traditionally produce college-level football talent, he gets overlooked. He is also young for a senior in high school and won't be 18 until November. He has breakaway speed and, because of his size, is an elusive back. Arleta coach Dan Kelley said Coleman can play more positions than running back. He can return kicks, play slot or wide receiver and defensive back. Kelley has been in contact with a number of colleges, including New Mexico State, San Jose State, Hawaii and Oregon State, but none have expressed much interest in Coleman. "I don't know what the hang up is," Kelley said. "It's amazing to me. They're not giving him that proper look. Someone is going to get a great football player."
---
3. Who is the most compelling story from your region heading into signing day?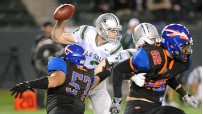 Angulo: Where will the "Dominguez Duo" land? Defensive backs Brandon Beaver and Alphonso Marsh of Compton Dominguez have been tight-lipped for quite some time, and they appear to be a packaged deal. They are perhaps the best cornerback combination in the state, each possessing the combination of size and speed to be successful in college. Beaver, a U.S. Army All-American, has officially visited Nebraska, Washington and Utah, and also has Arizona, Cal and Oklahoma high on his list.

Arritt: Arizona State has been the destiny for many Inland Empire recruits in recent years. Seven players from Corona Centennial were on the roster last season and six from Norco. If Brandon Magee wouldn't have suffered a torn Achilles tendon during a scrimmage in mid-August, the entire starting linebacker corps for the Sun Devils would have been Centennial graduates, as well as defensive lineman Will Sutton. But after the Sun Devils fired Erickson and replaced him a couple of weeks later with the transiently Todd Graham, several recruits had their own change of heart. Lawler de-committed soon after the coaching change, so did C.J. Dozier, a linebacker from Chaparral, who then committed to state rival Arizona during a visit earlier this month. Los Osos offensive lineman Dylan LaFrenz also dropped his pledge to the Sun Devils. So far, Centennial defensive lineman Milo Jordan is the only I.E. player to stick to his ASU commit, but it appears the pipeline down Interstate 10 might be drying up.

Henderson: If it's not Murphy who has the world in front of him, then maybe it's Jonavaughn Williams from JSerra Catholic, a defensive back and wide receiver. Although JSerra finds it tough to compete in the Trinity League, make no mistake, the Lions had some outstanding players in Williams and quarterback Jake Hall. The latter basically has his choice of the Pac-12 outside of USC and Stanford.

Haddock: Justin Solis (pictured above), a defensive tackle for Westlake, moved from Queens, N.Y., to Westlake Village after his freshman year of high school. His mother, a Westlake High graduate, wanted her son to be away from the temptations and bad influences at the school he was attending in New York. At first, Solis was not happy with the decision to move, to be away from his friends and family. But he quickly became a force on the Westlake football team and was the anchor on a defensive line that won two CIF-SS championships and played in a CIF state bowl game. He is the All-CIF-SS Northern Division defensive co-player of the year and will be joining Westlake teammate Johnny Stuart at Colorado in the fall. Ultimately, it looks as though the move West worked out.
---
4. Who is the player from your region who wouldn't surprise you if he changed his mind on signing day?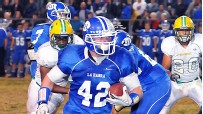 Angulo: Robert Lewis, a speedy back/receiver from South East in South Gate. Lewis, who guided the Jaguars to the Los Angeles City Section Division II title, had been committed to Southern Methodist before his recruiter, assistant coach Adrian Klemm, left for the same position at UCLA. Lewis is now considered to be leaning toward Washington State, nearly committing to the Cougars and new coach Mike Leach while on his visit to Pullman. But SMU is still in the mix, and Lewis is also weighing offers from Oregon and Utah.

Arritt: Bryan Harper of Colony High in Ontario had a rare weekday recruiting visit to UCLA last week, then flew to Oregon for the weekend to see what the Ducks had to show. Oregon offered Harper just two weeks ago. Harper is being recruited mostly as a cornerback or wide receiver, but Arizona has shown interest in the 6-foot, 170-pound speedster as a quarterback. He might out-last Lawler as the I.E.'s most high-profile uncommitted recruit. He already changed his mind once, originally committing to Washington in July, then pulling the plug after defensive backs coach Demetrice Martin left to join Mora's staff at UCLA. Between the late interest from the Ducks and the different options Harper has on the playing field, he might change his mind a few times more.

Henderson: Aaron Porter (pictured above), a linebacker from La Habra, had one of the outstanding seasons on defense in all of Orange County and was selected the region's defensive player of the year by ESPNLA and the Orange County Register. Porter committed to UCLA (and a different coach) long ago, but he's taking a late trip to Oklahoma. If you're the Bruins, you have to feel a little antsy.

Haddock: As a junior, Oaks Christian wide receiver Jordan Payton committed to USC. In his senior season, he reconsidered becoming a Trojan and started exploring his options. Cal, Michigan and Notre Dame were on his short list. He committed to Cal at the U.S. Army All-American Bowl game, but Payton is visiting with Washington recruiters and has added UCLA to his list of possible schools. Cal is the choice of record for Payton, but don't be surprised if he makes the move farther north and ends up at Washington. UCLA, where Oaks Christian teammate Ishmael Adams is headed, and Michigan are still longshots.
---
5. Which player from your region has the best chance to make an immediate impact next season?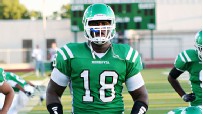 Angulo: Ellis McCarthy (pictured), the highly regarded defensive tackle out of Monrovia who is committed to UCLA. The massive 6-4, 305-pound lineman opened eyes during the U.S. Army All-American Bowl in San Antonio, an indication that he may be ready to contribute right away for the rebuilding Bruins. UCLA could use the four-star prospect's help. In 2011 the Bruins ranked 96th in the nation in rushing defense and 112th out of 120 in sacks.

Arritt: Jeremy Castro of Vista Murrieta is another I.E. pass rusher who has seen his stock rise during the season. Once a Washington commit as well, Castro switched to Oregon in the middle of the season, then was also lured to Westwood by Martin, who had recruited Castro while at Washington. Castro took a recent visit and liked what he saw and heard, pledging to the Bruins on the spot. The defensive line at UCLA should be crowded next season, especially with the return of sacks leader Datone Jones and the commitment of Monrovia's McCarthy, but Castro's tenaciousness and nose for the ball should impress new defensive coordinator Lou Spanos. Castro had 11 sacks each of his last two seasons at Vista Murrieta, leading the Broncos to the CIF-SS Inland Division title last season.

Henderson: Murphy and Santa Margarita lineman Max Tuerk (USC) might be the most talented at their position, but they'll also be going to schools with plenty of competition. A player such as Tober might scorch defenses if he goes to Montana State. But if you had to bet on a player (not that we're proposing you do that), Mission Viejo defensive end Colin Dzubnar is going to San Luis Obispo where he will join his brother, linebacker Nick Dzubnar. Chances are, the younger Dzubnar will get some quality time in the lineup because 10 defensive linemen were seniors, and with a move to the Big Sky Conference, the team needs players who can start right away.

Haddock: Ishmael Adams, a defensive back from Oaks Christian, is a versatile player committed to UCLA. Along with playing cornerback at Oaks Christian, he led the team in scoring with 13 touchdowns and was second on the team in rushing with 717 yards in 14 games. He is being recruited to UCLA as a defensive back, but he can also contribute on special teams. He averaged 13 yards per return on punts and filled in on kickoff returns. Adams has experience all over the field. If he doesn't start as a defensive back right away at UCLA, he might find a spot on special teams. If so, he has demonstrated an ability to find the end zone when he has the football in his hands.

To keep track of what happens on signing day, ESPNLA will feature a live blog with updates from all over Southern California.