We know Steve Nash can thrive with Mike D'Antoni at the helm in Los Angeles. But what about the rest of the Lakers' stars?
Our 5-on-5 crew breaks it all down.
1. How will Kobe Bryant fare under Mike D'Antoni?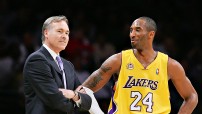 Mark Haubner, The Painted Area: Just fine, though it's hard to imagine Bryant faring better than he has during Princetonian/Bickerstaffian times given his extraordinarily efficient offensive play so far. Still, D'Antoni (and the presence of three other stars) will give Kobe plenty of space to operate.
Brett Koremenos, HoopSpeak: It will depend on how much D'Antoni asks him to conform to his system. If he urges Bryant to embrace using pick-and-rolls and attacking closing defenders, he could be fantastic. But if D'Antoni acquiesces to his desire to isolate and post up, it could spell trouble for the team's offense as a whole.
Beckley Mason, ESPN.com: If his play thus far this season is any indication, he'll be great. His isolations and post-ups have been sharp, but he's really been dynamite in pick-and-rolls, making smart passing reads early and leading the league in efficiency as a pick-and-roll scorer. Adding D'Antoni's coaching should only make for more of a good thing.
Aaron McGuire, Gothic Ginobili: Bryant's hot start could be the biggest casualty of the new regime. Bryant started off the season playing some of the most efficient offensive ball of his career, with Brown's Princeton scheme pointedly sacrificing Gasol and Nash's numbers in favor of Bryant's. But he'll still be a bit more open than usual -- with fewer isolations, efficiency should remain high. Just not quite this high.
David Thorpe, ESPN.com: Great, in the sense that Kobe is one of the true elite players who can play well in any circumstance. Maybe he'll post up less, as perhaps he'll be more involved with ball screens, but his effectiveness should be strong. I do expect some pushback when they struggle on defense and his coach does little about it.
---
2. How will Pau Gasol fare under Mike D'Antoni?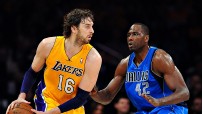 Haubner: The most fascinating player to watch. Pau has a chance to play a devastating hybrid role, a la Boris Diaw in Phoenix in 2005-06, given Gasol's similarly versatile abilities to drive, pass and make plays in the open court. Contrary to popular belief, the Amare-Shaq combo was very effective offensively under D'Antoni, and I'd expect Pau-Dwight to be the same.
Koremenos: This is the million-dollar question. D'Antoni's system typically calls for the 4 man to stretch the floor and that is certainly not what Gasol does best. But through double drags or roll-replace actions, D'Antoni can find creative ways to put him in good spots and create precious space.
Mason: Pau will be fine, because he's so talented, but he'll still be playing out of position as a "second center" next to Dwight Howard. His shooting is somewhat of an issue, and it's usually all he can do on a kick-out besides swinging the ball or initiating a dribble handoff. He doesn't have the quickness to attack closeouts off the dribble.
McGuire: Better than he has been. One of the few understated stories of the Lakers' season to date has been Gasol's unexpected disappearance on offense. I'd imagine D'Antoni's pass-heavy system will suit Gasol's talent well and help him recoup a bit offensively. Gasol's up there in the years, but he certainly isn't as bad as he's shown in the early going.
Thorpe: Good. There might be some experimentation here, trying him out as a stretch 4 and then also featuring him in ball screens. D'Antoni is creative so we can guess he'll come up with some good wrinkles to take advantage of Pau's unique talents. Again, his defense might take a backseat, which will cause problems.
---
3. How will Dwight Howard fare under Mike D'Antoni?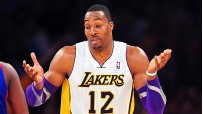 Haubner: Great, as D'Antoni will actually run pick-and-rolls pairing basketball's most effective ball handler (Nash) and most effective roll man (Howard). The Nash-Howard pick-and-roll should be the straw that stirs the Lakers' offense, and it has a chance to be as devastating as the Nash-Amare combo was in Phoenix. Yikes.
Koremenos: Excellent. Howard might not immediately embrace it because of his ego, but if he ditches his post game to focus strictly on becoming a terrifying dive man in pick-and-rolls, it'll be major trouble for the rest of the league.
Mason: Howard is going to be capital-G great. Stan Van Gundy cribbed his offense from D'Antoni, and obviously Howard thrived in that system. At this point it's more a question of how soon he develops real chemistry with Bryant and Gasol."
McGuire: Very, very well. Food for thought: Playing with an oft-injured Jameer Nelson as his point man last year, Howard converted a startling 74 percent of his shots as a finisher in the pick-and-roll. A D'Antoni offense is going to do wonders for Howard, whose offensive production might well rival some of the best we've seen from the center position in the past decade.
Thorpe: Like Kobe, Dwight will dominate regardless of who is coaching him. Lots of lobs can be expected, but he can't do the things Amare did with Nash back in Phoenix. He's not the shooter Amare was, nor is he nimble enough to catch the ball early when rolling to the rim and still be able to twist through three defenders and get to the rim. Amare was maybe the best guy ever to do that as a center. On defense, less focus on the perimeter means more fouls for Howard, or he will just avoid trying to make a play so he won't risk fouling. Neither is optimal.
---
4. How will the supporting cast fare under Mike D'Antoni?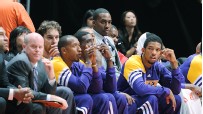 Haubner: Probably not very well, simply because they're not very good. A common criticism of Mike Brown -- that he played his starters too much -- was similar to a rap that dogged D'Antoni in Phoenix. And it's hard to see a solution to this problem in Lakerland given the steep drop-off from starters to bench.
Koremenos: Jodie Meeks could become somewhat of a Raja Bell type and Metta World Peace might find new life as a stretch 4. As for the rest of the bench, I'm not sure any system can save it, but perhaps a Gasol trade at midseason helps with that problem.
Mason: Great question! D'Antoni has a muddled history with bench players. In Phoenix, he brought the best out of guys such as Leandro Barbosa, but he'll also bury players he doesn't think he can use. L.A. has some young guys who possess the speed and energy the Lakers need, but they'll have to get on the court to develop.
McGuire: Only one thing's certain -- it won't be getting much more burn. Getting big minutes from his benches has never been one of D'Antoni's strong suits. I'd expect similar rotational adherence to the "one starter on court at all times" rotations Brown settled on by his ouster. The second unit won't play all that much better under D'Antoni's schemes, but he'll play smarter rotations to minimize the carnage.
Thorpe: There is a chance they'll do well, but a stronger chance they won't. D'Antoni needs a few of them to become specialists in their roles. Earl Clark is a right-handed Lamar Odom, more or less. Jodie Meeks can be a Gary Neal. There is talent there, but there's lots of work to do to mine it.
---
5. How will the defense fare under Mike D'Antoni?
Haubner: The most critical question of all. The Lakers have too much talent to have anything but a top offense. But to be a true championship contender, they really need a top-10 defense, and D'Antoni's Suns were league average at best. That said, D'Antoni's Knicks actually played strong D with Tyson Chandler, so there's hope he can build a top defense around Howard. It's essential.
Koremenos: If/when Howard gets back to full strength, even a rather lax approach won't stop this team from falling outside of the top 15. Should D'Antoni put some major emphasis on it and enlist the help of a good defensive coordinator, it could rise closer to the top of the league.
Mason: Well enough when the other team misses its 3-pointers. Whether it's D'Antoni's doing or not, expect the Lakers, with all that size, to pack the paint and hope they aren't eaten alive on jump shots. This team is by turns old, slow or small on the perimeter, but if Gasol and Howard control that area in front of the rim, it can still have an above-average defense. An infusion of youth (Darius Morris, Jodie Meeks) could help on this end, too.
McGuire: D'Antoni's Phoenix defenses were hardly the Swiss cheese units most assume, but that was primarily due to Shawn Marion's versatility and brilliance. If Kobe and Metta can rediscover their preseason mojo on the perimeter and Howard is back to his full all-defense form by the playoffs, they could be a defensive force to be reckoned with. Otherwise, they'll be just as vulnerable to the caprice of fate as D'Antoni's defensively flawed Phoenix teams.
Thorpe: It won't be elite level unless we see big roster changes (which is possible). Tom Thibodeau wouldn't be able to deliver this roster to top-5 status on D, so we know D'Antoni won't either. To be great on defense, a team has to spend hours working on it and thinking about it often, and that is not what we typically see from a D'Antoni team. Can they be solid? Without a doubt, but even that is not a sure thing.


ESPN.com and the TrueHoop Network
David Thorpe is an ESPN Insider. Mark Haubner, Brett Koremenos, Beckley Mason and Aaron McGuire are part of the TrueHoop Network.
• Follow the NBA on ESPN on Twitter | On Facebook | On Google+