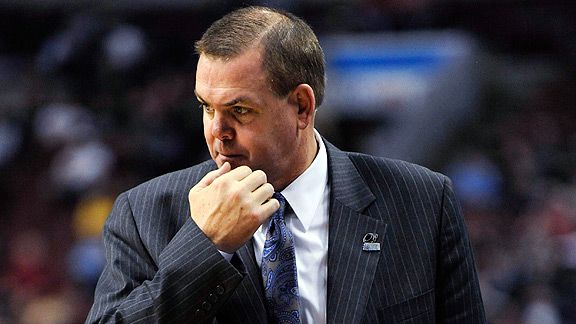 Howard Smith/US Presswire
PROVO, Utah -- Chanell Rose couldn't help but be fidgety as she waited for her parents to emerge from Dr. Courtney Scaife's office on Friday.
Sitting in a waiting room at the Huntsman Cancer Institute in Salt Lake City, under the shadow of the awe-inspiring Wasatch Mountains, the anxiety had nearly paralyzed her, just two months before she is due to give birth to her third child.
Finally, after an agonizingly long 30-minute meeting with Scaife, Dave and Cheryl Rose walked out of the oncologist's office with their arms around each other. Cheryl clutched the black-and-white MRI photos of Dave's liver, pancreas and the rest of his abdomen -- minus the surgically removed spleen, which had been taken over by a tumor this summer.
No words were spoken for a moment, only smiles. And then spontaneous tears.
Dave Rose had a clear cancer scan, which means the BYU men's basketball coach is indeed one of five in a million, the insurmountable odds he was given after he received the diagnosis in June of a rare pancreatic neuroendocrine tumor that nearly killed him.
It also means Rose will be able to coach the Cougars this season.
"I just want him to be healthy enough to do what he wants to do, because I don't know if he'd be the same if he wasn't able to coach," said the 28-year-old Chanell, who played on the BYU women's basketball team.
"They're throwing out numbers where someone with this cancer can live 10 to 20 years. You just never know. I want him to get Taylor [her 14-year-old sister] through high school and graduation and be there for the grandkids and all that stuff."
---
As Dave headed in for more blood work, Chanell immediately called her brother, 24-year-old Garrett, who was back at the house with the grandchildren. The relief was palpable as the Rose family celebrated its victory in the waiting room.
But even in that moment of happiness, there were deadpan faces in the room from other cancer victims who might not have had such a good day.
The ups and downs of the disease never seem to stray too far from each other.
Standing on the back patio at the cancer institute -- the mountains to his back and the home arena of the rival University of Utah Utes within sight -- the 51-year-old Rose recalled what was going through his head while he was in the MRI scanner earlier that day.
"I kept visualizing high-fiving everybody, but then I kept thinking that they could admit me to the hospital," he said. "I was trying to get those thoughts out of my head."
Rose said he has the utmost confidence in his doctors' belief that his cancer is controllable. The cancer left its original source (the pancreas), so it won't be termed as curable, but rather treatable.
"They have the ability and the knowledge to deal with this to keep me around for a long time," Rose said.
The prognosis is good, but Dr. Scaife told Rose he is now in a club he can't leave. His illness is public. He will continue to go for scans every six months for the first two years, and if those four scans are clear, he'll move to once a year. The more clear scans he has, the less likely it is the tumor will return.
Discovering this tumor was a miracle in itself. In most patients, by the time the symptoms of pancreatic cancer become evident, it is too late to treat. Just within the last couple of weeks, the disease has claimed actor Patrick Swayze and NCAA president Myles Brand. But Rose experienced a series of events that in hindsight may have saved his life.
In May, Dave, Cheryl and Taylor went to Nicaragua to visit an orphanage and to help small businesses get started through the Cause for Hope Foundation.
"He would have been done if it had happened there," said Cheryl, referring to the 10 units of blood her husband would ultimately need to stay alive. "He needed so much blood. It wouldn't have happened there."
As it turned out, Rose was actually lucky that he felt dizzy on an early June flight from Orange County, Calif., to Las Vegas as he headed to Cheryl's family reunion in Nevada after a trip to Disneyland.
After barely making it to the bathroom, Rose had to lie down across three seats, and once the plane landed he was taken out by emergency medical personnel.
Then the ambulance driver made his own decision that you could argue contributed to Rose's remarkable recovery.
The driver threw out two options to Cheryl and a nearly delirious Dave. He could take them to a closer hospital that he rather bluntly said was "crap." Or he could go a bit further to a hospital in the Spring Valley area. They chose the latter.
Good choice.
It was at Spring Valley that Dr. Bernadine Hanna performed emergency surgery on Rose, who was throwing up blood and in serious danger.
"There was so much blood -- he was lying in pools of blood," Cheryl recalled in an ESPN.com article on Rose this summer. "That's when I'm thinking, 'He's dying.' I kept saying that he can't leave us, that he has to fight. I kept screaming to everyone, 'You have to save him. He means everything to me: a husband, a grandfather, a friend … people need this man. You have to help him.'"
Led by Dr. Hanna, they did just that. The surgery not only removed the tumor, but the lower tip of the pancreas and six lymph nodes to make sure they got all of the cancer.
It was also Dr. Hanna who relayed his own pain of losing his wife to a brain tumor four months earlier. His bedside manner and his heroic surgical moves may not have happened, according to Cheryl, if the ambulance driver had not given the Roses a choice.
Rose spent five days at Spring Valley before he was flown by a BYU-provided ambulance plane to the Huntsman Cancer Institute back in Utah.
The five days he spent at Huntsman seemed endless. There were moments when he couldn't stand, when his brother Scott was the only one who could physically keep him up.
Rose would shuffle out of room 4501 into the patient lounge, staring out over the floor-to-ceiling windows, watching the life helicopter pick up and unload emergency patients for the University of Utah hospital or the adjacent children's hospital. There were storms that week, too, and he would watch them come over the mountains.
And then there were times in his room when he was left alone, when all he could think about was his own mortality.
This was Dave Rose. The first coach in the state of Utah to join the Coaches vs. Cancer campaign. The guy who for years, along with Cheryl, was there to comfort local families who were raising a cancer-stricken child.
And now he -- the honorary chairman of the Children with Cancer Christmas Foundation -- had cancer himself?
There was a point when Rose was sitting in the hospital, thinking about everyone he knew who had experienced pancreatic cancer. He counted about five or six. And then it hit him.
They were all dead.
These are the sobering moments that cancer patients know all too well.
"There was one day when I said to myself, 'This is too much, this is too big for me,'" Rose said. "That night was a long night. Somehow, I figured I can't have another day like that. I have to think of all the positive things that could happen."
Cheryl said Dave wouldn't talk to her about what he was feeling. She said he was just like he is after a loss, holding his emotions in, not sharing before he finds a way to fix the situation.
"I needed to talk to him about it. I wanted to tell him how I felt," Cheryl said. "I was scared, but I knew he was figuring out how he was going to get this thing turned around, and he did. We're just really fortunate that he could fight this."
Six days later he was out of the hospital, and then a few days after that he was meeting with his team.
It was late June, just three weeks after his surgery. Rose gathered the players together in the BYU film room at the Marriott Center. The players watched this man they had grown to admire, a physical presence just a month prior, shuffle into the room a shell of himself.
"He said he was OK, but his physical appearance was hard-hitting," senior BYU wing Jonathan Tavernari said. "I always saw him as strong, but he was small and weak and his hair was gray. He was real skinny. It was a bit of a shock."
The Cougars were so moved that they had to do something to put their own minds at ease. So they fasted.
"We wouldn't eat for a day," said BYU junior guard Jimmer Fredette of the team's vow. "We'd say a prayer and we wouldn't eat."
Over the next month, as Rose plotted his recovery while sitting on his back patio or watching television or walking around the house, those close to the family and on campus couldn't grasp that he could survive a form of pancreatic cancer.
When he was strong enough to go to work in early July, Rose came across a Marriott Center custodian named Jared Sheffield who wanted to check in on Rose to see how he was doing. After giving Sheffield the positive update, Rose asked him how he was doing. He wasn't doing well.
Sheffield's wife had been diagnosed with pancreatic cancer.
On Aug. 25, 32-year-old Alicia Walters Sheffield, mother of four children under the age of 12, lost her battle with pancreatic cancer. Sheffield's obituary mentions a thank you to the Huntsman Cancer Institute.
---
On July 22, Rose had a cancer scan at Huntsman that was clean, allowing him to go on the road for the final few days of the summer evaluation period. But since he couldn't get behind the wheel, Cheryl drove him to Las Vegas so he could watch basketball.
While the rest of the BYU staff was on the road, the questions were coming about the uncertainty of Rose's situation. No one believed BYU associate head coach Dave Rice when he said that Rose had a good chance to be fine.
"I kept getting texts and e-mails and calls and they were all condolences, saying like 'I'm so sorry for coach,' as if he were already gone," Rice recalled. "I would try to explain it early on and say he's going to be OK, but they just assumed that I was being naive or didn't believe. We all know the survival rate of pancreatic cancer is so low."
Rice said there was an assumption by colleagues that Rose had received a death sentence.
"No, no, that's not what coach has," Rice would say as he implored coaches on the road over the summer. "He's not out of the woods yet, but there is a positive long-term prognosis."
Rice had to put parents and recruits at ease, too. There was an assumption Rose would need to undergo months of chemotherapy and radiation and that he wouldn't be able to coach the season.
"I kept getting asked, 'When does coach start his treatments, how much practice will he miss?' But I said it's not a situation where he's having treatment," Rice said.
On Thursday, 24 hours before his last scan, Rose was on the practice court for a team workout. He didn't stop moving the whole time. He was constantly coaching.
When the players were running suicide sprints after a drill, Rose was quick to make sure they did it again when their front feet were over the start line.
Rose went into the team meeting room -- the same one where he told his players about his diagnosis -- and pointed to the wall, which boasted of the Cougars' winning three straight Mountain West Conference titles. That hadn't happened at this school since the 1930s. But why stop now? Rose said he wants a fourth. Since taking over the program after good friend Steve Cleveland left for Fresno State in 2005, Rose has racked up three MWC titles, three NCAA appearances and an NIT berth in just four seasons.
Later Thursday, Dave and Cheryl decided to go eat at Sundance, an attempt to get away before the scan. Robert Redford's famed ski resort is a haven for tourists and a place where the locals aren't all that likely to recognize Rose and ask how he's doing.
By Friday morning, Dave, Cheryl, son Garrett and his wife, Brooke, with their baby Bradley, went for a walk in Provo Canyon for some normalcy before heading to Salt Lake City later in the day for the scan.
The air in the canyon was still a bit crisp on that mid-September morning. Shorts were fine, but some sort of a sweat top was needed for the hourlong walk on the Provo Canyon Trail, which is frequented by joggers, walkers and bicyclists. The path hugs the mountains, with a cascading waterfall along the way that serves as a haven for ice climbers in the winter.
Shortly after Rose was released from the hospital in June, Dave and Cheryl tried to walk the trail. He lasted a few feet.
On Friday, Rose was out in front, taking long strides and leaving everyone behind.
Somewhere behind there was Garrett, a BYU graduate who now works near Santa Barbara, Calif., for the Boy Scouts of America. Garrett had to be here for the final scan Friday. Yet, as he was preparing to leave for Provo, his friends and colleagues didn't seem to believe there was much hope for his father.
"I got asked what type of cancer and I would say 'pancreatic cancer,' and you see their faces and they say, 'Oh, I'm sorry,'" Garrett said. "In their mind, they think he's got pancreatic cancer, then that's it. You find yourself explaining it. Then when you do, they think that's great, he's cancer-free. No, it still could be there."
While walking on the trail, Rose said he was fully aware that the upcoming scan was one that would determine whether he coaches this season or not. But he tried not to be fixated on it.
"We're pretty calm," Rose said a few hours before his appointment in Salt Lake City. "We're prepared to deal with whatever situation."
Before heading up to Huntsman, Rose took a pit stop at his office and met with his staff: Rice, assistants Terry Nashif and John Wardenburg, and director of basketball operations Tim LaComb. Rose went over academics for the coming weeks, workout schedules, ticket distribution for that Saturday's football game against Florida State, and the staff's pending recruiting travel for next week.
When the meeting broke, Rose reminded everyone that he had to go to Salt Lake City for his scan. There was a slight hesitation and trepidation before everyone said, "Good luck, Coach."
As Rose was in the MRI scanner, Cheryl sat anxiously. The two have been married since 1980. Basketball has been her life, hanging with Dave while he was playing at Dixie College in her hometown of St. George, Utah, and then going with him to the University of Houston, where he was the only married player on the Phi Slamma Jamma team that lost to coach Jimmy Valvano and NC State in the dramatic 1983 NCAA title game.
"This is big … this is so big," Cheryl said as she waited for Dave's test results. "He wants to coach this season. He wants to get to this season."
He will.
As the nurse told Cheryl that Dave's next scan could be in late March, the couple laughed. His dream, of course, is to be coaching late into March with BYU. So instead, he scheduled the checkup for the second week of April, a dead period during recruiting.
As Dave, Cheryl and Chanell headed back to Provo for Taylor's volleyball game, Dave's Lexus ran out of gas literally a block away from the Huntsman Cancer Institute. No one had checked the gas gauge. No one on the hourlong drive up had even noticed there was a signal indicator. Their minds were on the scan.
As they went in search of a gas can that would at least get them to a station, the Roses could only laugh at the situation. If running out of gas was the worst thing that happened on a day when the news could have been grim, there was no reason to complain.
"The one thing I keep remembering from what the doctor said is how rare this is," Rose said. "Out of a million people [who get pancreatic cancer], five get this type of [treatable] tumor.
"Nobody wants cancer. Everyone has their own way to deal with it. But I feel really lucky about my odds and my prognosis."
Andy Katz is a senior writer at ESPN.com.