Valley high (altitude)?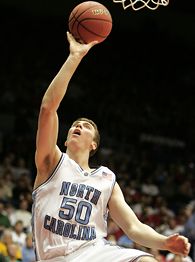 APHansbrough's UNC's star, but he'll have company this season.
North Carolina is the obvious choice to win the ACC. The Tar Heels are loaded with talent and should be a hot pick to make the Final Four.
It won't happen, though, if the team's sophomores -- especially the three who aren't named Tyler Hansbrough -- fail to welcome a stellar freshman class with open arms.
So far, there is a good vibe brewing in Chapel Hill. The love started back in late March, when North Carolina head coach Roy Williams sat the returning players down and told them the obvious -- that everyone needed to get along with the newcomers.
"He told us about the class coming in and how we had to mesh, told us about how key the chemistry was going to be," North Carolina sophomore Bobby Frasor said.
It sounds simple, but it's really not.
No one is going to question Hansbrough's role. He could be the national player of the year, let alone the ACC's best, after averaging 18.9 points and 7.8 rebounds a game as a freshman. Current sophomore Bobby Frasor said Hansbrough has added a mid-range jumper and Frasor expects to see multiple 40-point games from him this season (Hansbrough had one against Georgia Tech last year).
Last season, though, the Tar Heels also needed Frasor, classmates Danny Green and Marcus Ginyard, and now-seniors Reyshawn Terry and Wes Miller to supplement Hansbrough and departed senior David Noel for the Tar Heels to finish 23-8 overall (12-4 in the ACC).
Now, the addition of potential starters in guards Tywon Lawson and Wayne Ellington and forward Brandan Wright, along with the other freshmen -- wing William Graves and big men Deon Thompson and Alex Stepheson -- makes it imperative that egos get checked on Franklin Street.
"You want to win, but inside you want to play and be on the court," Frasor said. "Guys see that and see the competition and so everyone is working extra hard to be on the court at crunch time."
Surely, there will be some bruised egos. Talent-wise, Lawson, Ellington and Wright come in with more raw ability than Green, Ginyard, Miller and Frasor, but that doesn't mean they'll play over them. They'll have to earn it and the returning crop isn't about to lay down.
Frasor is the consummate role player who can get to the ball, make an open shot and be in the action. Ginyard is a "lock-down defender," according to Frasor. Green is a deft rebounder and Miller can be a deep-range threat. Sure, Ellington has "unbelievable talent," according to Frasor, and Lawson is "as quick as lightning," but the returning Tar Heels are holding their own.
"This will definitely be different than last season when we weren't even ranked in the preseason," Frasor said. "We'll be top-five and picked to win it by some. That's something new and a new challenge. We'll have to stay on top all year."
-- Andy Katz


The Hot Zone
Hot teams: Virginia and Virginia Tech
The guard play of Sean Singletary and J.R. Reynolds isn't the only reason to get jazzed about the Cavaliers; they also move into a new facility (and open with Arizona). Virginia had a strong home court in the past but there is something about a new building that seems to bring out the best in a program. The consensus among league coaches is that Virginia could be a major player in the race for an NCAA berth.
The Cavaliers could also have some serious company in-state. The majority of ACC coaches said Virginia Tech was the team to watch in the league. The Hokies went through a horrible run of personal issues (Allen Calloway battling cancer, Coleman Collins' father dying), but the cloud seems to be lifting from over the program. The core of the squad is back and everyone is noticing.
Hot players: Josh McRoberts (Duke) and Al Thornton (FSU)
The consensus among the teams is that McRoberts is due for a monster season -- a 20-and-10 kind of year -- after averaging 8.7 points a game as the third or fourth option last season. Meanwhile, Thornton is being billed as the possible player of the year in the conference (maybe even over Tyler Hansbrough). Said one assistant coach in the league: "He's so athletic, so versatile and so tough to defend." Thornton averaged 16.1 points but that could easily shoot up over 20 a game this season.
Hot hidden gem: Sean Williams, Boston College
The consensus in the league is that the Eagles' big man is ready for a bust-out season. He'll get more touches with Craig Smith gone. Williams has the potential to lead the country in shot-blocking; if he gets an offensive game, he could be a major force in the league. He was suspended for the first half of last season. Said one head coach: "He's so long and has the ability to change the game. He should have a big year with a full year."
Hot home courts: UNC, Virginia Tech and Florida State
When quizzing coaches in the league about the toughest arenas (not named Cameron), the aforementioned three came up most often. Carolina's image changed dramatically once students were put closer to the court. Of course it helps that the Tar Heels are back to being a national power. Tech emerged on this list in the last year because this squad is knocking off teams, has a bit of a moxie at home and has a fiery coach who won't back down. Florida State is used to being the storm capital of the ACC with its recent wins over Duke. The fact that Florida State plays in a building off-campus where alcohol is available wasn't lost on opposing coaches who said that certainly adds to the rowdiness of the crowd.
Hot player: Tyler Hansbrough (North Carolina)
The question to the coaches was who would you want to have on your team? The answer wasn't even close. Everyone wants Hansbrough. One rival ACC coach said, "He has a great motor. Once he starts, you can't seem to tire him out. He'll play the last minute like he did the first. He doesn't get the credit for the energy that he plays with."
Hot sleeper: Clemson
The Tigers quietly crept up last season to a strong 7-9 ACC finish, 19-13 overall. Oliver Purnell is building a program, not just a team, and the feeling among coaches in the league is that Clemson will be one of the tougher outs this season. Said one coach: "Vernon Hamilton and James Mays are two guards who shoot the ball well." Said another: "When there crowd is there, that's one of the toughest places to play in the league." Purnell agrees that his Tigers could be a sleeper. "That's a possibility because we've got six or seven players who have grown up in this league," he said. "We've got experience. It's not rocket science. We've improved our talent."
Hot blender: Engin Atsur (NC State)
Who is the player that coaches see on tape that doesn't get noticed enough? The answer was Atsur. He was considered the ultimate "blender," the type of player who does all the little things, especially running your system. The consensus is that he'll do that again for Sidney Lowe, even though Herb Sendek's system might have been more conducive for him.
-- Andy Katz

Side Dishes
Paul Hewitt isn't one to make bold predictions. Still, he gathered his team last year for the first practice and told them that they had the talent to play with any team in the country for 32-35 minutes. He wondered aloud if the squad had the physical toughness to close out the final five-to-seven minutes.
"Unfortunately, I was prophetic," the Georgia Tech head coach said. "That's how the year played out."
Two years removed from an NCAA title game appearance against Connecticut, Georgia Tech slumped to 11-17 overall, 4-12 in the ACC. Hewitt was right, though. Check the results: The Yellow Jackets lost by two at BC, by one at Virginia Tech, by one at Florida State, and by three at Maryland -- four games that could have made the Yellow Jackets a much more comfortable 8-8 in the ACC and 15-13 overall.
Still, help is on the way. Georgia Tech, like North Carolina and Duke, signed a foundation freshman class. The Yellow Jackets add a likely starting point in Javaris Crittenton, a potential Chris Bosh clone in Thaddeus Young and legit backups in forward Zach Peacock and center Brad Sheehan.
The expectations on Crittenton, whose defensive prowess stands out for Hewitt, and Young, whom Hewitt said reminds him of Bosh not just on the court but as a person, too, are high.
There also seems to be Tech pride at stake. Former Yellow Jackets Jarrett Jack, James Forrest and Dennis Scott were using their influence with the team's returnees.
"I didn't even know that Dennis Scott had grabbed Mario West to work on his shooting and Jarrett Jack got on [the returning players' butts] a bit," Hewitt said. "It just let these guys know that it's not just their program, but everyone's. Last year affected a lot of people."
Georgia Tech has plenty of pieces back. Guard Anthony Morrow (16 ppg), forward Ra'Sean Dickey (13.2 ppg), forward Jeremis Smith, guards Lewis Clinch and West are all capable ACC players who, with the newcomers, could make the Yellow Jackets a constant Top 25 team.
"Our returning guys are going to be the whole key," Hewitt said. "They have to set a great example for the freshman."
The Jackets have had one minor setback already, as a wrist injury to redshirt freshman Mouhammad Faye could sideline him for the first month of the season. Still, Hewitt is optimistic.
"I just know from talking to all the guys that the pickup games are going well," Hewitt said. "The guys are getting along and after talking to Deremis, there is a different level of intensity."
That's the same kind of feeling at Carolina. The influx of the immense raw talent has forced the returning players to play at a higher level. And that's why Georgia Tech should be back in the top four in the ACC, a regular in the Top 25 and back in the NCAAs after a one-year hiatus.
* * *
Just as stunning as Florida's sophomores deciding to stay in school instead of declaring for the NBA draft was Josh McRoberts' choice to return to Duke for his sophomore season.
Seriously, McRoberts would have been a lottery pick. Last season, McRoberts barely showed what he could do because he didn't have to with J.J. Redick and Shelden Williams on the squad. McRoberts played a modest 24.5 minutes a game and averaged 8.7 points and 5.3 boards. He shot 60 percent and mostly scored around the basket.
Duke has gotten burned in the past by a player -- Luol Deng -- leaving after just one season, so it wouldn't have been completely abnormal for McRoberts to declare.
"It's a great testament to Josh wanting to get better and how much he wants to make an impact when he's a pro," Duke assistant Chris Collins said.
McRoberts is savvy to the NBA's new two-year rookie contracts. If you're not playing by Year 2, there's a good chance you're toast.
"He felt like he had to have a year where he was the go-to guy," Collins said.
There's no question that McRoberts will be that guy. The Blue Devils will have a trio of McRoberts, wing DeMarcus Nelson and point Greg Paulus as their anchors. The incoming class of forward Lance Thomas, center Brian Zoubek and wings Gerald Henderson and Jon Scheyer will all be expected to play. The Blue Devils will be almost all freshmen and sophomores, with one junior and no seniors.
Assuming McRoberts has the type of season he should, he'll likely be gone after this season. If he does that and sticks around for a third year, that would be more of a stunner then bypassing the lottery after his freshman season.
Said one ACC coach, "I thought he was by far the best freshman in the league, but because of who he had around him, he wasn't asked to score and rebound as much."
* * *
Tyrese Rice is going through intense 40-minute workouts throughout the summer.
Why 40 minutes? Because the sophomore guard might have to play close to that number every game for Boston College.
The Eagles are an ACC top-three contender, but are extremely limited at the point. Let's just say they have Rice, and well, Rice, Rice, and, oh yeah, Rice.
You can talk all you want about the departure of forward Craig Smith, but the Eagles will miss Louis Hinnant more than Smith. Hinnant was a stabilizing force for the Eagles in their run to the ACC tournament title game against Duke and their Sweet 16 overtime loss to Villanova.
For whatever reason, the Eagles got caught with only one proven ballhandler for this season -- and it's the rambunctious Rice.
Since the season ended, Hinnant, a classic college lead guard who won't earn a mint playing ball professionally, tutored Rice on the finer points of playing the point.
"We talked about where the ball needs to be in certain situations," Rice said. "I know I'll have to take the shot when it's open."
BC coach Al Skinner is famous for putting trust in his players as long as they respect that freedom. Rice said Skinner told him he'll play 32 to 35 minutes. But it could easily be more with off-guard Marquez Haynes the team's only other competent ballhandler. The Eagles likely will have seniors Jared Dudley and Sean Marshall bring up the ball as well, but that is hardly their primary objective.
"To get ready I've been doing a lot of running -- not miles, but just conditioning running in the gym in 40-minute workouts," Rice said.
Rice had his breakout moments last season, like when he lit up Wake Forest for 23 in Winston-Salem or put 19 on Maryland in the ACC tourney. But more than scoring, Rice must watch his on-the-ball defense. He only got in trouble in one game last season, picking up four fouls against Duke in the tourney title game. Still, he can't afford to take chances when he has to stay on the court.
"I could gamble more last year because of Louis and having someone like Craig behind me," Rice said. "I have to put more pressure on the ball, but just can't go for it as much."
Rice got the green light last season as the fourth or sometimes fifth option. Now he's moving up behind Dudley and Marshall as the team's third choice.
"Coach Skinner gave me an opportunity to show what I could do and now I'm one of the guys [who will be expected to produce]," Rice said. "I have to prepare myself for that."
-- Andy Katz

Bracketology
If resident Bracketologist Joe Lunardi is correct, 2007 will be a lot kinder to the ACC than 2006. Currently, Joe projects six ACC teams making into into the field of 65, led by No. 1 seed North Carolina.
Summer Session Motion

Things to remember


Boston College: The unknown with the Eagles is Akida McLain. The Eagles must get more than 4.2 points a game out of McLain, who will get plenty of touches now that Craig Smith is gone. Expect two newcomers, small forward Tyler Roche and power forward Shamari Spears, to contribute. The best news of the summer was the baby hook being worked on by big man Sean Williams.

Clemson: The big news is the eligibility of 6-9 sophomore James Mays. He played in only 11 games last season before he was declared academically ineligible. The Tigers still were able to be a thorn in the ACC's side without him, but his return means they'll be even more trouble this season. "He gives us the leader on the frontline and one of the better players in the league," said Clemson coach Oliver Purnell. "We hit a bump with him [being declared ineligible], but we recovered nicely and were one of the better teams down the stretch."

Duke: DeMarcus Nelson played in only 24 out of 36 games last season because of injuries. He's healthy now, and that makes a world of difference to the Blue Devils. He's the team's only junior and likely its best perimeter defender. "He hasn't been totally healthy since he's been here, so he gives us a veteran leader," Duke assistant coach Chris Collins said.

Florida State: If Alexander Johnson had stayed at Florida State for his junior season, the consensus was the Seminoles were an NCAA team. They still might be but there is a hole to fill now that he took his 13 points and over seven rebounds a game to the NBA. Al Thornton now might face some double-teams without Johnson next to him. The unknown is how Auburn transfer Toney Douglas will mesh with this group. He was a big-time scorer at Auburn two years ago and could provide the necessary inside-out balance with Thornton.

Georgia Tech: Paul Hewitt said he has never seen a kid as driven as Javaris Crittenton, who will likely be his point guard for the next two years (if not more). The Yellow Jackets have been a factory of point guards and Crittenton, whom Hewitt had been recruiting for four years, shouldn't disappoint.

Maryland: Eric Hayes is a point guard and there seems to be a perception that Greivis Vasquez is not, but expect Vasquez to handle the ball, as well. Gary Williams wanted multiple ballhandlers and he got that with this recruiting class. Adding Hayes allows him to play D.J. Strawberry more at the wing -- his natural position.

Miami: Frank Haith doesn't mind if you don't think the Hurricanes are going to be in the NCAA Tournament. He definitely thinks this squad has a shot. "We're going to have fun coaching this group," said Haith, who lost Guillermo Diaz to the NBA draft a year early. The sleeper for Haith is Siena transfer Jack McClinton. He's a strong, tough guard who will fit in quite well with Anthony Harris and Denis Clemente (Haith said all three will play together). Haith is also confident that big men Raymond Hicks and Anthony King are on the verge of breakout seasons.

North Carolina: The one player who doesn't get as much hype but is considered one of the unsung players on the Tar Heels is Reyshawn Terry. The returning players have an immense amount of respect for Terry. He waited his turn to shine at Carolina and did so with 14.3 points a game last season. Even with the influx of talent, expect Terry to be a primary part of the Tar Heels' title chase.

North Carolina State: The big question is whether or not Andrew Brackman considers dropping hoops. Keith Law of Scouts, Inc. projects him as a top-10 pick in the 2007 MLB draft, so the constant question facing the 6-10 Brackman is whether or not he'll give up basketball. So far, Sidney Lowe has said that Brackman intends on staying with him next season. The Wolfpack will be a team in transition as they move from a methodical Herb Sendek system to one that's more wide open and uptempo.

Virginia: Dave Leitao took over a young team and knew that he didn't have many scholarships to give. So, he did what most coaches do in that situation: Ensure the current players improve. That they did. He has one of the best backcourts in the ACC in Sean Singletary and J.R. Reynolds. The pair averaged 17 points a game each and there is no reason why they couldn't do the same again. The Cavaliers also brought in a strong five-man recruiting class that should add to the depth. There seems to be a decent bond brewing with this edition that could bode well for a potential NCAA berth.

Virginia Tech: Coleman Collins, who had to deal with his father's illness (lung cancer) and subsequent death, has a different mind-set this summer, according to coach Seth Greenberg. He worked at the Adidas camp in suburban Atlanta earlier this month and has added weight. Greenberg said there's no reason to believe that Collins won't average at least the 14.5 points he did last season, if not more, for the Hokies. "He has his good days and bad emotionally and I'm not sure how he did it," Greenberg said.

Wake Forest: Skip Prosser has never been more focused to get a program back on track. It's a clean slate for the Demon Deacons, who no longer have the core of their recent teams -- Chris Paul, Jamaal Levy, Eric Williams, Justin Gray and Trent Strickland -- in the program. "Those guys helped Wake Forest win a lot of games," Prosser said. "We've got a whole new bunch. I'm exceedingly energized to get in the gym and start practicing." Wake Forest should be the youngest team in the league, but Prosser said they'll be athletic and more of an up-tempo team like he had at Xavier. He wants to get out and press and be aggressive. He said getting the 10 extra days of practice that go with a Labor Day weekend trip to Canada is key. "We'll play the way I feel most comfortable coaching," Prosser said.
-- Andy Katz

Expert take

Coaches in the ACC are a tad upset and are entering this season with a sizeable chip on their collective shoulder.
Few can argue that the ACC isn't perceived to be the "granddaddy" of all basketball conferences and has as rich a basketball tradition and history as any other league. But the granddaddy had only four of its teams get into the NCAA Tournament last year (one of which was a former Big East team), and not a single ACC squad got past the Sweet 16.
ACC coaches feel the league was disrespected by the NCAA selection committee and that there was a perception that the league was "down." Well, the league's coaches might be seeing red when they hear the media going into this season, because there will be some that suggest that the talent level of the league has taken a hit from all of the personnel losses from last season. Does that argument hold up? Well, sort of.
The list of veteran load-carriers now out of the league is impressive. Gone are the likes of J.J. Redick, Shelden Williams, Justin Gray, Eric Williams, Nik Caner-Medley, Chris McCray, Travis Garrison, Craig Smith, Louis Hinnant, Cedric Simmons, Ilian Evtimov, Cameron Bennerman, Shawan Robinson, Akin Akinbala, Guillermo Diaz and Robert Hite. While those are big names with great résumés, there are some big-time recruits headed into the league and some good young teams are on the verge of breaking through.
Here is what I know for sure: North Carolina has the best team in the league, and Roy Williams might just wind up with the best team in the land by April. Tyler Hansbrough is truly special, as are Ol' Roy's young pups, and the Heels will be able to get out and really run. Duke will be "top-10" good again, and Josh McRoberts has a chance to blossom into a true star.
After that, there are no "for sures," but there are some intriguing possibilities for some teams that can mature together and believe. Boston College, Florida State, Maryland (which was NCAA-bound before Chris McCray went out), Georgia Tech, Virginia and Virginia Tech all could wind up being NCAA Tournament-good, and Wake Forest and Clemson should fare better than last year despite player turnover.
If some of the stellar freshmen in the league come along quickly, it will be more than four dancing next year, and the jockeying for position behind North Carolina and Duke will be fun to watch.
-- Jay Bilas


Standings/Stats


* -- NCAA Tournament
-- Andy Glockner

SportsNation
Have an opinion or just want to see what our users think about the conference? Click here for SportsNation's ACC poll page.


Other classes
To peruse all of the 2006 Summer Sessions, click here. Comments/questions? E-mail the editor.