On guard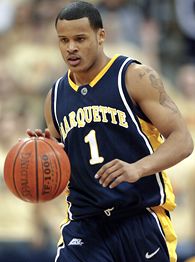 APOnly a sophomore, James is the league's leading returning scorer.
Villanova was the squad everyone loved to watch last season.
The Wildcats had a rotation of guards working in concert. Sometimes they would play as many as four at a time, and there was the possibility that any of them could post a 20-spot on any given night.
The Cats had a moxie about them. They were a show.
Now, three of their four primary guards -- Randy Foye, Allan Ray and Kyle Lowry -- are in the NBA, but fret not. The Big East won't lose Nova's small ball identity. Instead, the idea, the style, and maybe some of the talent, has resurfaced at Marquette. The Golden Eagles wouldn't mind duplicating nearly everything the Wildcats did last season, nabbing a co-Big East title, a No. 1 seed and a berth in the Elite Eight.
"That's certainly a way of playing that we've looked at closely," Marquette coach Tom Crean said. "The whole key was that Randy Foye could play any position and Kyle Lowry made everybody better. There's no question I could see us going with three guards, maybe even four."
The Golden Eagles will attempt to mimic Nova behind sophomore guards Dominic James, Wesley Matthews and Jerel McNeal. Crean anticipates that 6-foot-9 Dan Fitzgerald, 6-6 Lazar Hayward and 6-foot David Cubillan will rotate along the perimeter, as well, but the Eagles will go as far as the big three can take them.
One thing that's not lacking with this group -- much like Nova's squad -- is a confidence that permeates through them. Matthews, who played in only 23 games last season because of a stress fracture in his right foot, already is projecting himself as a hidden gem.
"A lot of teams didn't see Wes," James said. "People didn't see his hunger and how hard he works in his rehab. He sacrificed a lot to get back."
Still, Crean knows the trio has room to get better.
"If all three sophomores have something that they need to universally improve upon, it would be their decision making," Crean said. "They all make plays for this team."
The three guards came in together and have meshed from day one. Last season, they took a reduced role to Steve Novak. The three are mindful of how much they will need to replace Novak's 17.5 points a game.
"He was one of the best shooters in the country and he was able to stretch the defense," James said.
That won't be as easy without Novak, but the trio of guards will be able to cause enough fits. They are quick. They can handle. They can finish. They're all becoming above-average shooters. Crean fosters competition by pitting two of them against the other when they divide up for games.
"It's a lot easier when we're all on the same team," he said.
James is more of a true point, but he's also the league's leading returning scorer. He's also the top defender and maybe the best passer. Matthews is becoming a deft shooter while McNeal might be the best slasher of the bunch. Essentially, they all have a knack for scoring.
If the post players, notably Ousmane Barro, can be more consistent, the Golden Eagles have a shot to compete with Pitt and Georgetown (and others, like Syracuse, Connecticut and Louisville) for the Big East title.
"We had a great year in the Big East by finishing [tied for] fourth, but our goal is to be No. 1," James said of the Eagles' 2005-06 campaign, which closed with a first-round loss to Alabama in the NCAA Tournament. "That's what everyone is working toward. No one here is satisfied."
– Andy Katz


The Hot Zone
Hot team
The Hoyas are the chic pick this season to push Pitt. They're also a potential top-10 team and have an outside shot to make a run to the Final Four in Atlanta. Said one Big East head coach, "They were in the NIT two years ago and they have a legitimate shot to win our league this year." Indeed, Hoya paranoia is back, but not in the intimidating form. Instead, teams are fearful that Georgetown is simply too talented, too productive with the ball on offense, and too distracting on defense to slip any lower than a top-three league finish.
Hot MVP picks
The common answers were Georgetown's Jeff Green and Pitt's Aaron Gray. Plenty of coaches saw the need for a player like Green and no one wants to turn down a big man like Gray, either.
"I just want to be around that guy, he's so good," said one Big East head coach about Green.
Green could be the player of the year because he does a little bit of everything. There will be other candidates, but no one maybe as valuable -- unless it's the big man at Pitt.
"Gray changes everything in a game," said one Big East head coach.
Gray could be a dominant player in the post, and if Pitt wins the league, don't be surprised to see him take home league MVP honors.
Hot player
Curtis Sumpter missed all of last season with an ACL injury and the consensus is that he's ready to bust out this year because of his ability to shoot the 3-pointer, his unselfish play and his overall hunger.
He almost gets lost in this season's shuffle because he was out hurt in a year in which the Cats had such a cool vibe in Philly and beyond, but Sumpter was a critical part of the program's revival and he's back to reclaim his spot as the team's leader.
Hot blenders
Which player that stands out the most when watching tape of opponents? The coaches' most common answers were Green, Levon Kendall and Will Sheridan.
Green stood out because of his passing. Kendall's passing, screen-setting and overall demeanor were hits. They see him as someone who could get big numbers, but be just as useful with a charge, an assist or a weakside board. Sheridan was a glue guy inside for the guard-oriented Wildcats last season. He also came through with a few huge buckets from the perimeter in big spots late in the season. His role won't change too much. He'll still do the little things that will help Nova win.
Hot sleepers
The votes came in for Providence because the Friars were loaded with young players last season, played close games and had solid guard play. The expectation is that Providence could be an NIT team.
That said, the biggest sleeper could be DePaul, which could go from out of the Big East tourney to the NCAA Tournament. No one wants to draw this squad in late March -- in large part because they know Jerry Wainwright is one of the top coaches in the game. There is an unbelievable amount of respect for his tactical abilities. He's also one of the game's characters. He has the look of a pit boss but his knowledge of the game would rival any coach in the biz. He's as sharp and quick with the quips, too.
Hot freshman
We've heard this before from Jim Boeheim. He was right about Carmelo Anthony when he said he would be the best freshman in the country. He was a bit off with Eric Devendorf as the top freshman in the Big East last season, but there is no reason to doubt him this year.
He started out by saying that Paul Harris will be the "player of the year in the Big East," but then corrected himself to say "rookie of the year, hands down." Boeheim and assistant Mike Hopkins say Harris' toughness, ability to distract atop the zone and knack for getting to the rim will make the 6-4 guard one of the top newcomers to have come through Syracuse.
Hot arenas
(This is the non-Carrier Dome/Freedom Hall/Gampel Pavilion category.)
An informal polling of the league came back with Pitt's Petersen Events Center -- dubbed the Oakland Zoo (it's actually in the Oakland section of Pittsburgh) -- and the Bradley Center in Milwaukee.
"I think some teams were shocked when they went into the Bradley Center. I know Connecticut was," said one Big East head coach of the way the Golden Eagles blitzed the Huskies last season in UConn's first foray into Milwaukee.
The overall vibe about Pitt's playpen is that it has become a party house for everyone but the opposing team. Connecticut coach Jim Calhoun said it has become one of the toughest places to play, even though the Huskies have had success there.
"It's deceptive," said one Big East coach. "It's nice, but nasty. They call it a zoo, and based on what some have said to me, that would an appropriate place to take residence."
There also was some buzz about the Verizon Center in D.C. becoming a doghouse for opposing teams as the Hoyas have resurfaced in the league's elite. Remember, the Hoyas beat Duke there last season. Said one Big East coach, "It was very much alive last season."
– Andy Katz

Side Dishes
For weeks, we have been asking coaches from various conferences about who will have a breakout year, who they would want on their teams, who stands out more when you are watching tape.
In most leagues, those answers vary, depending on the question. In the Big East, one name was brought up in all of them: Jeff Green. No player in the Big East is as coveted, respected or admired.
Nationally, his name may not resonate to the casual fan, yet. It should this season. The 6-9 junior forward led Georgetown with 11.9 points a game last season, but look at the rest of his numbers. He did a little bit of everything. He also averaged 6.5 rebounds and 3.3 assists. Even though his shooting percentage numbers dipped from 50 to 44 percent overall and from 40 to 31 percent on 3s, Green still helped Georgetown win more games. The Hoyas reached the NCAA Tournament, getting to the Sweet 16 before losing to eventual national champ Florida.
Just listen to some of the comments from the coaches in the league:
"He rebounds, he defends, he does everything," Villanova coach Jay Wright said.
"He's such a terrific player," Connecticut coach Jim Calhoun said.
"Jeff Green is going to be the guy who will have a big year," Syracuse coach Jim Boeheim said.
"He's got a great demeanor, he shoots the 3s, rebounds and is a very, very good player," West Virginia coach John Beilein said.
"Coach [John Thompson III] can play a mismatch game with you with him. He's able to shoot high post shots and handle the ball a lot around the basket. He's really versatile and a heck of a pro prospect," DePaul's Jerry Wainwright said.
How did Green become the most coveted player in the league?
"Hard work, but my teammates make me look good," Green said.
Green never was satisfied with his game and ended up being the model student for Thompson's athletic, freestyle version of the Princeton offense. Green went to work on his ballhandling so he could be the kind of high-post passer necessary in the offense.
"I knew that under Coach Thompson and in the Princeton offense, I had to handle it a lot at the top of the key," Green said. "I knew that I would be going against a lot of centers and needed my ballhandling to get around them."
Green spent as much time with the guards as the forwards honing the craft. Now, he relishes the bounce -- and the bounce pass. Green's passing was mentioned as much, if not more than his dribbling, and few players discuss how much they love making that bounce pass more than he does.
"The bounce pass or chest pass really makes our offense look good," said Green, who will make plenty this season to center Roy Hibbert. "The bounce pass is key and probably does make me stand out. A lot of people are into the no-look and the unnecessary pass. The bounce pass is an old-fashioned pass and hopefully we're helping to bring it back."
Green went on to add that the bounce pass, when finished with a layup or dunk, is more satisfying to him than anything else.
The Hoyas lost key seniors in guard Ashanti Cook and forwards Brandon Bowman and Darrel Owens, but the top two scorers return in Green and Hibbert. That duo, along with the addition of newcomer Vernon Macklin and a stable of role players like guard Jonathan Wallace, makes the Hoyas one of the top two teams in the Big East entering the season.
"We expect a lot out of our young class, and since I've been here for three years there is a lot expected out of me," Green said. "I've got high goals for our team and myself."
* * *
Pitt head coach Jamie Dixon and star center Aaron Gray spent hours on the phone, well into the night, calling NBA personnel. The counseling session lasted nearly into Sunday, June 18, the day Gray had to make a decision as to whether or not he would stay in the NBA draft.
Neither Dixon nor Gray, then a junior, could get a feel if he was a lock for the first round. They were confident, but not certain, so after much deliberation, Gray stayed. Trust us: There was much rejoicing in the Big East offices and at TV partners CBS and ESPN.
"We went back and forth until 11:30, 12 at night, getting advice, waking people up in different households, to find out," Gray said. "Everyone keeps asking me if I thought I made the wrong decision. I'm not sure I made the right decision, but I did what I wanted to do. I'm happy and obviously there is a lot of potential for us to have an exciting year."
The Panthers lose the heart of their team in lead guard Carl Krauser, but bring back everyone else of note. The 7-foot Gray will anchor the middle. He has worked on extending his game with a 15-foot shot but he'll still be hunkered down in the post as much as possible.
As Notre Dame's Mike Brey said, few players in the Big East can change the game like Gray.
Besides Gray, forwards Sam Young and Levon Kendall are two of the more underrated at their positions. The feeling among most in the league is that Young is on the verge of being a star and Kendall is one of the top glue guys in the league. He does a little bit of everything.
Guards Ronald Ramon, Levance Fields, Keith Benjamin and Antonio Graves are all versatile, tough and can get to the rim to finish.
"We're going to be a real deep team. We've got a lot of experience and we're going to have a lot of fun," Gray said. "All of these guys love being in the gym."
That's a good thing since Pitt upgraded its schedule like never before under the Dixon/Ben Howland regime. The Panthers will play at Wisconsin, Washington, Florida State and UMass, and against South Carolina in New York.
* * *
Lost amid Syracuse's remarkable run to the Big East tournament title was the 39-point drubbing the Orange took at DePaul late in the regular season.
The Blue Demons were playing like a team in the league's top half by season's end. The problem was they simply ran out of games. A five-point loss at Notre Dame, two days after the Syracuse win, prevented DePaul from making the Big East tournament.
If the Blue Demons had earned a bid to New York, there's no doubt they would have been just as formidable a foe for someone as Syracuse was that week.
"We were one of the most improved teams in the league the second half of the season," DePaul coach Jerry Wainwright said. "We could have played with anybody in the league at the end of the season.
"We really would have been helped by playing in the NIT with a young team."
This is the same DePaul team that gave Villanova fits late in the season and beat NCAA tourney-bound Seton Hall in the days before the mauling of Syracuse. That's why the Blue Demons are the trendy pick as the Big East team that could rise higher than any other this season.
DePaul returns 94 percent of its scoring and 86.4 percent of its rebounding, the highest numbers of any team in the league. The Blue Demons bring back four starters, including Sammy Mejia (a scoring wing) and power players Wilson Chandler and Karron Clarke. Assuming former Temple center Keith Butler returns from an offseason suspension, the Blue Demons will have even more size up front.
"When I came to DePaul last year [to replace Dave Leitao, who went to Virginia], we had one kid who could bench press 300 pounds," Wainwright said. "Now we have only one who doesn't. What we've done in the offseason is considerable.
"We were playing well last season with a new coach, new players, a new league, but we still have to prove it."
The Blue Demons played the nation's eighth-toughest schedule last season, according to Basketball Times. DePaul will continue the trend this season, playing Bradley, UAB and Cal in return games as well as Kansas, Northwestern State (funny how the Demons are now considered a quality opponent after their win over Iowa in the NCAA Tournament), Wake Forest, Northwestern and Rhode Island after starting the season off with the Maui Invitational. The organizers may want a UCLA-Memphis rematch, but if DePaul is pit against either one in the semifinals, it might not occur (Kentucky, Purdue, Georgia Tech, Oklahoma and Chaminade are the other teams).
"We earned a lot of respect last year and that was important," Wainwright said. "But we have to do it a lot earlier [this season]."
– Andy Katz

Bracketology
In his very early look at the 2007 NCAA Tournament, resident Bracketologist Joe Lunardi thinks seven Big East teams will be dancing come March.
Of those seven, he likes Georgetown to nab the league's highest seed (a No. 2).
Summer Session Motion

Things to remember


Cincinnati: The Bearcats are going the juco route because they have no choice. Cincinnati essentially has three returning players who have a shot to play significant minutes -- Cedric McGowan, Abdul Herrera (who was ineligible last season) and Ronald Allen. The Bearcats will be a completely different team under first-year UC coach Mick Cronin. Bearcat Nation has to be patient. No one is quite certain what this squad will look like, how it will play or how resilient it will be, since there is likely to be plenty of adversity with a completely new look.

Connecticut: Not sure Jim Calhoun has ever been as excited about a squad as this one. He said he can't wait to coach this crew. Even though he has had more experience and a few more locks for the NBA, this squad opens up plenty of possibilities. Calhoun said he's getting solid reports on the play of returnees Jeff Adrien and Marcus Johnson, but the success of this team will be determined by the shot blocking of Hasheem Thabeet, the wing scoring of Curtis Kelly and Jerome Dyson, and the point guard play of A.J. Price (out the past two years) and backups Doug Wiggins and Craig Austrie. Calhoun also wanted to make sure people don't sleep on Stanley Robinson, Jonathan Mandeldove and Ben Eaves. That's almost the entire team. He's that pumped about the squad's offseason progress.

DePaul: Keith Butler was suspended last week indefinitely for a violation of team rules, but after talking to coach Jerry Wainwright, we got the impression that Butler will be back by the time the season starts. The 7-1 center, who sat out last season after transferring from Temple, isn't adhering to school policy. If he does, and the matter supposedly is out of Wainwright's hands, then the Blue Demons get a defensive stopper along the back line who could be an equalizer for them off the bench.

Georgetown: Coach John Thompson III isn't drawing a complete parallel to Roy Hibbert with Vernon Macklin, but it's not too far off. He expects Macklin to go through a similar learning curve. If that's the case, then Macklin is in for a huge jump this season. "He's a freak of an athlete," Thompson said. "But he's not ready yet." But don't misunderstand that as he won't be in for playing time. Macklin will earn some quality minutes, especially with the need for depth behind Jeff Green and Hibbert.

Louisville: When quizzing coaches, they often mentioned David Padgett as a player who was ready to have a breakthrough season. That would be about time. Padgett missed the last few weeks of last season with a left knee injury. He was averaging 11.9 points and 6.1 rebounds at the time, while shooting 58 percent. The Cards need Padgett to be a leader on this squad, one that will rely heavily on a host of newcomers. Don't read too much into the pressure being put on Derrick Caracter to get in shape or ship out. The Cards are applying public pressure, but fully expect him to comply and be a factor for them next season. He has plenty of time to get in shape.

Marquette: If you want to know what kind of clout Tom Crean has in Milwaukee, all you have to do is see if he pulls off moving a Milwaukee Bucks game to get a home date compatible with an ESPN College GameDay slot. The Big East and Marquette want to show off what has become one of the toughest places to play in the country. So far, Crean was moving ahead with getting the date open. Don't be surprised if he pulls it off. Milwaukee has a shot to show the Golden Eagles at their best and won't let it slip by.

Notre Dame: Mike Brey got the stats of Aaron Gray (Pitt) and Joakim Noah (Florida) to show Luke Zeller how much each player improved from freshman to sophomore year. Gray made an even bigger jump as a junior than he did as a sophomore. Noah ended up winning the national title. Zeller won't deliver that for the Irish, but if the 6-11 big man can bump up his production from 3.4 points to somewhere over 10, the Irish have a shot to be a troubling team to put out. "You asked about sleepers in the league, players that could bust out, well, Luke Zeller has to be that for us this season," said Notre Dame coach Mike Brey.

Pitt: The consensus in the league is that Sam Young is ready to make a name for himself. He'll have plenty of touches to play off of Aaron Gray inside. Young has a knack for finding his way to the hoop. He's not a Chevy Troutman, but he has a shot to be another one in the growing line of tough, productive, undersized power players. Young averaged 7.9 points and 4.4 rebounds as a freshman. He's 6-6 and plays a few inches taller.

Providence: The Friars were a sleeper pick among many of the Big East coaches. The core of the team returns this season, led by Randall Hanke and Sharaud Curry. They give the Friars an inside-out combination. The one thing this squad lacks, though -- and it's a must in this league -- is a star. That said, there is an expectation that the Friars will be a tough out in Providence and a pesky team on the road. That doesn't mean this is an NCAA team, but reaching the NIT isn't out of the question.

Rutgers: The offseason wasn't kind to the Scarlet Knights, with Quincy Douby leaving for the NBA early and Lance Thomas, the prized recruit, opting for Duke. Still, the RAC can be an intimidating place and the expectation is that Fred Hill will put on the floor a team that mimics the arena's atmosphere. This will be a wait-and-see year with Rutgers. Gary Waters told ESPN.com prior to being forced out that the Scarlet Knights were a year away from being an NCAA team, but that was before Douby left for the NBA. An NIT bid would be quite an accomplishment now.

St. John's: Norm Roberts' team wasn't eligible for the Big East tournament two years ago due to self-imposed penalties from the Mike Jarvis tenure. The Red Storm didn't qualify last year. They must get there this season and there is hope that they will. The expectation is that Lamont Hamilton and Darryl Hill can be the type of leaders necessary to get this program over the hump and at least into the Big East tournament. St. John's must get to the Garden and win a game there in the season-opening Coaches vs. Cancer Classic. That would do wonders (Texas, Maryland and Michigan State are the other three hosts that could get to New York) for improving the perception of the program in the city to start the season.

Seton Hall: Few coaches have come into the league and caused as much of a ruckus as Bobby Gonzalez. He wasn't afraid to go after anyone in the city and grabbed the needed lead guard in Eugene Harvey. Getting Larry Davis after he got out of his letter to NC State also was a huge coup. Add in Rice High small forward Kashif Pratt out of New York and the Pirates landed a terrific trio from the metro area. This threesome should be an integral part of the Pirates for years to come and allow Seton Hall to be competitive in Gonzalez's first year in the league.

South Florida: The Bulls had talent a year ago; Solomon Jones was one of the sleepers at the Orlando predraft camp. Even though he's gone, the Bulls have to show improvement this season. Last spring's reports that Robert McCullum was out were off base. There may have been a faction who wanted that, but it wasn't a powerful one and the athletic department has stood by its coach to give him a fair shot in the Big East. Granted that this is only the second year of the league, but the Bulls need to climb out of the cellar for this question to be quashed.

Syracuse: Orange coaches don't hesitate to praise the senior class of big men in Demetris Nichols, Terrence Roberts and Darryl Watkins. They have been wildly inconsistent in their tenure but "they should all be ready to go," Syracuse coach Jim Boeheim said. They are counting on this trio for the first time after leaning heavily on Gerry McNamara for years. If they come through, the Orange have a legit shot to finish in the league's top four, because they may have the best freshman in Paul Harris.

Villanova: Jay Wright is pleasantly pleased with the reports on new point Scottie Reynolds. He was a recruit who kind of fell into their lap after Kelvin Sampson left Oklahoma for Indiana. Getting Reynolds solved the Wildcats' point guard issues and allowed Mike Nardi to move to his natural wing position now that Kyle Lowry is gone. Wright also said Curtis Sumpter's rehab went exceedingly well and he's ready to go for his second attempt at a senior season. As for the question about the toughest new home court, Wright offered up the Pavilion -- and with good reason. This is no longer a wine-and-cheese crowd. The students have pushed the older folks to stand more often and it's becoming more known for its intimidating atmosphere than it's more lax nickname -- The Ski Lodge -- implies.

West Virginia: The Mountaineers are bringing in seven new players. This is about as clean a slate as a team can have in this league. West Virginia coach John Beilein is looking to small forwards Wellington Smith and Desean Butler to get his system quicker than most. That said, there may not be another player as anticipated as shooting guard Jonnie West. He just happens to be the son of that famous Mountaineer alumnus named Jerry.
– Andy Katz

Expert take

When the ACC accepted Boston College, Miami and Virginia Tech into the fold, I said that the ACC's decision could wind up making the Big East the best league in the country. Despite losing almost 20 high-quality senior performers from last year, plus the annual loss of underclass draftees, the Big East could very easily wind up being the best and most competitive conference in the country again this year.
Starting the season, Pittsburgh, Villanova, Georgetown, UConn, Syracuse and Marquette are all NCAA Tournament teams, and it would not surprise to see any of those squads in the Final Four.
Pitt has the most experience and firepower with Aaron Gray, Ronald Ramon, Antonio Graves and Sam Young, and will be very difficult to beat with its punishing style of play.
UConn may have lost a lot of talent, but with Marcus Johnson, Jeff Adrien, A.J. Price and another quality recruiting class, the Huskies will crack the top 10 at some point in the season.
Syracuse has some quality upperclassmen in Terrence Roberts, Demetris Nichols and Darryl Watkins, who realized their potential late in the year and should be ready to assert themselves as seniors alongside sophomore guard Eric Devendorf.
The team I feel will make a quantum leap is Marquette, an NCAA Tournament team last year that could be even better this year. Dominic James and Jerel McNeal are special players, and Wesley Matthews and Dan Fitzgerald provide Tom Crean with some interesting possibilities.
With West Virginia, Cincinnati and South Florida in transition, look for St. John's, Notre Dame, DePaul, Providence, Rutgers and Seton Hall to have the best chances to be truly competitive and make a significant jump. The biggest jump could wind up coming from St. John's, a team that is ready to challenge under Norm Roberts, a really fine coach who has been teaching his young kids how to compete and win and now has some horses to run.
Pitt's Gray is the biggest returning name and will garner most of the preseason player of the year honors, but don't be surprised when Marquette's James turns out to be the best player. As a freshman, James averaged 15 points and five assists and is the most explosive guard in the league with his dynamic play off of pick-and-rolls and his mature leadership and hard work.
Others poised to have great years are Georgetown's Roy Hibbert and Jeff Green, Louisville's Juan Palacios and David Padgett, Providence's Randall Hanke, DePaul's Sammy Mejia and Wilson Chandler, and St. John's Lamont Hamilton. On the freshman front, watch out for Paul Harris of Syracuse, Scottie Reynolds of Villanova, Gilbert Brown of Pitt, Vernon Macklin of Georgetown, Derrick Caracter of Louisville, Stanley Robinson of UConn and Tory Jackson of Notre Dame.
As usual, the Big East regular season will be a fistfight, and it should not surprise if the league puts at least eight teams in the NCAA field.
– Jay Bilas


Standings/Stats


* -- NCAA Tournament
Want a simple indicator of the magnitude of change in the Big East this season? Only three of last season's top 20 scorers return.
– Andy Glockner

SportsNation
Have an opinion or just want to see what our users think about the conference? Click here for SportsNation's Big East poll page.


Other classes
To peruse all of the 2006 Summer Sessions, click here. Comments/questions? E-mail the editor.