PLAYER OF THE WEEK: JULIAN WRIGHT
src="https://a.espncdn.com/photo/2006/1127/ncb_a_wright2_275.jpg" height=200 width=275 alt="Julian Wright" hspace="0" border="0" vspace="0">

AP Photo/Mark J. TerrillWright comes down after one of his power dunks against Florida.
By Andy Katz
Simply put, if Kansas sophomore Julian Wright hadn't dominated against Florida in the first half of the Jayhawks' 82-80 overtime win Saturday night, the Gators probably would have won the game. Wright was sensational, especially before the break, when he scored 17 points and seemed to be floating around the court.
Repeatedly, Wright found his way to the hoop with ease and finished with a flurry. His agility, athleticism and overall decision making offensively put him at another level. He finished with 21 points, along with 10 rebounds, three assists and three steals, and clearly was the star for Kansas in one of the most anticipated and enjoyable games in recent memory.
If Wright can duplicate this effort on a regular basis, the Jayhawks will live up to their preseason hype. Wright, not Brandon Rush, is the Jayhawks' money player. He was the aggressor all night and made sure everyone knew -- even after the game -- he doesn't have any designs on being passive this season.
TEAM OF THE WEEK: BUTLER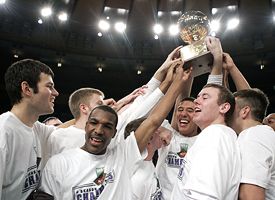 AP Photo/Julie Jacobson
It's been quite a couple of weeks for Butler.
By Andy Katz
The Bulldogs blew through Tennessee and Gonzaga en route to the NIT Season Tip-Off title. Those wins came on the heels of taking out Notre Dame and Indiana the previous week in Indianapolis. Then, in a scheduling quirk, Butler had to race home Saturday and play Kent State, which it beat in double-overtime. (As an aside, Air Force did the same thing, hosting a game against Radford the day after playing back-to-back nights in the CBE Classic's semifinals and third-place game).
Butler never looked the part of a team that scheduled a game the day after the NIT finals because it didn't expect to make it to NYC. Now, the Bulldogs would have to seriously face-plant in the Horizon League to avoid being at least an at-large team in the NCAA Tournament. If the Bulldogs can just stay in the top two or three of the league and not have more than three or four league losses, it would be hard to push them aside.
Sure, November doesn't equal a March ticket, but the Bulldogs have more on their résumé now than most mid-major teams will three months from now. Butler even has one more high-major shot when it plays Purdue at Conseco Fieldhouse on Dec. 16.
3-POINT SHOTS
Jay Bilas



From the time I first watched him play, I could tell that Julian Wright had a special feel for the game. He is very active and is a unique passer and playmaker as a small forward with size. He was the type of talent who was just scratching the surface of his potential.
Well, now he is turning into one of the best players in the country. Wright still is not a polished offensive threat, but neither is Florida's Joakim Noah. Wright does, though, have the ability to make plays as a point forward, and he can rebound, handle the ball, defend and run the floor. He has worked on his shot, and it is improved enough to drill a few. If he continues to improve his offensive skill set and becomes more of an aggressive offensive player, Wright can perhaps be the best small forward in the nation.
KU's big men may not be quite as good as Florida's overall, but the Jayhawks' frontcourt still is formidable. Darrell Arthur is a big-time talent who can score in the low post with solid moves. He has really good hands and good instincts. When Sasha Kaun gets more reps after returning from injury, Kansas will be as good as anyone up front.
Fran Fraschilla



Is Jared Jordan another John Stockton? Not quite, but the 6-foot-2 senior from Marist College put on a show at the Old Spice Classic at Disney's Wide World of Sports complex this weekend. Last year's NCAA assists leader was the MVP of a tournament in which the Red Foxes finished in third place; he averaged 21 points and nine assists in the three games.
Jordan could run any team in the country right now and, without any disrespect to his teammates, would average double-figure assists if Brandon Rush or Tyler Hansbrough were filling the lanes. He has outstanding court vision and is constantly thinking a play ahead. He also can score off penetration and with more than adequate shooting range. He'll get a quality look from NBA scouts in Portsmouth in April.
As it is, Marist has a team that not only should win the MAAC, but is the ideal "bracket buster" in March. Coach Matt Brady's team has two other potential All-MAAC performers who are seniors: 6-3 sharpshooter Will Whittington and 7-0 center James Smith.
Doug Gottlieb



Corey Brewer should have gone to the pros after last season. He has a sick parent and his stock was at an all-time high after Florida's national title.
Watching Brandon Rush and Brewer go at it Saturday night, it seems obvious that he will not be selected in the first round of the 2007 NBA draft. Brewer is long and rangy but not nearly as athletic as advertised. In addition, his second foul and his overall shot selection seemed to indicate a lack of great basketball IQ.
Sure, he will make the League and, yes, he has a shot at immortality playing for Florida this year, but if his family was counting on the guaranteed dough, they may not cash in in the end.
For more of our experts' 3-point shots, click here.

WEEKLY INTERPRETATION
By Andy Katz
George Mason is 2-2: No need to panic. The Patriots lost in the final possession at Creighton, where the Bluejays play in front of a packed house. This was not a bad loss. The Patriots are still one of the top two teams in the CAA and will be a factor come March.
Providence beats BC and GW at home: The Friars get the comeback award of the week for bouncing back after the brutal home loss to Brown. The Friars' sophomore class is underrated but worthy of a closer look as Sharaud Curry (16.7 ppg), Geoff McDermott, Weyinmi Efejuku and Jonathan Kale are offering up plenty of promise.
Kentucky goes 1-2 in Maui: The Wildcats were dominated in the second half by Memphis but there was plenty of promise, especially from the guards and, notably, the freshmen class. The Wildcats look like they'll run more this season and will win plenty of games to whet the Big Blue fans' appetite.
Minnesota goes 0-for-Orlando: Look, the Gophers lost to Marist, Southern Illinois and Montana -- all three potential champs of their respective leagues -- but the Gophers are picked at the bottom of the Big Ten for a reason. They aren't talented enough this season to consistently knock off veteran teams, regardless of conference.
Gonzaga beats North Carolina at MSG: No one should be surprised by this stuff anymore. Gonzaga has an elite, high-major program. If you can't accept that, then move on.
Virginia Tech loses to Western Michigan: This will haunt the Hokies only if they muddle through the rest of the nonconference schedule and the ACC. Bottom line is they didn't play well and lost to a less-talented team.
Arkansas wins Old Spice Classic: Solid tourney title for the Hogs who, with Gary Ervin and Patrick Beverley, have enough pop with their newcomers to be a pest throughout the year.
Louisville loses in Cincinnati to Dayton: The Cards are a work in progress, just like most everyone else at this time of year, but may take longer than most because of injuries and a suspension. Derrick Caracter didn't play in this game because he was serving a three-game suspension for a rules violation.
Wisconsin loses to Missouri State in South Padre Island: The Badgers were off, shooting just 13.3 percent on 3s (2-of-15, with plenty of credit to Missouri State's defense), and Brian Butch mustered only five points in 14 minutes. Alando Tucker can't do it all himself if the Badgers want to be Big Ten champs, let alone a Final Four team.
Nevada is 5-0: Just wanted to see if you're paying attention. The Wolf Pack have won at Oregon State and Santa Clara so far as part of their six road games prior to January. Oh, by the way, senior forward Nick Fazekas is pouring in 25 points a game and Marcelus Kemp isn't far behind at 19 per.