PLAYER OF THE WEEK: ALANDO TUCKER
src="https://a.espncdn.com/photo/2006/1210/ncb_g_tucker_195.jpg" height=262 width=195 alt="Alando Tucker" hspace="0" border="0" vspace="0">

Jonathan Daniel/Getty ImagesAlando Tucker helped the Badgers to two tough wins.
By Andy Katz
Few players this season have been as assertive and aggressive as Alando Tucker was in Wisconsin's in-state rivalry game against Marquette on Saturday.
Tucker, the preseason Big Ten player of the year and a legit candidate for national player of the year, dominated the Golden Eagles with 28 points, making 13 of 22 shots. In the second half, he drove to the hoop at will while leading the Badgers to the 70-66 win.
That performance was just the close to a great week. Tucker also helped the Badgers hold off upstart Winthrop in overtime in Madison with 21 points in the 82-79 victory.
It was tough to choose Tucker over Chris Lofton's 34-point effort in Tennessee's win over Memphis, but the Badgers' two wins over Winthrop and Marquette -- one at home and one on the road -- were significant and will keep adding to a solid dossier that also includes wins over Florida State (a possible NCAA team) and Auburn (we'll see where they land), and a quality loss to Missouri State on a neutral court.
TEAM OF THE WEEK: NOTRE DAME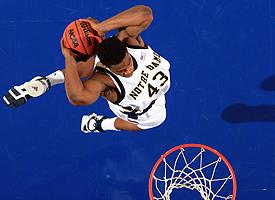 Matt Cashore/US PRESSWIRE
Russell Carter had reason to celebrate after pouring in 27 points against Bama.
By Andy Katz
OK, who thought Notre Dame would be 7-1 after losing to Butler in the first round of the NIT Season Tip-Off? Maybe those inside the locker room at the Joyce Center, but were there many others?
The Irish have proved that they are a team to reckon with this season after controlling and dispatching Alabama 99-85 in South Bend. Russell Carter scored a career-high 27 points in the win.
The Irish didn't get enough credit in the Weekly Watch last Monday for their Sunday win over Maryland in D.C. at the BB&T Classic, so we're including Notre Dame's Sunday-Saturday combo as two of the best wins by a team this week. These two wins, over two teams that are likely not only NCAA teams but also possible high seeds, will have shelf life for the Irish if they can just hold their heads above water and stay in the top eight in the Big East.
3-POINT SHOTS
Jay Bilas



I wonder whether Kentucky's Randolph Morris can ever do enough to please us, but I think he has played very well to start this season.
When Morris came out of high school, he was in the same conversation with Dwight Howard and Josh Smith, and we expected Morris to be the same kind of dynamic talent. Like many players out of high school, though, Morris was on a different development curve than some in his class. His demeanor has been criticized, but he reminds me of former North Carolina star Sam Perkins, who sometimes gave the impression of being a bit sleepy or uninterested at times.
Perkins was the far superior player and an all-time North Carolina great, but there can be no argument that Morris has made great strides as a college player this season. After this weekend, Morris is averaging 17 points and over eight rebounds per game while shooting over 62 percent from the field.
Clearly, Morris can do more and get better. He can be much stronger with his back-to-the-basket game, making his moves to the rim rather than fading away; he can get to the free-throw line more often, and he can rebound the ball more voraciously. But Morris has established himself as one of the best big men in college basketball this season. We can nitpick about his deficiencies, but he is a really good college big man.
Fran Fraschilla



Toledo coach Stan Joplin told me this weekend that, prior to playing Kansas, the best team the Rockets had played so far is Missouri State. That list includes Iowa, Vanderbilt, Drexel and VCU. While Wichita State and Creighton have gotten a lot of early-season Missouri Valley hype, the Bears are off to another quiet 8-1 start, including a win over Wisconsin in South Padre Island, Texas, in November.
Senior guard Blake Ahearn continues to sizzle from the foul line. He's shooting 94.3 percent this season and is heading toward becoming the most accurate free throw shooter in NCAA history. He also is shooting 58.8 percent from the 3-point line. Barry Hinson's team also has been bolstered by Missouri transfer Spencer Laurie, who is averaging five assists a game.
By the way, not to beat a dead horse, but the Valley currently is 62-18 in nonconference games, in large part because the bottom of the league has improved. On Saturday, Indiana State did something that none of Indiana, Notre Dame, Gonzaga and Tennessee could do: beat Butler. Illinois State has knocked off St. John's on the road while the Purple Aces of Evansville have won six of their last seven games.
Doug Gottlieb




Both UCLA and Texas A&M may lack enough offensive pop to win the national title, but if you want to get a win over either the Bruins or Aggies, you may want to work on handling their intense ball pressure. UCLA has the added bonus of great interior defense with foul-prone stopper Lorenzo Mata and super-quick Luc Richard Mbah a Moute. ...
Lost in the outstanding play and national TV status of A&M-UCLA, though, was the second game of the Wooden Classic, which featured GW against USC. USC was down 29-18 at the half but scored a remarkable 58 second-half points to trigger a rout. Lodrick Stewart had 21 points, 19 coming after the break, and Daniel Hackett had all 18 of his points after halftime. Whatever was in those orange wedges or Tim Floyd's halftime speech, the Trojans should bottle it. Keep in mind that USC gets its best player, Gabe Pruitt, back after semester's end. He hurt his knee and then became academically ineligible for the first semester.
For more of our experts' 3-point shots, click here.

WEEKLY INTERPRETATION
By Andy Katz
Gonzaga beats Washington handily: After being beaten by 20, there's a good chance the Huskies aren't going to phone the Zags about picking the series up again anytime soon. The win for Gonzaga showed just how talented shooting guard Matt Bouldin (21 points) is. Meanwhile, the youthful Huskies got their first taste of a hostile road environment.
Seton Hall is 6-1 after beating Penn State: Bobby Gonzalez has the Pirates playing well, beating comparable teams in Penn State and Saint Mary's (the Pirates' only loss was at home to FDU). And it also proves just how valuable a signee Eugene Harvey was for the Pirates. He led them with 27 points in 40 minutes -- quite a line for a freshman -- in the win over Penn State.
Texas A&M loses to LSU and UCLA: The Aggies will be better for playing two tough games last week, even though they lost both of them. Texas A&M entered the week as the top defensive team in the country and didn't disappoint, but still needs to work on its offensive diversity as it plows ahead. Still, just wait until the Big 12 season and the Aggies will be in the thick of the chase.
Greg Oden goes 8-for-8 from the field: The more Oden plays (twice now), the more he looks like he is ready made to be suiting up in an NBA arena near you. His ability to hammer home two-handed dunks Saturday against Cleveland State was a sign that he's healing quite nicely. This should be a good watch throughout the season.
Wichita State completes four-game road Saturday sweep: Don't try this at home if you're a mid-major school. Still, Mark Turgeon knew his personnel and was willing to take a chance by scheduling four straight Saturdays at George Mason, LSU, Syracuse and Wyoming. WSU now can book its NCAA Tournament tickets. Not too many high majors have even played four road games at this point, let alone have won that many before Christmas.
Vanderbilt beats Georgia Tech: Even though the young Yellow Jackets still need to learn how to win on the road, this was much more of a must win for Vanderbilt. The Commodores already had lost at home to Furman and Georgetown, and on the road at Wake Forest. They needed something to hang on to prior to SEC season, and getting Georgia Tech gives them hope they can be in the picture with a .500 or better SEC mark.
Creighton beats Xavier: Once again, it's only mid-December but Creighton desperately needed a quality nonconference win after losing at Nebraska and Dayton and with a tough out coming up at Fresno State. Beating Xavier at home gives it another solid win to add to its victory over George Mason (still believe this team will be in the race atop the CAA before the season ends).
San Diego takes out Cal: Brad Holland needed this win to show the Toreros are a viable team in the WCC this season. The loss could end up haunting the Bears come March if they're on the bubble. Cal is still a work in progress and has been inconsistent. The losses at San Diego State and Nevada won't hurt, but a USD loss raises a few questions unless the Toreros continue to turn upward. Cal is approaching a brutal four-game stretch on the road at DePaul, Arizona, ASU and Stanford at the end of the month.
UNLV beats Nevada: This may be the Rebels' most important win under Lon Kruger. Beating in-state rival and No. 19 Nevada in Reno signaled to the rest of the state that the Runnin' Rebels are worth tracking this season. UNLV, which could spoil Bob Knight's quest to break Dean Smith's record in Lubbock on Dec. 28, also has swept Hawaii this season in a home-and-home. The loss at Arizona was expected; the home loss to UC Santa Barbara, though, raised some doubts. Now, there is nothing but good vibes with this group heading toward a four-game home stand.