PLAYER OF THE WEEK: LAWRENCE HILL
src="https://a.espncdn.com/photo/2007/0129/ncb_a_hill_195.jpg" height=262 width=195 alt="Lawrence Hill" hspace="0" border="0" vspace="0">

Howard Smith-US PRESSWIREHill's scoring helped rally Stanford past UCLA.
By Andy Katz
Wake up America, Stanford is here and ready to bust your bracket, let alone the Pac-10 standings.
The Lopez twins (Robin and Brook) are becoming the nation's most feared inside force west of Greg Oden, but don't think for a second that the trees out on the Farm are all that are growing and showing potential.
The Cardinal also are getting solid play out of their wings in Anthony Goods, and this week, Lawrence Hill. Hill scored seven straight points in the second half against UCLA Sunday night, including a midrange bucket to tie the game at 51 and then a banked-in 3-pointer to put Stanford ahead for good. The Cardinal were down 12 at halftime, but Hill's buckets were part of a 15-0 run that put Stanford up by eight.
Hill finished with 22 points, making 8 of 10 shots, 2 of 3 on 3s and 4 of 6 at the line. He also complemented Brook Lopez's triple-double (18 points, 11 boards, 12 blocks) against USC Thursday night with 18 points and nine boards in the win over the Trojans. The home sweep put Stanford a game back of first place in the Pac-10 at 6-3 (14-5 overall) and makes the Cardinal a serious threat from this point forward.
TEAM OF THE WEEK: NORTH CAROLINA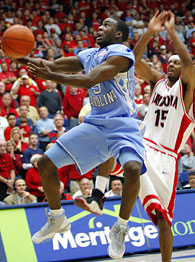 AP Photo/John Miller
Ty Lawson and UNC crushed Arizona.
By Andy Katz
Teams aren't supposed to go to the West and dominate with ease, especially in the middle of the conference season and when the opposing arena is at Arizona. UNC, though, isn't just any team.
The Tar Heels put together the season's most impressive performance to date, dismantling the Wildcats from the opening tip. This win came with starter Brandan Wright and reserve Marcus Ginyard being ill and unavailable and Bobby Frasor out for the fourth straight game. Yet none of that mattered.
The Tar Heels proved they have one of the nation's best penetrating point guards in Ty Lawson, plenty of options among the frontline to go next to Tyler Hansbrough in Reyshawn Terry (Mr. Putback-and-one), Deon Thompson and Alex Stepheson, and a solid wing in Wayne Ellington.
The 28-point rout, the worst home loss under Lute Olson at U of A, came after a 28-point win at Wake Forest and, even though it was the previous week, the Tar Heels were coming off of punishing Clemson on the road by 22 and beating Georgia Tech by 16 at home.
3-POINT SHOTS
Jay Bilas




Ohio State has great talent and ability, and has matured into a very good team. However, youth and inexperience still are factors for the Buckeyes. In the second half of the Michigan State game, Ohio State could only muster 5 of 21 from the field, mostly because the Buckeyes settled for jump shot after jump shot, most off one pass. Even with the great second half by Michigan State, if Ohio State had been tougher and more selective, the game would not have come down to the final possession.
To Michigan State's credit, the Spartans showed the heart of a champion in the second half. Now that Michigan State is healthy, Tom Izzo's team can mature into a Final Four contender by March. The only drawback is the schedule down the stretch -- four of the Spartans' last 10 games are against Wisconsin and Ohio State and they also face road games against Illinois, Michigan and Purdue in that stretch.
Fran Fraschilla



Where is the love for Karl Hobbs' George Washington Colonials? This was a team that was expected to fall off the map after a brilliant regular-season run a year ago. While the RPI is only No. 64, they are 16-4, winners of eight of their last nine, and remain at the top of the Atlantic 10. All four losses -- at Providence, at USC, Air Force (N) and at UMass -- are relatively "good" losses.
In a year with outstanding backcourt combos around the country, the Maureece Rice-Carl Elliott combo may be one of the more underrated. Elliott, a New York City point guard in the Levance Fields/Russell Robinson mold, is a tough, tough competitor and Rice is a potentially prolific college scorer. Regis Koundjia, the LSU transfer, has been workmanlike inside, and the same can be said for underrated sophomore Rob Diggs.
Doug Gottlieb



Whereas college football has only recently seen true parity -- and, in truth, even Boise State's Fiesta Bowl win and the Big East's bowl dominance ultimately were overshadowed by Florida's national title -- college basketball always has been a bit different in that, in theory, everyone has a chance.
How true is that right now? Think about the college basketball brand names that, as of today, possibly/probably won't be in the NCAA tourney field: UConn, Michigan, Cincinnati, Louisville, Syracuse, Missouri, Oklahoma, Purdue, Illinois, Gonzaga, LSU, Utah, Maryland, NC State and Wake Forest. While a couple of these teams still have ample opportunities to make the dance -- most notably, the Zags, Michigan, LSU and Syracuse -- the turnover in the college basketball landscape is nothing if not interesting.
For more of our experts' 3-point shots, click here.

WEEKLY INTERPRETATION
By Andy Katz
Connecticut loses again: The loss to Providence stings more than maybe any of the others. The Huskies need to rally at DePaul to possibly save their season. No joke. This team needs to win to regain some confidence and cohesiveness even for an NIT run.
Tennessee without Chris Lofton: Look, take the best player -- and maybe the top shooter in the country -- off any team, and it likely will flop. You shouldn't be surprised the Vols have slipped to 2-4 in the now-rugged SEC East.
Marquette keeps cruising: It doesn't matter how or where or when, all that matters is that the Golden Eagles find ways to win. Jerel McNeal converted a steal into a bucket for the win at South Florida on Sunday.
Virginia wins at Clemson: OK, something was completely out of whack with the Cavaliers in Puerto Rico when they dropped two games and barely beat PR-Mayaguez. The losses at North Carolina and Boston College and to Stanford are now totally understandable. Maybe the four straight wins, including Sunday's frantic comeback at Clemson, are more indicative of how good this team can become in the final six weeks.
Wisconsin wins on the road again: Iowa became just another notch in the belt of a team that may end up being the No. 1 overall seed in the NCAA Tournament.
LSU and Alabama can't win: This is the reality: The Tigers (13-7, 2-4) and Tide (15-5, 2-4) are heading toward the NIT, not the NCAAs, if they don't right their listing ships quickly.
Providence on a high: The win at Connecticut served notice that the Friars are still in the mix for an NCAA bid and a possible top-six finish in the Big East.
BYU and GW pick up key conference wins: The Cougars beat Air Force and the Colonials won at Rhode Island, putting both schools in contention for their respective (MWC and A-10) league titles.
Georgia and Kentucky win Sunday: The worst projection may have been thinking the SEC West would be deeper than the SEC East. Georgia and Kentucky are tied with Vanderbilt, both at 5-2, two games behind Florida. If Tennessee had Lofton healthy, the Vols likely would be in stride with those three teams as well.
BRACKETOLOGY GAMES TO WATCH

By Joe Lunardi
Here are the games to watch that will directly impact Wednesday's bracket:
MON/Pittsburgh at Villanova
Panthers get back in the No. 1 seed discussion if they can pull off road win.
MON/Siena at Loyola (Md.)
The Greyhounds are somehow holding on to their surprising lead in the MAAC.
TUE/Maryland at Florida State
Loser is likely out of the next bracket projection.
TUE/Notre Dame at Syracuse
Orange need to bounce back or they may be looking at a double-digit seed.
TUE/Wichita State at Northern Iowa
Winner has a chance to return to the bracket; loser is toast.
TUE/Davidson at Elon
Davidson must win to keep its lead in the SoCon (and bracket slot).
• Bracketology | InsideRPI

| Nitty Gritty