TEAM OF THE WEEK: NORTH CAROLINA STATE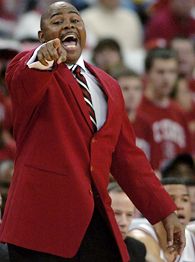 AP Photo/Sara D. Davis
Is it the red coat? Whatever the cause, Sidney Lowe's Pack had a big week.
By Andy Katz
Can't say I saw this coming. That would be a lie. But what I did see way back in November, when NC State came back to beat Michigan in the ACC-Big Ten Challenge, was a team that had plenty of heart, desire and passion, and believed in everything its first-year coach said.
The Wolfpack maybe didn't get enough credit earlier in the week for a surprising win at Virginia Tech. Maybe that was because the win came on the same night Indiana beat Wisconsin, while Texas' Kevin Durant lit up Texas Tech for 37 points and 23 rebounds. But clearly the victory in Blacksburg set up Saturday's raucous win over rival North Carolina.
The atmosphere at the RBC Center seemed Stanley Cup-like, at least through the TV screen. The Wolfpack continued to attack the Tar Heels and never seemed to be fazed as UNC responded.
What has made this season so hard to predict is the way the Tar Heels smoked Arizona one Saturday in Tucson only to get pushed around, and look a bit displaced, seven days later in Raleigh against a collection of gritty players.
Every game will still be a struggle for the Wolfpack, but be certain about this: NC State won't be an easy out under Sidney Lowe. This week, the Wolfpack became the headline team in The Triangle -- and with UNC and Duke as competitors, that's something to savor.
PLAYER OF THE WEEK: ACIE LAW IV
src="https://a.espncdn.com/photo/2007/0205/ncb_a_law_275.jpg" height=200 width=275 alt="Acie Law" hspace="0" border="0" vspace="0">

AP Photo/Orlin WagnerIf you cut down KU at Allen Fieldhouse, a little jersey popping's OK.
By Andy Katz
Acie Law's 3-pointer over Brandon Rush pushed the Aggies past Kansas and sent a clear message that Texas A&M may just win the Big 12 -- and needs to be taken seriously as a Final Four contender.
Law was sensational in the second half, scoring 23 points to lead the Aggies to their 69-66 comeback win Saturday night. Law dished out seven assists, had only two turnovers, picked up two steals and was 4 of 5 at the free-throw line. Earlier in the week, he scored 13 points, had another seven assists and committed only two turnovers in a win over Iowa State.
Law has been the most consistent Aggie in the Big 12 and at least enters the conversation as a challenger to Texas superhero Kevin Durant for Big 12 Player of the Year honors.
Law also should be mentioned when the top point guards in the country are discussed. He is the anchor for this squad, the extension of coach Billy Gillispie, and maybe one of the nation's hardest players to put away. The Aggies never seemed out of Saturday's game as long as Law had a chance to touch the ball and make something happen.
3-POINT SHOTS
Jay Bilas



At this time last year, was anyone touting Florida as a national championship favorite? The Gators were ranked 11th when the tournament began, and all of the things we are currently saying about Kansas and some of the other teams out there, we were saying about Florida: inconsistent, inexperienced, no go-to guy, and all the rest.
UConn was the best team last year, but didn't win. This year, the best teams are Florida and North Carolina, and one of them may not win, either. One of the teams that could find its way to Atlanta, and is quietly getting better, is Georgetown. The Hoyas have improved steadily over the course of the season and have the chops to be really tough in March.
Fran Fraschilla



Kansas State has won seven in a row, and six straight for the first time in Big 12 history. Bob Huggins probably will disagree with me, but the turning point of the season came the day that Kansas State lost to Texas Tech at home on Big Monday in early January.
It had nothing to do with the game. It was the day the Wildcats announced that freshman phenom Bill Walker would miss the rest of the season with a ruptured anterior cruciate ligament.
So much attention had been placed on Walker's arrival in Manhattan as the program's savior. While the buildup was over-the-top, Walker obviously would have been a key ingredient in Huggins' rebuilding job this year. Not having Walker, though, has allowed a veteran group of players that Huggins inherited to gain a measure of respect and success without Walker. The Wildcats came painfully close to turning the corner a year ago under Jim Wooldridge, ending up 15-13 with a win at Kansas and some excruciating close losses, as well.
Huggins has this team, as expected, playing with toughness and tenacity, and it has one of the Big 12's more solid performers over the last couple of seasons in Cartier Martin. The key to the turnaround, though, has been undersized, unsung junior David Hoskins. Listed generously at 6-foot-5, the Canton, Mich., native has averaged almost 18 points and over seven rebounds since the injury to Walker. He's also working on 16 straight double-figure scoring outings.
Kansas State has had its share of great players, great coaches and great teams through the years. This team is not in that category, so Hoskins, Martin and senior Lance Harris will not be getting a lot of national attention the rest of the regular season. However, if things keep going like they are, you'll finally be hearing about them in March.
Doug Gottlieb



If there is a blueprint for a road upset, Florida State went off board in its big win at Duke on Sunday. With a decent lead late and Al Thornton starting to roll, FSU took several questionable shots, got the ball to Thornton only once in the last five possessions, was called for an untimely technical foul, turned the ball over, and generally lost its collective cool -- yet still won at Cameron Indoor for the first time ever.
Maybe the strangest part of the Florida State-Duke matchup is that every time these teams play, I walk away thinking, "FSU is really good," and then I look at the Seminoles' profile and I have no idea why they have not won more.
Granted, they have beaten Florida and Virginia Tech at home, but outside of that, they have had a solid yet unspectacular season despite the talent they have and how hard they play. While FSU should dance this year, solidifying its tournament spot will occur in the next couple of weeks … stay tuned.
For more of our experts' 3-point shots, click here.

WEEKLY INTERPRETATION
By Andy Katz
Southern Illinois wins at Wichita State: It appears the Salukis, not the Shockers, were the right pick to win the Missouri Valley in the preseason (my bad here).
Hofstra beats VCU: First step in taking the Rams down from being an at-large candidate, although they still lead the CAA by a game.
Washington State sweeps Arizona schools: Please start to engrave the Pac-10 Coach of the Year trophy for Tony Bennett, not Ernie Kent.
Oregon loses two in L.A.: This shouldn't come as a shock. The L.A. schools are two of the top squads in the league. Oregon is with them, but winning on the road simply is not easy in this league. Kent loses out in my book to Bennett because he has more talent.
Arizona beats Washington: Jordan Hill gets much-needed minutes, doing his best Hilton Armstrong impersonation, and the Wildcats finally right themselves just in time to go on the road.
Huskies split Arizona trip: The reality will soon hit that the early Pac-10 schedule helped land them in the NIT.
Kentucky wins at Arkansas: The Wildcats are a solid NCAA team, nothing more and nothing less, and sometimes that's OK (at least in most places).
Oklahoma State loses at Colorado: The second-most surprising score from Saturday (behind NC State over UNC and ahead of South Florida over Notre Dame). Sean Sutton said he didn't think this would be a poor road team. That was before this game, which makes three Big 12 road losses by an average of 20 points.
Celebrations at midcourt: Texas A&M did it at Kansas. Florida State did it at Duke. These are still college kids. They're excited about doing something no one at their school had done before them. There was no malicious intent from what I could tell in either case. But give Acie Law credit for quickly apologizing Saturday night to show his class and ensure the Aggies don't get an unnecessary showboating rep. Al Thornton apologized Sunday for the Seminoles as well.
Alabama sweeps the week: Beating LSU on the road and South Carolina at home means the Tide are reasserting themselves as the team that should win the SEC West. What that also means is the Tide are positioning themselves for the best way to advance deeper in the SEC tournament by avoiding Florida early.
BYU pounds UNLV at home: This wasn't an upset. And let's get something straight -- the Cougars are playing and winning games as if they will be in the NCAAs.
Nebraska wins at Mizzou: Why does this make the list? Because Doc Sadler earned plenty of bankable points with fans by winning a road game after getting smoked at home by Kansas.
Georgia Tech splits the week: The Yellow Jackets saved face by turning a tough road loss at Wake Forest into an end-of-the-week positive by beating Clemson and giving themselves their first big confidence boost in weeks.
BRACKETOLOGY GAMES TO WATCH

By Joe Lunardi
Here are the games to watch that will directly impact Wednesday's bracket:
MON/Syracuse at Connecticut (ESPN, 7 ET)
This would qualify as a "bad loss" for the Orange, who are struggling to stay above .500 in the Big East.
MON/Loyola (Md.) at Fairfield
There are now five teams within striking distance of Loyola (Md.) in the MAAC, and Fairfield is one of them.
MON/Texas at Texas A&M
The Longhorns would drop to 0-4 vs. InsideRPI Top 25 teams with a loss. Hard to stay in the top half of the bracket that way.
MON/New Mexico State at Utah State
If the WAC is going to get a second NCAA bid, one of these two teams needs to finish with gusto.
TUE/Saint Joseph's at Villanova
The Wildcats are close enough to the bubble that any home loss is dangerous.
TUE/Virginia at Maryland
A flat-out enormous game for the Terps, who would fall to 3-6 in the ACC with a loss.
TUE/Toledo at Kent State
The Rockets must win to hold off Akron for the MAC slot in this week's bracket.
TUE/LSU at Tennessee (ESPN, 9 ET)
It may be last-gasp time for the Tigers, although the Vols could join them on the outside looking in with a home loss.
TUE/BYU at Wyoming
BYU holds a Mountain West tiebreaker thanks to home wins over Air Force and UNLV, but the Cougars have been far less impressive on the road.
• Bracketology | InsideRPI

| Nitty Gritty