PLAYER OF THE WEEK: JARED DUDLEY
src="https://a.espncdn.com/photo/2007/0211/ncb_w_dudley_195.jpg" height=262 width=195 alt="Jared Dudley" hspace="0" border="0" vspace="0">

Don Juan Moore/WireImage.comDudley's quietly been carrying the Eagles to great heights.
By Andy Katz
Jared Dudley's four-point play that tied Sunday's game at Florida State at 64 should go down as one of the plays of the season.
Dudley isn't just one of the toughest matchups around, the player who knows the angles well and finds a way to slither into the lane. He also may be the smartest player. He knew how to draw that foul while still having enough to get the double-clutched shot to the rim, and always seems to have an idea of time and score. He's never rattled and his steady pacing keeps the Eagles level, no matter the deficit.
Dudley finished Sunday night with 23 points and 10 boards, following up a 26-point, nine-rebound game in a road win at Miami. BC is in first place in the ACC because of Dudley, who still is playing with a stress fracture in his foot (remember, he missed three games earlier this season). Dudley also showed his character Sunday when he stayed behind on a fast break to make sure that Al Thornton was OK after Thornton took a hard fall.
Dudley leads the ACC in both scoring (a tick under 20 points a game) and rebounding (nine rebounds per game). Look, it's fine to debate the ACC Player of the Year and pushing Virginia's Sean Singletary is reasonable, but in this space, the choice is Dudley. Take him off BC and the Eagles might not be an NCAA team, let alone an ACC title contender.
The Eagles now are 5-2 since shot-blocker Sean Williams was dismissed from the squad. In those five wins, Dudley went for 23 and six against FSU, 21 and eight against Hartford, 30 and six against Virginia Tech and then the numbers from the two road wins this week.
If he keeps this up, he should be a first-team All-American and will get some votes for national player of the year. Texas freshman Kevin Durant is the leader of the pack with Wisconsin's Alando Tucker on his heels, but Dudley should be right behind them if he continues to keep the Eagles tussling with North Carolina for the league title.

TEAM OF THE WEEK: WRIGHT STATE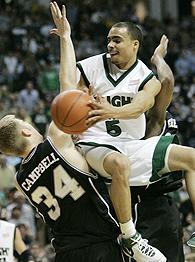 AP Photo/Al Behrman
Dashaun Wood doesn't get enough national love -- he can play. He pours in 20 a night for the Raiders.
By Andy Katz
Let's slowwwww down on all the Butler talk, because the Bulldogs aren't even in first place by themselves in the Horizon League. Nope. Brad Brownell, who had the Midas touch at UNC Wilmington, now has Wright State in first place in the Horizon.
The Raiders took out Butler on Saturday and stand at 12-2 in the league, a half-game ahead of the Bulldogs (Butler is 11-2). Wright State (19-8) now at least needs to be in the conversation for an at-large bid. What happens if Wright State wins the Horizon? Should the Raiders get a bid, too? We know that Butler is basically a lock.
Wright State finishes with three games: last-place Cleveland State, BracketBusters pairing Cal State Fullerton, and at fifth-place Youngstown State. Ninth-ranked Butler gets a free pass Tuesday in a nonconference game against transitional D-I Florida Gulf Coast, and then the schedule stiffens. The Bulldogs have a tough BracketBusters game against Southern Illinois, and then go to fourth-place Wisconsin-Green Bay and host Blake Schilb and third-place Loyola-Chicago and then Detroit (tied for fifth).
So, it's highly plausible that Wright State could win the league. This is the same team that lost 73-42 at Butler on Jan. 6.
3-POINT SHOTS
Jay Bilas



The discussion of which coach should be national coach of the year should not be held unless Davidson's Bob McKillop is at or near the top of the list.
Davidson has become the top team in the Southern Conference and was an NCAA Tournament team last year, giving Ohio State a battle in Dayton before losing in the first round. McKillop had a corps of seniors last year, and the SoCon expected Davidson to be "gettable" this year with a younger, less experienced team.
Wrong. McKillop's troop of three juniors, two sophomores and two freshmen are atop the SoCon again at 21-4 (12-1), and have suffered losses only at Duke, at Missouri, at Michigan and to Appalachian State.
The Wildcats are led on the floor by the scoring prowess of freshman guard Stephen Curry (20.1 ppg) and junior point guard Jason Richards, who is among the nation's leaders in assists (7.6 per game). The true leader of this team, though, is McKillop, whose steely calm and depth of basketball knowledge have kept his program among the nation's best.
McKillop is the real thing, and Davidson is the type of team that should get at-large consideration. If the Wildcats make the NCAA field, at-large or otherwise, opponents had better be ready. So should voters for national coach of the year.
Fran Fraschilla



Is Kevin Durant selfish? The talk recently has been that Durant shoots too much and he should use his considerable skill to make his teammates better. I am not sure I agree with that claim.
Anytime someone puts up the prolific numbers Durant does, there's a tendency to question his team play, but here are some facts, with the help of Ken Pomeroy's excellent site, kenpom.com
Durant takes 33 percent of the team's shots when he is on the floor. When you consider that Texas has replaced five starters -- including three that went to the NBA -- and four of those fill-ins are freshmen, he has, naturally, had to carry a heavy scoring load. And when you remember that only three of Texas' top nine players are real scoring threats, one could make the argument that Durant could shoot more. Remember, he shoots a better-than-average 49 percent from the field on 18 shots a game and shoots 81 percent from the foul line.
If there is an area where Durant is selfish, it's on the defensive end. He is involved positively on a high percentage of the oppositions' possessions. Keep in mind that Durant secures one out of every four defensive rebounds when he is on the floor, blocks a shot once every 20 possessions and gets a steal a respectable twice every 100 trips. To put these numbers in perspective, among the Top 25 teams, only Joakim Noah, Joey Dorsey and Julian Wright can make the same claim.
Doug Gottlieb



West Virginia is very close, but not there yet. While many pundits will automatically place the Mountaineers in the field after their home win over UCLA, a closer look leaves a baffling profile for the committee to decipher.
Don't get me wrong: WVU is a great story and John Beilein has done a better job this year than even during the Elite Eight run of two years ago. Sharp-shooting son Patrick is gone along with Joe Herber, Kevin Pittsnogle and Mike Gansey. Only Darris Nichols played a semi-significant role in the Mountaineers' last two teams.
The Sporting News picked WVU dead last in the Big East in the preseason, and now it sits at 18-5 (it has one non-D-I win, too) and 7-4 in the conference. As for the NCAAs, it must be noted that there was very little nonconference schedule strength before UCLA came to town. The Bruins also did not play Darren Collison, their point guard and second-leading scorer, and he clearly was missed.
If WVU loses on the road at Pitt (which beat WVU soundly in Morgantown), Providence (Sharaud Curry and Herbert Hill on a bubble of their own) and Georgetown, it could make for an interesting argument in the committee room. The 'Eers have road wins at Duquesne, Seton Hall and Rutgers, three horrific basketball teams by NCAA Tournament standards, but they do have a bunch of wins overall.
Is that enough? We'll see.
For more of our experts' 3-point shots, click here.

WEEKLY INTERPRETATION
By Andy Katz
Michigan State's fall: The Spartans put up only a dozen second-half points at Purdue to drop to 4-6 in the Big Ten, 17-8 overall. Don't give up just yet, though. MSU can make the committee forget the four-game slide with Michigan, Iowa, Wisconsin and Indiana all upcoming at the Breslin Center.
The SEC West: This division is extremely competitive, but that doesn't mean there are multiple NCAA bids coming. There may not be even one. Alabama, Ole Miss or Arkansas needs to create some separation to start thinking about an NCAA invite, let alone secure more than one for the West.
Xavier's roll: Not sure everyone is paying attention, but the Musketeers are trying to make some noise since losing at Duquesne. Xavier swept through Charlotte and Saint Louis, and then destroyed George Washington in D.C., 87-58. If there is one team that could somehow go on a roll to earn an at-large spot in the A-10, it's Xavier (now 18-7). The Musketeers play three of their final five (Richmond, URI and Saint Joe's) at home, with roadies at Dayton and La Salle.
Gonzaga's win over Saint Mary's: Let's just say this: It was huge. The 'Zags had to come up with a spirited effort after the suspensions of Josh Heytvelt and Theo Davis. They did. Now the key will be to duplicate that against Santa Clara.
VCU's loss: Losing at Old Dominion hardly is something to complain about, but the Rams had little margin for error without a big-time nonconference win. They now have four games left, including a BracketBusters game against Bradley. The Rams could have 25 regular-season wins if they win out, making it hard to keep them off the board. That's what the Rams have to do -- make the choice hard for the committee.
Valley trio: The more the rest of the Valley beats each other up, the more it appears the league may get just three bids with Southern Illinois, Creighton and Missouri State.
Vermont's rise: The Catamounts are still standing atop the America East. Few coaches had to deal with as much pressure, regardless of level, than Mike Lonergan has in replacing legendary coach Tom Brennan after the Cats' recent runs led by Taylor Coppenrath.
Syracuse status: Jim Boeheim is frustrated with this lot, and he has good reason. The Orange lost a game they could have won at Connecticut and then had to struggle to hold off St. John's on Sunday. This is a team that will be clawing to get a sniff of an NCAA bid in the Big East tournament.
Washington State up, Stanford down: The Cougars still have a shot to win the Pac-10 and continue to cruise, sweeping the Bay Area schools. Stanford got swept. No need to sweat it. The Cardinal's profile is too good to get bounced.
Separation in the MWC: BYU, Air Force and UNLV are clearing space atop the league. That's good. These are the three best teams, and if the MWC wants all three to be in the NCAAs, they've got to get to the semifinals of the conference tourney.
BRACKETOLOGY GAMES TO WATCH

By Joe Lunardi
Here are the games to watch that will directly impact Wednesday's bracket:
MON/Oklahoma State at Texas
Huge game for both. Cowboys need road wins; Horns need wins, period.
MON/Louisville at Pittsburgh (ESPN, 7 ET)
The Cardinals need a statement win to stay in the NCAA conversation.
MON/Davidson at College of Charleston
A Davidson loss moves both Charleston and Appalachian State back into the picture.
MON/Santa Clara at Gonzaga
The Broncos are bucking for Gonzaga's bracket spot.
TUE/Georgia Tech at Florida State
Games like this are why the ACC won't finish with nine NCAA teams. Loser will be out on Wednesday.
TUE/Michigan at Michigan State (ESPN, 9 ET)
Loser definitely is out; winner probably still has work to do.
TUE/Hofstra at Old Dominion
I need to find a way to make the final four of the CAA tournament.
TUE/Southern Illinois at Missouri State
Much more important for the Bears than the Salukis, who go to Butler on Saturday.
TUE/UNLV at San Diego State
Is UNLV in trouble with a loss? Can the Aztecs get back in the conversation?
• Bracketology | InsideRPI

| Nitty Gritty