TEAM OF THE WEEK: LOUISVILLE
src="https://a.espncdn.com/photo/2007/0219/ncb_a_sosa_195.jpg" height=262 width=195 alt="Edgar Sosa" hspace="0" border="0" vspace="0">

AP Photo/Darren HauckEdgar Sosa and the Cards rallied past Marquette late.
By Andy Katz
Maybe it was the Pat Forde film session (Louisville is 1-0 after the ESPN.com columnist watched game film with Rick Pitino and his players last week). Perhaps it was Derrick Caracter's presence (the Cards are 3-0 since he came back from his second banishment of the season). Or, who knows, maybe this team just needed time.
Whatever the reason, the Cards are back and they don't seem like they're going anywhere the rest of the Big East season. Louisville needed two big-time, signature wins for its NCAA profile to be accepted. Well, all the Cards did last week was go out and beat Pitt and Marquette on the road.
The first one was a walkaway, while the second was a buzzer beater. It didn't really matter how they got them; the Cards picked up the wins and now stand at 9-4 in the Big East, 19-8 overall, and have an at-large profile that keeps getting better.
Louisville finishes with St. John's and at Connecticut and Seton Hall. It's possible the Cards won't lose again in the regular season and can push for second place in the Big East (Big East leaders Pitt and Georgetown are two games up with tough schedules to come).

PLAYER OF THE WEEK: JARRIUS JACKSON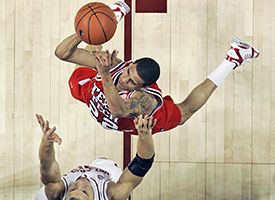 AP Photo/Sue Ogrocki
Jarrius Jackson had a huge week for the Red Raiders as they pushed back into NCAA contention.
By Andy Katz
Bob Knight has had plenty of intelligent players in his time, but Jarrius Jackson needs to be put on any composite list. Jackson took the advice of the coaching staff -- to work on his shot fake and to get the ball up court quickly in a last-second shot scenario -- and used both to beat Texas A&M last week.
Jackson's winning jumper off an end-to-end rush against the Aggies couldn't have been drawn up any better. Jackson's instincts took over and he knew exactly where he needed to get to on the court, where he should take the shot, and how much time he had left before releasing. That shot may have saved the Red Raiders' NCAA hopes.
Jackson finished with 31 in that game, playing all 40 minutes and besting Aggies point guard Acie Law IV, who had just tied the game on the preceding possession. Jackson followed that up with 28 points in a home win over Colorado. The Red Raiders are 17-10 (6-6 Big 12), and are a classic bubble team. With Oklahoma State sliding, though, the Red Raiders are primed to take advantage.
3-POINT SHOTS
Jay Bilas



Every team can expect an off day, especially on the road in a good league, but Virginia Tech has to be bothered by its performance against NC State on Sunday.
If the Hokies were a young team, it would be understandable to be outworked by NC State, but that wasn't the case. Truly mature and outstanding teams do not get drilled by 25 on the road.
To its credit, Virginia Tech now is a game opposing teams get up for, and the Hokies should not be looking past anyone, or taking any wins for granted. The Hokies were playing for a share of first place in the ACC, and national respect. Seth Greenberg has pulled out all the stops to prepare this team, even using a motivational speaker multiple times this season, but the Hokies' players took a step back when the Wolfpack destroyed them by shooting 67 percent from the field and 11 of 15 from 3-point land. The Hokies were slow getting to shooters, slow rotating, and did not get any loose balls.
Virginia Tech is an NCAA Tournament team, and when playing a team they really respect, the Hokies can play at a high level. The problem comes when playing against teams they feel they should beat. In many ways, those games are even bigger than playing Duke or North Carolina, games that are easy to get up for. Beating the teams you are supposed to beat is the test of a champion, and Virginia Tech still has to learn that lesson.
Fran Fraschilla



Arizona State's win over USC Sunday night ended a school-record 15-game losing streak, and no one could have been happier than the Sun Devils' new head coach, Herb Sendek. While ASU's recent basketball past has been bleak, don't feel sorry for Sendek. The near future looks very bright.
First of all, Sendek has one of the best young big men in the West in 6-foot-10 sophomore Jeff Pendergraph, who had 14 points and 15 rebounds in the win over the Trojans. Additionally, the three freshmen who are getting major minutes for the Devils -- leading scorer Christian Polk, Jerren Shipp (brother of UCLA's Joe) and Derek Glasser -- already have opened up a pipeline to Southern California. In fact, both Sonny Vaccaro and recruiting guru Frank Burleson have told me that Artesia High School's 6-5 scoring machine, James Hardin, an Arizona State signee, is the best player in California.
In addition to Hardin, Sendek's NC State ties helped land Seattle's Jamelle McMillan, a 6-2 guard and son of former Wolfpack star and current Portland Trail Blazer head coach Nate McMillian. Also, former McDonald's All-American and Duke transfer Eric Boateng is sitting out and will have three years of eligibility left. At 6-11 and 250 pounds, he should provide a nice complement to Pendergraph.
While this has been an excruciating first season for Sendek, it's instructive to look at Washington State and the success the Cougars have enjoyed this year to see that a quick turnaround is possible, especially with the steady hand of a coach who has experience in rebuilding in a league every bit as tough as the Pac-10.
Doug Gottlieb



The most impressive win no one seems to be talking about is Memphis taking down Gonzaga in overtime at Spokane Arena Saturday night.
The Zags were marvelous in their effort and their late shot-making to force overtime after Memphis had essentially led the entire way. While their free throw shooting (18 of 32) kept Gonzaga close, Memphis showed visible improvement from Joey Dorsey (15 points, 12 rebounds), Robert Dozier (14 points) and Chris Douglas-Roberts (13 points and the eventual game winner). More important, this was exactly the type of game John Calipari needed to have for his team to be NCAA-ready due to the weak competition in C-USA this year.
Coach Cal sat frosh Willie Kemp and went with Andre Allen for the majority of the game. While Derrick Rose is on the way next year, Cal needs Kemp to perform much better down the stretch if this team wants to contend for a deep NCAA run -- a run for which they seem to have all the other pieces in place.
For more of our experts' 3-point shots, click here.

WEEKLY INTERPRETATION
By Andy Katz
Oklahoma State drops a pair: Losing at Texas and to Missouri should raise a red flag high over Stillwater as the Cowboys slumped to 5-6 in the Big 12.
Gonzaga drops two, too: The Santa Clara loss stings, because it puts the Zags a game back in the WCC standings. The Memphis loss hurts the perception for an at-large bid. Coach Mark Few, though, doesn't believe the games before Josh Heytvelt's suspension (including wins over Texas, North Carolina and Stanford) should suddenly be vanquished.
Nebraska's bizarre week: The Huskers better steer clear of Kansas. First, they got their confidence up by taking out Kansas State at home behind Aleks Maric's 41 points. Then they get their clock cleaned once again by KU, this time by 53 (after trailing 39-6 at home to the Jayhawks in the first meeting).
Florida State loses its fourth straight: Well, it seems you can't spell Hamilton without an N.I.T. in Tallahassee. Seriously, Toney Douglas' injury has messed this team up to where 5-8 in the ACC could spell doom for FSU's NCAA hopes.
Tennessee's erratic play: The Vols handled Kentucky rather easily only to lay an egg at South Carolina, proving they're simply average -- like most of the SEC this season.
Rhode Island remains atop the A-10: That's great for Jim Baron and the Rams but probably doesn't bode well for multiple bids out of this league if it continues.
Marquette loses twice: All the good vibes the Eagles had from winning at Pitt essentially are gone after they fell flat at DePaul and got beat at the buzzer by Louisville.
LSU drops two more: Glen Davis is one of this reporter's favorite players in college hoops. He deserves better than this. The Tigers simply shouldn't be 3-9 in the SEC and on the verge of playing their way out of the NIT.
Arizona swept at home by the L.A. schools: The Wildcats' toughness clearly never made the trip back from Oregon.
Purdue smokes Indiana: Matt Painter gets in-state cred with this win and pushes the suddenly surging Boilermakers (17-9, 6-6) into NCAA bid contention.
Drexel wins at Creighton: Bruiser Flint is hoping a CAA win at a Valley school in BracketBusters will equal a bid like it did for George Mason last season.
Boston College fades: BC had its chances to catch Duke after falling behind by 24, but failed, and then blew a few good opportunities to beat Carolina. The end result: The Eagles still are a threat to finish in second place in the ACC, a significant achievement considering the team's tumultuous season.
Duke is back: Did the Blue Devils ever really leave? Duke won at BC and beat Georgia Tech to prove yet again that this program can have a few bad breaks for a couple of weeks, but it's pretty hard for this program to ever have a bad year.
Iona wins! Thank goodness for BracketBusters. Jeff Ruland got his second win of the year in a roadie at Delaware in the made-for-low-and-mid-major event.
Oregon and Clemson slide: OK, can we finally agree that talking up the last unbeaten teams means zilch in the big picture of a season?
Arizona State finally wins: Herb Sendek can finally rest that he won't go down as a trivia question, stopping a winless streak in the Pac-10 by beating USC.
Maryland returns: Glad to see you again, Terps. Beating Duke, at NC State and at Clemson in successive games puts the Terps at 6-6 and solidly back in the NCAA picture after a few weeks of bubble talk that may have made Gary Williams sweat even more.
Virginia Tech: What more can be said about clearly one of the hardest teams to project this season? The win at North Carolina was followed up with a loss at NC State. Make sure you understand that the Hokies swept Carolina but got swept by the Wolfpack. Huh?