The end of an era?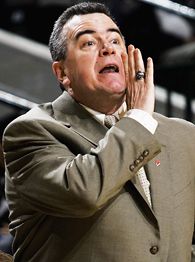 Getty ImagesCan Bucknell's Pat Flannery hold onto one of the top two spots in the Patriot League?
For the past three years, Patriot League basketball essentially has been Holy Cross versus Bucknell.
The two programs have finished 1-2 in the standings each season (each team won once outright and shared last season's crown). They have met in the tournament title game each time (Bucknell won the first two; Holy Cross the last). Their combined record against the league's other six programs during this run, counting the postseason, is 80-4.
Last season, despite significant graduation losses for both teams, the Bison and Crusaders combined to go 28-0 against the rest of the league. The third-place teams finished six games back.
The two programs' success (especially Bucknell's back-to-back NCAA Tournament upsets) has been responsible for the league's improved perception. As with many trilogies, though, a potential fourth installment is not necessarily good news. One look at the Patriot's kindred spirit, the Ivy League, shows how a long-running duopoly can hinder the advancement of a conference as a whole. It's been 20 seasons since anyone other than Penn or Princeton won the Ivy's NCAA berth, and while coming close numerous times, the Ivy champ hasn't won an NCAA Tournament game since 1998.
Historically, the Patriot League has had a good mix of champions, and three seasons does not two decades make, but the question remains: Would the league be better off if someone else won a title soon?
"I think the rivalry was good -- the fact that there were two teams that clearly were highly competitive with each other, but they were competitive outside the conference as well," said Holy Cross head coach Ralph Willard, who has led the Crusaders to six Patriot title games in the last seven seasons. "I don't think it's good to sustain that over the long haul, though. I think it's better if there's more balance for the league. … Look, I want to win the league every year … but realistically, I think it's better if the whole league gets stronger and there is an opportunity for one or two [other] teams to emerge."
First, the good news for the other six: Both Holy Cross and Bucknell are firmly in reloading mode this season. The Crusaders must replace their backcourt, having lost league player of the year Keith Simmons and league defensive player of the year Torey Thomas. The Bison said goodbye to Chris McNaughton, Abe Badmus and Donald Brown, the three remaining cogs from the NCAA Tournament teams, and just had senior co-captain Darren Mastropaolo, the team's lone returning experienced forward, tear an ACL in a pickup game. He's already had surgery but there's no timetable yet for his return, and Bucknell head coach Pat Flannery is preparing as if Mastropaolo will be out for the season, which is a big blow to the Bison.
"You don't lose a kid like him in a program like ours and just fill in and move on," Flannery said. "It gives some other guys some opportunities … but we're going to miss his toughness and [him] defensively. You could play him against anyone in the country in the post and he could defend him, so now we'll have to figure out ways to play defensive post."
The bad news? There might not be a viable challenger. Most of the league's other schools also suffered significant personnel losses, and Lehigh, a third-place team last season, also just lost head coach Billy Taylor to Ball State. Of the other six teams, the one touted most often by league coaches was Colgate, which essentially returns everyone but leading scorer Jon Simon (and gets back injured wing Kyle Roemer, who scored 11.4 ppg in 2005-06) from a team that pushed both the Bison and Crusaders to the limit in Hamilton, N.Y., last season.
Raiders head coach Emmett Davis thinks someone, maybe his club even after a 5-9 league finish last season, might be able to bridge the gap this year.
"You have to look at the competitiveness of the games [last season]," he said. "I think two years ago, Bucknell pretty much dominated the league. This year, both of those teams were in very close games. Both Holy Cross and Bucknell at our place went down to the last possession. … We're not that far away. I don't think Lehigh is that far away. American, I don't know a lot about their team because they brought in a lot of junior college transfers. Army and Navy are improving. Lafayette is improving."
Davis noted, though, that new faces for the Crusaders and Bison doesn't necessarily mean the teams will be vulnerable. Successful programs at this level often get strong contributions from former bench players who didn't get court time earlier because of established upperclassmen ahead of them.
"I think their younger players, although they didn't play much, they might end up being better than the guys who were playing," Davis said. "Who knows?"
The most likely endgame? This year's Patriot champ won't match the levels of the past three seasons, but its name likely will start with an H or a B.
"I don't think there's any question that Bucknell and us are coming back a little bit," Willard said, even prior to Mastropaolo's injury. "How much? I'm not willing to concede yet, and I'm sure Pat Flannery is not willing to concede it either. We've been in the final game six of the last seven years, so we've had consistency. We've lost some very good players during in that stretch, and we've been fortunate enough to be able to discover other really good players and good team players too."

Drills
Feeling to(u)rn
For a man whose team has won four of the last seven Patriot League tournaments, Holy Cross coach Ralph Willard seems more affected by the one that got away.
In 2005, his Crusaders had a long winning streak snapped in the tournament final when visiting Bucknell ambushed them early and held off a frantic rally to win 61-57. Holy Cross had finished three games ahead of the Bison -- the same Bucknell team that then shocked Kansas in the first round of the NCAA Tournament -- on its way to the Patriot's regular-season crown.
Even though his team got some vindication last season, tying with Bucknell for the regular-season title but getting the 1-seed on an RPI tiebreaker, Willard is pretty open about his disdain for the March lottery that is Championship Week.
"I'm against conference tournaments at all levels. I think they're a joke. They are. They're a joke," he said. "The only reason conference tournaments started in the first place was to generate revenue for the big-conference schools. The Ivy League has it right. You don't play three months and then decide a champion in three games.
"We lay an egg in the first half at home against Bucknell, but rally and have a chance to tie it. My point being is, what do we have to prove? We won 16 straight games down the stretch. We won the regular-season conference title. The pressure on the kids, that's the thing that's kind of ridiculous. I'd rather have a so-so year, or a good year, heading into the conference tournament. We had had a great year going into the conference finals [and ended up in the NIT]."
It doesn't appear that Willard will get his wish, so the question becomes what the best setup is for a one-bid league like the Patriot. The league in 2005 moved away from having a neutral site play host to the first two rounds. That season and 2005-06 featured duel tournament hosts (the first- and second-place teams each hosted a side of the bracket). Last season, the event was held strictly on campus sites, with the higher seed playing host.
Allowing the higher seeds to play host gives credence to the regular-season standings, but going strictly to home-court venues makes the tournament into a series of stand-alone games, just like the regular season. Reaction to the current setup is mixed -- and some proponents for each side might surprise you.
"I think, personally, and as loud as I can get, we should be at a neutral site for the whole tournament," said Bucknell's Flannery, whose Bison played host to the 2006 championship game and have played seven home tournament games in the last three seasons. "When we're going to make that [next] step as a league, that's what we have to do. We have to be at a big site … and the league just hasn't seen to do that yet, and I don't understand why, or why we don't. It's a league decision."
Colgate's Davis, whose Raiders were KO'd on the road in last season's quarterfinals, favors the current arrangement.
"It really rewards the regular-season … not as much as the Ivy League, which doesn't have the tournament, but it says if you finish in the top two, you get at least two games at home," he said. "I think our league has to have the conference tournament championship at the court of the highest seed because of the enthusiasm and the crowd and the environment. I've seen some of these at neutral sites [and the atmosphere is lacking]."
It's safe to say that Davis and the league's other coaches will enjoy whatever setup is in place when their club is the one that survives it.
Offensive Production
Both Holy Cross and Bucknell are well known for their defensive prowess, but in Patriot play, is it good defense or just terrible offense from their opponents?
Last season, all six of the other teams were ranked in the 200s or worse in raw offensive efficiency and four of the six (Army, Navy, Lafayette and Colgate) were in the bottom 40 in the nation. Given many Patriot teams also play at some of the slowest tempos in the land, it's no wonder that the two league heavyweights combined to hold Patriot opponents to 55 points or fewer 21 times last season.

2006-07 Standings/Stats


* NCAA Tournament

Fast break


American
American was expected to make more noise than it did last season but almost redeemed a middling regular season with a March stunner. Holy Cross needed a bucket in the final seconds to escape in the Patriot tournament semifinals. Now, after losing five of the team's top six scorers, including primary option Andre Ingram, Jeff Jones is reloading quickly with a number of junior college transfers, including Constantin Motnii, a hulking 6-9 center from Moscow, Russia. Lead guard Derrick Mercer, a former league rookie of the year, is back to distribute the ball. But AU will need to find offense from somewhere, as it ranked in the bottom half nationally in offensive efficiency, effective field goal percentage, 3-point percentage and offensive rebounding percentage last season. "We're hopeful, cautiously optimistic, in our recruiting efforts that we were able to get quality and quantity. We certainly don't want to concede anything," Jones said.

Army
Army's 15 wins last season (including 13 D-I victories) were the program's most since 1984-85 and were only five fewer than the total in sixth-year head coach Jim Crews' first four seasons at West Point. Army's five Patriot League wins last season (including the controversial tournament win over Lehigh when the winning shot apparently came after the buzzer) matched the program's total from the four previous seasons combined. Can the Black Knights continue their revival? While they lose scrappy guard Matt Bell (14.6 ppg, 3.4 rpg), leading scorer Jarell Brown returns along with most of the rest of the core of what was a very young team last season. Army's been hanging its hat on the defensive end but to move up in the league, it will need to find a way to replace Bell's offense -- and then some. The Black Knights were one of the worst offensive teams in the nation last season. They were in the nation's bottom 35 in both 2-point field goal percentage and turnover rate.
Bucknell
Darren Mastropaolo's ACL tear earlier this month is a large blow to a roster that already was in transition. Flannery said that junior Josh Linthicum and incoming freshman Todd O'Brien are the leading candidates to step into the void. In Mastropaolo's absence, even more responsibility will fall on John Griffin, the other senior co-captain and the Bison's leading returning scorer and assist man. Flannery also noted that much is expected from Stephen Tyree, who filled in capably around the perimeter last season, and Patrick Behan, who started a handful of games when Donald Brown was injured last season and provides a deep shooting stroke the Bison lacked at times. Flannery expects the Bison to be better from the outside this season. "We're going to have to figure out the point situation, because we lost a four-year starter," Flannery said. "But if we can figure that out, we think we can score the ball maybe better than we have or used to. Now will we have the toughness defensively that an Abe Badmus or a Donald Brown bring to us? That's what we'll have to see. We think we'll be a little different team. We'll be a little more perimeter [oriented] and we think we'll shoot the ball a little better."

Colgate
If the Raiders are going to challenge, they will need to vastly improve their offense. They couldn't shoot and they turned the ball over a ton -- a combo that led to one of the lowest offensive efficiencies in Division I. If that's to be fixed, someone will need to step up and grab the point guard role. "We had a situation last year where nobody really won the job, so my hope is that in the offseason, guys have worked really hard and someone will earn that job," Davis said. "Daniel Waddy will be a senior and Trevaron Vinson will be a junior. Both will play a lot of minutes. Those two are going to fight it out. Mike Venezia is a freshman coming in and can play a little bit at the point and [fellow freshman] Joe Hoban will come in and heighten the competition and, who knows, maybe come in and play. It will be very competitive. … If we improve at this position, we should be better."
Holy Cross
The Crusaders' crusade for another title might rest in the hands of Pat Doherty, who Willard expects to take over at the point for Torey Thomas. Doherty has been hampered by injuries for much of the past two seasons. Until the backcourt gets settled, Holy Cross likely will lean offensively on returning frontcourt options like Tim Clifford and Alex Vander Baan. "[Simmons and Thomas] were special kids, so we have big shoes to fill, not only from a scoring and defensive standpoint, but also from a leadership standpoint," Willard said. "We're going to have to do a lot of different things in order to replace that scoring and decision-making that we lost. We're going to change some things offensively. We'll become more interior-oriented, especially at the beginning of the year until we can establish some consistent perimeter game."
Even if the offense is ragged early, Willard expects to see the type of defense that has become a program staple. He noted that since the Crusaders don't play straight man, it's easier to mix and match parts and find the team's collective defensive strength. Last season, the Crusaders were fourth in the nation in turning over opponents (26.1 percent of possessions) and fifth in raw defensive efficiency (90.7 points per 100 possessions).

Lafayette
The Leopards are entering only Year 2 of their scholarship era -- they were the league's last program to adopt them -- so it's not completely apples to apples yet when looking at league play. That said, Lafayette should continue to improve this season, as it returns five of its top six scorers from last year to go with another infusion of scholarship talent in the freshman class. Experience will only go so far, though. A lack of size (none of the main contributors on last year's roster was taller than 6-7) contributed to the Leopards' being one of the nation's weakest defensive teams last season. That could mean that Jared Mintz, a 6-8 Canadian forward, is best positioned to provide some immediate help on that end of the floor.

Lehigh
The program is now in flux after head coach Billy Taylor took the Ball State job earlier this month. Associate head coach Brett Reed was promoted to replace Taylor, and Reed should have some of the best young talent in the league to build around. The Mountain Hawks lost Jose Olivero, the team's leading scorer at 16.4 ppg, as well as productive seniors Kyle Neptune and Jason Mgebroff. But they should enjoy the sophomore campaign of exciting 5-11 guard Marquis Hall, the league's rookie of the year last season. Add in Zahir Carrington, leading rebounder Bryan White (a senior) and a strong recruiting class, and Lehigh could be primed to make some noise -- if not this season, then in 2008-09. Such a young team might have problems shoring up two of Lehigh's biggest issues last season: 3-point FG defense (318th in the country at 39.2 percent allowed) and fouling (297th in free throw rate allowed).

Navy
The Midshipmen are one of the few Patriot teams not crippled by graduation. In fact, they return their top two scorers in senior Greg Sprink and junior Kaleo Kina. But they didn't escape the offseason unscathed as 6-8 freshman forward Trey Stanton, a member of the league's all-rookie team, elected to leave the academy. That leaves a big hole in the Navy frontcourt, one that will have to be filled, in large part, by incoming freshmen Mark Veazey and Jeremy Wilson. The catch: The two are more traditional big men who won't be able to provide the outside shooting of Stanton. Despite the surprise loss, head coach Billy Lange remains upbeat about the program's direction with numerous underclassmen receiving solid minutes during last year's 14-16 campaign. "We can't do anything about our team being young, but our program's maturity and understanding is far above what our class makeup might be in terms of numbers," he said.

Bracketology
The two powerhouses may be down this year, but that doesn't mean another program is poised to knock them off. But which one, Bucknell or Holy Cross, will make the NCAA Tournament?
-- Joe Lunardi

More
The Patriot League was the second league in our ShootAround, a conference-by-conference look at hoops around the country.
In case you missed Day 1 and the big men in the Pac-10, click here.