Majerus back in the saddle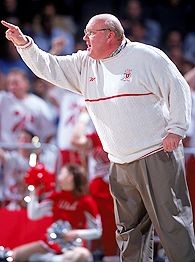 Getty ImagesRick Majerus brings his fiery personality back to the sidelines.
In 2000, Rick Majerus' Utah Utes bounced the Saint Louis Billikens from the NCAA Tournament in a 48-45 first-round squeaker, keyed by nine timely points by star forward Alex Jensen. The Jesuit school from the Gateway City hasn't returned to the Dance since.
"It's kind of funny. I walked into my new office, they had a picture of that game hanging up," said Majerus, who accepted Saint Louis' head coaching position in April. "And they had Alex, who I had just hired as an assistant, there in the picture. I turned to him and said, 'Al, this is why Mormons believe in divine providence. Maybe God is sending you here to convert these guys to Mormonism.'"
Holy superintendence or not, Majerus is back on the bench, large and once again in charge. After a three-year stint in ESPN's padded analyst's chair, the legendary, gregarious "coach's coach" -- with as many losing seasons as pairs of socks (none) -- agreed to a six-year contract with the hope of leading the Billikens back to the NCAA Tournament after a seven-year absence.
There are few men better equipped for the job: If you're counting modern coaches with better résumés, you won't need more than two hands. In 19 full seasons at Marquette, Ball State and Utah, Majerus visited the postseason 15 times, including a trip to the national championship game with the Utes in 1997. He won WAC Coach of the Year honors five times and owns a lifetime winning percentage of .742 (422-147).
But health concerns -- heart problems, specifically -- led Majerus to retire from coaching in January 2004, with the 15-5 Utes on their way to another successful season. When he nearly made a comeback as USC head coach a year later, Majerus had critical doubts about his ability to keep up with the everyday grind of coaching. So he changed his mind three days after he was hired. ESPN snapped him up as an analyst and color commentator, a lifestyle that allowed him to take summers off from the recruiting grind.
"I was off this time last year," said Majerus, almost wistfully. "I was on a beach, or I went to Europe. A couple years ago, I was in France standing on the Riviera."
Yet after three years off the bench, Majerus has proclaimed himself fit for the profession he loves most. He's attempted to make adjustments to his routine in order to stay that way.
"My health is good, I feel good," Majerus said. "I tried to avoid that lunatic type of recruiting schedule. I tried not to do those all-night red-eyes going back and forth, shuttling to places so the kids can see you. But if you're not there, someone else tells you he didn't see you, and that's not good. So I was talking to a kid this summer and I asked, 'Did you see me?' And he said no. I mean, c'mon, I'm not an easy guy to miss."
Now in the office again preparing for his first season as head Billiken, Majerus is back to one of his favorite tasks: breaking down film. He's studied all the games from last year's 20-13 squad. He's picked apart the methodical, grinding, ball-control style employed by former coach Brad Soderberg, who was dismissed in April.
"I've watched the kids on film," Majerus said. "But I'm not that good of a coach that I can tell you what kind of team we'll have right now. I've always played more to my personnel. I like to play man-to-man, I like to run motion, but I don't know the team that well yet."
Adding to Majerus' new challenge is his unfamiliarity with the conference.
"I didn't see too much of the A-10," Majerus admitted. "I might have seen four of these teams in my entire ESPN career. I was always on ESPN 1 or 2. I had primarily Big Ten, ACC, Big East. I did premier games."
Now that he's back on the sidelines, Majerus will find himself reacquainted with the win-now pressures of Division I coaching. Soderberg was let go after five years of failing to make the NCAAs, and his squad last year was one of 10 20-win teams that didn't get any postseason consideration. But Majerus, and the Saint Louis faithful, are hoping the Billikens get to play in some premier games themselves someday soon.
"I like the direction," Majerus said. "We're getting a new arena. We've got a good school academically. We've got good kids in the program already. I just hope I'm still good at this. If I'm not good at it, I'll get fired or I'll recognize I'm not good. I might not be a good coach anymore, I don't know."

Drills
A-10 resurgence
There's no question that the league has slipped considerably in terms of national prestige since the turn of the century. Today's A-10 is a far cry from the powerful machine of a conference that routinely sent four or five teams to March's big bracket, whose members claimed a total of 35 NCAA Tournament wins in the 1990s. In the past two seasons, NCAA representatives George Washington and Xavier haven't managed to earn seeds higher than No. 8, and neither advanced past the second round.
Using the luxury of hindsight, we can point to the pre-expansion campaign of 2004-05 as the league's low point, the season right before Charlotte and Saint Louis joined. March ended quickly when Georgia Tech chased GW out of the NCAAs in the first round, the first time since 1990 that the A-10 had participated in just a single NCAA contest. That 12-team conference suffered through a 58-83 aggregate nonconference record (.411) that included a paltry 4-14 mark against the Big East, as well as series losses to the America East, Patriot League and the Colonial -- leagues generally considered much smaller in stature to the Atlantic 10.
But signs are pointing to a steady resurgence. The A-10's conference RPI increased from its all-time low of 15 in 2004-05 to 11 the following year and then to 10 last season. For the first time in its history, the league notched 100 nonconference victories in 2006-07.
A return to solid three-bid status may be a ways off, but the upcoming season certainly promises an increase in intrigue. Xavier, with its state-of-the-art Cintas Center and its increasing ability to land blue-chip recruits, is on the brink of becoming a perennial top 25 team. Dayton, Saint Louis and Saint Joseph's have more answers than questions in their 2008 NCAA quests. There's renewed excitement in places like Rhode Island and Duquesne. And most of the league's construction projects are in Year 2 and carry momentum. All in all, it's a very interesting time to be an A-10 fan.
Schedule mandates
Perhaps inspired by the success of the Colonial Athletic Association and Missouri Valley with leveraging RPI-based scheduling strategies into extra bids, the Atlantic 10 has started scheduling to win, as well.
At a closed-ballot vote this past January, the league's head coaches were asked to predict the order of finish for this upcoming season. The votes were organized into three tiers. When the conference schedule was drawn up this summer, the 16-game league slate provides one game against each team for 13 total, with the remaining three games against similarly tiered schools. This concept allows schools with postseason aspirations to limit their exposure to RPI liabilities within the league.
While the league office won't divulge the results of the poll (or how it finally used the results, if at all), the 2007-08 schedule pairings give a glimpse into the A-10's hive mind. Xavier, for instance, has home-and-homes with George Washington, Saint Joseph's and Dayton. UMass, a 24-win team stung by graduation losses, will play Saint Louis and URI twice but will also get two shots at Saint Joe's. And St. Bonaventure's doubles partners will be Duquesne, Richmond and La Salle -- all teams that shared the basement with the Bonnies over the course of last season.
The new criteria extends to the nonconference portion of the schedule, as well. All A-10 teams are now barred from taking paychecks in so-called "guarantee games," which all but guarantee a blowout loss. And teams from the top tier are forbidden to schedule nonconference games against teams with RPIs lower than 200.
"We've talked about many things in terms of optimizing our at-large possibilities," said assistant commissioner Ray Cella. "And there are some guidelines we've asked our schools to follow."

2006-07 Standings/Stats


* NCAA Tournament
# NIT participant

Fast break


Charlotte
After a successful decade in Conference USA that yielded seven NCAA bids, the 49ers have found their adjustment as the Atlantic 10 southern outpost quite difficult indeed. All Charlotte has to show for its two years here is an NIT invite and, more recently, a 14-16 crash. With seven seniors gone from what was the worst shooting team in the conference (40.3 percent from the floor), coach Bobby Lutz has used the open roster slots to build his first significant A-10 incoming class, one that has been ranked in the top 20 nationally by several recruiting outlets. Likely instant contributors to the revamped Niners include 6-10 Brooklyn bumper Phil Jones and 6-6 small forward An'Juan Wilderness, who hails from Atlanta.

Dayton
When the NCAA decided to contract the NIT from 40 to 32 teams last summer, eight borderline teams with solid credentials were assured of spending mid-March out in the cold. One of those eight was 19-win Dayton, which collected high-profile wins over eventual NCAA participants Creighton and Louisville while compiling an early 10-1 record. With only a single senior graduating and star guard Brian Roberts (18.5 ppg) returning, the Flyers enter 2007-08 with serious postseason expectations. Throw in 6-2 Wisconsin transfer Mickey Perry and promising 6-6 prep recruit Chris Wright (who turned heads at the Jordan Brand Classic in April with a "SportsCenter"-reel dunk), and the city of Dayton just might still be in hoops mode after the play-in game.

Duquesne
The last time the Dukes made the NCAA Tournament (1977), the bracket was 32 teams, the Dow Jones index had three digits and a first-class stamp cost 13 cents. In an attempt to reverse 31 seasons of bad history, second-year coach Ron Everhart has amassed a virtual transfer all-star team -- highlighted by his former Northeastern shot-blocking prodigy, Shawn James, and flashy 6-1 guard Kojo Mensah, who scored 16.6 ppg in 2005-06 before leaving Siena. If the Dukes can manage 21 wins (an attainable result given a relatively light early-season schedule), they will have equaled their win total of the past three seasons combined.

Fordham
Last season was a breakthrough one at the Bronx's venerable Rose Hill Gym, as the 18-12 Rams cracked the .500 barrier for the first time since 1991-92, when Fordham represented the Patriot League in the NCAAs. A core quintet of seniors has been the key to Fordham's steady rise and its hopes of celebrating the group's send-off year with a postseason appearance. Shooting guard Marcus Stout has been the model of consistency for three years; long and limber Bryant Dunston, the Rams' dependable 6-8 power forward, is a double-double waiting to happen.

George Washington
Colonial fans have been haunted by a recurring dream since GW's first-round NCAA elimination in March: an endless conga line of Vanderbilt players breaking the press and hitting open 3-pointers. But the nightmare might only be beginning, with the graduation departure of Carl Elliott, arguably the finest A-10 point guard of recent vintage. But selling G-Dub short can be dangerous, as the league found out when the Colonials lost three starters from their 2005-06 squad and then followed up with a 23-9 mark. The 2007-08 version likely will go as far as senior guard Maureece Rice (team-leading 15.8 ppg last season) will take them.

La Salle
Of the Explorers' three 10-win seasons over the past four years, last year's was the hardest to watch. La Salle won a single game in February (a Valentine's Day city game against Temple) and didn't even qualify for the A-10's 12-team tourney. But it was all in the name of player development, as Dr. John Giannini's quartet of lanky, limby freshmen formed on-court bonds that should serve them well for the next three campaigns. Rodney Green, Kimmani Barrett, Yves Mekongo-Mbala and Ruben Guillandeaux combined for 37.5 ppg, and their similar size (around 6-6) allows them to alternate positions easily.

Massachusetts
In his second season in Amherst, coach Travis Ford led UMass to a 24-9 overall mark that wouldn't have looked out of place among the gaudy records of the '90s glory teams. A five-year contract extension in hand, Ford will try to keep up the Minutemen's momentum despite losing three double-figure scorers and 21 combined rebounds per game to graduation. Gary Forbes, a 6-7 senior swingman who averaged 13 ppg last season, will lead the charge into 2007-08.

Rhode Island
In a sustained multiyear run of injuries and bad luck, Rhode Island's greenhorned 2006-07 squad wasn't expected to come close to challenging for the A-10 title that has eluded the school since 1999. But coach Jim Baron leveraged the team's youth into a newfound high-octane style, and URI catapulted back into the league's upper division with 19 wins, coming close to an NCAA berth before losing to GW in the conference title game, 78-69. But as with many young up-tempo teams, the defensive intensity suffered, especially on the road: The 79.6 points allowed in road games was in the bottom 30 nationally. If the Ocean State's U can shore up its D, the Rams should present a strong championship challenge again.

Richmond
They say it takes a year to crack the first onionskin layer of the Princeton system. So Spiders coach and former Tigers star Chris Mooney's core group of four true freshmen from last season's squad -- Spider larvae, if you will -- overachieved mightily in an 8-22 campaign. Richmond ranked 35th nationally in 2-point field goal percentage (52.6), a campaign that culminated in a 63-61 first-round loss to Fordham at the A-10 tourney. Led by 6-9 sophomore Dan Geriot (11.9 ppg), who contributed a career-high 27 points on 12-for-15 shooting in that Fordham game, Richmond will introduce a second straight large class of arachnid hatchlings. This one is five strong.

St. Bonaventure
The proud 87-year-old program has devolved into the A-10's sad sack, still reeling from the infamous welding-certificate scandal of 2003. Four years of Anthony Solomon resulted in four 19-loss seasons, so Mark Schmidt -- who left the head job at Robert Morris for the opportunity -- will get a shot at turning the brown-clads around. But maybe there's another reason for the Bonnies' recent lack of success: If the school and its $5.3 million athletic budget were in the Northeast Conference (Schmidt's former league), St. Bonaventure would rank 10th in expenses, just ahead of Mount St. Mary's and St. Francis (N.Y.).

Saint Joseph's
While the hawk may never truly die, he did recently hibernate through the postseason for the first time in six years. With a single exception, Saint Joe's offers the same ensemble cast from last year's 18-14 version, and coach Phil Martelli hopes the backcourt comes together in the same way as last year's front line did. Ahmad Nivins, a 6-9 junior, was one of the true breakout stars of the 2006-07 Atlantic 10 season (16.6 ppg, 7.6 rpg). Nivins led a double-figure-scoring, triple-threat front line that was the class of the conference. Last season's four-guard rotation of newbies, now a three-sophomore unit due to a defection, played inconsistently but well enough to provide hope that at least one or two will pan out. But at the very least, former Iowa State sixth man Tasheed Carr should help as an eligible transfer; he's a 6-4 swing with perimeter pop.

Saint Louis
The Majerus Effect has already been felt in the Gateway City. Within weeks of the April 27 hire, Saint Louis sold more than 700 new season-ticket subscriptions. Majerus was active in the local business community as the school finalized financing for the new on-campus Chaifetz Arena, which will replace the downtown Scottrade Center as the home of Billikens basketball.

Temple
In the first year of the Fran Dunphy era, the Owls gained a reputation as a no-nonsense, no-turnover, ball-control team that selected the right shot more often than not. But all that couldn't mask their weaknesses on the boards or on defense -- both long-standing hallmarks of the John Chaney era. Don't expect a return to the matchup zone or anything, however; there's enough good news on Broad Street going into 2007-08 to keep Temple fans on board with Project Dunphy. Though the Owls lose the services of hyper-athletic Dustin Salisbery, they will feature last season's top two scorers in the A-10, junior Dionte Christmas and senior Mark Tyndale (39.4 combined ppg). And the first wave of post-Chaney recruits is arriving, highlighted by South Florida point guard Martavis Kee as well as two Philly products (6-9 center Lavoy Allen and 6-5 swing Ramone Moore).

Xavier
A 25-win season and an overtime coulda-shoulda against top-seeded Ohio State spurred Xavier to extend coach Sean Miller's contract until 2016. While Miller will have to work around the key losses of two frontcourt Justins (Cage and Doellman) and walking intangible Brandon Cole this season, the senior frontcourt of Stanley Burrell and Drew Lavender matches up well against any in the country. And four-star help is on the way. Shooting guard Dante Jackson, a local kid, picked the X over the likes of Ohio State, Illinois and Indiana.

Bracketology
According to Joe Lunardi, the A-10 resurgence hasn't quite arrived. Just one team (Xavier as a 6-seed) will dance next March.
– Joe Lunardi

More
In case you missed the other ShootArounds, don't fret.
In the Pac-10, much of the focus will be on the bevy of talented big men.
In the Patriot League, Holy Cross and Bucknell have dominated recent history. Can other Patriot League teams can catch them?
Montana forward Jordan Hasquet's ties to the Grizzlies run deep, back to his great-great-grandfather. With ties like that, Hasquet just couldn't go tear himself away from the Big Sky.
After a disappointing loss to Albany in the America East tournament and the suprising transfer of freshman Joe Trapani, Vermont coach Mike Lonergan needed a summer of perspective.
-- ESPN.com