Grant's bold predictions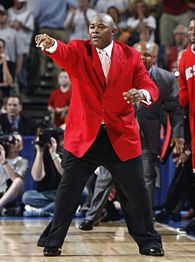 Bob Donnan/US PresswireCan Sidney Lowe's red blazer maintain its mojo this season?
He had just finished producing more bulletin-board material than there is cork in ACC country, so when Gavin Grant took a breath, the question had to be asked.
Did he know what he just said?
"I know," the NC State swingman said. "Go ahead and print it. I meant it."
So listen up, Tar Heel faithful and Blue Devil worshippers. Gather 'round, Clemson Tiger believers and Cavalier converts, because here it comes.
"With the incoming freshmen we have coming in here and what we have coming back, I don't see us losing any more than four games this year," Grant began. "Honestly. If we stay healthy, I think we have the talent to be a Final Four team and contend for a national championship."
Pausing briefly to take a breath that surely will fan the flames, Grant continued.
"I'm not just saying that because I'm here," he said. "Looking at the talent we have, I firmly believe that we can play with anyone in the country. There's no team in the country that can beat us. We can only beat ourselves."
Yes, Grant knows his team went to the NIT last year. Yup, he realizes the Wolfpack was 15-14 and looking from the outside in at the postseason until a thundering run through the conference tourney.
He knows, but he also believes strongly that the team that showed up in March is the one that will be rolling come November.
And his teammates agree.
They just don't say it quite as strongly.
"We're setting the mark pretty high," said Brandon Costner, the ACC's top scoring freshman. "We think we can win the ACC, win the ACC tournament and go very far in the NCAA. You don't want to jinx yourself, but I feel like we have so much talent and so much depth at every position that the only place we can go is up."
Outsiders might write off last year's postseason run as merely catching lightning in a bottle. The players see it differently. They believe that adjusting to new coach Sidney Lowe's style took its toll early.
Using the same court vision with which he led NC State to its storied national title as a point guard in 1983, Lowe coaches on the fly, adjusting and tinkering with things as soon as he sees a mismatch to exploit.
His players weren't sure what to think at first, and the skepticism led to some of those early struggles.
"He'll be in the middle of a game and he'll see something," Grant said. "He'll say, 'Listen, every time down, they're doing this or doing that, so you need to do this.' I've never seen anything like it. The first time he did it, it worked. We scored like eight points in a row, so I was a believer. He called some for me, so I was like, 'Alright I like this.' I think we've got the best coach in the country."
Forgive Grant his giddiness. Up until early August, he was not sure if he would even be able to stay in the country, let alone play hoops here. In October 2005, federal authorities questioned whether Grant, who as a 9-year-old came to the United States from Jamaica with his mother, was in the United States legally and began deportation proceedings.
Originally slated for June, the hearing got pushed back to August, leaving Grant in an uncomfortable limbo the entire summer. Finally a judge closed the removal proceedings, paving the way for Grant to apply for a permanent visa and permanently fixate his attention on the Wolfpack.
"I think if me and a few other guys had played better in that ACC final game last year, we would have beaten Carolina and been in the NCAAs," Grant said, barely pausing between incendiary thoughts. "That game just made me realize how good we are. We're too good to be accepting moral victories.
"Man, I just can't wait for this season to start."
Ya think?
-- Dana O'Neil
Dana O'Neil is a reporter for the Philadelphia Daily News. She can be reached at dgoneil@msn.com.


Drills
Looking for replacements
Understandably, Seth Greenberg does not want to talk about players who are not on his roster.
Gus Gilchrist isn't going to be a Hokie this year.
Ditto Nigel Munson.
"I'm more concerned about the guys we have in our program right now," the Virginia Tech coach said.
Yet there is no avoiding the fact that two guys who won't be in Blacksburg still will have an impact.
In the wake of the tragic on-campus massacre at Virginia Tech, Gilchrist, a hotshot center, asked to be released from his commitment. He is planning to attend prep school this fall.
Two months later, Munson asked to be released from his scholarship in order to transfer.
There are more important and much deeper scars that need to heal at VT this academic year, but there also is no doubt that the ripples from the April tragedy are everywhere -- even on the basketball court.
Gilchrist, the only real center on the incoming freshman roster, would have gone a long way in righting the Hokies' rebounding woes. Beaten on the boards all season, Virginia Tech got bested by 15 in a first-round NCAA Tournament win over Illinois.
More problematic, though, is the loss of Munson. The sophomore point guard was supposed to ease the transition for the Hokies following the graduation of Jamon Gordon and Zabian Dowdell. Munson, Gordon's backup, was praised by his coach as a player who "can really distribute and make plays."
Now, Gordon and Dowdell's combined 29 points per game are gone, Munson is gone, and two freshmen, Hank Thorns and Malcolm Delaney, will battle it out for the point guard spot.
"It's going to be a learning curve, for sure," Greenberg said. "But kids play so much anymore against so many good players, they're kind of unfazed by it all. I don't know if they understand what they're getting into in terms of the competition night in and night out, but I like our young players. They're the type of players who have what I call the 'it' quotient, all the intangibles, like the character and work ethic you need to have to survive the ACC."
GT not feeling sorry for itself
It was mid-January, and the Georgia Tech team was enjoying a break during a rather spirited practice.
While his players guzzled water, Paul Hewitt assembled his assistant coaches.
"I remember both Thaddeus [Young] and Javaris [Crittenton] were having really good practices," Hewitt said. "I told my staff, 'Let's be prepared to not have them back.' "
If being a college basketball coach teaches you anything, it's how to deal in reality. Whether Hewitt believed his two rookies were ready for the NBA was irrelevant. The NBA, he knew, would be ready for them.
So when January turned into June, and Young went 11th to the Sixers and Crittenton went 19th to the Lakers, Hewitt hardly was surprised. He's become something of an expert on the subject. Four years ago, Chris Bosh bolted after one season, and two years ago, Jarrett Jack took his game to the league following his junior season.
Hewitt is philosophical about the shifting landscape in sports.
"There's not a coach out there who doesn't have to deal with this," he said. "In baseball, free agents can rip a team apart. In football, it's like a revolving door, and for us, kids leave. As a coach, you have to find something you believe in and teach it every year."
And given the chance, yes, Hewitt would do it all over again.
"When I recruit them, I don't necessarily think they're going to be one-and-done," Hewitt said. "Anything can happen when a kid comes in. There are kids who have intentions of leaving after one or two years and then they stay, and sure, there are kids I think to myself, 'He's not going to be here.'
"But I don't look at it that way. I think, 'Can this kid come in here, do the schoolwork necessary, work hard and live under my rules?' If he can do that, I'll take my chances."
King gets redshirt
Everyone told Anthony King not to worry, that things would work out for him.
He was too afraid to listen, too afraid to hope that his college career wasn't over with a whimper, courtesy of a broken right wrist in game eight of his senior season.
And, really, who could blame him? He was in a basketball no man's land. The Miami forward hadn't played basketball in ages, his wrist in a cast for four months. In no shape emotionally, physically or mentally to work out in an NBA camp, he technically had played two games too many to receive a medical redshirt under old NCAA rules.
King's entire basketball future was locked up in the NCAA going against form and abandoning its rulebook in favor of what simply was the right thing to do.
"I didn't know what to expect," said King, who was averaging 7.9 points, 9.3 boards and 1.8 blocks before his injury. "Everyone else was telling me it would be fine. I was the only negative one. I was really down about it."
So you can imagine the hallelujah chorus King sang on April 16 when the NCAA announced it would allow King his redshirt, accepting the argument that he should be included under the newly amended rule that allows injured athletes who have played in no more than 30 percent (up from the 20 percent King initially faced) of a team's games to receive a medical redshirt.
"I'm really happy for our team, but I'm extremely happy for Anthony," Miami coach Frank Haith said. "To have his career end after only seven games, that just didn't seem fair. This just seemed like the right thing to do."
King's return, coupled with the return of leading scorers Jack McClinton and Brian Asbury, and forwards Dwayne Collins (who missed eight games of his own last year with a broken hand) and Jimmy Graham, has Haith talking fairly boldly. Knowing full well that the pressure is on to produce after two NIT appearances in his three years on the bench, Haith said he believes this is the year his team will be watching with real interest on Selection Sunday.
"We have a shot at the NCAA Tournament, a real shot, and I don't mind saying that," Haith said. "We're good enough to do it. This is the first year that I feel like we can really say we have the talent and the depth to do it."
Now trying to regain his strength, King still faces an arduous road. His wrist, he said, still is noticeably smaller, and he admits he still is tentative. He thinks about falling and more about landing, worried what will happen when instinct forces him to put all his body weight on that wrist.
But he also knows that he didn't suffer through all of last season -- watching his team struggle to a 12-20 record and worrying about his own future -- to play soft after receiving the gift of an extra year.
"Right now I am tentative, that's the truth," said King, who only recently was cleared for full contact. "I move around cautious out there, and my timing is still off. But I'm not going to let that continue. I can't wait for the day where I can just go out there, no cares, no worries and just play. It's coming."
Back for more
Sean Singletary was busier this summer than ever before.
Still gripped by a disappointing loss to Tennessee in the second round of the NCAA Tournament, Singletary threw himself into the draft mire, going through the preseason workouts and camps before deciding on June 18, deadline day, to pull out his name and return to Virginia.
But somehow, the point guard felt like he had time on his hands.
Two summers ago, shoulder surgery and rehab kept him busy.
Last summer, it was hip surgery and recovery.
This summer … just basketball? Are you kidding me?
"Really, this hasn't been too wild at all," Singletary said.
No, this actually has been a great summer for the all-ACC guard, and that in turn could mean good things for the Cavaliers. The team's top scorer the past two years, he goes from questionable NBA stock to arguably one of the top guards in the country.
Singletary knows that by throwing his name into the NBA ring, he opened his game to criticism and skepticism. People will be watching hard now, checking out the kid who thought he was good enough to go pro and making sure to point out his deficiencies.
"He's such an easy-going kid, I really don't think that will be a problem," coach Dave Leitao said. "The most important thing he has to remember is to not try and do what he thinks the NBA wants to see. He just needs to go out and be the best player he can be. He's so easy, I know that's what he's going to do."
They hate me
Maybe the New York Yankees understand.
Should the Bronx Bombers fail to catch the loathed Red Sox or, gasp, not appear in the postseason, the vultures will start swarming around Joe Torre, Alex Rodriguez will go from lauded MVP candidate to Mr. April once again, and the faithful will start crying, "What in the world is wrong with this team?"
Which is sort of how the college basketball world looks at Duke. Where else but in Durham would a 22-win, NCAA Tournament season be viewed as a disaster?
But that is exactly how last year's unsteady hiccup of a season is viewed, not just by fans and bloggers, but people on the bench as well.
"There's a certain standard around here," guard Greg Paulus said. "Coach has built a tradition here with all the great players. That's why we come here, to build on it, and we didn't finish last year the way we wanted."
The first-round loss to Virginia Commonwealth was troubling, but truth be told, the whole season wasn't very good. The Blue Devils finished .500 in the league and slithered out of the season with five consecutive losses and nine in their final 13.
The good thing about being Duke? Like the Yankees, the Blue Devils don't rebuild. They reload. Mike Krzyzewski welcomes three McDonald's All-Americans to go with the five already on the roster, and the trio of Kyle Singler, Taylor King and Nolan Smith should provide the depth that was sorely lacking last season.
"I think the best thing that happened for us is the guys went through all of that last year," assistant coach Steve Wojciechowski said. "I think there are a lot of different points from last season you can use as motivation, but the bottom line, I think our guys know we need to be better."
-- Dana O'Neil

2006-07 Standings/Stats


* NCAA Tournament
# NIT particpant

Fast break


Boston College
Jared Dudley didn't spend eight years in Chestnut Hill. It just seemed that way. The forward personified the tough, nasty Eagles' style with a scrappy, in-your-face attitude that made opponents feel like playing BC was like a trip to the dentist with five cavities and no Novocain. Thanks to Dudley, the ACC Player of the Year, Boston College glided through the ACC with nary a hiccup. With Dudley gone, Al Skinner now has to redefine his team. It's not going to be easy. Sean Williams was supposed to be around to ease the transition, but he was forced to take an early dismissal courtesy of a suspension, leaving playmaking point guard Tyrese Rice to shepherd the team. It's a bit much to ask Shamari Spears, who averaged just 7 points a game last year while in Dudley's shadow, to assume his points, but he'll certainly need to up his contribution. Ditto John Oates, a 6-10 senior who started every game last season.

Clemson
A sexy pick after last year's surprise 25-win season and run to the NIT title game, the Tigers certainly offer cause for optimism. Eleven letterwinners return, including leading scorer K.C. Rivers, big man Trevor Booker and talented forward James Mays. There is caution, however, to that optimism. Point guard Vernon Hamilton, a steadying presence for four years, is gone. Coach Oliver Purnell has one point guard on his roster – 6-2 Demontez Stitt. Much is expected of Stitt, but he remains a rookie trying to survive the ACC. This remains the same group that turned a 17-0 start into an 8-11 finish and a sure-thing NCAA Tournament bid into an NIT invite. Until the Tigers prove they can contend in the ACC -- they were just 7-9 in the conference last year -- questions will remain.

Duke
The summer hasn't been kind to the Blue Devils. DeMarcus Nelson had to leave the trials for the Pan American team in July with a broken hand. He's out until mid-September. Brian Zoubek broke his foot in a workout in early July, taking him off the court for eight to 10 weeks. David McClure just had surgery on his right knee this week and will be sidelined for six to eight weeks. "Injuries are never good, but if you have to have them, better in the summer," assistant coach Steve Wojciechowski said. Still, those are not the sort of news items you want to hear when you're trying to right the ship after a season that, in Duke terms, can only be described as disappointing. Oh, and Josh McRoberts bolted for the NBA. With Nelson the lone senior on the roster, a lot of young Devils need to grow up in a hurry, particularly Gerald Henderson, Lance Thomas and incoming superstud Kyle Singler. It would also help if junior Greg Paulus, who found his scoring niche in mid-February, picks up where he left off. The real problem for the Blue Devils is still the lack of a decent inside presence. And if the 3s aren't falling, there could be trouble brewing.

Florida State
Al Thornton, the face of the Seminoles program and an undeniable talent who parlayed 23.5 points in his final season into the 14th pick of the NBA draft, could only get FSU to the NIT three times. Which begs the question: What's reasonable to expect now that Thornton is gone? Leonard Hamilton's team has been tabbed as woeful underachievers with Thornton on the roster. The Seminoles will have to be shocking overachievers to change the tide this year. Toney Douglas, whose broken hand sent Florida State on a five-game NCAA Tournament killing tumble at the end of the year, is healthy. Solomon Alabi, a 7-1 freshman, adds some serious post presence. But Alabi is a rookie and Jason Rich, who scored 24 against Maryland one night and followed it with just eight at Duke, remains an enigmatic scorer. That, plus a nine-year tourney drought, is the bad news.

Georgia Tech
Talk with Paul Hewitt for a few minutes about his team, and one name keeps coming up over and over again: Lewis Clinch. Makes sense. If one player holds the key to the Yellow Jackets' success this year, it is Clinch. He led Georgia Tech in scoring through the first 10 games of last season and averaged 13.2 points before academics sliced his season at 14 games. With Javaris Crittenton and Thaddeus Young off to the NBA, Clinch is the likely candidate to produce the offense. He'll get some help from Anthony Morrow, Clinch's backcourt replacement in the second half, and senior Jeremis Smith. The big question is at point guard. Rookie Maurice Miller's learning curve has been accelerated. He was supposed to be Crittenton's understudy. Now he's likely to be a starter. Hewitt is optimistic about Mouhammad Faye, whose offense was sporadic last year, not to mention incoming freshman Gani Lawal, a McDonald's All American. "I think we can replace the numbers," Hewitt said. "But the experience Thaddeus and Javaris gained, that's hard to replace. I feel like these guys are capable, but here we are in August. I think they can do it. In the middle of January, I might have a different opinion."

Maryland
Gary Williams practically willed the Terrapins to 25 wins and the NCAA Tournament last year, turning a dreadful 3-6 start league start into seven ACC wins in a row. He had help, though, most of it in the form of D.J. Strawberry. The senior averaged 14.9 points, 4.4 rebounds, 3.5 assists and more provided the sort of steady hand this Maryland team desperately needed. With Strawberry gone, Williams will turn the team over to Greivis Vasquez, a savvy point guard who dished out 149 assists as a freshman, the third-most by any Maryland rookie. The good news for Vasquez is forward James Gist amassed 12.6 points and 7.2 rebounds, working mostly in the shadows, and should be counted on for ever more this season. If Bambale Osby can make the transition from solid backup to equally solid starter, Williams might find himself with yet another tourney-bound squad.

Miami
Frank Haith has a lot of answers but one big question. Who will be his point guard? Troubled starter Denis Clemente, suspended twice during last season, is gone to Kansas State, leaving Haith a rookie (Eddie Rios), a junior college transfer (Lance Hurdle) and Jack McClinton to run a team that desperately wants to end its five-year NCAA Tournament drought. Both McClinton and Hurdle, who started his career at UC-Santa Barbara, are more suited to off guard. Haith wasn't willing to speculate on who will win the job, figuring it will work itself out in October. In the future, Rios likely will be the choice. The Miami area product broke Carmelo Anthony's scoring record during Reebok's showcase tournament in Las Vegas as a junior, but Haith is rightly hesitant to hand over the reigns to Rios immediately. "I want to handle him the right way," Haith said. "I don't want him to feel the pressure that he has to do all of this as a freshman."

North Carolina
As soon as the Tar Heels trudged off the Meadowlands court with regional final loss to Georgetown last season, the talk turned to how good they would be this season. If Carolina had a weakness last season, it was its youth. With three freshmen and a sophomore in the starting lineup, the Heels struggled in close games, going 5-6 in games decided by less than nine points. Never was that more painfully obvious than in the Elite Eight game when an 11-point lead disappeared into the second half and Georgetown punched that Final Four ticket. Now all of that talented youth is frighteningly experienced. And even without Brandon Wright, who bolted to the NBA, North Carolina is a logical pick for the Final Four. Again. Back are Tyler Hansbrough (the probable preseason player of the year pick), Ty Lawson (who coach Roy Williams said has a chance to be "the best point guard I've ever coached") and Wayne Ellington (averaged 11.7 points as a rookie). Worse for opponents, the Heels are hungry.

NC State
There's an off-color saying about making chicken salad out of something a little less palatable. That was Sidney Lowe last year. He took a team that was a disaster, let it suffer through its growing pains without abandoning ship and eventually turned it into a team that no one wanted to play come March. The Wolfpack rolled to the NIT quarterfinals after a magical run to the ACC Tournament final and return everyone but Engin Atsur. Certainly losing the point guard hurts, but if there's one thing Lowe can coach, it's a point guard. Finding one becomes a whole lot easier, too, with a surrounding cast that includes the league's top rookie scorer in Brandon Costner (16.2 points), NC State's top rebounder Ben McCauley and second-leading scorer Gavin Grant. Mix in McDonald's All-American J.J. Hickson, yet another big man at 6-9 and Tennessee transfer Marques Johnson, who becomes eligible after the fall semester, and you've got the makings for another magical Lowe recipe at NC State.

Virginia
Sean Singletary can score. No one disputes that. The guard has a 22-game streak in double figures going. The question for Dave Leitao is who else can? As prolific as the point guard is, Singletary can't win many games one-on-five. Backcourt mate J.R Reynolds and his 18.4 points per game are gone. Ditto forward Jason Cain, who converted the rare Singletary miss into easy buckets underneath. Someone else has to emerge for the Wahoos to have a chance to avenge a disappointing second-round loss to Tennessee. The likely suspects include Mamadi Diane, a streaky shooter who averaged 9.4 last year and Jamil Tucker, a long-distance threat who connected on 48 percent of his treys. But to make some real noise, Virginia is going to need immediate help from its rookies. Forward Mike Scott has the stuff to make an impact the quickest and Mustapha Farrakhan offers another 3-point threat. "Someone else has to pick up the slack, not in scoring as much as in terms of leadership," coach Dave Leitao said. "We can't leave all of that on Sean's shoulders."

Virginia Tech
Together Jamon Gordon and Zabian Dowdell scored 29 points per game, but its not the points Seth Greenberg is worried about replacing. "They had the maturity, the toughness and the experience to compete," Greenberg said. Which leads to the biggest question for the Hokies this year: Is Deron Washington built of the same stuff? The senior proved he's a player last year, averaging 12 points and 5.3 boards for a Virginia Tech team that finished 10-6 in the league. But with a young team to lead, a team still smarting from the defections of would-be freshman Gus Gilchrist and would-be starting point guard Nigel Munson, Washington needs to do more than put up numbers. "How a guy like Deron embraces his role and accepts his new role, that is going to be very important to us," Greenberg said.

Wake Forest
It feels almost crass to talk about what the Demon Deacons need to do on the basketball court in light of the death of their coach, Skip Prosser, but at some point Wake will have to regain some sort of normalcy and simply play ball. And maybe that will be the best and easiest thing for Dino Gaudio. Prosser's longtime right-hand man will have a heavy heart while he endures the endless firsts this season -- the first official practice without Prosser, the first game without his mentor. Not that Gaudio's job will be simple. Along with handling his own emotions as well as his players, Gaudio has some real X and O issues. Kyle Visser and his 17 points and 7.4 boards are gone, leaving little-used understudy David Weaver in his place. The backcourt of L.D. Williams and Ishmael Smith is solid. Both can get to the hoop, but neither are true scorers and that's a big problem. Wake Forest allowed 76.4 points per game last year, 308th (out of 325 teams) in the nation. That's a fine number if you can outscore everyone. This team can't.
-- Dana O'Neil

Expert's take

How will the ACC shape up this season? ESPN college basketball analyst Jay Bilas thinks the ACC will finish in the following order:
1. North Carolina
Tyler Hansbrough will be the most productive player in the ACC and its Player of the Year. Roy Williams again has the most thoroughbreds in his stable and can again come after people in waves. But this season, they have experience too. Ty Lawson is the best point in the ACC, and Wayne Ellington may be the best shooting guard. Carolina may get beat here and there, but the Heels are the best team. Period.
2. Duke
The Blue Devils have some valuable experience under their young belts and an influx of young talent to give some punch to the returning lineup. Duke will be smaller, but more versatile, and freshman Kyle Singler will prove himself to be the real thing.
3. Maryland
Abe Lemons used to say that if you ain't got guards, you ain't got squat. Well, Gary Williams has terrific guards in Greivis Vasquez and Eric Hayes, and James Gist, Bambale Osby and some gritty freshmen will make Maryland formidable.
4. NC State
Sidney Lowe has outstanding frontcourt players in Brandon Costner, Ben McCauley and Courtney Fells. Costner is a star in the ACC and McCauley is a tough matchup, but what will put NC State over the top is guard play. If its backcourt play is solid, a fourth-place finish is too low.
5. Clemson
The Tiger program has made great strides, and the amount of talent alone dictates that the Tigers are among the top three teams in the league. But, Clemson has not shown it knows how to win or that it can hit free throws. James Mays is a demon on the floor, and K.C. Rivers and Cliff Hammonds can play anywhere. But the Tigers need to be mentally tougher to win at the highest level. This could be the year.
6. Florida State
The Seminoles have been just a game or two away from the NCAA Tournament so many times it is maddening. It is also a body blow for a program and a coach. Leonard Hamilton has talent with Toney Douglas, Jason Rich, Isaiah Swann and some real size coming in.
Florida State should be good enough to finally crack the bubble they live on.
7. Boston College
Every year, BC is ranked too low. Al Skinner lost a lot in Sean Williams, Sean Marshall and Jared Dudley, but Tyrese Rice, Shamari Spears, Tyrelle Blair and the no-name newcomers will pick up plenty of slack. Will the Eagles contend? No. Will they be a really tough out? Yes.
8. Georgia Tech
Nobody lost more firepower early than Paul Hewitt, and Ra'Sean Dickey won't be available because of academics until January. But, Hewitt also has Lewis Clinch back, Anthony Morrow healthy, Zach Peacock with experience and Jeremis Smith's strength and determination. The problem is inexperience at the point, which Tech is getting used to thanks to repeated early departures to the NBA. Georgia Tech won't be great, but it won't be a wreck either.
9. Virginia
Dave Leitao finally got the Cavaliers to guard somebody after several years of the bullfighter-like red cape defense. With Sean Singletary back, Virginia has a viable candidate to lead the league in scoring. Virginia will be able to score backcourt points, but will the Cavs be able to hang with the better frontcourts in the ACC? How the big guys play will determine how Virginia does.
10. Wake Forest
I cannot fathom the difficulty ahead for Wake Forest following the tragic loss of Skip Prosser. Dino Gaudio is a good coach and a really good man, and he and the players will together have to figure out how to deal with the challenges ahead -- both on and off the floor. Wake is not without talent with Jamie Skeen and Ishmael Smith, but the collective youth and inexperience may be too difficult to overcome.
11. Miami
Frank Haith had his first losing season at Miami in 2006-07 and another one could be on the way. Denis Clemente flew the coop and went to Kansas State, but some really solid recruits should help Miami be competitive. The problem is, competitive usually won't get you many wins in the ACC.
12. Virginia Tech
Deron Washington and A.D. Vassallo need to charge Seth Greenberg $5 an hour for babysitting, because the Hokies are going to have so many freshmen that the returnees may need a roster in practice. As tough as the league usually is, it would be hard to fathom that a team full of inexperienced pups could finish near the upper division. Hokie Nation may not like the term "rebuilding", but they need to be patient.
-- Jay Bilas


Bracketology
Last season, the ACC sent seven of its 12 teams to the NCAA Tournament. Can the conference match that standard this season?
-- Joe Lunardi



Other classes
For all the 2007 ShootArounds, click here.