No more Killer P's?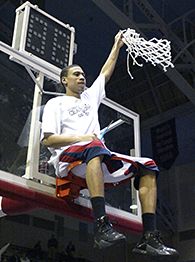 AP Photo/H. Rumph Jr.Will an Ivy team besides Penn or Princeton be dancing in March?
Nothing over the past two decades of college hoops has been a safer bet than penciling in Penn or Princeton to win the Ivy League.
How dominant have the so-called Killer P's been? Not even the dynastic UCLA teams of the 1960s and '70s -- that won 10 national titles in 12 years -- won the Pac-10 for 19 straight seasons. How long is two decades in basketball terms? Kansas, led by Danny Manning, won the national title the last time an Ivy team other than the Quakers or Tigers went dancing. Mike Dement, the coach of the 1988 Cornell team that lost by 40 to Arizona as a 16-seed, has been the head coach at UNC Greensboro twice since then.
This season, though, could be where the run ends. Three-time defending champ Penn graduated three starters, including the league's two best players -- league Player of the Year Ibby Jaaber and stalwart forward Mark Zoller -- and will be very young. Meanwhile, Princeton, under new head coach Sydney Johnson, legitimately is in rebuilding mode for the first time in decades after the unexpected disaster that was Joe Scott's three-year run.
Combine vulnerable P's with league rivals that, after years of building, have quality rosters capable of winning, and finally (and mercifully) there could be a new Ivy representative in the NCAAs come March.
"As good as they've been over the years, it doesn't look like it's obvious that they can go out and win the league," said Cornell head coach Steve Donahue, a former Penn assistant. "That's the first time in a long time, so there's great excitement here. The guys feel it. They know there's a chance that, if they go out and do the things they are capable of doing, that there's a chance to wind up in the Big Dance. That's exciting."
"People talk about parity all the time and how much there's so much more parity overall in college basketball," added Columbia head coach Joe Jones, whose Lions should comprise this season's upper division along with Cornell, Penn and Yale. "I think you've found that in the Ivy League now. There are a lot of teams that are just closer in talent than they used to be. We're very excited. I think there are a number of teams that can win it. I think we're one of them."
In many seasons past, even muted bravado such as this was unheard of. The other six schools rarely had the depth of talent that could even threaten Penn or Princeton over 14 games, and there isn't a conference tournament at season's end to provide a second chance.
Ivy watchers have sensed a changing tide in the last few years, though. Yale won a share of the league crown in 2002 before falling to Penn in a playoff for the NCAA bid. The next year, Brown (under current Penn head coach Glen Miller) did everything but win the league outright -- losing twice to an unbeaten Penn team by a combined 11 points -- and finished at 12-2.
"I think in some ways, people really love having Penn and Princeton as the league favorite," Donahue said. "I think that does a lot of positives for our league. They've been so good for such a long stretch that that helps. In the same way, the other six schools, in my opinion, have gotten so much better, so much more aggressive in basketball. Even if you look at the hiring practices over the past five years versus my first 13 years in the league, when there were no changes. People seemed like they were content just letting Penn and Princeton win. You get the feeling now that these programs, these administrators, these athletic directors want a piece of that, and I think that's what you're seeing."
What you could be seeing this fall is a preseason poll that picks Cornell or Yale to win the league. The Big Red have a stable of guards that would not look out of place on the Penn or Princeton teams of years past, while Yale has an experienced cast of physical upperclassmen and possibly the league's best returning player in lead guard Eric Flato. Still, no non-P in the league has much of a track record when it comes to delivering in a big spot. Cornell is 0-14 against Penn under Donahue, and Yale has a habit of dumping games it needs to win against lesser opponents. The opportunity might be there, but you still have to take it.
"I think that we've been good enough to beat the best teams in the league. We just got to be good enough to beat everyone else," said Yale head coach James Jones. " ... I think we had a little taste of it last year where we were able to put people away that we should have put away, especially on the road, where we've had some struggles in the past. And I hope that experience helps us."
How Penn's young players develop as the season unfolds also will have an impact on the race. Despite a starting lineup that could include two sophomores and two freshmen, Miller isn't ready to concede yet another league championship (his current program has won seven of the last nine) just yet. He understands the pressure of being the favorite, having guided a loaded Penn team to the title last season in his first year in West Philadelphia.
"In order to win the league, if history is any indication, the championship team will have to be 11-3 at minimum, and maybe 12-2 or 13-1. It's very difficult to go 12-2, 13-1, 14-0," he said. "When I was at Brown, we finished in second place and got accolades for that. At Penn, you're not. Second place is last place. It will be interesting if we're not picked to win it, if someone else has that target on their back. Are they going to be good enough and are they going to play with that target on their back and get to 12-2? Just because the league seems wide-open, it's a lot to get to that 12-2 and 13-1.
"This year we have a lot of unproven players. We lost a lot of firepower, but I think some will step up and fill that role and some will meet that challenge. ... If we work real hard, I don't see why we won't be in the hunt and have a chance to win it again. I'd be very disappointed if we weren't in the hunt."
No disrespect to Miller, but there are plenty of people around the league that wouldn't be disappointed at all if Penn weren't.

Drills
Harvard man
If you had told Tommy Amaker last March that he would be patrolling the sidelines in the Michigan-Harvard game this season, he probably would have been thrilled, believing that his job in Ann Arbor was safe.
He certainly couldn't have expected he'd be coaching Harvard in that game on Dec. 1.
Cynics might chuckle at the appropriateness of the marriage of Amaker, who failed to take Michigan to the NCAA Tournament in his six seasons there, and Harvard, which has never won an Ivy League basketball title. But it appears to be a terrific fit for both parties.
For Amaker, it's a chance to continue as a teacher and program developer, without the pressure of evaluation solely based on what's in the "wins" column. For Harvard, it's a chance to show that it's finally serious about basketball, a development that Ivy watchers believe is long overdue.
While there are plenty of other elite academic institutions in the United States, there's still something about the name "Harvard" that shines above all else. That reputation and that mystique, more than anything, is what Amaker said enticed him to take on the Crimson challenge.
A relevant sidenote to Amaker's hiring is that he is now the only African-American head coach on Harvard's payroll. What's more, the Ivy League now has African-American coaches at six of its eight basketball programs, a rate that dwarfs that national average of about 33 percent. This in a league that has made great strides away from its reputation of its lily-white student bodies. Amaker is proud to be part of that renaissance, but he and many other coaches in the league stressed that the hirings need to be for the right reason to have true impact.
"You'd like to think each candidate that it hired and asked to represent and teach and coach at that particular institution is the best candidate for that position at that time," he said. "That's what I'm hopeful is the case with my hiring and being here at Harvard."
Amaker has no illusions about the difficulty of his job in the short run. While the Crimson have a handful of solid players returning, Amaker will need to improve the quality and depth on the roster before Harvard will truly threaten for a league title.
"I just hope we play with great energy, enthusiasm and pride," he said. "And as we try to implement possibly a different style of system, that these kids are going to embrace that and enjoy the journey we're on right now, which is to get better, to grow and to build our program into a championship program."
Fresh prince
Three years ago, when Joe Scott left a soaring Air Force program to come back to Princeton, his alma mater, it looked to be a perfect hire. The Tigers were coming off an NCAA Tournament appearance, their third championship (one shared) in four seasons under John Thompson III. When Thompson left to fill his father's sizable shoes at Georgetown, he left Scott with a loaded roster that had four starters returning and some highly-touted incoming recruits.
To say it was shocking to watch that Princeton team finish in sixth place at 6-8, the school's first under-.500 season ever in Ivy play, would be an understatement. To try to describe last season's 2-12 last-place fiasco -- on the heels of a 10-4 bounceback in 2005-06 -- is, for long-time Ivy observers, impossible.
This spring, Scott bolted for Denver in the Sun Belt. Princeton responded by hiring 33-year-old Sydney Johnson, an assistant of Thompson's at Georgetown. Perhaps more notably, Johnson is a former Ivy league Player of the Year and was a key component of the Tigers team that stunned defending national champ UCLA in the first round of the 1996 NCAA Tournament. Keeping the school's Princeton offense philosophy intact was important, but reinstilling a sense of pride in being a Tiger seemed paramount.
"We want players who will compete ... guys who have an extra level of aggressiveness who like to compete and like to play in big games, who have a lot of heart and a little nastiness, if you will," Johnson said.
Having starred for the program, Johnson understands Princeton's appeal on a national level. Once again, the Tigers will again play a schedule that reflects that stature. Notably, they open up the Maui Invitational against Duke and then will play either Arizona State or Illinois the following day.
"We're not one of the best Princeton teams that have come across in the last 10-20 years, but we'll always play good teams. That's who we are," Johnson said.
Nonetheless, Johnson is also honest about the current status of Princeton's program.
"We need to add talent and maximize the talent that's already on the roster such that we're competing for the Ivy league championship," he said. " ... It's only been one year, but we certainly need to get back to where we're supposed to be competing."

2006-07 Standings/Stats


* NCAA Tournament

Fast break


Brown
When you think of teams that run the Princeton offense, you think of backdoor cuts and 3-pointers. You don't think of a steady parade to the foul line, which makes these Bears a rare breed. Brown led Division I last season in percentage of total points scored from the line. It's not that Brown was bad from the arc; the Bears were 35th in the nation in percentage of points from 3-point range and they shot 37 percent as a team. Basically, instead of getting easy baskets inside, they got fouled. With the team's top four players coming back, including guards Mark McAndrew (15.8 ppg, 5.3 rpg) and Damon Huffman (14.7 ppg), expect more of the same this season in former Princeton player Craig Robinson's second year in charge.

Columbia
The Lions are the rare Ivy team that relies on frontcourt strength. The combination of possible player of the year candidate John Baumann (13.3 ppg, 6.5 rpg), who led the league in both 2-point and 3-point shooting last season, and bulky Ben Nwachukwu (8.8 ppg, 5.2 rpg) gives Columbia a big-man tandem that any Ivy would envy. What will determine if the Lions can take the next big step and be a dark horse title contender this season is the play of their backcourt, specifically the development of sophomore guards Patrick Foley, Nico Scott and Kevin Bulger. The trio combined for almost 20 ppg last season, but Foley and Scott also contributed to Columbia's nearly 15 turnovers a game. Another possible X factor, if healthy, is Justin Armstrong, who averaged 10.4 ppg in 2005-06 but was hampered by serious knee problems last season and averaged just 3.7 ppg.

Cornell
The Big Red are the anti-Columbia, stacked with quality guards and a question mark inside. Point guard Louis Dale (13.3 ppg, 4.3 rpg, 3.7 apg) and shooting guard Ryan Wittman (15.6 ppg) excelled last season as freshmen, finishing as the team's top two scorers. The scary part? It's possible that there are better players on Cornell's roster. Returning from injury is 2005-06 Ivy rookie of the year Adam Gore, who scored 20 in Cornell's win at Northwestern in the season opener last year before blowing out a knee late in the game. Combine that with the arrival of USC transfer Collin Robinson, the most explosive one-on-one player on the team, and you can expect to see a lot of three- or even four-guard looks in Ithaca. The other reason that may occur is Cornell needs to replace solid big man Andrew Naeve. While Jason Hartford, Alex Tyler and Jeff Foote (a St. Bonaventure transfer eligible in January) will each provide part of what Naeve gave, Cornell coach Steve Donahue understands how important Naeve was. "Andrew was such a terrific team player and a hard worker and great defender and did all the dirty work and rebounded the ball and really did a variety of things that really allowed us to compete with really good teams," Donahue said. " ... I don't take that for granted that we'll be able to replace him."

Dartmouth
While most Ivy teams are taking a step forward in available talent, the Big Green will have to overcome the loss of leading scorer Leon Pattman and the absence of promising forward Dan Biber. That's not great news for a team that was very poor offensively last season, finishing in the nation's bottom 35 in offensive efficiency and 3-point shooting. The burden will fall on forwards Alex Barnett (11.8 ppg, 6.0 rpg) and Johnathan Ball and point guard DeVon Mosley. There may not be a quick fix this season, though. Mosley was the only returning Dartmouth player to connect on even 20 3-pointers last season. Barnett, who may be the most athletic forward in the league but features questionable shot selection at times, will have to greatly improve his poor 1.01 points-per-shot rate from last season to become a legitimate No. 1 scoring option.

Harvard
While the year-end stats imply that the Crimson's defense was their biggest problem, you have to take a look at the last 10 games of the season, after 7-footer Brian Cusworth had completed his eligibility, to see the problem this season very well could be on offense. Only once in that stretch, during which the Crimson went 3-7 in Ivy play, did Harvard score more than 1.05 points per possession. New coach Tommy Amaker will preach a defense-first philosophy as he works to add more talent and depth to the roster. In the meantime, the Crimson will have to lean on juniors Drew Housman (13.3 ppg, 3.4 apg) and Evan Harris (10.2 ppg, 5.3 rpg) to provide some punch. One way the Crimson could bolster their offense is by continuing their foul-shooting trends from last year. Harvard was the ninth-best free-throw shooting team in the nation last season at 75.9 percent and also had one of the nation's highest free-throw rates (FTAs per FGA), meaning they got to the line a lot and converted often.

Penn
Ibby Jaaber clearly was the best player in the league last season, but the Quakers might find it harder to replace the production of Mark Zoller inside. Part of that is because Penn has a cadre of young, talented guards in the program, headed by sophomore Darren Smith (now fully recovered from a torn labrum in his shoulder) and senior Brian Grandieri (11.7 ppg, 5.2 rpg, 2.7 apg). Expect two freshmen, wing Tyler Bernardini and point guard Harrison Gaines, to provide some punch as well. The other part is that Penn's returning bigs are very untested, having deputized behind Zoller and now-departed center Steve Danley all of last season. The first shot at significant minutes might go to Justin Reilly, a banger with some skill who had seven points and three boards against Texas A&M in the NCAAs. But the guy with the most upside may be Andreas Schreiber, a Swede by way of Southern California with the size and perimeter game to be a matchup nightmare in the Ivy. Either way, expect this Penn team to look a lot like head coach Glen Miller's better Brown teams that were heavy on the guards and perimeter scoring.

Princeton
When you play as slowly as the Tigers did last season -- they had the fewest possessions per game of any team in Division I -- you can't also turn the ball over 13 times a game. When you take half of your shots from 3-point range, you can't also make just 34 percent of them and rebound only 26.8 percent of your misses (317th in D-I). The good news for Princeton fans is that new coach Sydney Johnson, fresh from John Thompson III's Georgetown bench, likely will operate much more like his former boss's Princeton teams, which attacked more aggressively on offense. "We're still going to look for the best shot, but it might be the first one, not the second or third," he said. While Johnson has some work to do to bring the Tigers' talent level back up to traditional standards, there are some pieces to build on, like sharpshooter Kyle Koncz and sophomore guards Marcus Schroeder and Lincoln Gunn. In starting the recovery from last season's school-worst 2-12 Ivy season, Johnson doesn't expect radical change. Instead, he'll look to lean on his upperclassmen, who have the most experience in the Princeton system. "We're going to change some things here and there, but we're still Princeton basketball. We have some guys who are expected to show up on the floor, but also control the locker room," he said.

Yale
Of all the contenders, the Bulldogs likely have the best combination of talent, depth, experience and recent success. In addition to player of the year candidate Eric Flato, Yale returns five other upperclassmen who played at least 18 minutes a game last season, one in which the Bulldogs finished in second place with a 10-4 Ivy mark. More than individual talent or stats, though, Yale's season might be defined by how well it takes care of business against teams its expected to handle. Last year's title run was torpedoed by a one-point loss at Cornell (when Yale missed two free throws with two seconds left) and then an inexplicable home pounding by Columbia right before a potential title showdown with Penn. Head coach James Jones hopes last season's experiences provide a platform for this season's success. "I think we're as good as anyone on paper, but we have to go do it," he said. "I think because we were in a race last year, it may help our kids somewhat going through it again if we get involved and get close."

Bracketology
What happened to the P's? According to ESPN.com's resident Bracketologist Joe Lunardi, it is 1988 all over again as Cornell (the last non-P to represent the Ivy) ends the Princeton/Penn stranglehold on the Ivy crown and heads to the Big Dance.
– Joe Lunardi

More
In case you missed any of the previous 2007 ShootAround conference breakdowns, click here to head to the archive.

The national statistics are from kenpom.com.
Andy Glockner is a regular contributor to ESPN.com's college basketball coverage and is the host of the ESPNU College Basketball Insider podcast.