Tennessee pride all around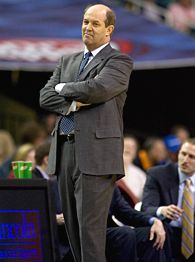 Rex Brown/WireImage.comKevin Stallings is trying to lead Vanderbilt to its first regional final since 1965.
Aging is a critical component in the production of Tennessee whiskey, the end product stashed away in oak barrels for years to reach its full potential. It's the same thing with college basketball rosters, on which underclassmen ripen and emerge later to fulfill that promise. It's that aging that has expectations running extremely high in the state of Tennessee this season.
There's no telling how much Tennessee coach Bruce Pearl and Vanderbilt coach Kevin Stallings aged during last season's Sweet 16 runs. But for the grace of Greg Oden's paw and Jeff Green's shuffling feet, both schools would have been playing for a shot at the Final Four, which would have been a landmark accomplishment for each. The Vols have never progressed past the Sweet 16, while the Dores have gotten to a regional final once -- in 1965.
This season, though, with Florida rebuilding and Kentucky coming off two straight early NCAA Tournament exits, mature cores in Knoxville and Nashville have the Vols positioned as the team to beat in the SEC East and the Dores ready for another strong run.
Tennessee is led by standout senior guard Chris Lofton (20.8 ppg, 41.9 percent on 3s), who is surrounded by solid, experienced talent. Guards Ramar and JaJuan Smith (no relation) were double-digit scorers last season. Iowa transfer forward Tyler Smith (again, no relation), immediately eligible after receiving an NCAA waiver because of his father's failing health, proved in the Big Ten (14.9 ppg, 4.9 rpg) that he can deliver at this level.
Lofton, though, is the most distinguished name in the equation. He triggers the Vols' quick attack with his explosiveness and long-range accuracy. That combination might be deadly for the SEC -- and maybe even the country.
"They have all the ingredients to be a Final Four team," Florida coach Billy Donovan said. "I think they have all the ingredients to win a national championship to be honest, because they have one guy who totally changes the game in Lofton. He's a special, special player. He really is. In my 11 years in the league, he's one of the best players to come through the league."
"I think they're not just a favorite to win the SEC, they have to be one of the teams favored to win the national championship," added Mississippi State coach Rick Stansbury. "I think they're a top-five team."
Pearl didn't flinch from that kind of talk but acknowledged that it won't be easy.
"I think it's OK to put that on us," he said. "It's based on the fact that we return four starters and we got some good recruiting classes the last two years. It's a combination of some experience with some good young players. I think this year, there's terrific balance in the league. Anytime you don't pick, in the East, Kentucky or Florida to win it, you know that there's terrific balance."
One concern is that Tennessee has rarely had a target on its back. The Vols had finished fourth or worse in the six-team Eastern division five straight years before his arrival in 2005. But Pearl is welcoming the challenge that comes with being the hunted.
"[To be favored] is clearly uncharted territory for Tennessee," he said. "It's probably been years since we've been picked to win the SEC in men's basketball. We welcome the challenge. This is where our kids want to be. … I feel like it's realistic to compete for the championship."
Don't expect complacency to set in, either. As the team practiced leading up to an exhibition trip to Europe in August, Pearl said he noticed signs the players had bought into some of the preseason hype. But that didn't last long.
"There are no McDonald's All-Americans on this team, and there are a lot in the SEC," Pearl said. "Our guys are humble and they are hungry."
Vanderbilt is also hungry and has the pieces to make a run to its third Sweet 16 in five seasons. The Dores lost star wing Derrick Byars and 3-point specialist Dan Cage but return three starters, including Shan Foster, and also bring in Aussie center Andrew "A.J." Ogilvy, who excelled in the recent FIBA Under-19 World Championships and could be the biggest impact newcomer in the league.
Not bad for a program that's habitually overlooked.
"We go under a lot of people's radar, but part of that probably is that, on paper, we appear to be a little bit of a misfit for the league we're in," he said. "The other 11 schools in the league are all state-driven schools. And really, all but Kentucky, when you think of them athletically -- and I say this in no disrespect to Billy [Donovan] -- you think of football when you think of those other schools."
When you think of Vanderbilt this season, you may not be thinking as much about 3-point shots. Last season's perimeter-based attack was necessitated by a lack of capable post scoring. Assuming Ogilvy and/or senior Alan Metcalfe, who missed a chunk of last season with an injury, can deliver inside, the Dores' offense may be more varied. That's not necessarily something that excites Stallings.
"Our weapon a year ago was our ability to shoot the ball," he said. "We had four or five guys running around at a time who could just make them and make them and make them. This year, we'll be different. We probably won't be nearly as scary for teams to play.
"I think we're going to be more conventional, which quite honestly I don't like. But when we would get hurt last year, we'd have some scoring droughts because we were never able to get to the foul line consistently and get runs stopped and get easy points. This year, I think we'll probably be able to shoot a lot more free throws, get easier baskets, but we won't have those nights like a year ago when we made 10 3s in a half."
Maybe not, but winning makes for exciting nights, and those should be plentiful for two programs thirsting for more. Add in cross-state rival Memphis, another upper-class team that could open the season at No. 1, and you have a three-team cocktail that is nothing if not age-appropriate.
-- Andy Glockner
Andy Glockner is a regular contributor to ESPN.com's college basketball coverage and is the host of the ESPNU College Basketball Insider podcast.

Drills
Passion players
Kentucky has the SEC's -- and likely the nation's -- most passionate basketball fan base. As far as the league goes, Arkansas very well might run second.
Therefore, it's big news when both programs replace their coaches in the same season. It added to the intrigue when both schools landed extremely competent coaches who clearly were not their first -- or maybe even second or third -- choice.
None of that seems to faze either former Texas A&M head man Billy Gillispie, the new king of Lexington, or John Pelphrey, a former Wildcats standout who left the Sun Belt's South Alabama for pig heaven in Fayetteville. Both men are extremely self-aware and seem comfortable in their newly pressurized environments.
"It's amazing how many people know everything about your team," Gillispie said. "I'm talking about young kids to the elderly, no matter what gender it is. It's something else."
Former coach Tubby Smith made four Elite Eights in Lexington, but Kentucky hasn't been to the Final Four since its last national title in 1998. Gillispie understands what he has been hired to do.
"We want to win them all, but it's probably not possible to win every single game every single year," he said. "I'm not saying impossible, I'm saying it's probably not probable. What we're going to do is recruit at a very high level, and at a very early age we're going to create excitement."
As for the recruiting part, he's already showing success, landing prep star forward Patrick Patterson and guard Alex Legion. How they mesh with returning perimeter pieces like Joe Crawford, Ramel Bradley, Jodie Meeks and Derrick Jasper will determine just how far the Cats can go in Year 1.
Expectations are also high for Pelphrey, whose Hogs return a bevy of seniors, led by wing Sonny Weems, and top-shelf sophomore point guard Patrick Beverley. When a 21-win season that makes the NCAA Tournament cost Stan Heath his job this spring, Pelphrey understands the pressure of his new position. He also understands that passion can be helpful.
"Nobody's ever come into Bud Walton Arena and said, 'Wow, that's not a very good environment.' They all rave about the facility and the environment that's created by the fans," he said. "… These people in this state have a passion for the Razorbacks. We're specifically talking about basketball, but you look across the board, the Arkansas passion for the Razorbacks is unparalleled."
If Pelphrey and Gillispie can lead their teams to glory in their first seasons, it won't exactly be unparalleled but it sure will be welcomed by two fans bases starved for returns to glory.
Rising in the West
With three Sweet 16 teams and Florida defending its national title, the SEC had a good year. That doesn't tell the story, though, of how lopsided the league was.
East division teams won 24 of the 36 interdivisional games and put four teams into the NCAA Tournament. The West division co-champs (Ole Miss and Mississippi State) finished at 8-8 in league play and the only NCAA team from that side of the conference (Arkansas) didn't even finish at .500 in the SEC.
Given all that, it's convenient to forget that two of the three SEC squads in the top dozen in the season's first coaches' poll were from the West. The East had No. 1 Florida, the defending national champ, but the polls also opened with LSU at No. 7 and Alabama at No. 12.
You know how it went. LSU imploded and finished in last place. Alabama suffered through Ronald Steele's injury woes and Jermareo Davidson's personal tragedies. Arkansas made the NCAAs as a controversial at-large and still fired its coach. Surprising division co-champs Mississippi and Mississippi State didn't make up for the busts at the top of the preseason pecking order.
When you speak to the coaches in the division, they'll quickly suggest that last season's fade was an anomaly.
"Naturally, because of Kentucky and Florida and now Tennessee's emergence, there's a natural reaction that the East is the best," said Alabama coach Mark Gottfried. "I think the coaches on this side would disagree, though. I think it's a great league one through 12."
Gottfried and his colleagues might look quite smart in a few months. Arkansas appears loaded. Mississippi State, an NIT semifinalist a year ago, has a dynamic duo in point guard Jamont Gordon and Charles Thomas. Alabama has its own top-quality tandem in Richard Hendrix and Alonzo Gee. Auburn returns all five starters from a team that developed rapidly last season. Even LSU has a number of solid pieces back despite some high-profile exits. Only Mississippi, which was ravaged by graduation and transfers, looks to be weaker than last season.
-- Andy Glockner

2006-07 Standings/Stats


* NCAA Tournament
# NIT participant

More
Bracketology
The SEC will have seven bids, the second-most of any conference in the country. Who's in and who's out?
-- Joe Lunardi
Archive
For all the 2007 ShootArounds, click here.

Fast break


Alabama
Last season, Alabama waited and waited for star point guard Ronald Steele to get healthy but it never happened. And the Tide never adjusted to not having their playmaker at his normal level. After the season, Steele had surgery on both knees. He had a follow-up procedure in August, and there are no assurances he'll be ready this season. Bama coach Mark Gottfried said his team will be better prepared, whether Steele is healthy or not. "We are going to prepare right now to move on. Hopefully, [Steele] will be a part of it," he said.

Arkansas
John Pelphrey walked into some very nice welcoming presents in Fayetteville; the Hogs return the entire core of last season's team that made the NCAAs. Sophomore Patrick Beverley (13.9 ppg, 4.1 rpg, 3.1 apg) was the top scorer on last season's team. But the Hogs also have six seniors back, led by Sonny Weems (11.8 ppg, 4.8 rpg) on the wing and the inside strength of Charles Rhodes (10.7 ppg, 5.7 rpg) and 7-footer Steven Hill (6.4 ppg, 4.4 rpg, 2.8 bpg), the league's defensive player of the year. Pelphrey, though, thinks point guard Gary Ervin (9.9 ppg, 4.8 apg) could be who determines just how good this talented team can be. "We need him to lead us night in, night out at the point guard spot," Pelphrey said. "He has to make sure he's the coach on the floor in terms of being able to get everything from the sideline to our guys, get to the right spots at the right time. As a point guard, you have to make sure you share the sugar first."

Auburn
If there's a sleeper team in the SEC, it very well could be the Tigers. They return everybody, including five double-digit scorers from a team that beat Tennessee, Vanderbilt, LSU and Arkansas at home and swept Alabama. Forward Josh Dollard (12.5 ppg, 7 rpg) led the team in both scoring and rebounding, but with five players pouring in at least 11 points per game and four guys grabbing at least 4.8 boards per outing, you can't key on any one Tiger. Point guard Quantez Robertson (8.2 ppg, 3.9 rpg, 5.1 apg) improved his decision-making last season. His improvement needs to be infectious; the Tigers still coughed it up on 22.4 percent of their possessions (244th in Div. I). Given the same cast is back, Tiger fans also need to hope their team worked on its free-throw shooting over the summer. Auburn made only 63.5 percent from the line last season (305th in D-I).

Florida
As the only player with any real experience, Walter Hodge will be looked to early as a stabilizing force for the young Gators. "There's no question that [Hodge] has a huge, huge, huge responsibility on his shoulders, and in a lot of ways, it's unfair," head coach Billy Donovan said. "He's going to be the one guy every single guy is going to look to since he's been in some of these situations and nobody else has." That said, the development of freshmen guards Jai Lucas and Nick Calathes may be more important to the Gators' long-term prospects. "I would say that we'll probably start the season off with a freshman point," Donovan said. "We'll probably end up playing three guards a lot." With Marreese Speights the only true big man on the roster, expect Donovan to run through numerous personnel permutations around Speights.

Georgia
Mike Mercer's knee injury last season put a halt to what was a budding, dark horse NCAA at-large run. His availability for the early part of the season is still unclear, but if he comes back healthy, the Bulldogs have enough pieces to make some noise in the SEC. Leading scorer Takais Brown is back, as is solid point guard Sundiata Gaines as head coach Dennis Felton continues the program's solid recovery from the Jim Harrick scandal. Note to potential future Bulldogs: Check out the extremely sweet Stegeman Coliseum training facility for the basketball teams (and women's gymnastics) that just opened on campus.

Kentucky
The Billy Donovan-to-Kentucky story was the buzz of the Final Four, but a little lost in the aftermath of Donovan's spurning the job (and then the Orlando Magic), is that UK still landed a very good coach. Now Billy Gillispie gets to figure out how Kentucky will replace the inside scoring and rebounding of the departed Randolph Morris. The good news is that he had Joseph Jones anchoring the inside at Texas A&M, so he knows what he's looking for in a big that will fit his system. "I think, on paper, [the lack of a big man] would have to be a question going into the season, but I think we have some components there that will surprise people a little bit," Gillispie said.

LSU
The good news is that there are a number of solid pieces in place on the perimeter with Terry Martin, Tasmin Mitchell and defensive stopper Garrett Temple. Also, although LSU lost nine of 10 SEC games in one stretch, the last seven of those losses were by seven points or fewer, meaning the Tigers were not nearly as bad as their record (as late wins over Florida and Tennessee indicate). The bad news, besides the problem up front, though, is that the Tigers still haven't solved the point guard problems that plagued them last season.

Mississippi State
After a run to last season's NIT semis, the Bulldogs come back fairly loaded for an NCAA run. Point guard Jamont Gordon and forward Charles Rhodes are all-SEC talents. Louisville transfer forward Brian Johnson is eligible. Also, Ben Hansbrough and Barry Stewart made the league's all-rookie team last season. While Rick Stansbury lauded Hansbrough's development, he thinks Stewart's progress could determine State's upside this season. "I think it's very obvious we have two guys on paper about as good as everybody, [but] you have to have that third big-time scorer, for sure," he said, adding "I think that guy [could be Stewart]. … I think he's a guy who can really elevate his play to another level even."

Ole Miss
Andy Kennedy did a masterful job of coaxing a 21-win season and a share of the SEC West title from his Rebels in his first season in Oxford, but it appears unlikely that there will be a repeat of that feat this season. Although the Rebels return solid frontcourt players in Dwayne Curtis and Kenny Williams, they lost guards Todd Abernethy, Bam Doyne and Clarence Sanders and had four other players transfer, meaning most of the roster needs to be overhauled. In a burgeoning SEC West, that's not good news.

South Carolina
Tre Kelley and Brandon Wallace are gone, but there's a lot of help coming. South Carolina welcomes transfer guards Devan Downey (from Cincinnati, 11.9 ppg and 4.3 apg in 2005-06) and Zam Fredrick (from Georgia Tech, 10.6 ppg and 3.9 apg in 2005-06), in addition to a strong recruiting class. Hopefully, somewhere in those new faces is some improved defense -- or at least some defensive presence -- because the Gamecocks struggled last season on that end. They allowed better than 50 percent shooting from inside the arc.

Tennessee
Everyone knows about the Vols' up-tempo system that forces a ton of turnovers, but surprisingly, Tennessee does a very good job of holding on to the ball. The Vols forced turnovers on 24 percent of opponents' possessions last season (30th in Div. I) while only committing turnovers on 18.8 percent of their possessions (53rd in Div. I). That turnover differential gave Tennessee about 3.8 extra possessions a game, which is a huge advantage to an offense as potent as the Vols' was last season. Tennessee did lose its best assist/turnover man, though, with Dane Bradshaw's graduation, so it will be interesting to see if the rest of the Vols can maintain that differential. For a decent shooting team, Tennessee is surprisingly bad from the free-throw line, especially when Chris Lofton or JaJuan Smith isn't shooting. The Vols converted only 65.3 percent last season.

Vanderbilt
Incoming Aussie big man Andrew Ogilvy could be a huge addition to the roster. Vanderbilt allowed opponents to shoot 50 percent from inside the arc (208th in Div. I). The big loss from last season's roster is leading scorer Derrick Byars, who showcased his diverse offensive game when he worked over Florida's Corey Brewer in the Dores' upset win over the Gators in Nashville. An overlooked departure, though, is Dan Cage, a 3-point specialist who was the team's third-leading scorer. An off-guard who often played the 4 in Vandy's small-ball attack, Cage knocked down 80 3s last season and converted at a 44 percent clip. Other guys on the current roster, specifically Shan Foster and Alex Gordon, can make them, but not with Cage's proficiency.
-- Andy Glockner

Expert's take

Here are Fran Fraschilla's predictions.
SEC East
1. Tennessee
The Vols can win it all because they have talent, depth, a relentless style of play, a terrific trio of guards and return their top six scorers. Chris Lofton is the reigning SEC Player of the Year and possibly the nation's best deep shooter. Barring injury, he's a lock first-team All-American. He'll be complemented by a trio of unrelated Smiths -- Ramar, JaJuan and Tyler -- who are all on the verge of stardom. What I like most is that Bruce Pearl's teams rarely take a night off so opponents always have to match their intensity. I'd pay scalper's prices to see their Memphis and Kentucky games this season.
2. Kentucky
Billy Gillispie inherits the senior backcourt tandem of Ramel Bradley and Joe Crawford that is talented but often inconsistent. That will change with Gillispie at the helm. Top recruit Alex Legion, who originally signed with Michigan, will definitely add some firepower on the perimeter. Sophomore Jodie Meeks has to improve his ballhandling but should make a huge jump with the new coach. Freshman Patrick Patterson is an absolute animal and will become the poster child -- for at least one season -- for Gillispie's rebuilding efforts. Gillispie should coax this team to another NCAA Tournament.
3. Florida
Although the cupboard is not bare after two national championships, Billy Donovan's young Gators will have to claw for an NCAA bid. Combo guard Walter Hodge is the leading returning scorer. Up front, some people are touting 6-10 Marreese Speights as the Gators' next NBA front-line prospect even though he's seen limited time. A solid recruiting class will be led by McDonald's All-American Nick Calathes and Jai Lucas. A lot of things have to go right for Florida for an NCAA bid to be realistic.
4. Georgia
Talk to any coach in the SEC and he will tell you that Dennis Felton's Bulldogs defend like junkyard dogs. And, if Felton can get a healthy Mike Mercer back from a devastating late-season knee injury, Georgia should have enough offense to make a serious run at an NCAA bid. The 6-6 Mercer was averaging about 14 points a game when he went down on Feb. 10, and he likely won't be 100 percent healthy until after this season starts.
5. Vanderbilt
Kevin Stallings got great news this summer when 6-10 Commodore recruit Andrew Ogilvy dominated the FIBA Under-19 World Championships for Australia. He is the best prospect from Down Under since Utah's Andrew Bogut. Stallings returns senior Shan Foster, who is one of the best long-range shooters in the SEC. He is Vandy's leading returning scorer and a strong senior season will give him a chance to become the school's all-time leading scorer. But for this team to have NCAA success this season, Ogilvy will have to play at an All-SEC level.
6. South Carolina
The good news for Gamecock fans is that transfers Devon Downey (Cincinnati) and Zam Frederick (Georgia Tech) are eligible. The bad news is that Dave Odom's team lost two of the SEC's most underrated players last season: point guard Tre Kelley and forward Brandon Wallace. Downey was on the Big East's All Rookie Team in 2005-2006, averaging 11.9 points a game for the Bearcats, and will provide coach Dave Odom with explosive quickness from the point guard position. Frederick came on as a scorer at Tech as a sophomore before transferring.
SEC West
1. Arkansas
New coach John Pelphrey has inherited a complement of athletic players who will be perfect for the full-throttle style he brings from South Alabama. Sophomore guard Patrick Beverley made an instant impact for the Razorbacks en route to the SEC Newcomer of the Year award. He plays the game with great intensity and the new offensive tempo should do wonders for his scoring average. Point guard Gary Ervin should also benefit from Pelphrey's arrival. Although not always the most cerebral player on the court, his quickness and NYC toughness should give Arkansas one of the best backcourts in the conference. Don't be surprised if Arkansas makes a run to the Sweet 16 and beyond.
2. Mississippi State
Rick Stansbury returns two of the conference's best players in seniors Charles Rhodes and Jamont Gordon, both of whom entered the NBA draft last spring before withdrawing. The 6-8 Rhodes can bang with the best in the SEC inside but will need to improve on his 6.2 rpg. Gordon is built like a tight end but has become a very effective point guard because of his size and quickness. But the Bulldogs' NCAA hopes may rest on sophomore guards Barry Stewart and Ben Hansbrough.
3. Alabama
The Crimson Tide's entire season revolves around the health of senior point guard Ronald Steele, who had a surgery on each knee this spring and had a second surgery on his left knee in August. If healthy, he is an All-American point guard and the Crimson Tide will back in the NCAA Tournament. If he is not healthy, this team becomes a big question mark. Freshman Rico Pickett, Alabama's point guard of the future, needs to mature quickly, especially given Steele's status.
4. LSU
John Brady's team will rely on the perimeter athleticism of juniors Tasmin Mitchell, Terry Martin and juco transfer Marcus Thornton. Freshman Anthony Randolph has been compared to another Dallas native (Chris Bosh), but time will tell if he can make the same instant impact. Senior Garrett Temple is one of the SEC's best defenders but not your prototypical point guard. His experience and leadership will be important if LSU has any chance to rebound from last season's dismal record.
5. Auburn
The Tigers are the mystery team in the SEC West. They have made a noticeable improvement under Jeff Lebo and return all eight players who started a game last season. Balance is the operative word for Auburn; five players ended the season in double figures. They are led by versatile junior Josh Dollard and Quan Prowell. The postseason is a strong possibility if this team can take care of the basketball.
6. Mississippi
Andy Kennedy's first year as the Ole Miss coach was a roaring success, finishing 21-13 with in an NIT appearance. Graduation hit hard, but there is optimism in Oxford over a top recruiting class. The Rebels may not get out of the SEC West cellar this season, but Kennedy is building a competitive program. Another quality recruiting class and the Rebels will be on their way.
-- Fran Fraschilla