IU has high expectations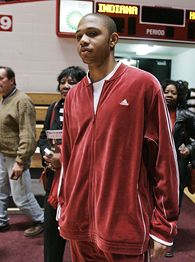 Darron CummingsKelvin Sampson expects his freshman phenom Eric Gordon to be an immediate star.
There were times last fall when Kelvin Sampson wondered what he got himself into.
"I'd drive home at night and I'd wonder if we were ever going to guard, if we were ever going to compete, if we were ever going to get excited about each other's success and if we were ever going to play as a team," Sampson said.
Those things were almost givens when Sampson was coaching at Oklahoma. But things were different during his first few months at Indiana. After being coached by the quiet Mike Davis, the Hoosiers didn't really know what to make of this Sampson character.
Sampson, after all, isn't exactly a picnic to play for. His definition of playing hard and defending and rebounding is a little different than most. Effort is nonnegotiable. So is diving on the floor.
"I always thought you had a responsibility to play as hard as possible," Sampson said. "A lot of the fan base graduated from the university and it's their school. They want to be proud of your effort. Last year at the beginning, it wasn't that way."
Nearly a year later, things are different in Bloomington. As the Hoosiers prepare for Sampson's second season -- they're spending Labor Day weekend playing in the Bahamas -- Indiana is again expected to be a significant player in the Big Ten race.
While Davis had varying levels of success after replacing Bob Knight, it has been a while since Indiana entered a season with this much optimism. D.J. White is a legitimate big man and is in the best shape of his college career. Freshman guard Eric Gordon is the Big Ten's most hyped newcomer and is a true difference maker. And now the Indiana players have a much better grasp of what Sampson demands.
Sampson doesn't argue with the idea that this Indiana team can be very good, that it and Michigan State will be considered the Big Ten favorites.
"We're excited about our potential and what we can become," Sampson said.
There are three reasons for that optimism: Indiana's play at the end of last season, White and Gordon.
By the time February of last season rolled around, the Hoosiers were finally starting to figure things out. Indiana didn't lose a home game in Big Ten play, the Hoosiers were finally able to stop people defensively and some of what Sampson preached started to sink in.
If the Hoosiers are going to be as good as expected this season, Sampson said it will be because of White.
"He's grabbed this team by the throat," Sampson said. "He's become a very good leader."
But he's also become a better player as well. White said he's paying much more attention to what he's eating. Fast food is out; salads are in. He's down about 15 pounds from a year ago and feels quicker than ever.
"I told him great players bring it every night, but it starts in practice," Sampson said. "He practices the way your best player should."
This summer's Pan Am Games provided a glimpse of what the new White looks like. In five games for the U.S. team, White averaged a team-best 16.8 points and 8.6 rebounds while shooting 59.3 percent from the floor. He certainly doesn't look like the guy who gained what Sampson described as "bad weight" when he was out with a broken left foot at the start of his sophomore season.
The trip to the Bahamas also gave Sampson and his staff an early look at how Gordon is going to fit in with this team. That Gordon is good isn't exactly a surprise, but the Indianapolis product didn't disappoint in his first few practices.
"The thing that jumped out to me is there's a refreshing naivete to him," Sampson said. "I'm not sure he understands the buzz about him.
"He's going to score, I have no doubt about that. We need him to score, but we also need him to guard, rebound and chase down loose balls. I think he's going to be terrific."
Gordon has also caught the attention of White.
"He's very athletic; he's a playmaker," White said. "There's one or two times a day in practice where he makes you just go, 'Wow.' "
And that's part of the reason why the Hoosiers are expected to be back among the Big Ten elite.
-- Jeff Shelman
Jeff Shelman of the Minneapolis Star Tribune is a regular contributor to ESPN.com.

Drills
Will the streaks survive?
The streaks that new Minnesota coach Tubby Smith have put together are pretty impressive.
• In 16 seasons as a head coach, Smith has never had a losing season.
• His teams have won at least 20 games in each of the past 14 seasons.
• He has never lost more than 14 games in a season.
• He is 13-1 in NCAA Tournament first-round games.
Now, as the former Kentucky coach enters the Big Ten, the question is whether he can keep those streaks going. All three regular-season streaks are certainly far from locks, even though the Gophers will have three senior starters.
A year ago, Minnesota set a school record for losses (22) and won its fewest games in 20 years (nine). The Gophers didn't win a game after Jan. 31 and finished the season on a nine-game losing streak. Minnesota's program has fallen dramatically over the past several years. Since 2000, Minnesota is 47-81 in Big Ten play and has reached the NCAA Tournament only once.
This is clearly the most difficult situation that Smith has walked into. When he arrived at Tulsa, the Golden Hurricane had just one losing season in the previous 11. He took over a Georgia team that returned four starters and won 18 games the season before. And his first team at Kentucky won the NCAA championship.
Back to 18
Ever since the Big Ten instituted its postseason tournament and went from 18 regular-season games to 16, there was usually a little grousing among the league's coaches. They'd talk about how sometimes the regular-season champion was as much a product of schedule as it was success because with a 16-game schedule, each team played a pair of games against six of the teams in the conference and single games against the other four.
If a team played a couple of the league contenders only once and the bottom-feeders twice, it was in pretty good position to be at the top of the Big Ten standings at the end of February.
Entering the 2007-08 season, things will be at least a little more equitable. While the Big Ten didn't go to a 20-game conference schedule, the league is again playing 18 games. It certainly isn't perfect, but there should be less whispered complaining.
More talent
When Ohio State coach Thad Matta arrived in Columbus from Xavier, he quickly changed the recruiting landscape in the Big Ten. First was the Thad Five that included Greg Oden and Mike Conley Jr. Then he landed four of Scouts Inc.'s top 75 players -- Kosta Koufos, Jon Diebler, Evan Turner and Dallas Lauderdale -- for a recruiting class that will be freshmen this season. And Matta has two of the top 12 current high school seniors (guard William Buford and center B.J. Mullens) verbally committed as well.
How has the league responded? By trying to match Matta recruit for recruit.
In the 2007 recruiting class, Michigan State landed three top-100 players, Purdue grabbed four and Indiana secured three, including heralded guard Eric Gordon. Michigan State and Indiana also already have commitments from elite '08 recruits.
-- Jeff Shelman

2006-07 Standings/Stats


* NCAA Tournament
# NIT participant

More
Bracketology
The Big Ten may not have a dominant team like last season's Ohio State squad, but the conference will still send six teams to the NCAA Tournament. Michigan State (2-seed) is the highest team, but who else will be joining the Spartans in the Dance?
-- Joe Lunardi
Archive
The Big Ten wraps up the first three weeks of the ShootAround, a conference-by-conference look at hoops around the country. So far, we've looked at the Pac-10, WAC, ACC, Southern, Atlantic 10 and more.
If you need to catch up, click here to go to the archive.

Fast break


Illinois
Who is going to play shooting guard and replace Rich McBride? Jamar Smith has rejoined the Illinois team after pleading guilty to aggravated driving under the influence, but he will sit out the upcoming season as a redshirt. The hope was that incoming recruit Quinton Watkins would take some minutes there, but he is still awaiting approval from the NCAA clearinghouse. … While Shaun Pruitt is the only returning Illinois player who averaged double figures a year ago, the hope is that wing Brian Randle is finally healthy and will be an offensive threat. Randle missed the 2004-05 season after breaking his hand. He missed 10 games last season with a groin injury and was never truly healthy.

Indiana
One Hoosier who should benefit from the arrival of hyped freshman guard Eric Gordon is sophomore guard Armon Bassett. If defenses want to try to slow both the inside presence of D.J. White and Gordon's inside drives to the basket, something is going to have to give. Bassett is a gunner. As a freshman, he made 40.9 percent of his 3-point attempts and got better as the year went along. … The Hoosiers will have to play the first nine games of the season without senior guard A.J. Ratliff, who was ruled academically ineligible for the first semester.

Iowa
New Hawkeyes coach Todd Lickliter isn't stepping into an easy situation in Iowa City. The graduation of do-everything Adam Haluska was going to be a blow. But Lickliter's job became much more difficult when Tyler Smith opted to transfer. Smith was perhaps the league's best non-Buckeyes freshman in the Big Ten and averaged 14.9 points per game. But when Steve Alford and associate head coach Craig Neal left for New Mexico, Smith left for Tennessee. As a result, Iowa doesn't have a returning player who averaged more than Tony Freeman's 7.5 points per game. The seven returnees who saw action a season ago combined to average all of 28.5 points per game.

Michigan
What can John Beilein do here? It's one of the more interesting questions entering the Big Ten. While few coaches are respected more than Beilein, he has never had a glamour job like the Michigan one he took last spring. Yes he was most recently in the Big East, but West Virginia doesn't have near the cachet or the proximity to players as Michigan. In the short term, the Wolverines may struggle. There are seven players on the roster with a year or less of college experience, and Ron Coleman will be the team's only senior. … Dec. 1 will be an interesting day for Michigan. That's when the Wolverines play at Harvard. Former Michigan coach Tommy Amaker (who recruited nearly every player on the Wolverines' roster) is entering his first season at Harvard. … An interesting tidbit of the Big Ten schedule is that the Wolverines won't host in-state rival Michigan State this season. The only meeting between the two teams is in East Lansing.

Michigan State
Because coach Tom Izzo is so big on seniors, there were difficult stretches last season without a single senior on the roster. Now, however, Michigan State will benefit. Because while virtually every team in the country has to spend part of the preseason figuring out who is going to fill that hole in the starting lineup, the Spartans don't have that problem. Michigan State returns all five starters from a year ago. … When assistant Jim Boylen left Michigan State to become the head coach at Utah last spring, he became the seventh Izzo assistant to become a head coach.

Minnesota
The Gophers' front line thinned even more over the summer when Bryce Webster opted to leave the team. Webster, a Twin Cities product and a top-100 recruit out of high school, was Minnesota's top recruit last season. With his departure, the Gophers have only three players who are truly comfortable playing inside. …No it wasn't a typo or some sort of crazy mistake when the initial NBA early entry list included both Spencer Tollackson and Dan Coleman. New Gophers coach Tubby Smith encouraged both to declare for the draft in a hope that they will be inspired to play better as seniors.

Northwestern
Most of the time, a player who steps on campus and immediately averages 13.4 points and 5.2 rebounds per game would be Big Ten freshman of the year. The problem for Kevin Coble, however, is that he had to compete with the Ohio State freshmen. Coble will clearly be Northwestern's top offensive option as no other returning player scored more than 8.1 points per game. …Finding another scoring option to go with Coble will be important for Northwestern coach Bill Carmody. A season ago, the Wildcats were last in the Big Ten in scoring offense at 56.5 points per game. In conference games, that average dropped to 51.6 points per game.

Ohio State
Just because Greg Oden is making his millions with the Portland Trail Blazers, that doesn't mean Ohio State is suddenly going to have to play small. In addition to returnees Othello Hunter (6-9) and Matt Terwilliger (6-8), Ohio State adds 7-1 Kosta Koufos (who averaged 26.5 points and 13 rebounds playing for Greece in the under-18 world championships), 6-10 transfer Kyle Madsen and 6-9 Dallas Lauderdale. …While Mike Conley Jr. is also gone, there isn't any question of who will play point guard for the Buckeyes. That's because Ohio State has Jamar Butler. While Butler moved to shooting guard last season, he did start at the point two seasons ago when the Buckeyes won the Big Ten regular-season title.… David Lighty was named a captain of the USA under-19 team this summer after playing fewer than 20 minutes per game as a freshman for the Buckeyes. He averaged 8.8 points per game in Serbia for the U.S. team that won the silver medal.

Penn State
Who was the most underexposed productive player in the Big Ten? That one is easy: Penn State's Geary Claxton. Of returning Big Ten players, Michigan State's Drew Neitzel is the only one who averaged more than the 16.3 points per game that Claxton scored. In addition, Claxton was in the top five in the Big Ten in both scoring and rebounding (8 rpg). … While Claxton and Jamelle Cornley return for Penn State, the Nittany Lions should have a very different look this season. Talor Battle, Stanley Pringle, Schyler King and Jeff Brooks are new on campus. Forwards David Jackson and Andrew Jones redshirted last season.

Purdue
That Purdue reached the NCAA Tournament a season ago might not be the most important sign the Boilermakers are a serious player in the Big Ten again. Instead, it's Purdue's incoming recruiting class of four top-100 players -- all from the state of Indiana -- from the 2007 senior class. Guard E'Twaun Moore is the most highly regarded of the group, but Scott Martin, Robbie Hummel and JaJuan Johnson all have a chance to play immediately. There is certainly playing time available. None of the six returning players averaged more than 7.2 points per game, and they combined to score 32.4 ppg.

Wisconsin
Is it the individual players? Or is it the system and the way Bo Ryan develops players? That has been the unanswerable question when discussing Wisconsin's success under Ryan. This season should provide a little clarity. That's because do-everything Alando Tucker (19.9 ppg) and point guard Kammron Taylor (13.3 ppg) are gone. That means the Badgers enter this season with no player returning who averaged more than 8.8 points per game for Wisconsin. Guard Michael Flowers is the only Wisconsin player who averaged more than 20.1 minutes per game last season. But before you say the Badgers are going to take a significant step backward, remember back to the 2004-05 season. That was the season after Devin Harris averaged 19.5 points per game and was all-everything for Wisconsin. Instead of vanishing, the Badgers went 25-9, finished third in the Big Ten and reached the Elite Eight.
-- Jeff Shelman

Expert's take

1. Indiana
The Hoosiers are back. D.J. White wisely chose to return to school, and he will be joined by a ridiculous recruiting class. Led by 6-4 scoring guard deluxe Eric Gordon, the Hoosiers also add Jamarcus Ellis, DeAndre Thomas, Brandon McGee and Eli Holman. Note to A.J. Ratliff, who is suspended due to academics in the first semester, Kelvin Sampson may not need you as much as you need him. With the best player in the league (Gordon) and one of the best big men in the league (White) on the same team, only foul trouble and playing for an NBA contract can derail IU from a Big Ten crown.
2. Michigan State
Like IU, MSU is stacked on the perimeter with both Raymar Morgan and Drew Neitzel returning, and Sparty has also added some talented help as well. Durrell Summers and Chris Allen are stud wings who, along with point guard Kalin Lucas, give Tom Izzo a young but talented bench. MSU's NCAA advancement hopes may rest on Goran Suton's shoulders since he has the most experience and some talent inside. I love the team's guard play; I am not sold on MSU's bigs … yet.
3. OSU
The back-to-back Big Ten champs have some talent coming in led by 7-1 beast Kosta Koufos, and some talent remaining with Jamar Butler, David Lighty and Othello Hunter. Lighty should be the star. There is a substantial drop-off from IU and MSU, but OSU has the talent to be the next team standing.
4. Wisconsin
Never count out Bo Ryan's Badgers. Obviously replacing Alando Tucker and Kammron Taylor is a monumental challenge, but the Badgers' system and athleticism will carry them. Marcus Landry, Michael Flowers and Trevon Hughes will allow the team to pressure more defensively. The shooting of Jason Bohannon and Brian Butch and the rebounding of Joe Krabbenhoft will be counted on constantly. Wisconsin may, in fact, be a better team collectively. But the Badgers still need to find someone to carry them just as Tucker and Taylor did late in big games the past two seasons. They'll win most of their home games, but their lack of NBA talent will keep them off the top line.
5. Illinois
Chester Frazier is back after a difficult season on the floor (replacing Dee Brown) and off the floor (his father died from lung cancer). Frazier will lead the Illini, who were riddled with injuries last season. But if healthy, Illinois has the best one-two punch inside with Shaun Pruitt and Brian Carlwell as his back-up returning. Redlands CC transfer Rodney Alexander is a solid all-around player, and Quinton Watkins is a streaky 3-point threat. This is a good team with great fans but destined for an average season.
6. Penn State
After drinking the Kool-Aid last season, I am back on board with Geary Claxton, Mike Walker and Jamelle Cornley again this season. While things got ugly in a hurry with Claxton getting hurt and the Nittany Lions losing to Stony Brook, their experience in the backcourt and Claxton's game-changing ability will finally prove worthy of postseason discussion, especially if PSU can fill its building and steal some games at home.
7. Minnesota
Despite winning only nine games last season, the U. returns all five starters and Tubby Smith seems energized by his new gig. Lawrence McKenzie, Dan Coleman and Spencer Tollackson showed signs of life last season, and freshman Blake Hoffarber (Mr. Basketball in Minnesota) is a skilled all-around player who will contribute right away. The league is not good enough to exploit all their weakness, so Minnesota should make the NIT.
8. Purdue
Matt Painter has done a solid job by adding Indiana high schoolers Scott Martin, JaJuan Johnson and Robbie Hummel, who can all play, although Martin is the premiere talent of the threesome. And Painter has also landed a stud in guard E'Twaun Moore in what will be a very young and talented Boilermaker lineup. Also added late is juco transfer Nemanja Calasan. Chris Kramer, Keaton Grant and Gordon Watt lead the returnees who were ancillary parts last season. Purdue will be young, athletic and improving.
9. Michigan
The Wolverines, under new coach John Beilein, were bound to be in rebuilding mode after losing four senior starters. To make things worse, freshman Alex Legion was released from his scholarship and enrolled at Kentucky. Freshman Manny Harris (Mr. Basketball in Michigan) is a talented guard who will play a ton, and he'll be joined by returnees Jerret Smith, Ron Coleman and Ekpe Udoh in what will take awhile to look like Beilein's masterpiece at WVU.
10. Iowa
With Adam Haluska and Tyler Smith both gone, Todd Lickliter has a major rebuilding job to do. Tony Freeman and Justin Johnson should excel in Lickliter's scheme and Cyrus Tate and Kurt Looby will need to produce in order to keep the ship afloat. Freshman Jarryd Cole is a load inside and Jake Kelly can shoot it, but this season may be a step back.
11. Northwestern
You may have missed on the Cats' freshman phenom Kevin Coble last season. The 6-8 forward is a versatile big man. But the loss of Tim Doyle means that someone else will have to make the little plays and timely shots. Expect to see some major minutes from Mike Capocci and Mike Thompson, both well-regarded freshman.
-- Doug Gottlieb