Supersized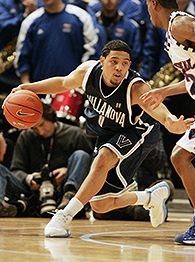 Rich Kane/US PresswireWill the new 18-league schedule hurt Big East teams that might be on the bubble?
In 1998, the 16-team WAC saw Utah make the Final Four in the league's second season after expansion. Before Year 3, though, scheduling disagreements prompted half of the WAC to secede, eventually creating the Mountain West.
Last season, Georgetown made the Final Four in the 16-team Big East's second season. Is trouble brewing in Year 3? Well, there won't be a mass exodus anytime soon, but scheduling issues remain a real and daunting concern for the nation's only megaconference.
After two seasons of a convoluted, 16-game format in which teams played some foes twice and others not at all, the league is moving to an 18-game slate this season. Each team will play everyone else at least once, with the remaining three games basically dictated by rivalries (read: TV).
No one was all that happy with the 16-game layout, but it doesn't seem like too many coaches are pleased with this new arrangement, either.
"I'm probably the worst person in the conference to ask, because I'm not real bullish on it," said Louisville coach Rick Pitino. "I think the conference is extremely well-run … but I'm not bullish on [the setup] because the schedule is too long, too tough, not enough teams get in [to the NCAA Tournament] that deserve to get in.
"For the fans, for the players, for the schools, it's awesome. For the coaches to try to get into the NCAA Tournament, it's very difficult."
A number of other league coaches more or less backed that stance, noting (a) how hard the league is; (b) how the league doesn't get enough NCAA bids; and (c) how the extra two league games will harm the teams' RPIs. But are those assertions correct?
It is indisputable that the Big East is difficult to navigate. Road games can take you anywhere from New England to Florida to the Midwest. When you get there, you might be playing a rugged defensive team, or a 3-point shooting squad, or a small-ball up-tempo club. From city to city and style to style, the league is a grind.
"Every different style of basketball you can imagine, someone in this league plays and someone in this league plays at a high level," said Georgetown coach John Thompson III. "When you look at the quality of coaches and quality of players, that's what is daunting."
"Bottom line is, there is a lot more preparation, especially with a lot of single games," Connecticut coach Jim Calhoun added. "You still are going to end up doing [12] single games and [three] other double-preparations. … It's a lot of teams to prepare for."
But is the grind and the schedule good for the league (read: getting teams into the NCAA Tournament)? Not so, said several coaches.
"I came up with about 10 teams that I think legitimately, given their schedules, given their teams, could make the tournament [this season]," Calhoun said. "[Yet], we could end up having seven teams go out of 16. When I had Ray Allen in 1994-95, we had seven out of nine, so I think this whole idea of seven or eight is not really telling the truth of it."
But here is the truth: In its first two seasons as a 16-team league, the Big East got bids at a 43 percent rate (14 bids out of 32 possible). In the first six years of this decade prior to the expansion, it was 39.5 percent (32 of 81). Also, none of the other BCS conferences has gotten at least half of its teams into the bracket in the last two seasons, so with a record eight teams in 2006 and "only" six last season, the league doesn't appear to be getting treated unfairly.
But what of this season and beyond, when the two extra league games per team will force someone to eat extra losses? Again, the impact might not be what it seems. For RPI purposes, having two additional Big East opponents -- with their better records -- very well might offset a loss in one of those games, especially if that loss comes on the road.
All that doesn't even mention the new schedule's potential benefits in recruiting, where players know they'll see every team in the league, and the increased variety of styles makes the league much more appealing.
"The league used to have a reputation for being a grind-out slugfest where some people were complaining that there was too much fouling and some kids were told you don't want to go there, you can't score," said Villanova coach Jay Wright. "I think [expansion has] helped."
That's not to say there still aren't problems. Pitino's Cardinals have a legitimate scheduling beef this season; they drew both Georgetown and Marquette twice and play Pitt, UConn and Providence only on the road. The TV money is great, but those small imbalances sometimes enable one club to pass another in the standings, which worries coaches who expect another highly competitive season.
"I just think it makes it more difficult [to fairly evaluate teams]," Calhoun said. "It kind of takes away a little bit from the idea of the league being truly represented by its best teams. … Is it going to be represented by the team that [doesn't have] to play two teams that turn out to be exceptional? That's how close I think it's going to be, and there's a little concern in that."
– Andy Glockner
Andy Glockner is a regular contributor to ESPN.com's college basketball coverage and is the host of the ESPNU College Basketball Insider podcast.



Drills
Deep cover
In a league as deep as the Big East, uneasy is the head that wears the preseason crown.
That doesn't mean that John Thompson III minds that Georgetown, coming off a Final Four appearance, is well-regarded. He just understands how fragile success can be in a conference that features five programs that have made the Final Four since 2003.
"Top to bottom, the parity is unbelievable," he said. "As soon as you start to feel good about what you're doing, it's a humbling league."
Still, there's good reason for Thompson and Rick Pitino, head man at co-favorite Louisville, to be bullish. The Cardinals surged at the end of last season and were a shot away from the Sweet 16 despite leaning heavily on four freshmen and a sophomore. Now they're healthier and more experienced.
"It's the most talent I've had at Louisville," Pitino said of this season's roster. "That doesn't mean they're going to be as good as the 2005 Final Four team, but certainly it's the most physical talent, size [and] athleticism I've had since I've been here."
Georgetown lost league POY Jeff Green, but kept 7-2 center Roy Hibbert and everyone else of note. Thompson expects his team will be able to adapt without Green and create its own identity.
"Obviously, Roy is going to be the hub of everything we do, but one of the strengths in how we play, the strengths in our personnel, is that many people can play that role, step up and make plays," Thompson said.
Good thing, because the conference is littered with guys who can make plays, a fact that is not lost on Thompson.
"I don't think there's going to be any coach in the league that, come March, [is surprised if] whichever team is ranked eighth, seventh, sixth, ends up winning the league," he said.
Renewed Conn-fidence
The cause of UConn's slide from the 2006 Elite Eight to missing the 2007 postseason entirely isn't much of a mystery, but Huskies head coach Jim Calhoun sums it up better than most.
"We led the country in blocked shots and field goal percentage defense, and we didn't make the [NCAA] Tournament -- and we didn't get screwed," he said and chuckled.
Indeed, UConn wasn't close to making the bracket after its 17-14 (6-10 Big East) campaign -- even though nine of the nation's top 12 teams in adjusted defensive efficiency (UConn was seventh) were top-four seeds in the dance. That's how poor the Huskies' offense was, a byproduct of bringing nine newcomers into the fold after the core of its 2005-06 team left for the NBA. The Huskies finished in Division I's bottom 60 from both inside and outside the arc. To make things worse, they were horrible from the free-throw line, making only 62.8 percent as a team.
Now, a season older and presumably wiser, Calhoun's charges look poised to make a jump in the conference, as long as they make a corresponding jump in confidence. Calhoun noted that last season's team, "didn't even know what a swagger was." He expects better things from A.J. Price and his other point guards, and the coach also tabbed Stanley Robinson, perhaps the team's best pure shooter, as poised for a breakout. Mix in the huge frontcourt tandem of Jeff Adrien and Hasheem Thabeet with smooth guard Jerome Dyson, and there are, on paper, plenty of options.
"I still think we have good talent and [offensively] we're going to try to speed it up a little bit," Calhoun said. "… We'll still defend, we'll block shots, we'll rebound. Now we just have to work on fixing the offense."
– Andy Glockner

2006-07 Standings/Stats


* NCAA Tournament
# NIT participant

More
Bracketology
Will the 16-team Big East set a record for bids? Is nine teams enough to appease the coaches? Who will be crying "snub" (a la Syracuse) next Selection Sunday?
– Joe Lunardi
Archive
For all the 2007 ShootArounds, click here.
Fast break


Cincinnati
Mick Cronin's rebuilding job continues, but the Bearcats should be much feistier than last season's 2-14 Big East club. Cincy returns almost all of last season's major contributors and has an eight-man incoming class (including two transfers) that features a handful of top-echelon recruits. Shooting guard Larry Davis and wing Alvin Mitchell should provide immediate help, which is good news for one of last season's worst-shooting major-conference teams.

Connecticut
Coach Jim Calhoun expects a season's worth of experience will help his still-young club that has Hasheem Thabeet back to anchor the middle. Calhoun said he was "shocked" by how highly touted point guard A.J. Price stuggled in his return to action after two seasons lost due to illness and suspension. Expect better things from Price, Doug Wiggins and the other guards this season, which should mean better shots -- and better offense -- for the Huskies.

DePaul
This looks to be a rebuilding year in Chicago after the Blue Demons lost leading scorers Sammy Mejia and Wilson Chandler (early entry to the NBA), among others, from its NIT quarterfinal squad. DePaul will be very young this season, so the Demons will quickly get to see what newcomers like Nayal Koshwal can bring to the table.

Georgetown
Lost a bit in the Hoyas' textbook offensive efficiency was how good they were defensively last season. The overall defensive efficiency was only 57th in D-I, but when you adjust for schedule and look at the underlying stats, you get the full picture. GU actually was top-15 in both 2-point and 3-point FG defense, forcing opponents to take bad shots instead of forcing turnovers. If the Hoyas can do a bit better on the defensive glass, things should be even tighter this season, especially with Roy Hibbert returning to anchor the inside.

Louisville
You occasionally see major-conference players transfer to the Ivy League, but rarely if ever do you see a player transfer from the Ivy and regularly see the floor at a Big East school. Cornell transfer Will Scott logged eight minutes a game last season and made almost 40 percent from 3. Scott won't be a heavy-minutes guy, but his spot-shooting stroke may be welcome at times this season. For a team that shoots so many 3s, the Cards made a poor percentage last season (33.2 percent; 234th in D-I) and also were suspect at the line (68.4 percent; 193rd).

Marquette
With the excellent perimeter core of Dominic James, Jerel McNeal and Wesley Matthews returning, the Golden Eagles will be eager to erase memories of the first nine minutes or so of their NCAA Tournament loss, in which they were held scoreless, to Michigan State. Surprisingly, given the quality of its guards and small-ball philosophy, the Golden Eagles actually were statistically better on the defensive end last season. If they can maintain that and improve their offensive consistency, they will live up to expectations this season.

Notre Dame
The first-round NCAA loss to Winthrop dampened what had been a terrific season for the Irish. Coach of the Year Mike Brey eight returnees but loses top scorers Russell Carter and Colin Falls (combined 32.4 ppg) -- huge for a team that finished in the top-10 nationally in offensive efficiency last season. The Irish also get Kyle McAlarney back from suspension to help surprising sophomore Tory Jackson run the show.

Pittsburgh
The Panthers don't play glamorous basketball, but it's definitely effective, especially on the offensive end. Aaron Gray, Antonio Graves and Levon Kendall are gone, but Levance Fields (assuming resolution of his legal issues), Mike Cook and Ronald Ramon all return. Add in Sam Young, Keith Benjamin and Tyrell Biggs, who all showed flashes in more limited minutes, and the Panthers may look different this season but could score with similar effectiveness.

Providence
There is a lot of talent returning in P'town, including four starters. But the one departure, Herbert Hill (18.1 ppg, 8.8 rpg), is very big. Still, with a backcourt of Sharaud Curry and Weyinmi Efejuku -- who combined for around 30 points, seven rebounds and seven assists a game last season -- and leading rebounder and assist man Geoff McDermott (9.5 ppg, 9.1 rpg, 5.1 apg), an NCAA Tournament run is a reasonable goal.

Rutgers
Rutgers made just 30.2 percent from 3-point range (309th in Div. I) and just 42.4 percent inside the arc (328th). Look for freshman point guard Corey Chandler to help the sputtering Knights attack that returns J.R. Inman but loses its second- and third-leading scorers. Rutgers will also need more from players like 6-11 center Hamady N'Diaye, who was highly regarded as a prep player.

St. John's
Anthony Mason Jr. and Eugene Lawrence are solid returnees, although the Red Storm took a hit when promising sophomore Qa'rraan Calhoun withdrew from school and decided to transfer. Calhoun's exit might open up things even more for freshmen like forward Justin Burrell and point guard D.J. Kennedy. St. John's only made 45 percent of its shots from inside the arc last season (289th in D-I).

Seton Hall
Several Big East coaches mentioned the Pirates as a possible league dark horse and with good reason. They return their top five scorers from a team that Ken Pomeroy rated as the eighth-most unlucky team in the nation last season, finishing a full three games worse than what their underlying stats suggested. The Pirates enjoyed one of the best turnover margins in the land, earning about five free possessions a game. If they can solve some of the shooting and rebounding deficiencies, those extra possessions should equal extra wins this season.

South Florida
It wasn't exactly the "running of the Bulls" in what turned out to be Robert McCullum's last season in Tampa, which made USF's turnover rate (24.9 percent; 317th in D-I) even more damning. Under new coach Stan Heath, turning it over less will mean more touches for leading scorer and rebounder Kentrell Gransberry (15.6 ppg, 11.4 rpg), which may be critical given the losses of Melvin Buckley and McHugh Mattis (combined for 27 points and 12 rebounds) from last season's 12-18 club.

Syracuse
The Orange lost their entire frontcourt from last season, but they were a very mediocre rebounding team anyway. With freshmen Rick Jackson and Donte Greene coming in, the glass might not be where the team struggles this season. Between losing Demetris Nichols to graduation and Andy Rautins for the year to injury, the Orange lost their two most prolific 3-point shooters. The 'Cuse still has Eric Devendorf (35 percent) and Josh Wright (33 percent), but unless Paul Harris discovered a 20-foot jumper, some of the new blood, led by Jonny Flynn and Antonio Jardine, will need to step up from the arc.

Villanova
With Curtis Sumpter and Mike Nardi gone, the perimeter load now falls on terrific sophomore guard Scottie Reynolds and two incoming Coreys -- Fisher at the point and Stokes at the off-guard. Will there be better balance? Only if big men Casiem Drummond and Antonio Pena emerge to help Dante Cunningham and Shane Clark inside.

West Virginia
The players John Beilein left behind after last season's NIT title may be a better fit for Bob Huggins' style than you might think. Several league coaches raved about the athleticism and skill of players like Darris Nichols and Joe Alexander, both of who Huggins noted have been playing well this fall, as has Da'Sean Butler. Huggins' biggest concern in Year 1 in Morgantown is his team's lack of size. "It's a hard league to be in and be as small as we are," he said. "The biggest guy on our frontline, probably for the majority of the minutes, will be 6-7."
– Andy Glockner

Expert's take

1. Louisville
The Cards are healthy, which has been the biggest obstacle for Rick Pitino over the past two seasons. If Derrick Caracter can keep his wheels on, the 'Ville has the talent and experience to win the Big East.
2. Georgetown
Replacing Jeff Green will be more difficult than people realize. But Jonathan Wallace is the most efficient point guard in the country and one of the very best. DaJuan Summers is ready to explode, and Roy Hibbert may be the best true center in the nation. Add in freshmen Chris Wright and Austin Freeman, and you have another Final Four-caliber team.
3. Marquette
Tom Crean has guards galore, including Maurice Acker to bolster a great guard trio in Dominic James, Jerel McNeal and Wesley Matthews. The Golden Eagles are one tough crew, and if the frontcourt can survive, this team can advance … deep.
4. UConn
Look for the Huskies to play more up-tempo and press in order to force more turnovers and create easier scoring opportunities. Jim Calhoun cannot will his team to shoot better, but he can will them to dominate the game defensively.
5. Syracuse
Jim Boeheim lost some seniors that had been there awhile, but he was constantly waiting for them to play like seniors. Now, Boeheim has some super talented newcomers (Donte Greene and Jonny Flynn) who will play with more passion and without fear. Losing Andy Rautins, however, was a blow.
6. Pittsburgh
Jamie Dixon has another solid group that should be back in the NCAA Tournament. The Panthers have good guards, are experienced and understand how to win. In short, Pitt has a program, not just a few good teams. Dixon needs to resolve the Levance Fields situation, but even without Fields, this is an NCAA Tournament team.
7. Notre Dame
Mike Brey's teams play with abandon on offense and never look over at the bench if they launch a questionable shot. Brey wants his players to play without fear, and with Kyle McAlarney back to team with Tory Jackson, the Irish have the handlers and passers to find other scorers.
8. Villanova
With Scottie Reynolds, Corey Stokes and Corey Fisher, Jay Wright has guards that will remind some of his 2005-06 team. The Wildcats won't be big up front, but they will be exciting and athletic.
9. Providence
Tim Welsh has a solid group of players that understand the game and simply know how to play. Geoff McDermott is a versatile passing big man who can rebound his tail off, and he should be all-Big East.
10. West Virginia
Bob Huggins inherited some good athletes and solid players, but there will be a new style in Morgantown. Short practices are a thing of the past for the Mountaineers. Winning will not be.
11. Seton Hall
Bobby Gonzalez has Eugene Harvey and Brian Laing back, but the Pirates need to learn how to win in the Big East, which is tough to do.
12. DePaul
The Blue Demons have some solid players back, and the talented newcomers will find it tough in the Big East. Watch for Nayal Koshwal, who should be the Demons best newcomer and could be big points in a Scrabble game.
13. St. John's
Anthony Mason Jr. needs to take over and be a leader and a star. The Red Storm play hard but need to play hard together in order to win in a tough league.
14. Cincinnati
Mick Cronin has some talent coming in, but the youth will put the Bearcats a year away. John Williamson and Deonta Vaughn are Big East players, but they need help.
15. Rutgers
The Scarlet Knights couldn't score last season, but new recruits Mike Coburn and Corey Chandler should provide immediate help.
16. South Florida
Stan Heath inherited a basketball program that has not yet committed to winning in the Big East, but Heath does have Kentrell Gransberry, a big man who averaged a double-double in relative obscurity last season.
– Jay Bilas