OHIO VALLEY CONF CHAM AT NASHVILLE TN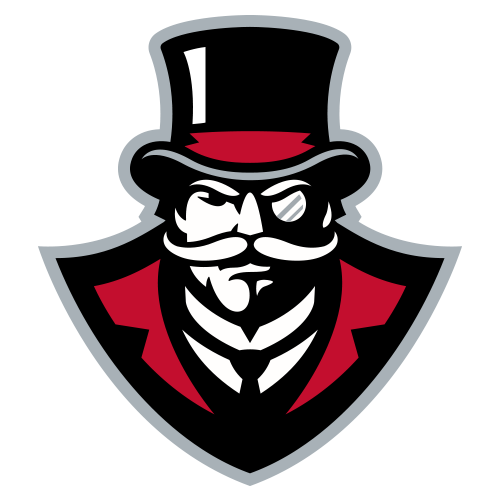 Colonels, Taylor beat the buzzer to earn NCAA berth
NASHVILLE, Tenn. -- Josh Taylor had never practiced the play. With the clock ticking down and the Colonels trailing by one, the freshman saw the open lane in front of him.
He didn't hesitate.
Instead of passing to open teammate Adam Leonard, Taylor drove to the basket and converted the layup with 2.9 seconds left, and Eastern Kentucky beat regular-season champion Austin Peay 63-62 Saturday night for the Ohio Valley Conference tournament championship.
It was Taylor's only bucket of the night.
"Oh, you can't even describe it," Taylor said with a big grin on his face. "It feels unbelievable."
The Colonels (21-11) clinched their seventh NCAA Tournament berth and fifth OVC title -- first since 2005 -- against the team that had swept them in the regular season. They also beat Austin Peay in this game two years ago.
"It's devastating for these kids and for all of us," said Austin Peay coach Dave Loos, whose Governors now hope for an NIT bid. "I feel especially bad for them. They wanted it very badly."
Eastern Kentucky coach Jeff Neubauer, who was an assistant when West Virginia reached the regional final in 2005, celebrated his first NCAA berth as a head coach by twirling the net with his index finger after cutting the last strand.
Eastern Kentucky usually looks to Darnell Dialls or Jamaal Douglas at the end of tight games. But both had fouled out, a rarity for a team ranked second in the nation for fewest fouls per game.
"The key is he just made a good basketball play," Neubauer said. "That shows what a good basketball player he is. He figured it out on the fly at a crucial part of our season and made a good basketball play to get in the lane."
Leonard, who is Taylor's roommate, didn't hold a grudge.
"If he wants to take the shot, take the shot. If it's the only shot he takes and it goes in, it doesn't matter how it went in. He hit it," Leonard said.
The Governors (21-11) struggled through a horrible shooting performance, going nearly 10 minutes without a point in the second half. They lost their brief lead in that stretch along with a sixth NCAA Tournament berth and fourth OVC tournament title.
"We just couldn't make any shots," Loos said. "We had some open looks from the perimeter, and we couldn't make enough free throws. It's what it boils down to."
They made it very interesting in the final minutes, though, rallying from a 59-51 deficit in the final 2:37 after Leonard hit back-to-back 3s for Eastern Kentucky.
Austin Peay whittled away at the Colonels' lead, and Wes Channels hit two free throws to put the Governors up 62-61 with 21.8 seconds left.
The Colonels lost the ball out of bounds under their own basket with 6.6 seconds left. But they got it back, and Taylor, a freshman from Pittsburgh, drove the lane and scored.
Derek Wright missed a 3-pointer left of the rim at the buzzer, and the Colonels swarmed Taylor on the court.
Mike Rose led Eastern Kentucky with 19 points. Leonard finished with 17, and Dialls had 12.
The Colonels had blown leads to Austin Peay's pressing defense twice before this season. But this time, they added another NCAA berth to those of 2005, 1979, 1972, 1965, 1959 and 1953.
"We did just enough here down the stretch and handled the pressure just well enough," Neubauer said.
Drake Reed, the OVC player of the year, had 15 points despite going 3-of-8 at the free-throw line for Austin Peay. Channels finished with 14, Fernandez Lockett had 11 and Wright 10.
The Governors went 13-of-23 from the free throw line and a defense that had held opponents to 28.4 percent shooting from outside the arc gave up 10-of-23 to the Colonels. Austin Peay, which had led the OVC in 3-point shooting, hit only 5-of-22.
The Govs' cold streak came after Channels' layup with 17:43 to go. The Governors missed 13 straight shots and didn't score again until Lockett's layup with 7:58 to go.
Eastern Kentucky wasn't much better. The Colonels scored only 10 points during the Governors' drought.
Lockett hit two free throws with 1:10 to go to tie it at 59. Rose answered with his two free throws. Reed had a chance to tie it at the line, but he missed the first. He finished 3-of-8 at the line.
Reed and Wright cornered Rose and forced a jump ball as the Colonels inbounded, and Channels hit two free throws to put Austin Peay up. It wasn't enough.
Eastern Kentucky scored the first five points and led by as much as 10, hitting six of its first 11 3-pointers. But Austin Peay finally got going and trailed 34-31 at halftime.