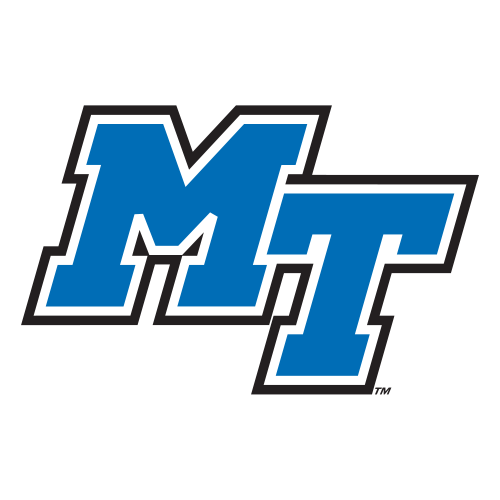 Smith's double-double helps Volunteers handle scrappy Blue Raiders
MURFREESBORO, Tenn. -- Coach Bruce Pearl made playing more instate games a goal when he came to Tennessee.
It's working well for his Volunteers (No. 13 ESPN/USA Today, No. 14 AP), who with a 76-66 win over Middle Tennessee on Friday night are 3-0 against the rest of the state.
The Vols (3-0) also have wins over Chattanooga and Tennessee-Martin and will play Belmont, Memphis and Vanderbilt twice before the season is over.
"We're going to come into Murfreesboro, Chattanooga or Johnson City and we're going to lose one, but it's still the right thing to do," Pearl said. "It's still good for my team and good for basketball in the state of Tennessee."
Pearl said he's received letters from longtime Tennessee fans living near Middle Tennessee, who never had an opportunity to see the Vols play.
In eight meetings between the teams -- located about 140 miles apart -- it's only the second time Middle Tennessee has hosted. A third of the 11,802 fans were clad in Tennessee orange.
Those fans were treated to yet another balanced offensive performance, led by Tyler Smith's 18 points and 10 rebounds. Bobby Maze added 12 points while J.P. Prince and Scotty Hopson had 10 apiece.
Down by only six points, Middle Tennessee (2-1) opened the second half with a 6-0 run to tie the game at 38 with 17:30 left on a long jumper by Nigel Johnson.
Tennessee responded with a 9-0 run. A behind-the-back pass by Smith set up a Cameron Tatum layup that gave the Vols a 47-38 lead with 14:02 to go.
The Vols led by 11 points several times in the half. A layup by Kevin Kanaskie cut the Tennessee lead to 69-63 with 2:17 left, but that was as close as the Blue Raiders would get.
Middle Tennessee missed a major opportunity at the free-throw line. The Blue Raiders only managed 12 free throws on 25 attempts, while the Vols made 20 of their 26.
"That's the game. If they make 12 and we make about 20, then maybe we win the game," Middle Tennessee coach Kermit Davis said. "We couldn't get it to a one- or two-possession game because of that."
Tennessee also had a rebounding edge.
"We ground it out and did the things you have to do to win on the road. We didn't shoot ourselves out of it. We dominated the rebounds and that was important," Pearl said.
The teams traded the lead for about 15 minutes of the first half until Tennessee went on a 10-0 run. A long jumper and back-to-back 3-pointers by Hopson gave the Vols a 32-26 lead with 3:33 left in the half.
Hopson had all 10 of his points by the break.
"I was sitting on the bench and I saw that kid go on an 8-0 run," Maze said. "It was like he was playing a video game, NBA Jam or something. He hit a jumper and two 3s. For him to single-handedly take over the game at the point was great."
Middle Tennessee threatened to take away the lead with back-to-back 3s by Kevin Kanaskie, to cut Tennessee's lead to 35-32 with 1:41 before halftime.
Theryn Hudson's third foul sent Brian Williams to the line, and a free throw put the Vols up 36-32 at halftime.
Demetrius Green led the Blue Raiders with 17 points. Johnson added 13, and Kanaskie had 11.
"We can take some positives from this, but we weren't playing this game for respect. We were playing to win," said Desmond Yates, who was held to eight points after entering the game averaging 19.5.