Men's Basketball Champ. - South Region - 1st Rd AT ANAHEIM CA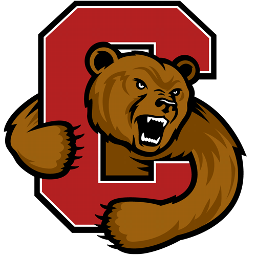 Stanford crushes Cornell to snap string of early round NCAA blunders
ANAHEIM, Calif. (AP) -- Cornell couldn't see the basket through Stanford's tall trees, making the Cardinal's defensive strategy look downright genius in the brain game of the NCAA tournament.
With the 7-foot Lopez twins altering shots inside and defenders in the face of Cornell's perimeter shooters, it didn't take an Ivy League degree to figure out the Big Red was in big trouble.
Kenny Brown scored 18 points and third-seeded Stanford earned its first NCAA tournament win since 2004, routing Cornell 77-53 Thursday in a matchup of players as good with the books as they are with a basketball.
"We know to go anywhere in this tournament, we have to play defense," said Brown, a reserve who had one of his best games of the season.
The Cardinal came into the tournament eager to shed a reputation for early round failures. They lost opening games the past two years, including a 20-point blowout to Louisville a year ago, and went out in the second round from 2002-04.
"Nobody likes to mention it, but we knew we had to be mentally prepared," Robin Lopez said. "There was definitely a sense of calmness."
Now Stanford (27-7) moves on to a second-round South Region game against No. 6 seed Marquette, a 74-66 winner over Kentucky.
Louis Dale, the Ivy League player of the year, scored 12 points, Adam Gore 11 and Alex Tyler 10 for 14th-seeded Cornell, which shot 16 percent in the first half.
The Big Red (22-6) had their 16-game winning streak snapped and never looked like the team that averaged 77.1 points during a 14-0 run through the Ivy League schedule. The league hasn't won an NCAA tournament game since 1998 when Princeton beat UNLV in the opening round.
"We had a great season, something to be proud of," Dale said. "This game lets us know we need to get better for next year."
The game's first 10 minutes were close, with Cornell down by just three points despite starting out 3-for-15 from the field.
"There were a lot of possessions early in the game where we played pretty good defense and they'd get the offensive rebound and put it in," Cornell's Ryan Wittman said.
Once Stanford took over, it got ugly fast.
The Cardinal outscored Cornell 43-11 over both halves for a 58-23 lead. Robin Lopez and Taj Finger alternately scored six straight each at the start of the second half, then Brown hit two 3-pointers.
"We were playing with a lot of energy on defense and that's the result of taking away open looks," Robin Lopez said.
His twin Brook got into early foul trouble, along with starting guard Mitch Johnson, clearing the way for Stanford's bench to carry the load. Brook finished with four points and two rebounds.
"I was impressed with Stanford, how disciplined, how hard they play," Cornell coach Steve Donahue said. "We'll play better the next time we're here."
Cornell was only reliable at the free-throw line, hitting 9-for-13. The Big Red had one more field goal (18) than fouls (17) and got throttled on the boards, 47-25. Lawrence Hill had 10 rebounds for the Cardinal.
"They're very physical on the perimeter," Dale said. "You had to work hard to get past the perimeter defenders and then there's two 7-footers waiting."
Cornell's lone 7-footer, Jeff Foote, had two points and four rebounds before fouling out. Shooting 41 percent from 3-point range in the regular season, the Big Red went 8-for-26.
Robin Lopez finished with 14 points and Finger 10 for the Cardinal, which had lost three of its past five coming in. They shot 55 percent from the floor and outscored the Big Red 44-16 in the paint.
Stanford's starters got plenty of rest in the final 20 minutes, cheering on the subs as they finished off a bunch of players as brainy as themselves.
"It's a nice win, but still there's some things we could improve on," coach Trent Johnson said.