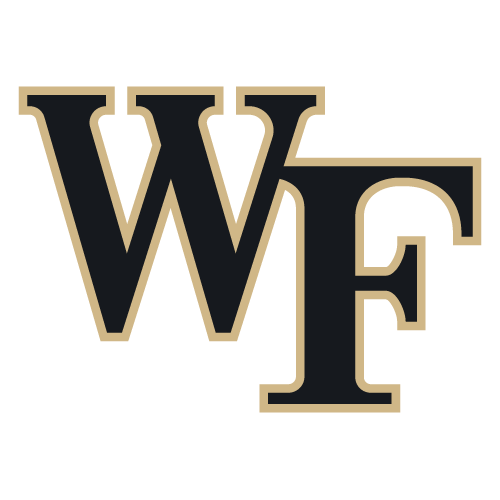 Tyler Cavanaugh, Wake Forest take charge to stun No. 4 Duke
WINSTON-SALEM, N.C. -- Mike Krzyzewski might have poured too much emotion into No. 4 Duke's trip to Wake Forest.
The rest of the Blue Devils didn't seem to have enough.
The Demon Deacons upset Duke 82-72 on Wednesday night after Coach K experienced enough dizziness and light-headedness to force him to kneel during a late timeout and skip his postgame news conference.
Associate head coach Steve Wojciechowski -- who filled in for him -- said Krzyzewski has not been sick, is in good shape and expects to make a full recovery.
"There was a great emotional investment in the game," Wojciechowski said, "and I think maybe the emotion got the better of him."
The rest of the team might not have had that problem.
Duke (23-7, 12-5 Atlantic Coast Conference) was playing for the first time in more than a week -- after going 4-1 in an 11-day span before that -- and Wojciechowski said the Blue Devils simply weren't prepared emotionally.
After taking a late seven-point lead, Duke went without a field goal for five critical minutes while allowing the Demon Deacons (16-14, 6-11) to reel off 17 straight points and go up by double figures.
"I'm not sure that ... we were as prepared from an emotional standpoint," Wojciechowski said. "I don't know if our guys had the needed edge to compete against a Wake Forest team that played their hearts out."
Tyler Cavanaugh scored a career-high 20 points, Travis McKie added 19 in his final scheduled home game and Codi Miller-McIntyre had 13 for the Demon Deacons.
They followed one of their worst performances of the season -- a home loss to sub-.500 Boston College -- with one of their best. Their first win over Duke since 2009 also marked their biggest upset since they knocked off No. 2 Miami in February 2013.
"I couldn't picture a better ending," McKie said. "Everything was just perfect tonight. The fans were perfect. Me, being my last (home) game, everything we did was great."
Jabari Parker scored 19 points and Rodney Hood added 16 for the Blue Devils, who missed six straight shots down the stretch and were just 6-of-27 from 3-point range while falling to 4-5 in ACC road games.
---
Parker's dunk with just less than six minutes left gave the Blue Devils their largest lead, 66-59, and by then, they appeared on their way to their ninth straight win in the series.
Instead, that's when Wake Forest took command.
"I knew we were going to win -- it was just one of those feelings that you get down the stretch," Miller-McIntyre said. "You could see it in all of my teammates' eyes, that they weren't ready to fall over."
They didn't.
After Devin Thomas and McKie hit two free throws each, Cavanaugh -- a sophomore backup forward -- became unstoppable.
His left-handed jumper over Hood, who had four fouls, with 3 1/2 minutes left gave the Demon Deacons the lead for good at 67-66.
After Miller-McIntyre hit a pretty crossover layup, Cavanaugh followed by sticking back Thomas' miss to make it 71-66 with 2 1/2 minutes left.
Coron Williams ended the run with a layup that was goaltended by Parker and made it 76-66 with 1:08 left.
At the other end, Duke couldn't do anything right.
A key 3-point attempt by Rasheed Sulaimon went halfway down before rimming out -- one of five 3-point attempts the Blue Devils missed during that untimely cold spell. And point guard Quinn Cook had a layup slammed hard off the backboard by Thomas.
"All five guys were on the same page today," Thomas said. "We didn't let them get the 3s, because we know they live and die with the 3-ball."
Sulaimon finished with 14 points for Duke, which had plenty of built-in excuses for perhaps taking the Demon Deacons lightly.
Maybe the Blue Devils were rusty after not playing since a Feb. 25 rout of Virginia Tech. Maybe they were looking ahead to exacting revenge from North Carolina on Saturday night. Maybe they were overconfident after beating Wake Forest by 20 points last month at Cameron Indoor Stadium.
Or maybe the Demon Deacons simply aren't as bad as their record might indicate.
"Heart. We played with heart," Cavanaugh said. "We know we can play with anyone."
Williams and Arnaud William Adala Moto finished with 12 points each for Wake Forest, which led for all but about three minutes of the first half after holding Duke to one field goal in the first 7 1/2 minutes.
The Demon Deacons went up by eight points and responded to their only deficit of the half by reeling off the final seven points.
Miller-McIntyre's steal and layup just before the buzzer put the Demon Deacons up 36-33 -- just Duke's second halftime deficit of the season and first since the loss at Syracuse.
"I thought they outfought us," Wojciechowski said. "This time of year, if you're not tough and you're not together for 40 minutes, it can be some very hard lessons."