Forward Ben Simmons of LSU has already become college basketball's center of attention halfway through his first season, and deservedly so -- the 6-foot-10 Australian has a skill set unlike anyone else. Look at his per-game numbers: 20.5 points, 13.1 rebounds and 5.4 assists. In all likelihood he will become the latest one-and-done college star, a big name who sticks around just as long as is mandated by the NBA en route to becoming a No. 1 overall pick. But in the meantime, it's worth marveling at the numbers he is putting up. Is he the greatest combination of efficient big-man shooting and deft passing in a generation? The numbers say he is, even compared to the best one-and-done players in recent memory. So let's look at the statistics, starting with a metric that will be used to measure his game at the next level.
The criteria
PLAYER IMPACT ESTIMATE (PIE): This is a metric commonly used by the NBA but can be applied here as a way to measure Simmons' overall game. In essence, PIE shows what percentage of game events a player achieved out of the total stats from games he appeared in. A player with PIE of greater than 10 is considered above-average, and players are rewarded for being -efficient and contributing in multiple traditional stats.
The formula: (PTS+FGM+FTM-FGA-FTA+DREB+(.5*OREB)+AST+STL+(.5* BLK)-PF-TO) / (GmPTS+GmFGM+GmFTM-GmFGA-GmFTA+GmDREB+(.5*GmOREB)+GmAST+GmSTL+(.5*GmBLK)-GmPF-GmTO)
ASSIST/TO RATIO AND FIELD GOAL PCT.: These are more traditional statistics, but I compare them against each other in charts below for a purpose -- to show which players are able to create good shots for teammates while taking good shots themselves.

vs. Preseason All-Americans
To start things off, let's compare Simmons to his current peer group in college. He was selected to the preseason Associated Press All-America team, along with a junior and three seniors. Oklahoma's Buddy Hield has been a prolific scorer, and Kris Dunn of Providence has been impressive in leading his team to a high ranking, but Simmons easily outpaces the group in PIE. He's also the best shooter in terms of field goal percentage.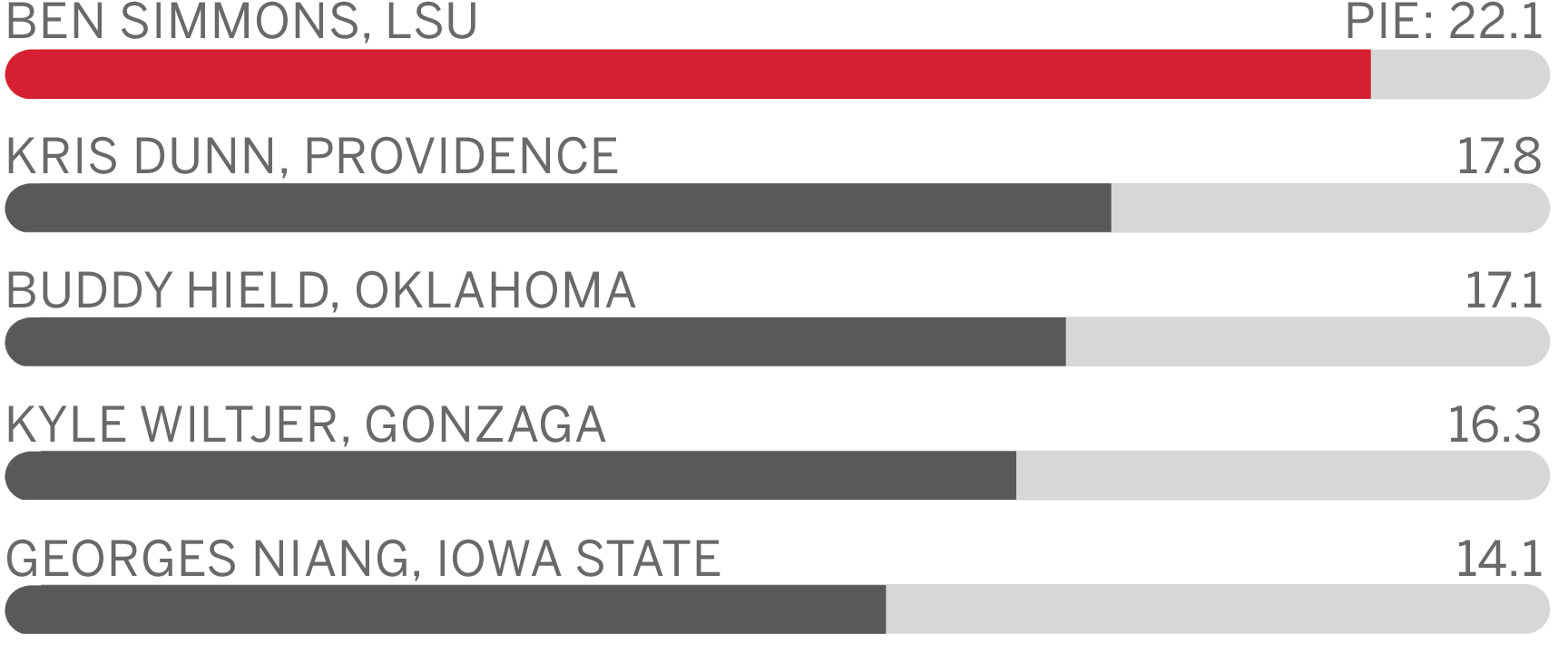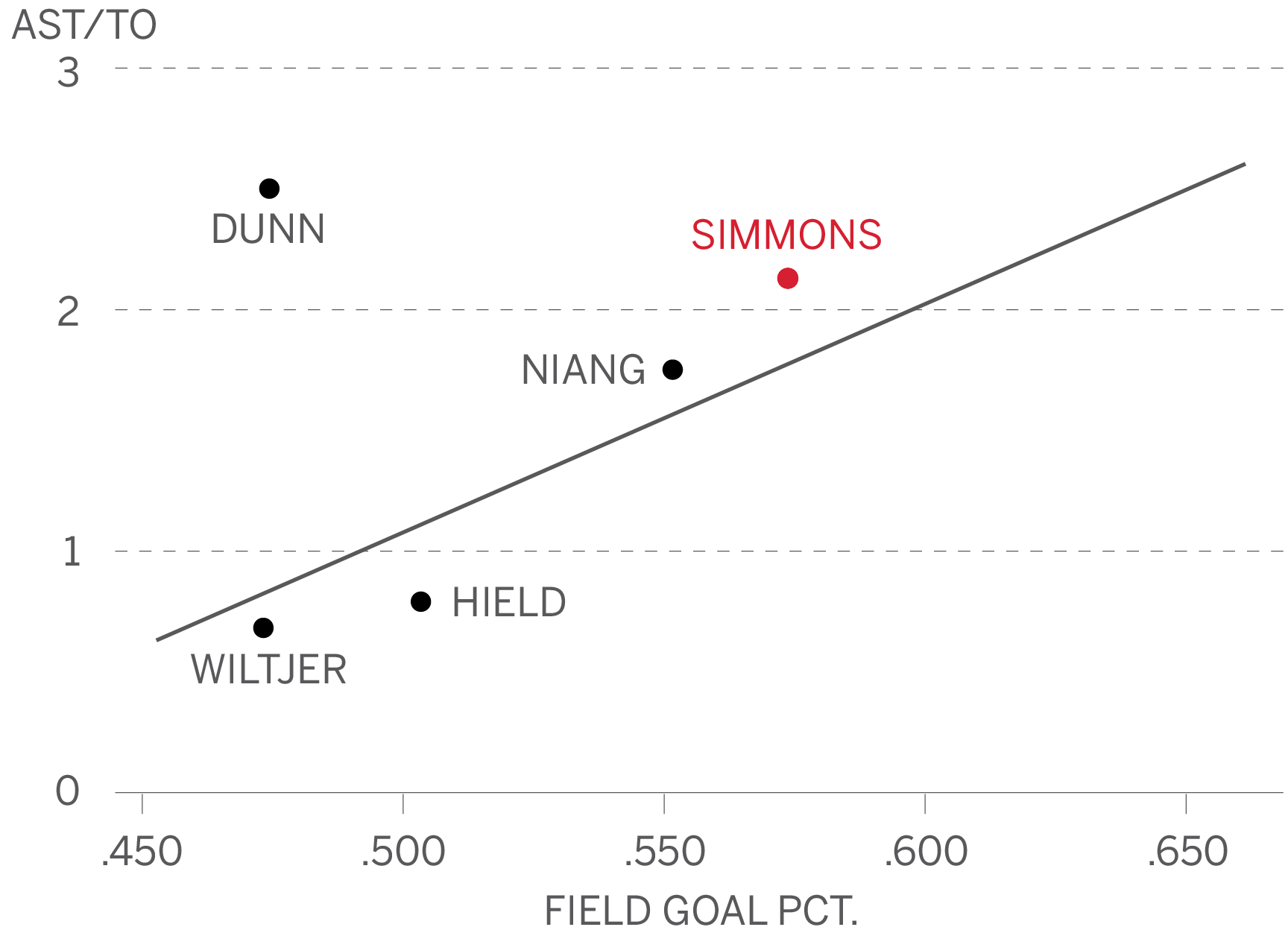 vs. past five Naismith winners
So now we've established Simmons as the best this season, but you might have expected that. But how does he stack up against other stars in recent seasons? Easiest way to find out is to put him up against the past five winners of the Naismith Award, given to the best player in college basketball. Frank Kaminsky of Wisconsin had a terrific all-around season last year and carried a heavy load for his team, but Simmons edges him out in terms of PIE. While Michigan's Trey Burke had an outstanding assist-to-turnover ratio of 3.02 and Anthony Davis of Kentucky had a remarkable shooting percentage of .623, nobody from the group excelled in both passing and shooting like Simmons.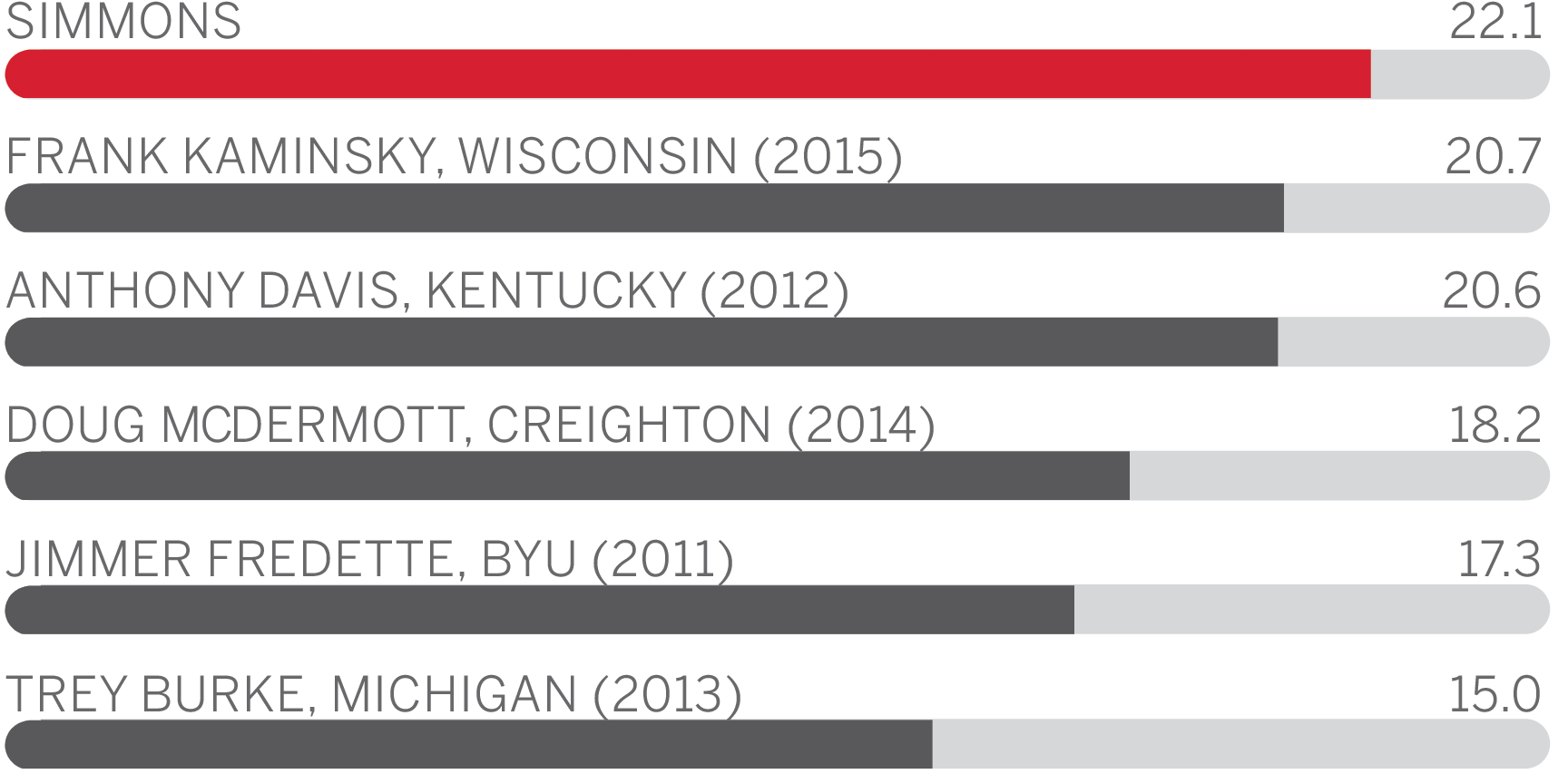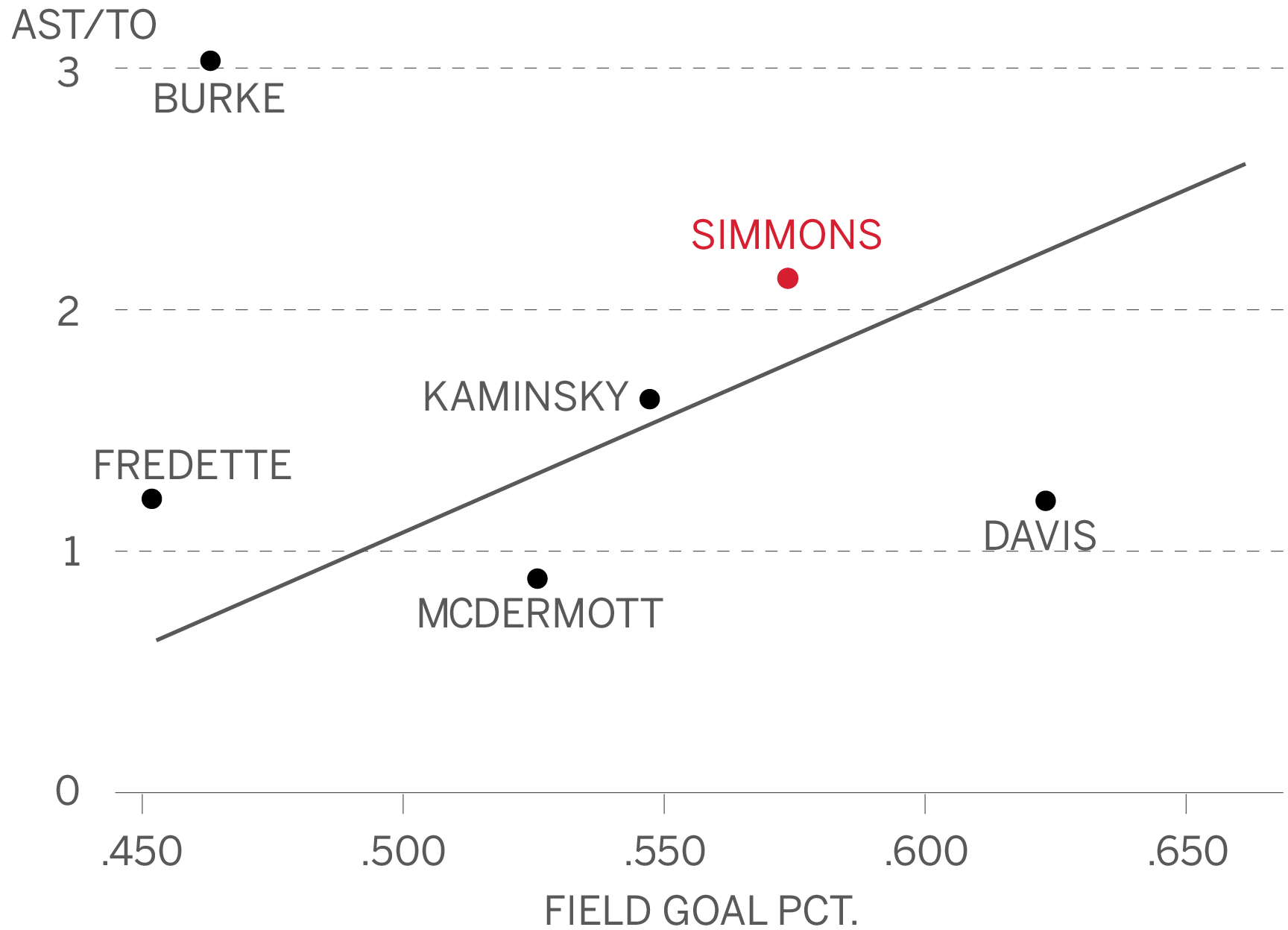 vs. future All-Stars
At this point, let's skip the pretense with Simmons and get right to the question of his NBA future because that's where he's headed soon. How does his freshman season look compared to other one-and-done players who went on to become NBA All-Stars since the rule was put into practice in the 2006 draft? Nine players went from one-and-done to NBA All-Star, and (surprise!), Simmons is faring better than any of them did in their lone college seasons. That includes the monster season by Davis in 2011-12, though Davis shot better from the floor than Simmons. And it's worth noting that generally speaking the other players just behind Simmons with the highest PIE totals (Davis, Durant, Love) have been consistently great pros: