College athletics are much bigger and more celebrated in the United States than they are in most countries. When our schools play, we wear team colors, sing fight songs and cheer passionately for them. We also root hard against our archrivals, like Liverpool and Manchester United football followers or India and Australia cricket fans do against each other.
The annual three-week NCAA basketball tournament is so enormously popular in the States that it is known as March Madness. Although if your team or bracket picks come up short, it can turn into March Sadness.
Even if you aren't from the U.S. or don't have an allegiance to any of the 68 colleges that earned spots in the tournament, it's still an event well worth following. Here's why.
You get to play along
As exciting as the games can be, you don't have to watch many -- or even any -- to immerse yourself in the NCAA tournament experience. Millions of fans follow the action simply by keeping their eyes locked on their own picks in the brackets they filled out. These brackets are so prominent that Barack Obama, a big basketball fan whose brother-in-law used to be the head coach at Oregon State, filled one out for ESPN each year of his presidency.
This is how it works. Before the tournament's first round begins Thursday, fans pick winners for each of main bracket's 63 games (you don't have to worry about the four play-in games known as the "First Four"), all the way through the final, and compare how they do against a pool of friends and/or co-workers. Everybody in the pool pays an entry fee ($10 or $20 per bracket is a common amount in the U.S.), and the top three or four performers win predetermined shares of the pot. The more people in the pool, the more money the winners get.
There are many websites and apps that can be used to fill out brackets and organize pools, including ESPN Tournament Challenge. Don't know anybody starting a pool, or don't want to part with any money? You can fill out as many brackets as you want for fun at no cost. It has been estimated that 40 million people fill out as many as 90 million brackets each year, with perhaps $9 billion on the line.
Don't get carried away with how much money you risk, though. Picking accurately isn't easy. Obama correctly predicted the tournament champion once in his eight years as president -- in 2009.
Upsets equal excitement
Did you think it was amazing when Leicester City overcame 5,000-to-1 preseason odds in the Premier League last season to win its first championship in 132 years? Well, then brace yourself for March Madness.
Among the most enjoyable things about the tournament are the many upsets. The tournament is set up with four regions, with 16 teams in each region seeded 1-16 based off their performances in the regular season. The four teams that advance out of each region battle it out in the Final Four, one of the biggest events on the U.S. sports calendar each year. Although a No. 1 seed has never lost to a No. 16 seed in the first round, a No. 15 seed has defeated a No. 2 seed eight times, including when two No. 15 teams (Norfolk State and Lehigh) shocked their opponents (Missouri and Duke) on the same day in 2012.
No. 12 seeds are good bets for early upsets over No. 5 seeds, having won 17 of 36 first-round games since 2008. Although none of those teams reached the Final Four, three teams seeded 11th have done so. The lowest-seeded team to win the championship was No. 8 Villanova, which upset Patrick Ewing's Georgetown squad in the championship game back in 1985. Maybe No. 11 Xavier or No. 8 Northwestern, which qualified for the tournament for the first time, will be the Leicester City of this year's field.
NCAA basketball is an international game
Another reason people around the globe should follow March Madness? Athletes from all around the world play in it. There are 128 foreign-born players from 49 countries in this year's tournament, according to ESPN Stats & Info.
This makes for another interesting bracket. Who would win if the tournament were broken down by nation of birth rather than college? Besides the United States, the country with the most native players in the tournament is Canada with 26, followed by Australia with 21 and Nigeria with nine. Five nations with three players each -- Bahamas, New Zealand, France, England and Senegal -- would have to hold a playoff for the final spot in the Global Final Four.
COUNTRIES WITH MOST NON-U.S. PLAYERS IN 2017 NCAA TOURNAMENT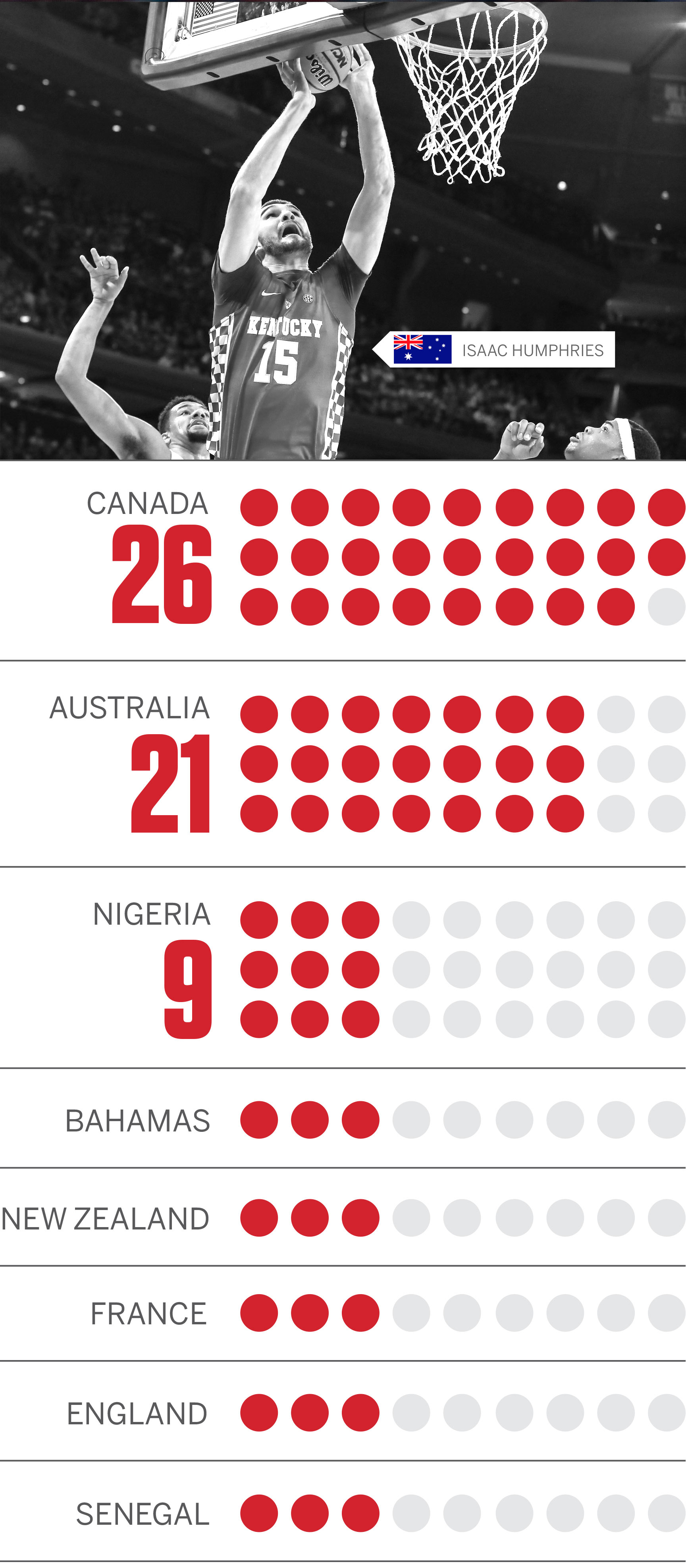 Australia has long been a major player
The NCAA basketball tournament gained prominence in Australia in 1989, when native son Andrew Gaze helped Seton Hall reach the Final Four. Gaze went on to play in the NBA, Europe and five Olympics, in addition to his two decades in Australia's National Basketball League.
Many Aussies have followed Gaze's path to success in U.S. college basketball, including center Andrew Bogut, who was the national college player of the year with Utah in 2005 before becoming the No. 1 pick in that year's NBA draft. There were more than 60 Australian players at the highest level of U.S. college basketball -- Division I -- this season alone.
Heck, St. Mary's College in California has had at least one Australian on its team each season since 2001, including seven -- yes, seven! -- this season. St. Mary's might need to sell Vegemite at its concession stands.
Several top teams have international flavors
At 32-1, Gonzaga has the best record in the nation. The Bulldogs, the No. 1 seed in the West Region, are playing in their 19th consecutive NCAA tournament but have never made it to the Final Four. Gonzaga has a strong international influence this year with five players from non-U.S. countries: center Przemek Karnowski from Poland, forward Killian Tillie from France, center Jacob Larsen from Denmark, forward Rui Hachimura from Japan and guard Dustin Triano from Canada.
Louisville -- a program with three national championships, the most recent from 2013 -- is a No. 2 seed and has four international players: Deng Adel and Mangok Mathiang from Australia, Anas Mahmoud from Egypt and Matz Stockman from Norway.
New Mexico State matches St. Mary's with a tournament-high seven international players, while three teams in addition to Gonzaga (South Carolina, Florida State and Oregon) have five.
TEAMS WITH MOST NON-U.S. PLAYERS IN 2017 NCAA TOURNAMENT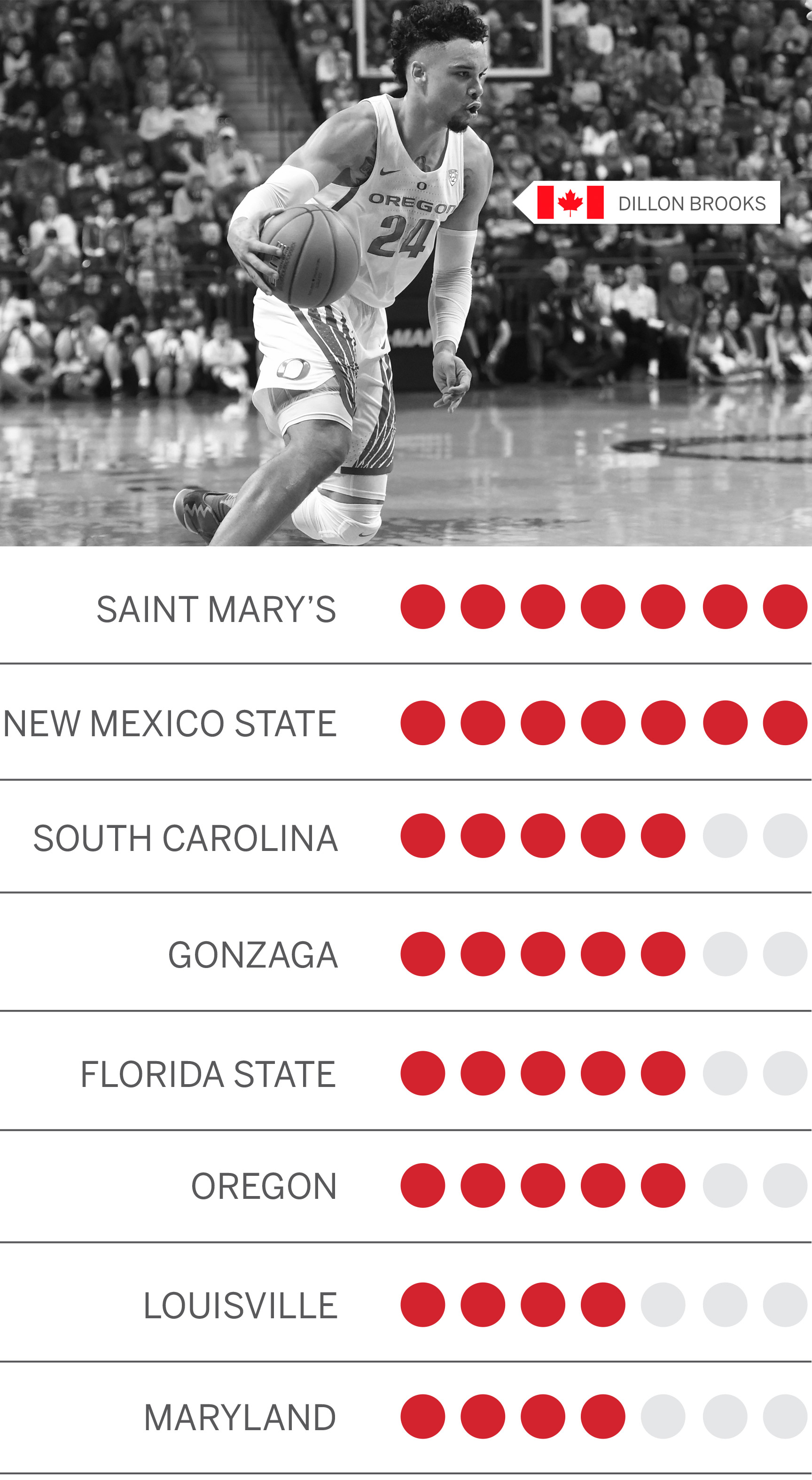 Get an early glimpse of future global stars
Four international players in the tournament are expected to be selected in the NBA draft this summer. Lauri Markkanen, Arizona's 7-foot freshman forward from Finland, is considered the best of the bunch. Kansas guard Sviatoslav Mykhailiuk of Ukraine and Oregon forwards Chris Boucher and Dillon Brooks of Canada also are considered legitimate NBA prospects.
Don't forget that many of the American players in the tournament will go on to play in Europe, Latin America and China, like 2011 NCAA player of the year Jimmer Fredette has done with the Shanghai Sharks.
Reminisce about these past global stars
Many foreign-born players competed in the NCAA tournament before embarking on successful NBA careers, including Syracuse's Rony Seikaly (born in Lebanon, grew up in Greece), Georgetown's Dikembe Mutombo (Republic of Congo), Washington's Detlef Schrempf (Germany), Louisville's Gorgui Dieng (Senegal), Connecticut's Hasheem Thabeet (Tanzania), Santa Clara's Steve Nash (Canada) and Georgetown's Patrick Ewing (from Jamaica).
But the international player who might have made the most significant impact is Hakeem Olajuwon, who grew up playing soccer in Nigeria. He didn't start playing basketball until he was 17, yet he helped the University of Houston reach three consecutive Final Fours before going on to a Hall of Fame career in the NBA. Known as The Dream, Olajuwon helped pave the way for Africans in college basketball and the NBA.
Five players from Africa were picked in last year's NBA draft, and there are 25 players from 12 African nations in this year's tournament.
There's even a Latin American accent
Despite the significant global participation in NCAA basketball, Latin America doesn't have a large presence in this year's tournament. Three players from that region made the field: two from Colombia -- Florida State's Braian Angola-Rodas and East Tennessee State's Hanner Mosquera-Perea -- and Seton Hall's Angel Delgado from the Dominican Republic.
There have been Latin American notables in the past, including Eduardo Najera, who led Oklahoma to four consecutive NCAA tournaments and went on to play more games in the NBA than any other player from Mexico.
Other past Latin American standouts include the Dominican Republic's Francisco Garcia, who helped Louisville to the 2005 Final Four, Venezuela's Greivis Vasquez, who went to the tournament three times with Maryland, and Al Horford of the Dominican Republic, who helped Florida win consecutive national titles in 2006 and '07.
CONFERENCES WITH MOST NON-U.S. PLAYERS IN 2017 NCAA TOURNAMENT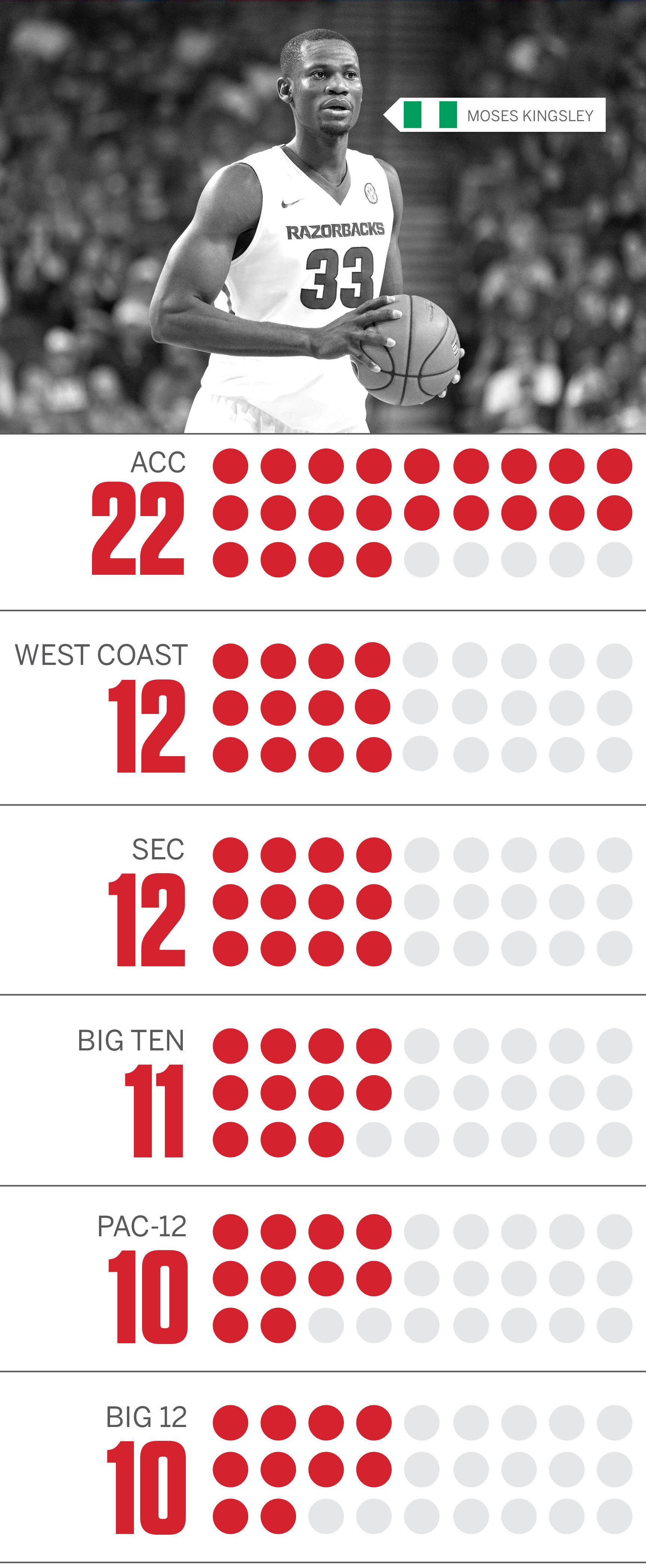 The coaches have star power too
Because many top basketball players leave for the NBA before finishing their college careers -- sometimes after just one year -- the head coaches are often the most recognized faces at the tournament. Although there aren't any non-U.S. coaches, the biggest coaching names are known throughout the basketball world, regardless of borders.
Perhaps the most notable is Mike Krzyzewski, who has coached Duke since 1980 and has led the Blue Devils to 32 NCAA tournaments, 12 Final Fours and five national championships. Coach K also has led Team USA to three Olympic gold medals.
Rick Pitino has coached in both the NBA and college, mostly in the state of Kentucky. He has been with Louisville since 2001 and was at the University of Kentucky from 1989-97, winning a national title at each of those schools. His son, Richard Pitino, coaches Minnesota.
Then there is UCLA coach Steve Alford, who led Indiana to the 1987 NCAA championship as a player.
By the way, while the players receive little more than free tuition and some living expenses, the coaches are paid handsomely. Krzyzewski led the pack last season, making $7.3 million, and Kentucky's John Calipari wasn't far behind with a salary of $6.9 million.
There's round-the-clock action
While the whole tournament is exciting, the first two rounds are the best because there are so many games and a fair number of upsets.
There are 16 first-round games per day on Thursday and Friday, spanning from approximately noon until midnight ET. That provides some reasonable viewing opportunities in most parts of the world. The first games begin in the early evening in London, and the action runs through Friday and Saturday afternoon in Sydney.
It might be a little tougher in India, where the 12 or so daily hours of first-round games begin at 9:30 p.m. Thursday and Friday.
That sure beats the Super Bowl, though, which started at 11:30 p.m. in London, 5 a.m. Monday in India and 10:30 a.m. Monday in Sydney.